Truth Teams Up with Make a Wish
Truth MX and the Make A Wish Foundation of the Inland Empire teamed up to be part of an awesome wish for a local 14 year old.  Christopher Mokbel, who has been diagnosed with Burkett's Lymphoma, is a huge moto fan.  Christopher's day started at Corona Motor Sports, where he got a gift card and was able to buy whatever he wanted with that money!  His next stop was the Monster Energy warehouse where he was able to go on a full tour of the facility as well as check out the Pro Circuit division of Monster Kawasaki.  He left there with his own custom jersey and a backpack full of swag.  Best Buy was Christopher's next location where he was greeted by the Best Buy staff and picked up a laptop and sound system and some other items that Best Buy threw in.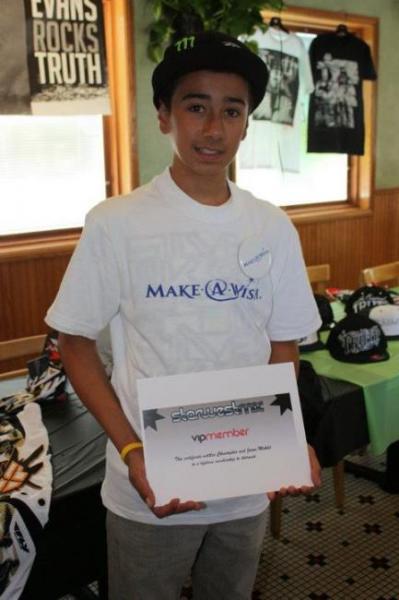 At this point, Christopher thought his wish was over and that is was time to eat and wrap up the day. But wish granters Robin Walker and Carolyn Chapparo had pulled out all the stops for the "moto" inspired wish.  As they made their way to Graziano's, TruthMX had set up a mini store full of Truth T-shirts, sweatshirts and hats for Christopher and his dad Jason.
In addition, TruthMX team partner Fly Racing threw down riding pants, jerseys, gloves and helmets to both Christopher and his dad.  Everyone involved was smiling ear to ear and Christopher was literally speechless.  To top it off, the last "surprise" of the day was a lifelong membership to StarwestMX track in Perris for Christopher and his dad.  Owner Shawn Keep said, "We want Christopher to know that our wish is for him to have a lifelong membership and years of healthy safe riding ahead of him"
TruthMX was honored to be part of what Make a Wish Foundation did for Christopher.  The community really got a chance to come together and show love to Christopher and his dad and that will go further than anything.  Godspeed Christopher Mokbel, may you have years of riding ahead of you!
TruthMX.  Free to live.  Free to ride
For more information on Truth clothing, visit us on facebook or at www.truthsoularmor.com
For more information on the Maka Wish Foundation visit www.wish.org