New AMA West Coast Series
Phoenix, Arizona
- USA Sport Motocross is excited to announce the inaugural year of the FMF Power Beverage Western Pro-Am Motocross Series presented by BTO Sports. This new three race series features rounds at Arizona Cycle Park,
Freestone
County Raceway and
Glen Helen
Raceway, and gives "A" class riders the chance to earn Pro-Am advancement points and a state championship in Arizona, Texas and California.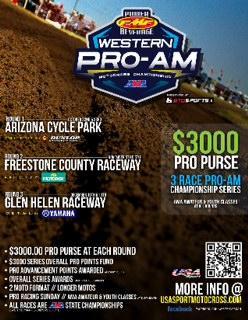 Racers will have a chance to win a $3,000 pro-purse at each round, and a $3,000 overall series pro-points fund. All racers are invited to compete in all three rounds for overall series awards from brands like Scott USA, DVS, FMF Racing, and Acerbis. Racers may also choose to race individual rounds to compete for awards at each track.
You can find out more information, including event details, gate fees, and class information by clicking the links below:
www.usasportmotocross.com
www.glenhelen.com
www.arizonacyclepark.com
www.freestonemx.com
You can also get the latest updates by liking the
Western Pro-Am facebook page
, or
Glen Helen Raceway
.