Matrix Concepts M6 & M8 Launch Ramp
Matrix Concepts is now shipping the new and improved M6 and M8 loading Ramps. The new ramp design includes reinforced ribs for added strength. This lightweight folding ramp is very user friendly, and folds up nicely with a slow motion hinge eliminating chances of finger pinching. Ramps come in 3 sizes, 6 ft folding, 8 ft folding, and a Standard 6 ft Ramp. Available in white, black, silver, and red, with your choice of Honda, Hart & Huntington, or Matrix Concepts graphic.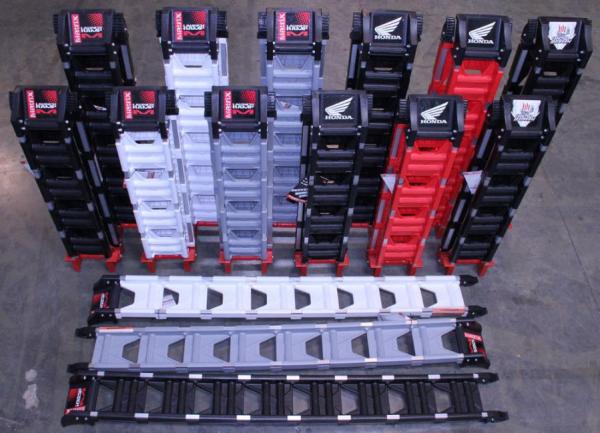 Bonus: Through 10/31/11 get a free M5 Mat upon purchase of any ramp from matrixracingproducts.com, just enter this code: Ramp
About Matrix Concepts: Matrix Concepts is based in Valencia, California founded in 2009 and is used by the top MX/Off-road race teams in the world and offers a complete range of track/garage necessities that include personalized off road motorcycle Stands, Loading Ramps, Tie Downs , Utility cans and Worx Mats.
For more information on Matrix Concepts products, visit:
www.matrixracingproducts.com /  www.facebook.com/matrixconcepts http://twitter.com/#!/MatrixConcepts
Offer is good in U.S.A. from www.matrixracingproducts.com only, expires on October 31, 2011. No other promotions or discounts can be applied.