Hello, everyone, and welcome to the Rev Up. Nicknames are a part of life and decorate all forms of racing and sport. While no sport will reach the heights that of the WWE and their immortal monikers, motocross has some great ones. To that end, the bigger the sport or genre, the cooler the nicknames. All nicknames are cool—reverse nicknames, descriptive nicknames—even negative nicknames are awesome. Over the years, maybe a few of you loyal readers have noticed my nickname, "Hattica," which was given to me by some dear pals in the Bay Area. A lot of heads have asked me what it means, or how it came to fruition, and I usually come up with a different answer each time. Those Cali guys are different for sure, and sometimes nicknames just come out of "bat country." Hell, I don't even think mine is spelled right. But, I digress.
My muse for this week's column was NASCAR's Tony Stewart and his annual Stewie Awards, which he gives out on Sirius radio at the conclusion of each season. It's a cool idea and always entertaining to see who wins what. 2011 was a really great year for professional motocross, from A1 to Pala, she brought the noise and we saw some antics and performances that will be remembered forever.
So, without further delay here comes the inaugural "Hattica Awards" for the brave souls who carried the charge throughout a truly epic year of throttle twisting.
BEST PERFORMER
Back in the day, men like Danny "Magoo" Chandler, Bob "Hurricane" Hannah, and Guy "Airtime" Cooper won the crowd with their big "clickers" and feet-off-the-peg racing. Cooper will always be one of my all-time favorites. I used to watch Coop hit ski jumps back at 59th and Douglas third gear wide open and try to reach up and tap the power lines above the track. He would just launch himself into the night sky and throw a one-handed pan, tap the wires, then explode out to the flats. Damn right, that wire was left swinging. In the mid-80s Coop used to give up heat races by doing pancakes in similar fashion for the fans. No man lives forever, but heroes never die.

Windham dazzled the crowd with his nose wheelies and transfers during the SX season.
Photo: Simon Cudby
The best performer of 2011 and recipient of the "Hattica Trophy" is Kevin "The Ragin' Cajun" Windham. At the ripe old age of 32, my man was the darling of the opening ceremonies throughout the Monster Energy Supercross series. His numerous nose wheelies and jaw-dropping berm-to-berm transfers put 'em on their feet each Saturday night.
Had he not carted huge while leading at Houston this year he may have created his own category altogether. Long live #511, Kevin Windham.
BEST TEAM
A lot of words come to mind when you think about the Monster Energy/Pro Circuit organization. Dynasty, domination, commitment, perseverance, fortitude, respect...on and on. What Mitch Payton has built and maintains is the high water mark for all of professional motocross. Bold statement? Look at the #1 plates on the doors of their hauler if you need further validation. Not that they didn't have any competition. Category notables such as factory Kawasaki--who swept both of the premier divisions with Ryan Villopoto--and GEICO Honda, who won a race in every category (sans Supercross main event) deserve accolade.
I know I ruffled Mitch's feathers with a couple columns by saying I wish they weren't so dominate, which I still don't. Besides the fact that it still surprises me that anyone actually reads my stuff, it made me respect him that much more that I was able to offend him. Mitch and his army works harder, tests more, and demands the very best out of every member donning a team uniform.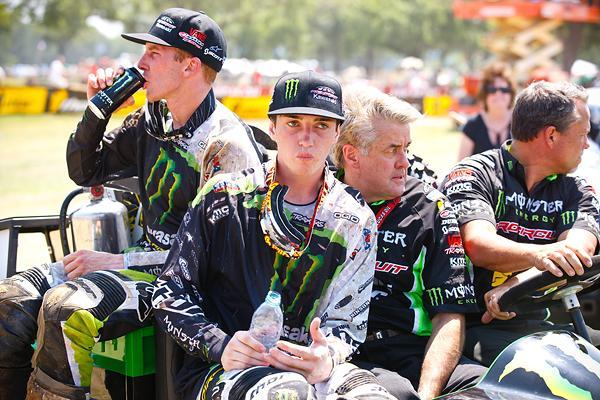 Mitch and the boys did it again in 2011.
Photo: Simon Cudby
Little story, circa 1997. I had just picked up my Team Green bikes and drove up to Pro Circuit to have them modified. After the crew had done my suspenders, cylinders, and heads, my bikes still stood in the middle of Mitch's gleaming race shop. I was out riding Reche Canyon with David Pingree, Craig Decker, and Ricky Carmichael and forgot that I needed to get my crap put back together and out of Payton's shop. My last day in California I was trying to put my bikes together and after the lights turned off, Mitch wheeled over from the dyno room and single handily helped me. Mostly because he wanted my mess out of his way, but he never made me feel like that while passing t-handles back and forth. We talked racing, then and now, and he was just a moto guy helping a hick kid from Kansas trying to make it.
Not because of what he did for me, rather because of what he does every day makes his team the best.
WORST CRASH
This is a grim category for sure. But, this is motocross and a consequence we all accept. Like every season, 2011 had her share of highlight-reel spills. James Stewart's seat bounce-to-ass-over-tea kettle at Daytona was in the running. Mike Alessi came in a close second in this category when he lawn darted at Hangtown. That one was as dirty as they come. Brett Metcalfe's face plant at Atlanta deserves respect as well. I was standing about forty yards from it and literally felt him come to a halt. Eli Tomac's high-flying handstand over the LaRocco's Leap was heavy duty, as was Justin Barcia's mega-speed high-side at the same event. Tyla Rattray saw "The Messiah" at Unadilla, and Malcolm "Mookie" Stewart's swap out at the "House of Hannah" were all gnarly.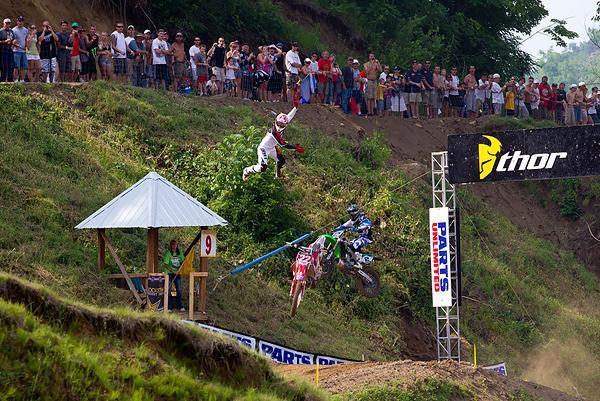 Was there any question on this one?
Photo: Brian Robinette
The winner of this category kicked a lion's share of ass in twenty-eleven, but it was his horror at Millville, Minnesota's Spring Creek MX Park that denied him what I felt would be the 450cc outdoor crown. The first instance I saw of it was via Shane Lusk's post on Facebook. It looked heavy enough, before Denny Stephenson posted the video version of the atrocity. Ah, but I didn't get the full effect of it until it was on a 55-inch HD screen that I literally had chicken skin coldly crawl up my arms.
It may be a crown of thorns, but Chad "The Thunder" Reed won this category. That shit was big, son.
BEST SUPERCROSS
While nothing compares to the electric anticipation of Anaheim 1, and the "big race" nostalgia of Daytona, each passing season produces a round that blows the roof off. And each year it is typically the Atlanta Supercross. Perhaps it's the mid-series push, or the huge crowd, or merely her rich history, the "Battle of Atlanta" continues to be the most badass SX of the year. The 2011 version may be on the podium for greatest ever. In fact, as long as they hold a supercross there, I'll never miss it, just because of how indelible this one was. It's the sound. That chest-crushing sound, that one moment such as Reed throwing the "pick up pass" on Stewart that gives the ATL dust up the easy nod.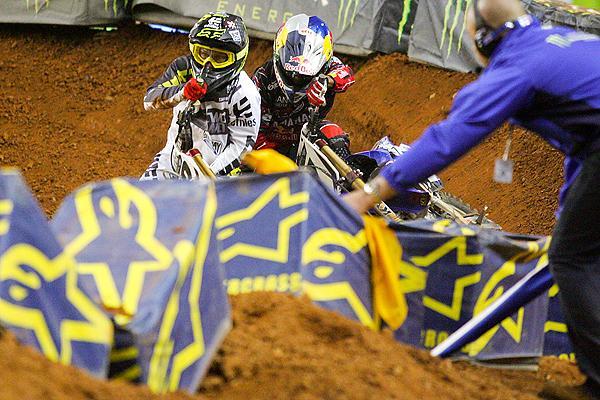 Who can forget this dust up in Atlanta?
Photo: Andrew Fredrickson
Wilson, Barcia, and Sipes set the tone with a furious 250cc event, then Chad Reed pushed his TwoTwo Motorsports to the starting gate for the first time of the season with a crimson hue in his eyes. Remember that sandy left-handed sweeper that he was crushing? I've seen a lot, and his speed through that section was astounding, and ultimately what allowed him to go for the clean job on the racer formally known as #7. It was loud I tell you. Deafening.
And that, they say, is why we run the races ladies and gentlemen.
BEST OUTDOOR
The outdoor nats were all really good. Like A1, the Hangtown Motocross Classic always gets circled on the core moto fan's calendar. Everything that has a beginning has an end. And from the hellish heat of Texas, to the freakish weather of High Point, into the thin air of Colorado, up and over the hills of Washougal, and through the sands of Motocross 338, and to the end at Pala. The Grand Daddy of the outdoor nationals is the July 4th rendition of RedBud. The Ritchie family never falters in their effort of producing what I call the greatest weekend of racing of the year. The venue is immaculate, the gargantuan American flag whipping in the wind, the celebration of out nation's Independence, and the early morning screams of "Reeeed Buuuud!!!!" all culminate to create something special.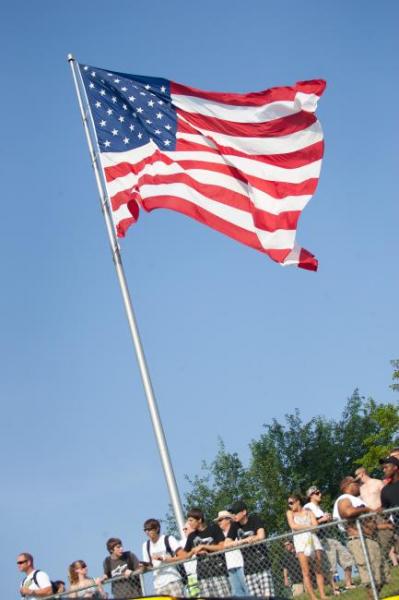 One of the most iconic races, REEEEEEDDDDBUUUUUDDDDD!!!
Photo: Andrew Fredrickson
What a crowd this time around. What a race. They could dominate this category for a while.
BIGGEST HEART
It's hard to take the measure of "heart" with pro motocross riders. They are all on almost Matrix-like levels of human prowess. They all have heart and they all train, bleed, and give all they know how to. When you think of heart, what comes to mind? Rocky? Perhaps, ahem, The Notebook? In my eyes, the rider that shows the most heart knows all about both. You have to be tougher than everyone, but have enough love for your trade that it fuels your toughness. Having heart doesn't make you a winner. Like I said, all the boys have heart and a pad load of it.
But what allows Ryan Villopoto to come back from the stretcher at St. Louis to the top of the steps at A1 can only be described as 100 percent, blood pumping heart and determination. I don't know how he manages to pull something out of his guts on the last lap to pass Ryan Dungey at Steel City, or lead America to another MXoN victory, but the man has heart. You can see it in every berm he destroys. I'd like to see more heart in his interviews, but something has to give. His heart doesn't talk; it races to championships.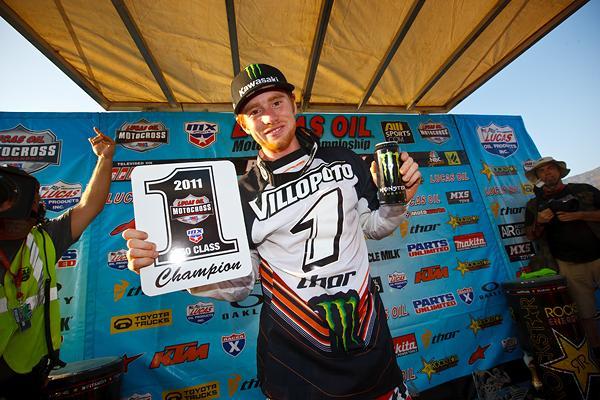 Heart of a champion.
Photo: Simon Cudby
Hence forth the "Hattica Awards" will consist of these six categories. My award recipients may not match all of yours, but I feel like I hit the mark fairly well. In closing, I hope the using of my nickname didn't come across as too ego-strong. At best I can only offer that my affinity for nicknames served as a disclaimer for the title of this week's One Industries Thursday Rev Up. Which reminds me, the good folks at One Industries have sponsored the Rev Up for over ten years. Take a moment and click on their link and go buy something off of their website. Check them out at www.oneindustries.com.
2011 was a great season. Who will knock off the first ever winners of the "Hatt-Awards?" We have about 90 days before it all begins again.
Thanks for reading, see you next week.