Baxtek Releases Quikstand
Palm Coast, Florida
- Baxtek (www.baxtekmoto.com) announces the release of its first product, the revolutionary off-road bike stand called the Quikstand. The patent pending design of the Quikstand takes a completely new approach to supporting an off-road motorcycle in a functional way that makes it easy to park or work on your bike. Riders can now simply lean their motorcycle on the Quikstand when they are taking a break from riding or need to work on their bike. The stand can also quickly convert to a normal bike stand if the rider wants to raise the bike off the ground.
An America company, Baxtek invented a totally new way to hold your motorcycle that is fully adjustable and works the way you want it to work, when you want it to work. The stand is easy to use and simple to adjust to your specific needs. The new design means you only need one stand to handle a number of different situations and bikes.
The Quikstand is perfectly designed for working on dirt bikes, it makes changing the oil a breeze and leaning the bike to remove clutch plates is just as easy. Fully adjustable, the stand works with 50cc bikes up to full-size dirt bikes.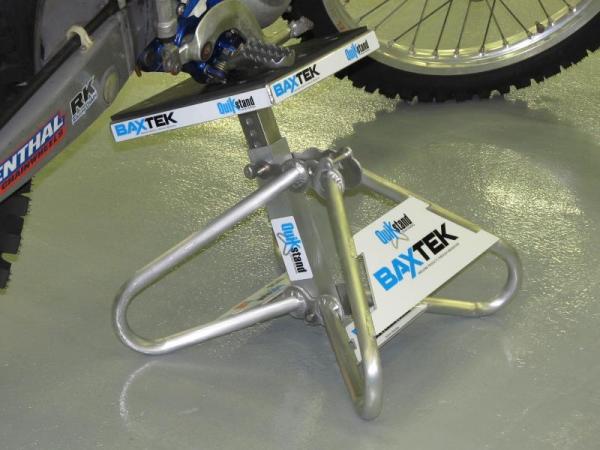 The product is made in the United States by Americans and is manufactured with the highest quality standards. The Quikstand is available in white and urban camo and retails for $129.99, a competitive price for an item that is completely made in the USA. Custom graphics are also available for the stand.
The Quikstand can be purchased at select dealers and directly from the company. Baxtek is looking for dealers to carry this innovative product as well as established independent sales representatives in select markets to work with local dealers. All interested dealers and independent representatives can go to the Baxtek web site and contact management to begin selling the stand or they can call Ed Kuhlenkamp at (336) 293-9103.
The company sponsors a number of top riders and teams involved in motocross and off-road racing. Current teams and riders include the TiLUBE Supercross team (www.tilube.com), the Foremost Insurance Spinechillers Arenacross team (www.spinechillersracing.com), the AmPro Yamaha GNCC team (www.amproyamaha.com), XC2 rider and point's leader Steward Baylor, and motocross riders Colten and Carson Tickle.
About Baxtek
Awesome Products Through Innovation is what BAXTEK is all about. The company was started in order to innovate and manufacture functional, problem-solving products for a variety of industries. Baxtek was founded on the question "Wouldn't be cool if that product could ...?" At Baxtek we look at the potential of a given product and what it could do with some creative engineering. We then take those ideas and make them real. In 2010, Baxtek was born as the founders took their combined experience in fabrication, welding, design, business and marketing and applied them to a couple of new concepts for the off-road motorcycle industry. Baxtek is an American company committed to manufacturing our products here in the USA. We believe in our country and in the ability of Americans to manufacture quality products. Americans are producers and innovators and Baxtek is proud to be doing our part to bring manufacturing jobs back to America.www.baxtekmoto.com