It's Official: Dungey Signs with KTM
MURRIETA, Calif. – KTM Motorsports is pleased to announce the addition of Supercross/Motocross racer Ryan Dungey to the Red Bull/KTM Factory Race Team for the 2012 and 2013 AMA Pro Supercross and Motocross Championship Series.
The well-decorated rider's first official race with the Red Bull/KTM Factory Team will be the opening round of the AMA Pro Supercross Championship Series at Angel Stadium on January 7, 2012 where he will race aboard the KTM 450 SX-F in the premier Supercross class.
KTM expressed its desire to strengthen its motocross efforts in 2010 when it released the new generation SX model line of motorcycles and hired Roger DeCoster, the most well-known and prolific team manager in motocross racing history. In 2011, KTM proved its determination to push ahead in the segment by signing 250cc riders Ken Roczen and Marvin Musquin. Now, two years after the launch of the new model line, KTM has continued to release new innovative product development on its 2012 line and has again stepped up its motocross racing effort with the addition of Dungey.
"I am really happy to have Ryan Dungey join our team. He and I have worked together for several years so we know each other well. Our past should help us get the best out of each other and put us in position to be legit championship contenders in the big bike class," commented Red Bull/KTM Team Manager Roger DeCoster. "Everyone at the factory and here on the U.S. side is very excited to start working with Ryan and see where the future will take us."
At only 21 years of age, the Minnesota native has already accomplished every goal he has set for himself. In 2009 he won the AMA Supercross Lites Western Regional Title and followed that up with the AMA Pro Motocross Championship 250cc class crown. That same year he competed in the 2009 Motocross des Nations where he was one of three members aboard the winning U.S. Team. In 2010, he became the first rider in history to win both the AMA Supercross and AMA Pro Motocross Championship in his rookie year. He again went on to lead the 2010 Motocross des Nations team to victory on U.S soil in Lakewood, CO. Most recently, in mid-September, he added one more win to his belt as he and the US team captured yet another Motocross des Nations victory in France.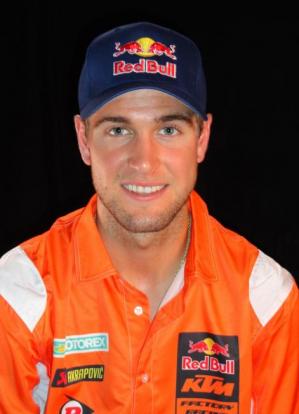 After months of speculation, the wait is over. Ryan Dungey is wearing orange.
Photo Courtesy KTM
KTM has signed Ryan Dungey to a two-year contract. Ryan expressed his excitement about switching to KTM and working under the guidance of Roger DeCoster, commenting, "I'm looking forward to riding for the new Red Bull/KTM team and working again with Roger. I am excited to start something new and am ready for the challenge. I like the way that KTM has backed Roger since he made the switch last year and I appreciate KTM's goal of working hard to develop their race team to earn championships. I am making this switch to win races and work toward getting that championship for KTM."
KTM Sportmotorcycle AG's Head of Motorsports, Pit Beirer, added a personal note, stating, "I am extremely proud that we have brought a great rider to the KTM team. Three years ago we started to rebuild our Supercross and Motocross efforts based on a dream to bring KTM to the top of the sport. A small number of people trusted in my idea and stayed with me. Soon after Roger (DeCoster), Ian (Harrison) and the entire U.S. Red Bull/KTM Team came onboard and began helping us get closer to our goal. We now have Ken Roczen and Marvin Musquin, two MX2 World Champions, on our team and with Ryan coming to our side the dream team is a reality and we are truly ready to race."
For more information on Ryan Dungey and the Red Bull/KTM Factory Racing Team please visit www.ktmusa.com.