For Broc Tickle, 2011 was a series of exhilarating highs and frustrating lows. After winning the Western Regional Lites Supercross Championship in a thrilling finale in Las Vegas, Tickle found himself struggling outdoors. He was only able to break into the top-five in just six of twenty-four motos, and finished in the top-three just once. To make things even more interesting, Tickle learned he had pointed out of the Lites class and would not have the opportunity to defend his supercross title. Worst of all, it meant he might not even have a ride lined up for 2012. We checked in with Tickle to talk a little about his roller coaster ride in 2011, and to discuss his plans for next year.
Racer X: How's the off-season been treating you?
Broc Tickle: Pretty good. I haven't had much of an off-season yet because I'm going to do the Monster Energy Cup, and I figured I'd need a little time to adjust to the 450. My plan is to take a little time off after that, so the off-season will be after the Monster Cup most likely, just for a couple weeks or so.
Talk about where you're going to be next year.
Basically, I'll be doing the same thing that I was doing this year. I'll be riding for Pro Circuit, just on a 450. There's not much difference, it's just a new bike. Same mechanic, so there's not much of a change other than moving up to the big class.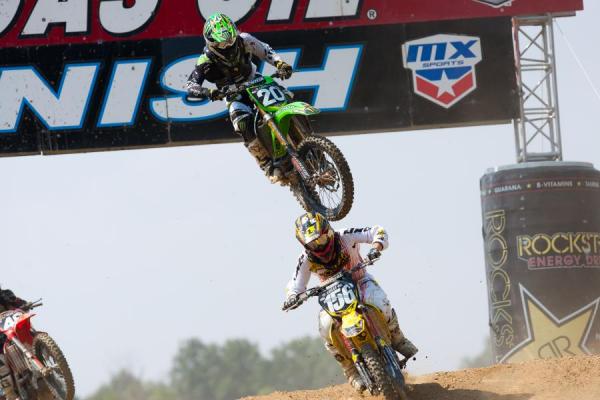 Tickle will make his 450 debut at the Monster Energy Cup.
Photo: Andrew Fredrickson
Is it a Pro Circuit-built bike, or a factory 450?
It's a PC-built 450. I've ridden it twice already, and I'm pretty happy with how fast I got adjusted to it, how well it handles, and the power so far. We've got a lot of testing to do obviously, but we'll get there before A1.
Is it an indoor and outdoor deal?
Well basically, I had a two-year deal with them last year, and I think everything is pretty much staying the same. It'll be under their truck, there's not much of a change at all. It's a 450 outdoors, too. They asked me if I wanted to ride a 250 outdoors, and I figured if I'm going to ride a 450 in supercross, I might as well ride a 450 outdoors too.
People have been waiting for Pro Circuit to field a 450 effort for a long time, so it should be pretty cool to watch.
That's what's cool, I think this might be a good way to develop a 450 team. I think that me doing this will make it easier for them to accomplish that in the following years.
Who are your teammates going to be?
As of right now it's me, Dean Wilson, Blake Baggett and Tyla Rattray. I've heard rumors on who's going to be the other guy, but I don't know anything for sure yet. I think we'll know pretty soon, because last year I signed my contract just a little bit later than this, so we'll know pretty soon who it will be. There's a couple guys that I've heard that have the opportunity, but I'm not 100 percent sure.
At what point did you realize that you had pointed out of the Lites class and would not have the option to defend your title?
Actually, I heard about it right around the fourth outdoor race. I heard rumors that I had to move up, and I was like, "No, I have a two-year deal and I'm not pointed out." I told Mitch about it, and he said, "Hold on, let me pull out the rulebook and see what everyone is talking about." I actually didn't get the news until Southwick that it was confirmed that I had to move up. I actually got a letter in the mail from the AMA. I didn't have much time to figure out anything else, but what I thought was really cool was that Mitch and Kawasaki gave me an option. If I wanted to stay, I could, but if I wanted to go, if I got an offer that was worth taking, I could go for it. It ended up working out, and I'm pumped to be back on the team again. Hopefully we can turn this 450 thing into something permanent.

After wrapping up his first career SX title, Tickle struggled with consistency outdoors.
Photo: Andrew Fredrickson
Obviously, your outdoor campaign didn't go the way you wanted it to. Was that weighing on your mind as the end of the season was approaching?
I was thinking, "What if I have to move up? I don't have a ride. I know I won a supercross championship, but still, I'd like to know if I have to move up." It seemed like it took a while for it to go through and be official. After Southwick, I had a meeting with Mitch and the Kawi guys, and that's when I found out I could stay if I wanted. All those races in the middle, I didn't even know what I was going to do, or if the rule was going to be changed, or what. So that was a question for the whole outdoor season, pretty much.
That must have been nerve racking at times.
Yeah. Obviously, I had a good supercross season, so I knew I would get a ride, but I just wanted be somewhere. And obviously I wanted to defend my title, but the way I look at it now is, you have to move up sooner or later in this sport, so why not take it as an opportunity?
We've seen you ride the outdoors better in the past. Was there any one single thing you think that was holding you back this summer?
No, there were multiple things, from me sometimes. I just had a couple troubles here and there. I was working on my starts and got frustrated that I couldn't get better starts at the time. I'm kind of glad I didn't have that good of an outdoor season. I mean, I'm obviously not happy about it, but it's like a blessing in disguise. It made me realize how important it is to not get too frustrated with yourself. Just like with anything else in life, if you get too frustrated, it doesn't really help the problem, so I have a new outlook on that. I would have almost one good moto every weekend, not lighting the world on fire or anything, but right where I wanted to be. If I would have put two motos together, I would've been happy with that, but it didn't seem to happen. Last year I was really consistent, and it kind of frustrated me even more when I thought about that. I was just thinking about things too much, but you have to move on I guess. It kind of sucks talking about it, but you have to look at the bad things you did, and you have to look at the good things you did and go over that with yourself, and make a plan to stay away from the bad things.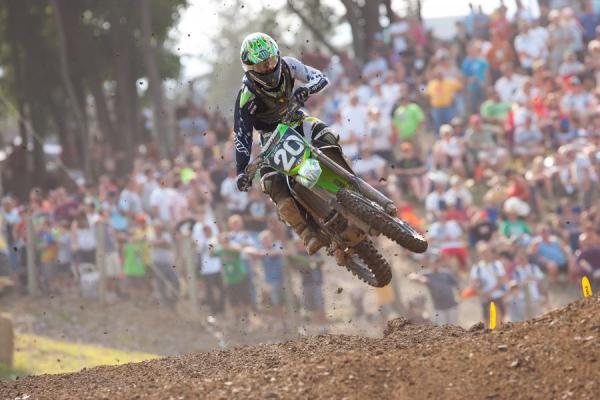 Tickle is staying with Pro Circuit for 2012 aboard a 450.
Photo: Andrew Fredrickson
What'd we miss?
I just want to thank everybody with the team, I'm glad I'm with them again. I like the atmosphere, I get along with everybody, and I didn't want to have to make another change. I'm glad I'm back where I'm at. I'm looking forward to the Monster Cup, and supercross is going to be cool racing against all the big guys.
Yeah, next year is going to be another crazy season!
Yeah, exactly. You can't even count how many good guys there are on your fingers. I'm going to do my work at home, and go have fun. That's the main thing for me. If I'm not having fun, I seem to struggle a lot more.
Thanks for your time, Broc.
No problem.