Pro Circuit New Product: '12 Piston Kit
September 29, 2011 2:15pm
Pro Circuit New Product: 2012 KX450F Piston Kit

Continuing with the success of the line, the new 2012 Pro Circuit KX450F Piston Kit is introduced.  This kit is a custom-built performance package engineered by Pro Circuit and built by JE Pistons.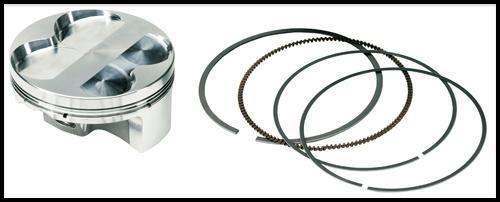 Constructed to meet the stringent Pro Circuit specifications, the KX450F Piston provides increased performance while maintaining long term durability.  This piston allows the motorcycle to produce additional horsepower throughout the full RPM range.
Additional product specifications are included below.  The 2012 KX450F Pro Circuit Piston 2012 kit comes with piston, rings, pin and clips, and is available now at your local dealer and the Pro Circuit online store.  For additional information on this and other Pro Circuit products, please visit www.procircuit.com.
2012 KX450F Piston Kit
·       Improves low-end torque and top-end power
·       More power at every RPM
·       Works equally well in stock or modified engines
·       Each kit comes with piston, rings, pin and clips
·       Retail price: $289.95
·       Part #: RPK12450F