DeCal Works Plastic/Decals/Free Mounting
September 22, 2011 4:30pm
Chicago, IL - Give your bike the gift it's truly earned. It's carried you around the track
for hours, been abused with everything from the back of your boots to power washers and likely thrown to the ground on multiple occasions. This holiday season give your bike a fresh new look with DeCal Works plastic and custom decals.
The Plastic/Decals/Mounting option is the quickest and easiest way to update your bike. DeCal Works builds your custom decals, professionally mounts to brand-new plastic and ships directly to your door.
Simply remove your current side/number plates (set them aside if you ever need back up) and replace with the new Plastic/Decals free of any bubbles, creases and headaches.
Check out the latest designs and start building your new graphics on-line at decalmx.com. At only $139.99 the DeCal Works combination of new OEM-quality plastic, customized backgrounds (styles, numbers,sponsors) and free mounting installation is the perfect gift for you, sponsors, and….your bike.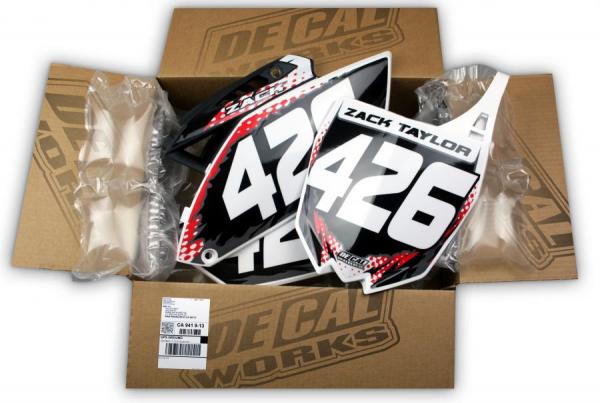 About DeCal Works:
Founded in 1989 by Ron and Janeen Joynt, DeCal Works has been the industry leader in pre-printed decals and custom graphics for over 22 years. With a passion for racing and innovation, DeCal Works has since its early days also focused its attention on a high quality product with great customer service. "DeCal Works, The Original"