St. Jean d'Angely
St. Jean d'Angely

,

France
Motocross of Nations
Motocross of Nations
The annual Olympics of Motocross otherwise known as the Motocross des Nations (I'm not putting the "of" in there. Can't do it. Refuse to do it. So there) took place this past weekend in St. Jean D'Angely, which is located in the southwest corner of France. It's always an exciting race with lots of intrigue and questions going into it.
It's always a little weird for me at this race. As most of you know, I'm a born-and-raised Canadian citizen and proud of my homeland (have I told you guys about Ross "Rollerball" Pederson at all?). But at the same time, I'm married to an American girl, and as of 2011 I've almost lived and worked in the United States as long as I lived in Canada. The USA riders, staff, and sponsors are all friends of mine. I see the guys every weekend, and I do want them to win. I also find that when I speak to different people about the MXDN, I'm saying, "They look fast" meaning the USA or sometimes I say, "We killed it today in Saturday qualifying." It's weird—I'm in some sort of netherworld of Americana and never quite sure what to say when talking about Team USA.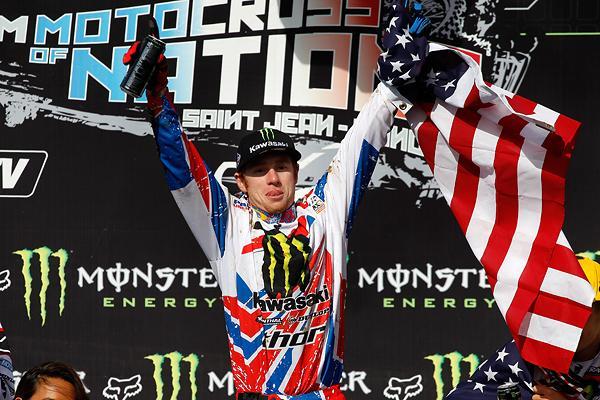 Villopoto put in a clutch ride to help Team USA capture its seventh consecutive MXDN title.
Photo: Ray Archer
And I think part of the fact that I do feel part of Team USA is that I was a mechanic for Tim Ferry at the MXDN in 2003. Or otherwise known as "The last year Team USA lost an MXDN." Yes, I do have this record hanging over me. But anyway, I consider it a career achievement to be there working for the team, and it was cool. Not winning sucked, but still, I worked for Team USA and have the pit shirt to prove it.
And this was before they gave out pit shirts to approximately 382 people that come over for the race. In Zolder there were about fifteen of us representing USA for three riders.
Canada sometimes sends a team, sometimes not. Sometimes we borrow bikes and suck; most times we never send our best riders. Other times, like this year, we simply don't go. It's a whole bunch of political bullshit, egos, and poor management year after year and nothing seems to change. I truly believe that a Canada team of Colton Facciotti, Dusty Klatt, and Tyler Medaglia would be inside the top ten, but it's just not going to happen anytime soon. I will now hit myself in the head with a snow shovel.
Okay, back to the race! The USA won the race thirteen straight years and then lost the next four out of six before winning in 2000 at this very track. Although the rouge-blanc-et-bleu is favored going in every year, the last two years (all USA wins) the team has been trailing going into the last moto.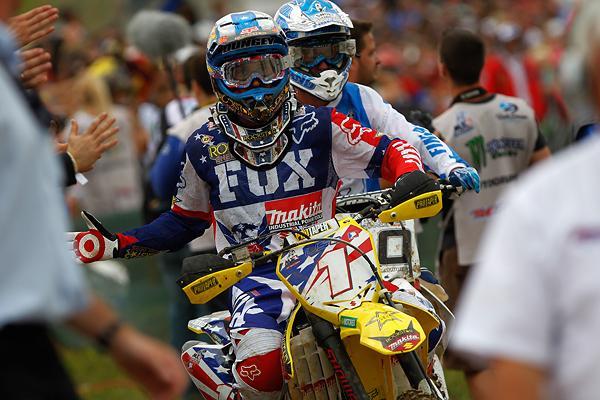 Dungey was also spectacular in France.
Photo: Ray Archer
And that's exactly where they found themselves this year going into the last moto, and to be honest, I didn't think they were going to do it.  France was killing it on the slippery weird hillside track. Sure, USA was coming into the third moto with its big guns of Ryan Villopoto and Ryan Dungey, and if they went 1-2 they would win based on the five best moto results (out of six), but I didn't think they were going to do that.
After Dungey, Villopoto, and Blake Baggett won their Saturday qualifying races pretty easily and got great starts, the start gods seemed to be angry on Sunday when it really counted. Team USA elected to give its 250 rider, Baggett, the inside pick on the gate but he wasn't getting off the line like he needed to (especially considering that other countries eschewed the typical strategy of giving the inside gate to the smaller bikes—Australia and France, to name a couple) and Blake's day was a struggle with said bad starts and crashes. Dungey got a good jump in the first moto of the day to finish third in his moto, but Villopoto had to come from the back in his first moto to finish third. Baggett was buried every time.
So as I was saying, Team USA had finishes of 3-3-17-17 going into the third and decisive moto of the day. With Gauthier Paulin winning his MX3 moto over RV, Marvin Musquin dominating Baggett in MX2, and Christophe Pourcel (who by the way is going to stay in Europe for next season with the CLS Kawasaki team) hanging in there, I didn't think the third moto of the day was going to go well for the stars and stripes. I've been to every one of these things in the last five years, and this was by far the most worried I was for us. Or them. Whatever.
But then a funny thing happened when the gate dropped: Ryan Villopoto and Ryan Dungey came through big time and rounded the first turn two and four, and I knew this thing was over. RV got the jump every rider dreams about from the outside, Dungey did his thing from the inside, and Captain America was reborn again! RV quickly got into the lead with Dungey settling into third, and with the Russian Evgeny Bobryshev between them, it wasn't going to be long before the guys cruised home for the win. Even an early fall by RV (Dungey did a smart thing and basically waited for RV to pick up his bike to fend off Pourcel) didn't stop the freight train.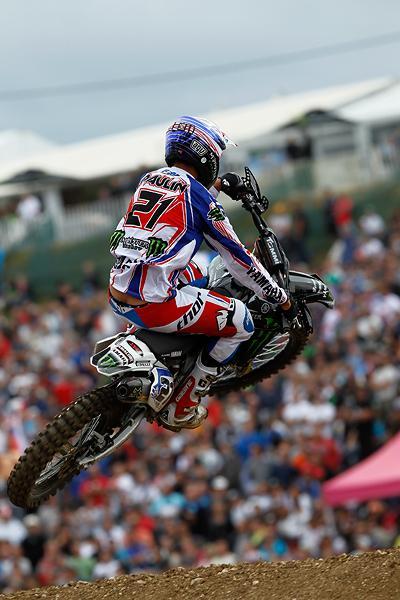 Gautier Paulin took home the surprise victory in moto two.
Photo: Ray Archer
France was still in it somewhat until Pourcel's rear tire came off the rim about halfway through the moto and he DNF'd. That was it. I was watching on the hillside with the fans and the air horns suddenly went silent as they realized it was going to be USA once again. Still, Paulin straight up won a moto and France ended up second to the USA. It was a good result for the French, no doubt about it.
I've often wondered about Gautier Paulin and his insistence to stay in the MX2 class in the GPs. He's simply too big, and the French team put him on a 450 for this race, which was the right move. He won the second moto and showed promise, as he's taking his skills and giant hands to the 450 class next year on a Kawasaki. And to think that some French people wanted him off the team in favor of Pourcel because of CP's recent surge in the GPs. Luckily for those people, 450 MX1 rider Steven Frossard hurt himself and couldn't race, opening the door for Pourcel. I say Frossard would've done better than Pourcel, so lucky for USA, methinks.
RV and Dungey were clutch with a capital C, and both guys deserve full credit for the win. They knew they had to go 1-2 in the last moto to do it, and that's what they did. Neither guy was exactly performing up to expectations in their first motos of the day on the tricky track—they weren't on their top of the game by any means, so it was interesting to see them both rise up and come through when the pressure was on.
A lot of bench racers would have come down on Blake Baggett had USA lost, and maybe rightfully so. He wasn't the Baggett I saw this past summer, but he's really only in his second year of being a pro. He's never been to Europe before, and maybe it overwhelmed him, I'm not sure. Like I said, he never got the starts, the track was tough to pass on (especially when the rains came), and it wasn't the best of days for BB Gun. But the USA needed one of his scores to count, and in both motos, at one point, Blake was outside the top twenty before working his way up to seventeenth. He showed heart and determination in getting his scores.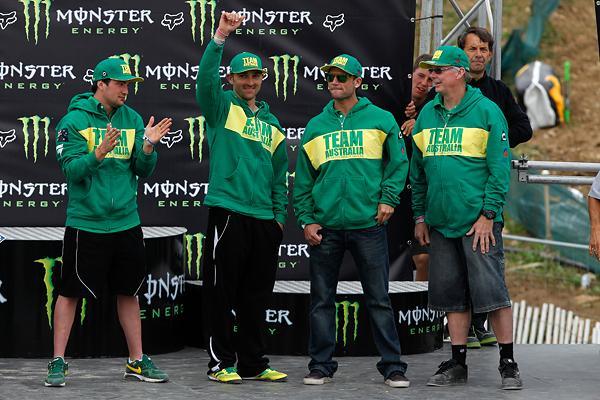 Team Australia celebrates its first-ever MXDN podium appearance.
Photo: Ray Archer
Team Australia had never made the podium before at the MXDN, which is ridiculous when you think about the quality of riders they've sent in the last decade.
Chad Reed
,
Michael Byrne
, Andrew Mcfarlane,
Brett Metcalfe
, etc. always seem to have bad luck at the race, and the team of Jeff Leisk, Glen Bell, and Craig Dack scoring a fourth in 1988 remained the best the country had ever done.
But that streak ended this year as Reed, Metcalfe, and Matt Moss took third and just about secured second with Pourcel's DNF in the third moto. Reed won the opening moto of the day in convincing fashion (which was good to see, as his second half of the summer wasn't pretty) and in the third moto they were second for a long time. Reed had fallen and was sixth or seventh and Metty was briefly in fourth. It was looking good for them to get second, but then Brett fell with only a few laps left, which allowed France back into second. To watch the scoreboard and see the countries jump over each other for a few consecutive laps was exciting. The team got a nineteenth out of Moss along with a DNF, so third was a solid result.
A few other riders who really impressed were Great Britain's Tommy Searle and South Africa's Tyla Rattray, who both rode the MX1 class and normally are thought of as 250 riders. Searle went 4-4 and Rattray 5-3 to end up in a tie for second (along with Reed) in the prestigious MX1 class. Both riders were right there and in the mix on their new-sized bikes. I know Rattray wants badly to race a 450 in the outdoors next year and was preparing for this race to show his skills to Mitch Payton, and I think he may just have done that.
Let's talk about the track. No one liked it. It looked like it sucked to race on, it was badly one-lined in some sections, and a Motocross des Nations track having a minute-and-a-half lap times is not cool. I can't believe someone felt it was worth holding the most prestigious motocross race in the world. The less said about it, the better.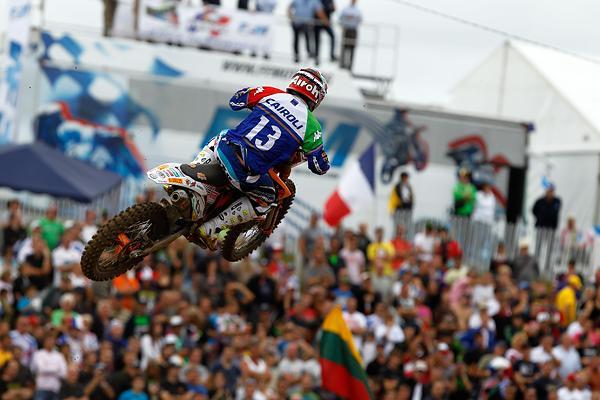 It was a tough weekend for Antonio Cairoli in France.
Photo: Ray Archer
One thing I really don't get is the FIM's insistence on an age limit in the MX2 class. It doesn't make much sense to me—the MX2 class is just as gnarly and intense as MX1. The money made by the riders is just as much, and with an age limit in there, it's treated as more of a feeder class, which to me is wrong. Some riders can't ride a 450 as well as a 250, and when I watch the 250 class at the GPs (or in America for that matter) I'm just as excited and it's just as "real" as the 450s.
Having said that, it blows me away that they would insist on this rule at the MXDN. The race's whole premise is the three best riders a country has, not the two best riders and someone who's under 24. It's ridiculous and hurts the event. Part of the allure for many years is a big-bike rider dropping down to the smaller bike and how he would do. We'd never have seen Johnny O'Mara whip the world on a 125 or Jeff Ward step up in '88 on the small bike if this rule was in place back then. I know a few countries can't field the team they want to because of the rule. C'mon, Youthstream, change this. At least for this race.
Speaking of kids, Germany's Ken Roczen whipped everyone in the MX2 class with some incredible rides. The kid was racing for the lead in both of his motos against 450s. His scores of 2-4 were awesome and he was on it for sure. The kid has the world in his palm right now and will be in America full-time next year to do some real damage to the guys in the 250 class.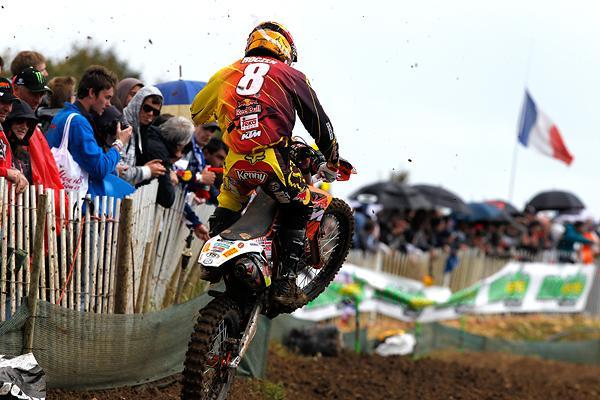 Roczen shined in France, but it was not enough to put Germany into a podium position.
Photo: Ray Archer
My wife was with me the whole weekend, and she's basically like late-career McGrath: supercross-only. Motocross means hot, long, dirty days. She already thought Roczen was cute, so he was number one in her book. After watching him ride both motos and hearing me explain how hard he was riding to beat the 450 guys, she immediately became a Roczen superfan and wants me to get her a Fox Kenny Rocz shirt. How's that for impacting someone's life?
Canada's Great Britain's Dean Wilson came into the race with a sore wrist from the week before at the conclusion of the AMA series at Pala (and while I'm complaining about stuff, can we get a least a week in between the last AMA race and the MXDN?) and figured he could gut it out at the MXDN for the Union Jack. Well, he sort of did but there was no doubt that the 2011 AMA 250 champion wasn't on top of his game. After the race it was confirmed that Dean broke his scaphoid bone in his wrist, and he'll be out for a while healing up from that.
The MXDN was an absolute disaster for the newly crowned five-time World Champion Antonio Cairoli. After a strong showing in Saturday qualifying where he hounded Dungey the entire race, much was expected of AC222 in the race. Well, all those hopes and dreams were dashed in the first turn of the first race when he went down and hurt his hand. He got up after a while, crashed again, and broke his handlebar mounts. He got a shot in his hand for the next moto but pulled out early when the pain became too much. I was excited to see the Cairoli-Dungey-Villopoto showdown in the third moto of the day but it was not to be.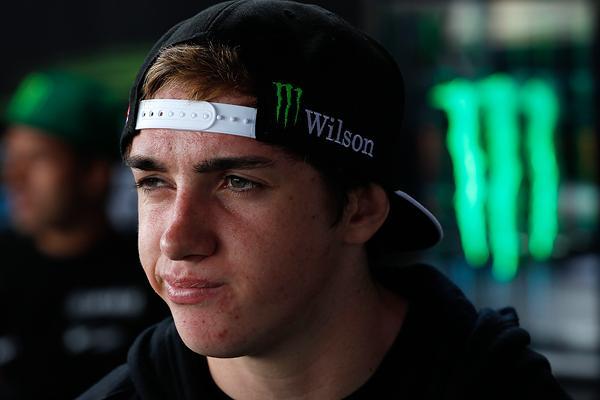 It was reveled in France that Dean Wilson has a broken scaphoid bone in his wrist.
Photo: Ray Archer
Antonio's teammates were hurt by his double DNF because, well, one guy did decent (David Guarani) but the other guy (Lupino) rides a Husqvarna. Let's face it, most countries only have two riders who are strong and they need a Paul-Malin-in-'94 ride to beat the Americans. When two-time World Champion David Philippaerts went out with injuries, it was curtains for Italy's chances. I think they finished so poorly, their numbers should be about 239, 240, and 241 next year.
Another guy hurt by his country's lack of speed is Holland's Jeffrey Herlings. Herlings is KTM's next World Champion without a doubt, and he jumped to the 450 for this race. And he was impressive—generally Dutch riders are better in the softer dirt, but this weekend Jeffrey was dicing with Paulin for the lead in the second moto (and ahead of RV) before bending his shift shaft and being forced to ride the track in third gear. So his second is that much more impressive.
Belgium can send three solid riders year after year. This year their best rider (Clement Desalle, the MX Panda) couldn't race, so they sent a promising up-and-comer (Joel Roelants), a crafty vet whose best days are behind him (Kevin Strjibos), and some dude I've never heard of (Marvin Van Daele). So they weren't going to win. But what did they do? They got fifth ahead of South Africa and its two name riders (Rattray and Swanepoel), Germany and its Roczen power, and many others. That's what Team Belgium does. You can never, ever count them out.
By the way, allow me to pat myself on the back for correctly predicting the top five over on Pulpmx.com. We had a little MXDN MX Fantasy pool going and I nailed it. Yes, I'm a genius. And you know why I'm a genius? Because all those other dorks who submitted entries forgot about the Belgians!
Good to see RV and Dungey apparently getting along and working together the entire week. In the history of motocross, two guys fighting for championships (not to mention millions of dollars) rarely get along. Carmichael never really had any rivals, but he also never really had any friends among the other top riders. Then of course RC and James Stewart, Chad Reed and RC, Reed and Stewart, etc. But basically they kept it clean on the track and with each other publicly the entire 2011 season. That's not easy to do and they both deserve credit for that.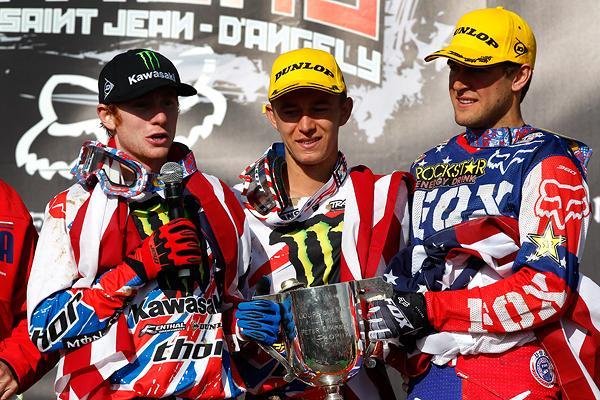 Team USA celebrates yet another victory at the MXDN.
Photo: Ray Archer
Team Puerto Rico was in the house and had a tough time at the race. It was American-based riders Jimmy Albertson and Tommy Weeck teamed up with a real-live Puerto Rican racer named Luis Grana. They were hoping to get into the A-final and go from there. Those hopes were dashed when Albertson, their best rider, crashed in the first turn of his qualifier on Saturday and could only work up to fourteenth. Weeck crashed all weekend and Grana, well, he's not really on pace. So that was it for PR. They were off to the B-Main on Sunday morning where the winner gets into the A-final for the day. Top Jimmy again crashed in the first turn, and although he put in a spirited ride to the front to get third, it wasn't enough to get the guys through.
Ireland won the B-Main and got into the A-final later that day. It seems to me that Ireland's Martin Barr might be the king of these B-Main things, because he's come through a few times for the laddies.
One of the secrets of the MXDN is that there are some incredibly bad riders from some far-off countries that show up. Did I mention that Canada wasn't able to send a team yet? Ok, good. Just checking. Anyways, countries like China, Thailand and a new entry for worst motocross country ever Kuwait all entered riders and they were out there on the same track as the world's best riders, which was a bit funny to see. For example of how slow they are, going off Saturday's practice:

USA- Ryan Villopoto- 1:37.9
Kuwait- Faisal Ben-Awadah 2:32.4
So our buddy Faisal was approximately 55 seconds off of RV's time. That's not at the end of the race. That's one lap! Seriously, right now in my obese state and on that track, I'm pretty sure I could stay within 55 seconds of RV and that's brutal. Just in case you think Ben-Awadah was not showing everything he had in practice, he was lapped four times in the qualifier on Saturday by RV.
But the cool thing was seeing someone from Kuwait in full sheik robes in the pit boxes. That was awesome and I kept looking for Sargent Slaughter to come in and fix him up real good. Hey at least the guys from Iceland weren't last anymore, they put a hurting on China, Kuwait, Greece and Thailand this year in the quali races.
That's all I've got from the MXDN. I had a good time with some good people the entire trip. It's fun to see everyone loosen up after the race, and a good time was had by all. If you guys have anything to say, shoot me an email at matthes@racerxonline.com.