Stewart Debuts in TORC Series
September 15, 2011 11:10am
Stewart overcomes a rollover to qualify mid-pack at Chicagoland Speedway/Route 66 Raceway's dirt oval, places 13th in first race ever
Note: Catch James Stewart racing a TORC Series PRO Light truck tonight on the SPEED Channel, "LIVE" from 9-11 p.m. EST!
JOLIET, Ill.,– Coming out guns-a-blazing, but possibly spacing for a moment on using your left foot to slow down a 3,000-pound, 400-horsepower off-road truck versus your right foot to bring a 225-pound dirt bike to a halt, famed motocrosser James "Bubba" Stewart (Red Bull/Oakley/Traxxas) flipped his Traxxas TORC Series, presented by AMSOIL, PRO Light truck on the opening lap of practice and, for a moment there, his short course off-road truck racing career looked to be over as quickly as it started.
But you don't get to be one of motocross' all-time greats, along with one of action sports' most globally recognizable athletes, by giving up every time you wad something up. And when the TORC Series Ram safety trucks rolled Stewart back onto his tires, the fast Floridian was back off and running again – eventually putting up an impressive mid-pack PRO Light qualifying time for Wednesday's main event in – get this – his very first time behind the wheel of a TORC PRO-level off-road racing truck.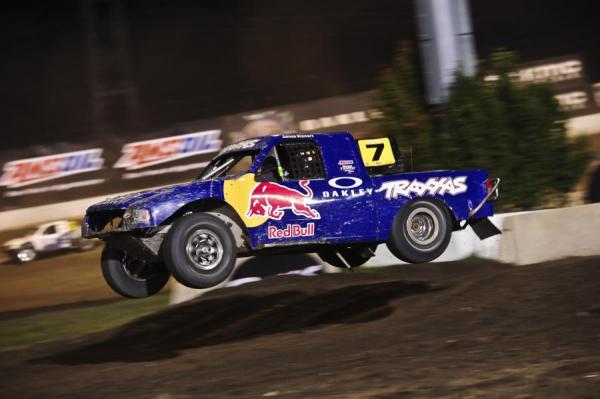 Photo: Mike Roth
"He missed the brake," is what Stewart's brother, Malcolm, said James said caused his rollover wreck, to which the former AMA Supercross champion returned to a chorus of (joking) "Boos" from the Stewart, clan – mom Sonya and dad Big James included - at the Menzies Racing pits after practice/qualifying.
Stewart's main disciple in this MX-come-TORC racing venture has been fellow Red Bull athlete and solid motocrosser in his own right, Rick Johnson. Johnson, seriously, told Stewart "It's an off-road go-kart … with a left foot brake" prior to the race. Once Stewart got that figured out, remember – only less than a minute into his first time behind the wheel of a TORC PRO Light off-road race truck – he began to dial the vehicle in, his lap times dropping every time around. Just a few laps into his first-ever practice session (which doubled as a qualifying session due to rain) Stewart had figured out a tricky rhythm section that allowed him to get by one veteran racer, while shaving some time off the area where he needs to focus most of his attention – corner speed.
"I basically told James you need to ride the corners like a dirt bike, slide the rear end in and work the berm where you can," added Johnson, who won the premier TORC class PRO 4x4 main event on Wednesday. "He'll (Stewart) get better – quick. He's got a lot of things on his side that lend themselves to short course off-road racing."
While Stewart spent some time signing autographs, his presence at the TORC round at Chicagoland Speedway – in conjunction with the NASCAR races that week/weekend – was a definite boost for attendance figures. A strong contingent of curious motocross fans were amongst the thousands of fans that packed Route 66 Raceway's dirt oval grandstands  to see what Stewart had in an off road truck – and were noticeably surprised when they ended up witnessing one of the most exciting PRO Light main events in TORC Series history.
Said one kid: "Man, I had no idea truck racing was so cool."
Maybe it took a guy like James Stewart to help point that out.
Action on the Traxxas TORC Series continues tonight at 7 p.m. from Chicagoland/Route 66. And if you're not nearby you can catch the action – LIVE – on SPEED Channel beginning at 9 p.m. EST.
For more information, please visit: www.torcseries.com
About TORC
The Traxxas TORC Series, presented by AMSOIL, is the fastest, most punishing short course racing series on the planet! TORC events are packed with flag-to-flag fender banging as drivers push the limits over whoops and jump-filled natural terrain race tracks. Off-road racing fans come from far and wide to experience the most challenging form of high-octane competition. And once they taste TORC for the first time they're hooked for life!