Freegun Official Underwear Sponsor of Team USA
September 12, 2011 3:25pm
Freegun is proud to be the official underwear sponsor of the US Team at the 2011 Motocross des Nations. Each member of the US team traveling to France received a "good luck" pack including two pairs of the Freegun FLAG model. Good luck in France!
The FLAG model is available on www.freegun-underwear.com for women, men & kids.
Go USA!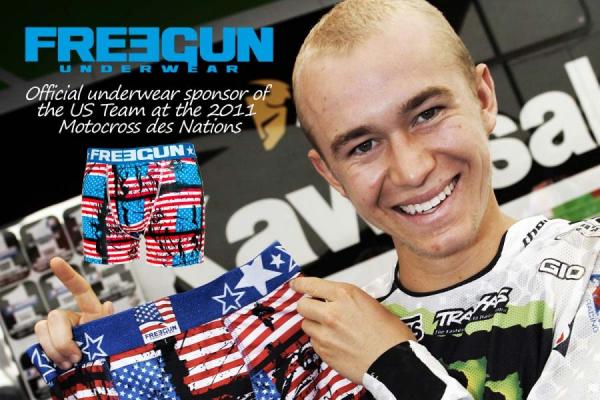 Freegun is the #1 underwear company in Europe selling around 500,000 pieces a month since 2006. Freegun, Inc. hit the US market at August 1st, 2011 offering fresh, colorful and trendy underwear to women, men and kids. Freegun supports Ashley Fiolek and Mike Alessi in motocross, Jarryd McNeil in Freestyle MX, Kurt Caselli in Enduro, Ben Hucke and Devon Smillie in BMX and Dusting Farthing in jet ski racing.