BTOSports YouTube Contest
BTO Sports Giving Away Free Gear to a Lucky YouTube Subscriber
The media team at BTO Sports has launched a newly revamped YouTube channel with a bunch of awesome new videos of Pros, amateur pros, and just plain amateurs, for your viewing enjoyment. To really get the ball rolling, we are going to offer a free Pant, Jersey, Glove combo (of choice) to 1 lucky winner, once we have reached 1,000 YouTube Subscribers.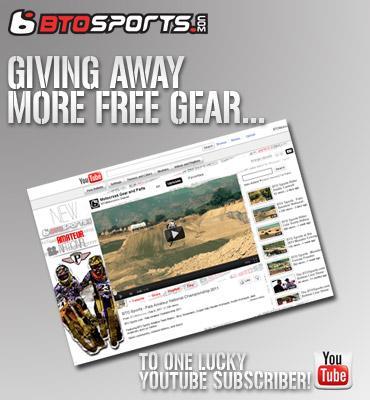 So, head over to our channel www.youtube.com/BTOMotocross/ and check out the awesome videos, subscribe, and tell your friends to subscribe. Once we hit 1,000 subscibers, we are going to randomly select one person from our subscriber list and give that person a free gear combo of their choice! The faster we can hit that number of 1,000 subscribers, then the shorter you need to wait for your chance at a free gear combo.
Aside from the fact that we are giving away free gear in exchange for subscribers, our videos are truly great. You'll find exclusive coverage from the 2011 Mammoth Motocross, 2011 Powder Mountain Motocross, Amateur nationals and more. Also, exclusive videos of our team riders that can only be found on our channel. Do yourself a favor and check out our channel. There are many many more videos to come that will satisfy your every moto video need.
Link to our YouTube Channel: BTO Sports YouTube