Steel City Raceway
Delmont

,

PA
Steel City Raceway
Lucas Oil AMA Pro Motocross Championship
The penultimate round of the 2011 Lucas Oil AMA National Motocross Championships took place at
Steel City
Raceway near Pittsburgh, Pennsylvania and we saw one rider clinch a title and one rider move very, very close to another. It was a strangely very hot day, like really hot. Like standing on the sun hot. We were in Pennsylvania in September, right?
The track at Steel City is a tricky one, as it never seems like you're riding on flat ground. Lots of off-cambers and hills along with the typically hard and slick turns make it one that requires throttle control and timing. A certain Frenchman that won everything there is to win in 1991 told me that Steel City was his favorite AMA national track and I can understand that. It's not a balls-out motocross track, it's more of a balls-in type track that taxes the mind as well as the body.
We'd never really seen Ryan Villopoto and Ryan Dungey go at it mano e mano. It always seemed that one guy got the start and one guy didn't and there haven't been too many races this year where the #1 and the #2 battled it out. Dungey was clearly better at Hangtown, Texas, Washougal and Millville. RV was clearly better at Unadilla and High Point with the other races sort of a wash. Well this weekend in the first moto, the guys went at it. Honda's Justin Barcia got the start but was dispatched quickly by the Ryans. It was Dungey in the lead and Villopoto close behind. Each guy had a section of the track that he was faster on and it was a yo-yo game for a little while.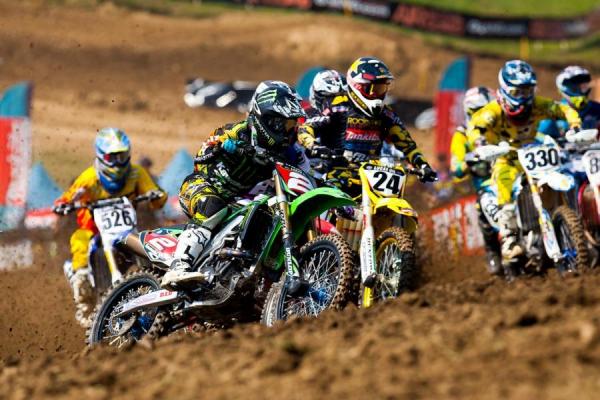 Villopoto stretched his points lead over Dungey at Steel City.
Photo: Andrew Fredrickson
Then around the 25-minute mark, Villopoto decided it was go time and started pushing it more and more. His rear wheel was breaking loose, berms were exploding and headshake was shaking. Villopoto pushed hard to get by Dungey. The only thing is, Dungey matched him turn for turn. The gap to third place Metcalfe was almost a minute and a half as the two riders dropped the hammer down. It was goose bumps galore for myself as I watched these guys go at it. I didn't know who was going to win but I knew that this was a level of intensity that we had not seen in the series yet. And afterwards in the press conference I asked Dungey if it was indeed as gnarly as it looked and he agreed saying, "We were going fast out there."
We saw what happened, Dungey stuck to the inside two turns before the finish with a lapper in front of him while RV blitzed the outside and in perfect Peoria Half Mile form, went around the outside of Dungey and stole, yes stole, the win right away. It was an amazing bit of flat tracking by the Kawasaki rider and the odds were not in his favor to pull it off, but he did. Afterwards I asked Villopoto if Dungey did anything wrong in those last turns and he said not at all, that he himself would have done the same thing. Protect the inside, that's what we're all taught out there and that's what Dungey did. It was just a perfect storm of Dungey slowing a bit and losing traction with his front end and RV pulling off the blitzkrieg around the outside.
The lap times in that first moto really tell a story. RV set his best time on the 12th of 15 laps (everyone else's in the top ten was set on lap five or sooner) while Dungey's best was on the 7th lap. Starting with the tenth lap RV and RD lowered their times for three consecutive laps, which proves the RV attacks theory correct. The guys were pushing it for sure but then for some reason (lappers most likely) Dungey's last lap was considerably slower than his previous ones. And that cost him in the end.
With that heartbreaking loss hanging in his mind, Dungey got the holeshot, but Villopoto passed him on the first lap and took off, then Dungey had a small crash that allowed Villopoto to pull away even further. That was it, folks, it was a 1-1 day for Villopoto and he went from 8 points up on Dungey to 14 with one race left. If Dungey's going to win the title, he's going to need to go 1-1 next week and get some help from his competition. It looks good for Villopoto no doubt about it but ask Grant Langston or Christophe Pourcel if anything can happen at the final round.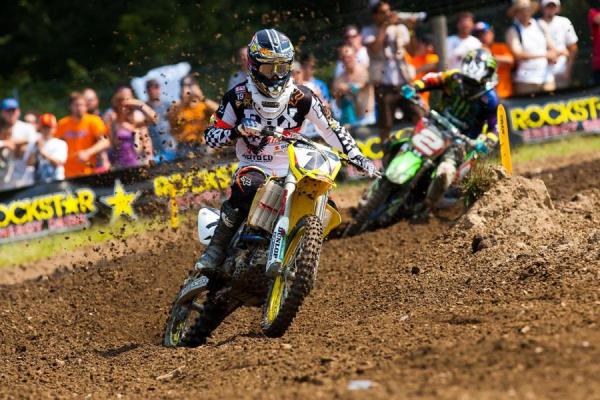 Dungey is now down 14 points to Villopoto with only one race remaining.
Photo: Andrew Fredrickson
It's so funny because not that long ago,
Dean Wilson
was in for the fight of his life for this 250 national championship. Between himself and teammates
Tyla Rattray
and
Blake Baggett
, Wilson was only 16 points ahead after
Millville
. And he had yet to win an overall. But then a funny thing happened. Wilson dominated
Unadilla
while Rattray crashed out and Baggett struggled a bit, then this weekend Wilson again dominated while Rattray and Baggett were so-so. So the gap went from 16 to over 50 in three races. And that's it everybody, Wilson clinched the title this weekend with said 51-point lead (and you're saying to yourself, yes Matthes, we know that has to be the margin to clinch, obviously. Hey, I'm just here to clarify. That's what I do) and he's the 2011 250 National Champion.
Wilson hadn't won a race all year until Unadilla but as I've been saying, he's too good of a rider to be in the points lead without winning a race. You knew that things were going to go his way and he was going to start winning eventually. Unadilla was picture perfect, he led every lap and Steel City wasn't far off of that standard. Good for Wilson for winning his first championship. He's a good kid, has a funny personality, works hard and doesn't have much of an ego or entourage blowing him up. I know he's Scottish and all that (I've never been one to really promote him as Canadian despite my jokes here and there about the situation. There's a Vital MX of Canadian moto and one time I posted my theories on Dean not being really Canadian and was shouted down in true internet message board style. The best one I heard was, "He has a Canadian passport!" (As if that means anything) But he did spend some time in Canada racing and I'm happy that my homeland played a small piece in getting him to where he is now.
Hard to believe the kid I met at the Canadian national in Kamloops 2008 (his mom gave me a Team Wilson shirt even!) is now an AMA National Championship winner. Full marks for it, he was the best guy week-in-and-week-out and of that, there is no dispute.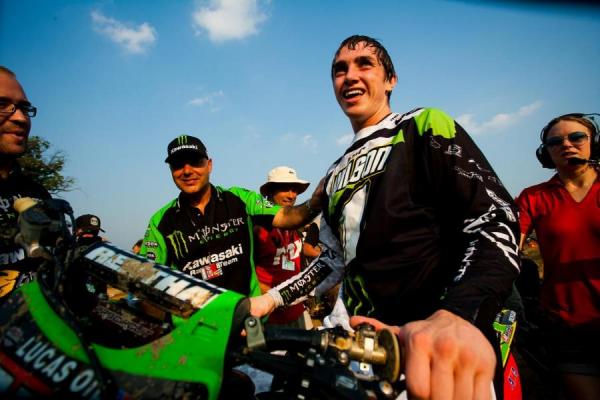 Wilson captured his first career title at Steel City.
Photo: Andrew Fredrickson
Early on in the nationals the questions were, "What's happened to Eli Tomac?" and "How did Blake Baggett get so damm fast?" But in the last month or so, it's been, "Eli Tomac's back, jack!" and "What's happened to Blake Baggett?" This weekend at Steel City the Tomac that we all thought would be there all summer was on it. He went 2-2 and challenged Wilson in the second moto--the GEICO Honda rider hasn't had the best national series. Even though he's fourth in the points, he hasn't been, you know, in the battle each and every week. Steel City he was definitely in the battle. At Unadilla Tomac was also very good and at Southwick, although the moto results weren't great he did qualify the fastest and showed speed. So what's with the turnaround?
Well according to Tomac himself, he's completely revised the chassis and suspension settings on his bike before Unadilla and it's worked out for the better. If you listen to the podcast I did with him after the race, he goes into a bit more detail about his bike changes. (You can listen HERE) It's funny how that works, these guys do have to be comfortable on their motorcycle to go fast at this level. You can't get away with not doing your homework in regards to testing. You really have to be out there riding and think about what's going on underneath you. So Tomac's back and everyone at GEICO Honda is much, much happier these days. Hopefully he carries it through Pala and even at Bercy at the end of October when he ventures there.
So onto Baggett. Southwick wasn't a good race for him but maybe he's just not a sand rider, no harm or foul in that. Being born and raised in Southern California doesn't help your sand skills, no doubt about that. And maybe I'm being a bit harsh because his previous four moto finishes (which encompasses a month or so) were a couple of thirds, a second and a first. It's just the high standards that he set early on with his wins has made all of us wonder what's up. Before Millville, he had won five out of eight motos and since that Minnesota race, he only has one win. One thing is for sure, his starts really haven't been there all year and they really haven't been there lately. That's his biggest problem right now because right now his speed is down a bit from where it was early on. Maybe he's a bit tired; it's a long season for the kid and remember it's his first full year of doing nationals. The nationals are a grind for sure.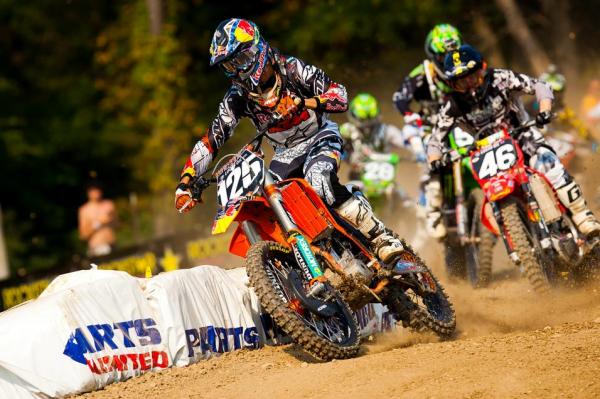 Musquin finished a career best 3rd overall at Steel City.
Photo: Andrew Fredrickson
Chad Reed was on the podium for the first time since "the crash" with his third in the second moto. It was nice to see for sure but talk about a tale of two seasons for the Two-Two. Since the crash he's been a shadow of his pre-crash self and it's an interesting look into the psyche of a motocross racer. These guys make it all look so easy but it doesn't take much to throw the success train off the rails. I'm going to try and sit down with Reed and get his take on what's happened since the fall. You know that he'll be open and honest about what's happened.
Marvin Musquin is another guy that we've been waiting on to break up this Pro Circuit run to the front, but that's just it. We've been waiting. And waiting. And then waiting some more (and in the case of myself, writing columns on Racer X Online about how Musquin is going to be on the podium before you could say "Mitch Payton"). Musquin, a two-time World Champion, has had a stop and start national campaign because of injuries, but he's been back at the races since Washougal and there hasn't been much to cheer about for his fans. But this weekend at Steel City, Musquin came through with a couple of great rides to go 3-3 on the day. It was what we've all thought we would see since he came back but Marvin admitted that the speed level has jumped since he left the series in Texas. Also in the press conference when asked to compare the GP's to the AMA nationals, he said that in the GP's, "When you have a KTM, you holeshot" and then told us all how everyone over here has great bikes and great riders.
Marvin was telling me that the French MXDN team manager was saying in the press that Marvin had better pick up his game or he would put Gautier Paulin on the 250 and add in Christophe Pourcel to the 450 team. Musquin said that his ride at Steel City should show everyone that he's still got it. And I agree, Musquin is better than Paulin as well, and his bike is superior to Gautier's too.
I was talking to KTM team manager Roger DeCoster about Marvin's race and he was saying that it's a perfect track for him with the throttle control and body positioning that one has to have to go fast. Then in typical DeCoster bluntness he started telling Alessi that he has to think harder about his bike set-up after practice.
From what Jake Weimer and Ryan Villopoto have been telling me about the 2011 Kawasaki KX450F, Steel City wouldn't have been a very good track for that bike. And good thing they were still on the 2012's they debuted at Unadilla because we saw what Villopoto did and also, Jake Weimer continued his strong rides since getting on the new bike. Weimer's fifth overall was a career high in the 450 class as well. Him and Mike Alessi both spent the motos basically riding by themselves chasing after dudes a little ways in front of them.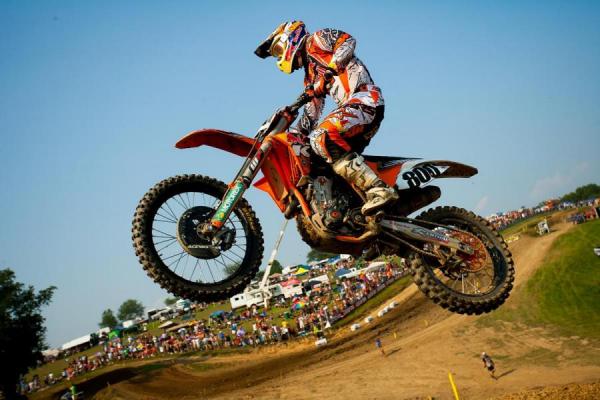 Will Alessi be with KTM next year?
Photo: Andrew Fredrickson
Speaking of Alessi, I guess he didn't make the right adjustments to his bike after practice and it cost him a bit. After the first moto's 8th, he changed tire and suspension settings and it was much better for him out there and he was fifth. I thought that he would be a good candidate to ride next to Ryan Dungey at KTM next year but it appears that he and the team are going to go their separate ways next year. Look for Mike to be a candidate for MotoConcepts and also the Larry Brooks/Jeremy McGrath team next year.
Justin Brayton looks to be going to factory Honda next year and Malcolm Stewart I heard is going to ride for the JDR KTM next year. This is a bit strange as I thought Stewart to Star Yamaha was pretty much done. Things change quickly in silly season!
Let's take a look at the results shall we?
250 Overall
1. Dean Wilson (1-1) Kaw
2. Eli Tomac (2-2) Hon
3. Marvin Musquin (3-3) KTM
4. Tyla Rattray (4-4) Kaw- Rattray is in a battle with Baggett to finish the series in second. He was also second last year as well. So close!
5. Gareth Swanepoel (7-6) Yam- Another solid ride by the South African on a track that's the complete opposite of Southwick. Can't help but think he's got some confidence going.
6. Blake Baggett (5-8) Kaw
7. Justin Bogle (6-10) Hon- Bogle was impressive for sure, but again his fitness isn't where it needs to be. I bet it will be there next year.
8. Alex Martin (10-7) Hon-
9. Martin Davalos (11-9) Suz- I don't have any stats to back it up but it seems like Davalos always does pretty well at Steel City.
10. Malcolm Stewart (8-14) Suz
11. Kyle Cunningham (12-11) Yam- Cunningham crashed himself out of Southwick and was probably still hurting a bit this week.
12. Broc Tickle (37-5) Kaw- Tickle's bike blew up in the first moto and I think it's his second mechanical DNF of the year. Not that it helps Tickle at all but I'm sure the other three riders are glad it's not their bike.
13. Jason Anderson (15-13) Suz
14. Gannon Audette (13-17) Yam
15. Darryn Durham (9-35) Hon- Durham's sort of home track and I thought he'd really make a push this weekend and a ninth isn't bad. Not sure what happened second moto.
16. Ryan Morais (38-12) Suz- Mo had a mechanical first moto.
17. Lance Vincent (14-31) Hon
18. Austin Howell (40-15) Suz
19. Chris Plouffe (30-16) KTM- Plouffe and Kyle Peters (below) both made the top twenty in their first ever pro nationals and that's not too bad really. We've been spoiled by guys like Barcia and Tomac who did so well in their first races. Just for giggles, I called up two riders who had very good pro careers to see how they did in their first ever national. Jimmy Button- "It was Millville and I think it was 24-17 or something like that, I crashed a lot." Tim Ferry- "I don't remember, it was 1991 and it was Budds Creek or Unadilla. Or maybe Binghamton. It was cold and muddy and I ended up around 15th." Thanks for that awesome memory, Timmy. Anyways, my point is both Peters and Plouffe should be happy with a top twenty ride at their very first national.
20. Kyle Peters (16-24) Yam- See above.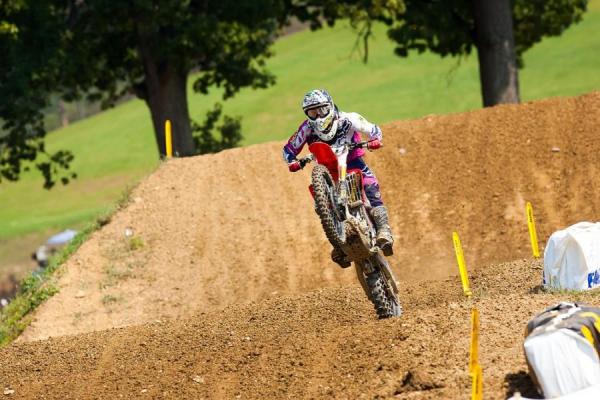 Bogle continues to impress early in his career.
Photo: Andrew Fredrickson
450 Overall
1. Ryan Villopoto (1-1) Kaw
2. Ryan Dungey (2-2) Suz
3. Brett Metcalfe (3-4) Suz- After winning last week, a third is a great follow-up ride for the two-four. Just like last year, Metcalfe has gotten stronger as the season has gone on.
4. Chad Reed (5-3) Hon- The rumor is that Reed is close to securing an Energy Drink title sponsorship for next year. This should help his fledging operation.
5. Jake Weimer (6-6) Kaw
6. Mike Alessi (8-5) KTM
7. Justin Brayton (7-7) Yam- JGR Yamaha's two riders went 7-7 for 7th overall and 14-14 for 14th overall. They are nothing if not consistent.
8. Kyle Regal (9-8) Suz- Regal rode great in the second moto. He was way back early.
9. Nick Wey (11-10) Yam- Wey's best ride since Texas puts him inside the top ten overall.
10. Michael Byrne (13-9) Suz- Byrner rode what might have been his best two motos of the season to end up in the top ten.
11. Kyle Chisholm (12-11) Yam- Chisholm admitted that the heat got to him in the second moto out there. Still not bad considering he hasn't been back on the bike for that long.
12. Colton Facciotti (10-13) Hon- The Canadian's first race on the TLD Honda team went pretty well and he was right about where I thought he would be which is top ten-ish. It looked like to me that the heat got to him in the second moto.
13. Justin Barcia (4-31) Hon- Barcia was strong in the first moto and rode pretty well. He wasn't winning motos and riding out of his mind like at Unadilla and Southwick but he was about where we all thought he would be. Second moto something happened to him physically to make him pull out.
14. Les Smith (14-14) Yam
15. Tye Simmonds (15-16) KTM
16. Vince Friese (17-15) Yam- First time all season that Vince scored points in both motos so good race for him.
17. Ben LaMay (36-12) Yam- Ben got the Muscle Milk Recovery award for most improvement from moto 1 to moto 2.
18. Jimmy Albertson (16-38) Yam
19. AJ Catanzaro (21-17) Yam
20. Heath Harrison (29-18) Hon
A few other notes about the race:
-Rockstar Suzuki's Nick Paluzzi had his best race going all season before falling late in the first moto while running 9th. Second moto he was down in the second turn for a long time before eventually joining the race and fighting up to 30th. It hasn't been the best of years for him but Steel City was one of the those races that, if you weren't there you didn't see how fast he was going or how much effort it took for him to get up in the second moto. As my buddy Steve Cox likes to say- #beingthere
- Only one rider in the 450 class has scored points in every moto this season and that's Ryan Villopoto. Generally speaking there are two or three guys (and almost always it's Nick Wey that's one of the guys but this year at Millville, Wey pulled out after a crash) that make it through the year but to just have one is rare. In the 250 class it's just Dean Wilson and Blake Baggett that have made it through with scoring points every time out.
-Valli Yamaha's Jimmy Albertson looks to be out for Pala as he's had a rough go of it after a crash at Southwick cracked his eye socket! Top Jimmy pulled out of the first moto at the 'Wick feeling the effects of a concussion and this weekend, he was up there in the first 450 moto before getting lightheaded and barely finishing. He sat out the second moto and is going to get checked out for Pala but don't be surprised if he doesn't line up. Unfortunately for Jimmy, when Canadian Colton Facciotti passed him in the first moto, Albertson said he was thinking of me and how happy I would be. This is the effect that I have on people.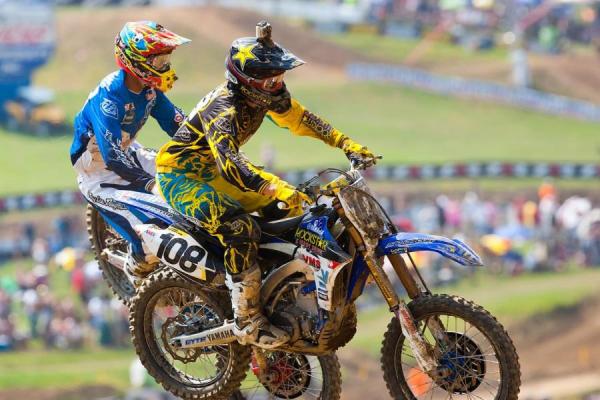 Albertson could miss Pala with an eye injury.
Photo: Andrew Fredrickson
- I spoke to Eleven 10Mods team owner Chad Sanner for a bit on Saturday and he says that indeed his teams success this year (Alex Martin is 9th in the points, Darryn Durham is 10th) has attracted some interest from some companies in getting onboard with the guys next year, which is great to hear. It would be cool if the guys got more support than they do now. Maybe even get out of the flat black box van they've been driving around the country. I would bet though that Sanner's going to lose his two riders to some teams but in a way, that means mission accomplished.
- There were no Flying Sewell Brothers inside the top ten much to my chagrin but both Travis and Shane were right outside the top twenty with Shane running just outside the top ten for a long time in the first 450 moto. I'm not sure if we'll see the Indianans at Pala or not, and just in case we don't, congrats again to both brothers, who have performed admirably out of a van.
Thanks for reading, email me at matthes@racerxonline.com if you want to chat about Steel City, the 1999 Summercross race or anything else.