Steel City Raceway
Delmont

,

PA
Steel City Raceway
Lucas Oil AMA Pro Motocross Championship
Welcome to Racerhead, still drying out from the hurricane, ready for two more weeks of American Motocross.
First and foremost I have to give Ralph and Dianne—the event promoters at Southwick—a huge amount of credit for putting on an excellent motocross race in down right horrible conditions. I can't remember ever hearing of a race going on under such dubious weather advisors as this one. And also hats off to the Southwick faithful, who even with the threat of a hurricane came out in droves to cheer on all the riders, especially 46-year old John Dowd—who once again set a record for being the oldest, baddest man on the planet. It was a great show all-around.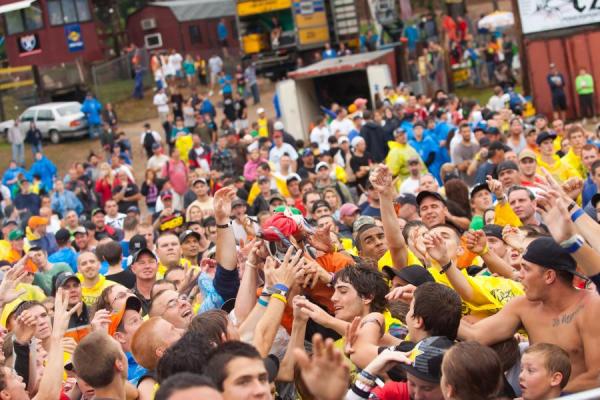 The Southwick faithful came out in droves, even with the threat of Hurrican Irene.
Photo: Andrew Fredrickson
Southwick had it all. Drama, excitement, hardship, natural disaster.... The points leaders came through fairly unscathed, as Ryan Villopoto and Dean Wilson both played it smart and now have four motos and a few points to work with in order to take this year's crowns. And while Hurricane Irene didn't pack the punch some had feared it might, it wreaked havoc on the race and New England in general. I was unlucky enough to be one of many folks stranded near the Hartford, Connecticut, airport for a full day and a half after the race.
Or maybe I was lucky, because some impromptu parties and epic bench-racing sessions broke out at Bradley Bowling Lanes, one of the few businesses open on Sunday while the hurricane roared through. Bowling, beer, bench-racing—it was like a paid holiday. And it continued through Monday when we finally surrendered and drove back home, 12 hours, with a hitchhiking Ricky Dietrich and his buddy Riff in the back of the rental mini. I don't know if we solved all of the moto world's problems, but we sure tried.
But what everyone else wants to talk about what happened to Rockstar/Makita Suzuki's Ryan Dungey and his motorcycle before the start of the second moto, his remarkable recovery, and the bizarro TV show that missed the start and any real clarity before regaining traction later in the show.
Let's start with the starting gate. There is no "two-minute rule" in AMA Pro Motocross racing, nor has there been for many years. So when Dungey was waving his hand trying to get the race held up, there was nothing in the rules that allowed the race director to do so—especially since Ryan's bike was back up over the hill in the pits, not on the starting line or even the staging area.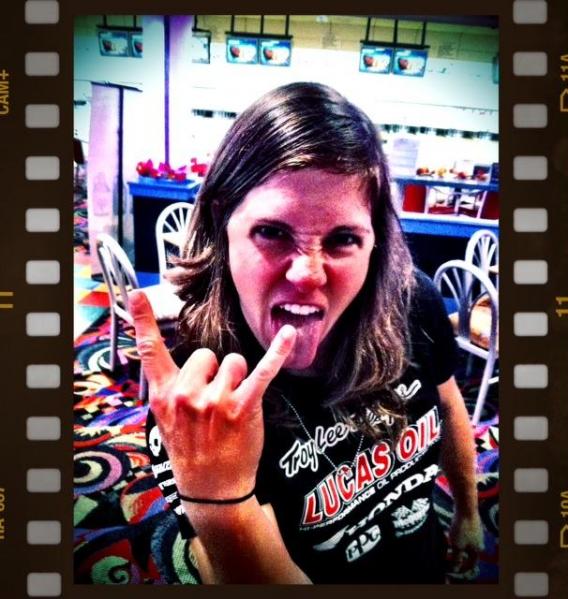 TLD's Tarah Gieger took part in the bowling party.
Photo: DC
So the race started on time—not because of TV, but because it was scheduled to start at that time. It was also raining on everyone else sitting there on the starting gate, and it wouldn't be right to hold up the gate for one rider when all year long they've been explaining at the riders' meeting that they can't hold the gate for anyone when you have an unforeseen problem.
But then Ryan's bike came blasting down over the hill, the most successful mechanic in motocross history at the controls. He got the bike to his rider, and his rider got himself back into the championship with a heroic effort. I told Ryan after the race that he probably made more fans in that defeat than he did in any of his wins, just as I think Chad Reed did after his spectacular crash at Millville.
(Believe it or not Team Suzukis week almost got a lot worse after they blew a tire on the way to Steel City while going 70mph down the highway, sending them across the on-coming lane of traffic. Fortunately they did not make contact with another vehicle and everyone involved walked away unharmed)
TV got all of those parts right, but they somehow missed the start. Jason Weigandt explained how that happened himself right here.
I also want to tip my cap to Brett Metcalfe, who finally got the monkey off his back with his first win in AMA Pro Racing. I can remember way back in 2003 when Brett was here as a rookie with KTM. He seemed to have the win in hand at the Pontiac SX when his rear shock exploded. That was the first of many, many near-wins where he always seemed to be able to snatch defeat from the jaws of victory. He's always been a class act, a great rider to work with, and I am just really happy for him and his wife, Sheena, and his parents, who came all the way from Australia to watch that race.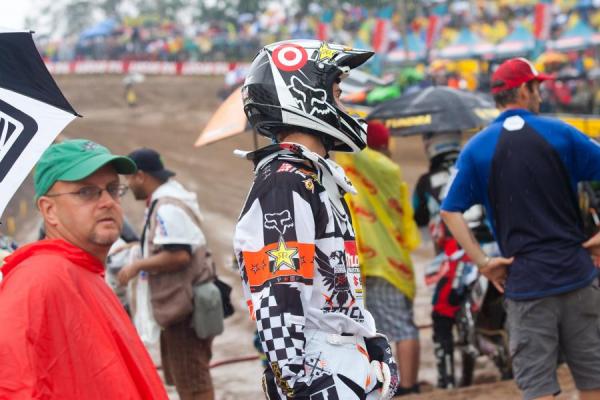 It was a chaotic moto two for Suzuki and Ryan Dungey at Southwick.
Photo: Andrew Fredrickson
We're hearing Metcalfe may end up as the only 450 rider under the Suzuki tent next year, now that Dungey has apparently signed with KTM (two years, five mil maybe?). And with him teaming up with Reedy and Matt Moss at the upcoming Motocross of Nations, they have a decent shot at stopping Team USA's six-year winning streak.
And speaking of Reed, his team manager, Dave Osterman, just told me he hasn't been to the MXoN since 1981, the first time the Americans actually won—he was there as a spectator with his rider Mike Bell, who had won a supercross earlier that week but was not on Team USA. Will he be as lucky for the Australians as he was for Team USA three decades ago?
I am also happy for Gareth Swanepoel and the DNA Shred Stix/Star Racing Yamaha team for getting their own first moto win together in the 250 Class in the Southwick sand. As good as Gareth's fellow South African Tyla Rattray is in the sand, if they find a fast third rider, they could be tough to beat at the MXoN in 2012 when it's held at Lommel, Belgium.
Another rider that had a spectacular day at Southwick was Eleven 10Mods Alex Martin. Martin lead for a couple of laps in moto two, before being overtaken by Rattray. But Martin managed to hold off rookie Justin Bogle in the waning seconds to capture his first career podium. Great job Alex!
And now's a good time to get yourself ready for the 2011 Motocross of Nations by ordering the package for the race on www.mx-life.tv. The race is in just two weeks, and with home team France looking stronger by the day, it should be a great race. Organize a party with your fellow moto fans and root Team USA on!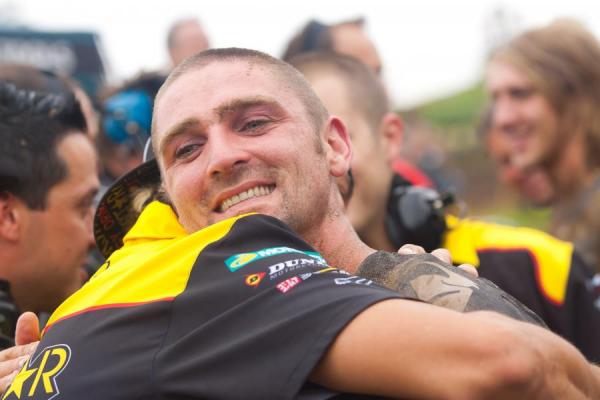 Metcalfe celebrating his first career overall at Southwick.
Photo: Andrew Fredrickson
Here's a get-well-soon to TLD Honda's Christian Craig and Travis Baker, both of whom got dinged up in practice at Southwick, then got stuck in Hartford with the rest of their team. Jimmy Albertson also got banged up—he suffered a hairline fracture to his left eye socket—but he's here at Steel City racing.
Oh yeah, Steel City! That's where we are today as we prepare for the eleventh round of the 2011 Lucas Oil AMA Pro Motocross Championship. It's already rained some here, but the track soaked it up nicely. Tomorrow should be hot, but not too bad.
You can watch tomorrow's race live on FUEL (first two motos) beginning at 1 p.m. Eastern time, or you can watch the motos stream live on www.allisports.com. The second motos will air at 8 p.m. and 9 p.m. Eastern on SPEED. We could see a title clinched here too!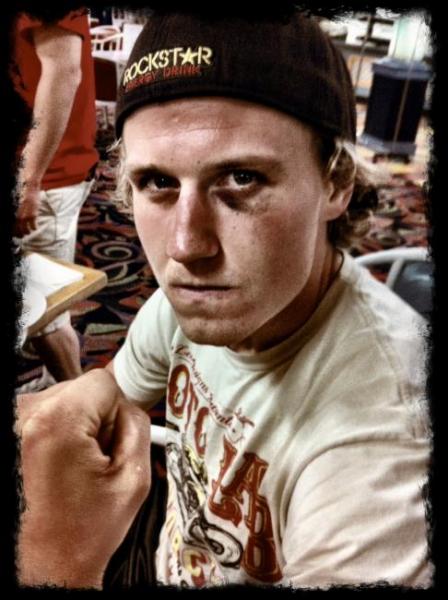 Albertson injured his eye socket at Southwick, as you can tell by this photo.
Photo: DC
Okay, time for me to get back out on the track to help out. Here is
Steve Matthes'
take:
Things got a little clearer in the 2011 AMA Motocross Nationals after Southwick. Monster Energy/Pro Circuit Kawasaki's Dean Wilson could possibly clinch the championship this weekend in Steel City with some luck on his side. Also, Chad Reed's title hopes are done. A double DNF will do that do you.
Southwick was a challenging day for everyone: riders, teams, goggle guys, media, the promoter, fans, everyone. The rains never seemed to stop for more than maybe thirty minutes. The wet sand made it real tough for the guys out there and everyone is to be commended for working through it and making the race happen.
It was memorable for Brett Metcalfe's overall win, Gareth Swanepoel's first moto win (someone told me he's never ever been on the box in a GP, never mind in America, and I find that hard to believe), Justin Barcia's incredible second-moto win in the 450s (although Ping and Weege put it on a Goonies level of surprise), and probably the one moment that surpassed all: Ryan Dungey's ride in the second moto, which went from walking back to the truck, title hopes smashed, to the sweet sound of an RM-Z450 roaring over the hill toward him and giving him a lifeline, and his charge to seventh. This race had it all!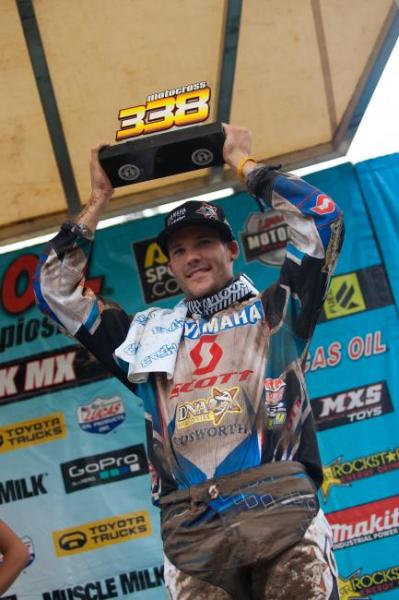 Gareth Swanepoel captured his first career moto win at Southwick.
Photo: Andrew Fredrickson
Dungey was about fifteen seconds from getting the black flag, because if you don't start the race and the leader completes one lap, you cannot enter the race. And race leader Justin Barcia (who started way outside after his first-moto DNF) was coming. Dungey raced through the pack and never let off, passing five riders in the last four laps. On the day he lost only one point to Ryan Villopoto. It was an amazing ride, and we'll see after Pala if it was a championship-saving one.
This thing is going down to the wire, no doubt about it. As far as this weekend is concerned, I'm starting to think the rider who comes around the first turn in front of the other one is going to win. There is so little to choose between these two, and although I was impressed with RV's charge in the closing laps of moto one at Southwick, I was surprised he didn't do better in the second moto when he basically had Dungey on the ropes.
I read an interview where Goose said that because of the TV package MX Sports and DC put together, there is no longer enough time to work on the motorcycles between motos. Now, I was a mechanic on the factory and privateer levels for eleven years—and in no way am I comparing myself to Gosselaar, because his titles and wins speaks for themselves, and all I have is Summercross and 2000 High Point 125 wins—but the race-day schedule has been basically the same forever. There hasn't been a change since MX Sports took over; it's been consistent and there isn't really anything different other than the 450s going first.
Back in 2002, when Goose started working with Ricky Carmichael at Honda, there was an hour and forty-five minutes in between motos. At Southwick on Saturday the first 450 moto ended at 1:45 p.m. Then they had the 250 race, then a Women's race, then some downtime. At 4:10, they started the second 450 moto without Dungey's bike in staging. That's two hours and twenty-five minutes. I can speak from experience that at almost every single national I ever worked as a mechanic, I was still working on the bike when the horn signaled that staging was about to begin. There just isn't enough time to ever do everything you need to do on a bike when a rider pushes it to the limit for thirty minutes plus two laps, and it only got worse with four-strokes, since you'd have to change the oil and clutch every single time.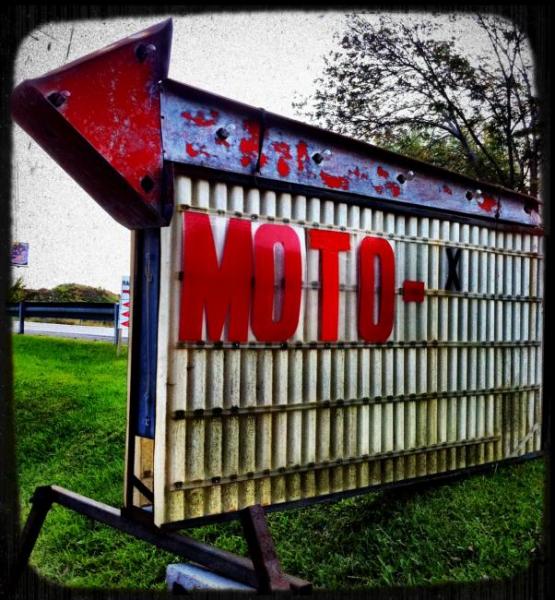 Photo: DC
I'm not saying Goose is wrong in saying the time frame between motos limits what you can do to get the bike ready, but that's the way it's always been—he had more time than he did just a few years ago because of the addition of the WMX girls to the program. Maybe they can tweak the schedule for more in-between-motos time, but what happened at Southwick had nothing to do with TV and everything to do with a bike problem that was not spotted until they decided to go to the gate. The fact that he got it running was a great effort by Goose and Team Suzuki, and Ryan himself deserves all the credit in the world. I've been there as a wrench, and it's an incredibly stressful and pressure-packed situation.
If you want to read some of my thoughts on Colton Facciotti filling in for Christian Craig on the Troy Lee Designs team, Les Smith, silly season, and what the big-dog 250 teams are going to do, check out this story on Pulpmx.com.
Also check out the PulpMX Show on Monday nights. This week according to co-host Kenny Watson we're supposed to have Ivan Tedesco and Tommy Hahn in-studio all show.
In closing, I have placed the Soil Report at the bottom if you feel like digging into what the riders will be digging into at Steel City.
Thanks, Steve, and thanks for the clarification on the schedule. Here's Ping:
I headed out to Pala Raceway this week to do some street-level media work and research for Racer X. Plus, you know, I got to ride, so that was nice. It was like a national out there (which it actually will be one week from now) with riders prepping for Steel City this weekend and the Pala finale in a week's time. Marvin Musquin was working on getting back into form. Another fast rider on a KTM was Chris Plouffe, who has a temporary spot with the JDR/J Star KTM team for the last two rounds. I got to meet Chris and chat with him briefly, and he seems like a nice kid. I'm anxious to see how he stacks up in the 250 Class this weekend.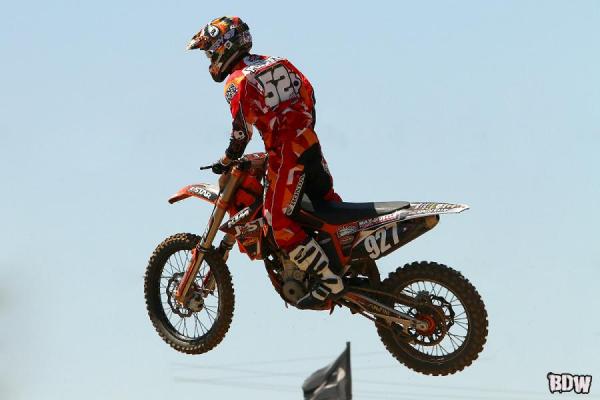 Plouffe will make his pro debut this weekend at Steel City.
Photo: BrownDogWilson
Grant Langston was out riding his KTM 350. GL has worked out an agreement to become a KTM dealer at his Langston Motorsports facility in Perris, so he has been back on the orange machines. Grant is also operating his motocross academy if you're looking for a good instructor.
Nico Izzi was also out shaking down his Valli Yamaha 450. This weekend will be his first 450 race and, honestly, Izzi looked pretty dang good. He's been working with Johnny Louch, industry trainer and smooth-talking South African, and it looks like their work is paying off. It's been a rough couple of years for Izzi, so I hope he can use this opportunity to turn things around.
Attention all industry members: Do you want to ride the full Pala National track before the pros shred it to pieces? The GoPro Crossover Challenge is taking place on Thursday before the national. This annual event always draws some amazing athletes from surf, skate, snow, BMX, etc. Running in conjunction with that event is an FMX class (Ronnie Renner's chance to show off) and a media class, which will be an all-125cc event this year. Any person who works in the industry and has a 125 is invited to come out and ride. You will race with the media members (myself included) but will not be scored. I made sure of that, because there is a sweet set of Nordica skis up for grabs for the winner and I could use some new boards for this winter. Despite the fact that you're not eligible to win my skis, it should be a blast to hear a bunch of 125s buzzing around the track again. Erik Kehoe, are you reading this? I know you just bought a CR125 and it's sitting in your garage. David Vuillemin, I know you can get your hands on a 125. Let's have that 1995 Bercy SX rematch we talked about.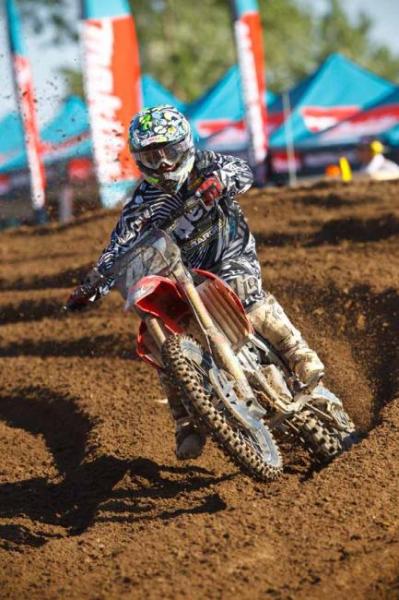 Izzi will make his debut for Valli Yamaha at Steel City.
Photo: Simon Cudby
Anyway, it should be really fun. Practice starts at 11:00 on Thursday morning with two motos after the press-day function by the pro riders. If you are interested in riding, email Aaron Cooke at propermanagement@hotmail.com or shoot me an email at ping@racerxonline.com.
That's it from Ping. Here are some random notes as we close this out:
As most of you noticed (and hated), this week we tried a new "fly-in" here on Racer X Online, designed to make it easier to find related content on the site. Well, it was a flop, so we removed it today. We'll seal that one off in the tomb of bad ideas, never to be seen again on Racer X Online. Thanks for the feedback!
Ike Taylor is the cornerback for the Pittsburgh Steelers and founder of Defender Energy Bars. He's also now an associate sponsor of the Barrett Heritage/Eleven10 Mods Race Team!
"I have been a fan of motocross for many years and know that it is one of the most physically demanding sports in the world," Taylor said in a press release. "Proper nutrition is key to an athlete's performance and that's where we come in. This is a two-race deal to help get this incredibly hard working team to the last two races and we'll be talking about next year too."
"Miracles don't happen without hard work," added Eleven-10 Mods. "We are very thankful that Barrett Heritage and now Ike Taylor and Defender Energy have stepped up to help us get to these last few races. I know we'll reward them with some good results and media attention. Thanks!"
Check out current Lucas Oil AMA Pro Motocross 450 points leader Ryan Villopoto on the cover of Dirt Cool in Japan!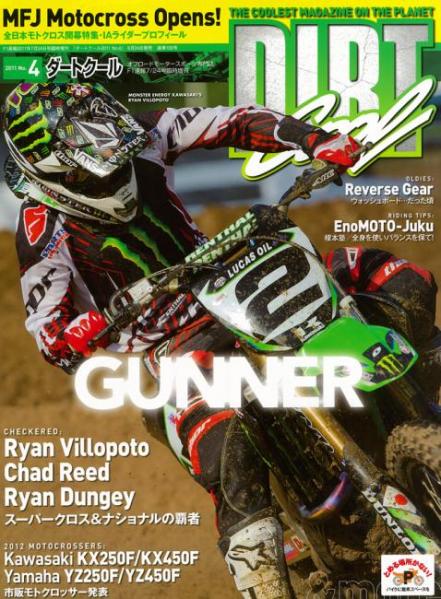 Damon Bradshaw made his KTM debut at last weekend's Vet National held at OMC in Boise, Idaho. Riding a 350 prepared by Carl's Cycle Sales, Bradshaw decimated the field winning all four motos he entered on Sunday. Click here For a slideshow of pictures from camera wizard Allen Picard.
Also, here's an interview with Damon via MX Addicts.
The going has been rough on Michael Leib, the young California rider who has been struggling to get back out on the racetrack for a variety of reasons, as you can read in his latest blog post.
Check out this cool piece of mail we got from One Industries this week. A box of ammunition? That's what we thought at first, but it turns out there was a set of 2012 Carbon gear inside. Nice job, guys!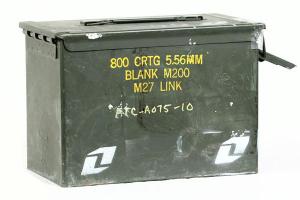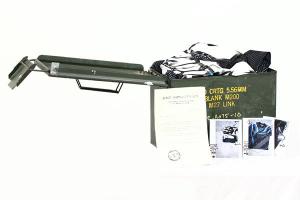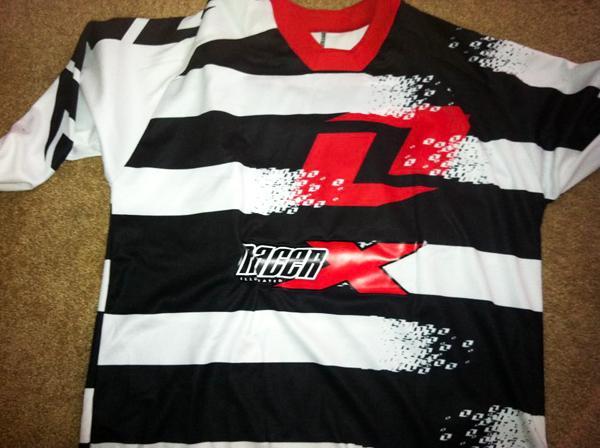 We'll be on hand at this weekend's GPR Amateur National at Pala Raceway. Stop by our booth to pick up a one-year subscription and an exclusive Ryan Villopoto Racer X Field Blanket for just $25. We'll also host giveaways with free products from One industries, Spy, Tag, DC Shoes, and DVS. All you have to do is sign up for our weekly newsletter and you're automatically entered in the raffle, no purchase necessary. Winners' names will be announced at the end of each day over the PA, and prizes will be handed out at that time.
And even if you don't want to sign up, at least stop by and sign hello for a free sticker!
Today is the last day to register for the Road 2 Recovery 2011 Golf Classic at Pala Mesa Resort on Friday, September 9. The tournament aims to further the mission of the Road 2 Recovery Foundation to help AMA licensed professional motocross and supercross riders with assistance if they sustain career-ending injuries. Play against your favorite motocross racers and industry best.
On the day of the event, registration begins at 7:30 a.m. along with a continental breakfast and shotgun start at 9:00 a.m. Play concludes approx. at 1:30 p.m. followed by lunch and awards. Prices are as follows:
—Foursome: $750 (includes tee sign with company logo along with 18 holes of golf, food, and beverage)
—Single player: $200 (includes 18 holes of golf, food, and beverage)
Register online at www.road2recovery.com, or for more information call Anita at (480) 276-1131.
Stop by the Racer X booth on Vendor Row at Steel City to pick up your free event sticker featuring Broc Glover, and subscribe or renew with one of these special offers! For only $30, you'll get thirteen issues of Racer X and an all-day pit pass, good from 9-5 on Saturday. Supplies are limited so don't miss your chance to have all-day access to the pits!
Want a comfortable seat alongside the racetrack? We're also offering thirteen issues of Racer X and a Motosport camping chair for only $20! While you're there, check out the clothing line from Racer X Brand and a get free Racer X cup with a clothing purchase of $20 or more.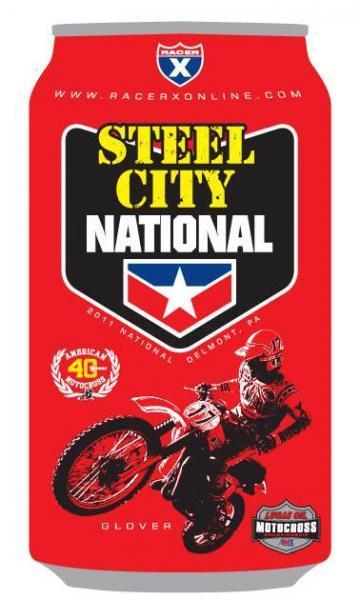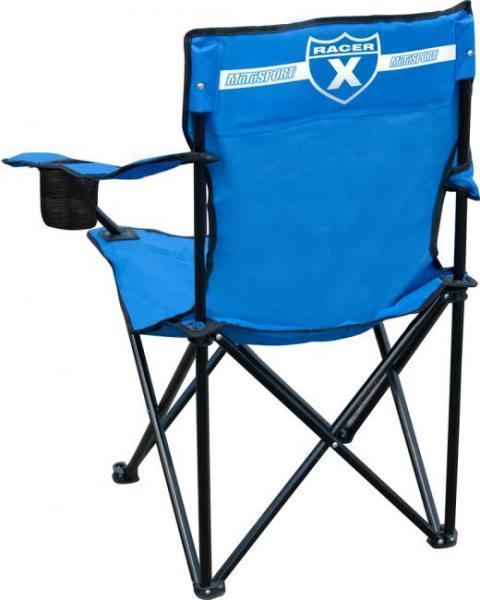 We've seen Justin Bogle have an exceptional debut to the pro ranks, and now it's his amateur rival Kyle Peters' turn. He's riding under the DNA Shred Stix/Star Racing Yamaha banner. Good luck to Kyle and his family and welcome to the big leagues.
Those of you heading to Pala for the final round of the Lucas Oil AMA Pro MX Championship should check out what's happening at Pole Position Raceway on Thursday evening. There's a special motocross fan-and-industry event at the famed indoor go-kart track, located about 15 minutes away from Pala. The event, which begins at 6:30 p.m., will feature a practice, timed qualifier, head-to-head heat race, and a main event. Cost is only $60 and includes a can of Monster Energy. There are thirty-six spots available, and advance registration is recommended. Riders currently signed up include Christian Craig, Kyle Cunningham, and Ashley Fiolek, with more surprise announcements coming this week. Prizes provided by Monster Energy, GoPro, ProTaper, Leatt, and Pole Position Raceway. For more information contact Joanna Craig at joannacraig@rocketmail.com or 951-443-8964, and be sure to scope out www.PolePositionRaceway.com.
Check out this cool Pittsburgh Steelers-themed helmet that local privateer Mike McDade will be sporting this weekend, courtesy of Pant Saggin Dezign. Keep an eye out for Mike aboard a Motocross Ministries-backed KX250F wearing #559 in the 250 Class.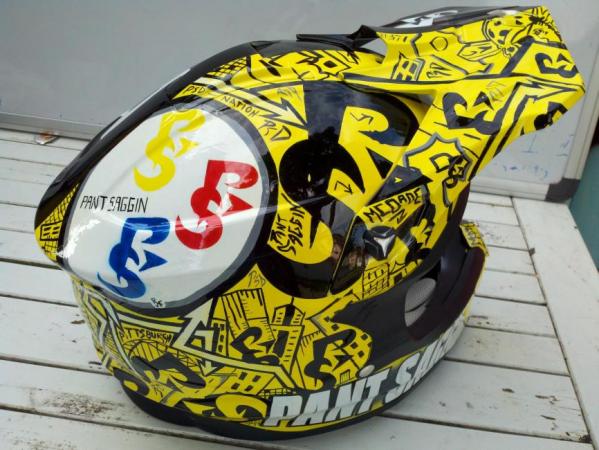 Okay, here's Matthes' buddy's Steel City soil breakdown:
A quick recap: Southwick … wow! Anyone who was not a believer in understanding the soil you ride on and how it affects your race, you can now repent and pay your homage to the moto gods, who don't like you, and who were straight up brutal this weekend. For as much as the rain fell, the deep sand delivered, drained, and maintained a race surface longer than any other track on the circuit could have. The natural soils at Southwick were the best case scenario for racing in a hurricane. We will now see two tracks that contrast significantly.
Most will remember Steel City for 2008, when Canadian Colton Facciotti took out American hero Ryan Clark in a right handed sweeper. I however, see steel city as another reminder that great American agricultural land can multi task as a great American race track. Steel City sits in an area that was historically treed before the land was cleared for farming. The soils that remained show the character of both the forest and the farming there before the racing.
Technical (geek speak)
The soil series are the Gilpin, a Fine-Loamy Mixed Active Mesic Typic Hapludult, and Ernest, a Fine-Loamy Mixed Superactive Mesic Aquic Fragiudult. Put on your geek hat, because these are neat soils.
Breakdown
These soils are called Fine-Loamy, and within the soil continuum they sit about dead center in the soil textural family class. You should expect the dominant soil on the track to be silt loam. The surface horizons are plowed "A" horizons; basically topsoil that has been worked in the distant past. This is the good soil, once below it, compacted soils get hard and slick. The track is basically built on two gentle hillsides with a small depression between. There is a different major soil type on the upper "shedding" hillsides and the lower foot and toe slope "collecting" areas.
It's within the shedding soils that most track obstacles have been built up over time. The start and first two corners sit in this soil as well. The topsoil here is classic silt loam and loam; few rock fragments, weak granular structure, a little sticky and slightly plastic. However, it isn't deep. Clay picks up very slightly with depth, leading to compaction, blocky structure, and there is a slight increase in rock fragments. There is an inter-bedded shale and siltstone bedrock layer fairly close to the surface; sitting between 20 and 40 inches in depth. Soils will get hard-pack quickly here since they aren't deep. In this moderately deep soil, it makes a lot of sense to build "up" rather than let the track dig itself into the lower soil horizons.
The other soils on the track, the low areas and toe slopes, are deeper; but it is a deceiving soil depth. They are very similar initially, but these soils are "fragipans," meaning that the soils have a natural hard-pack layer starting at about 30" depth. The top foot is once again the good silt loam. Then, like the hilly soils, the bump up in clay and the restrictive fragipan leads to compacted conditions in the sub soil.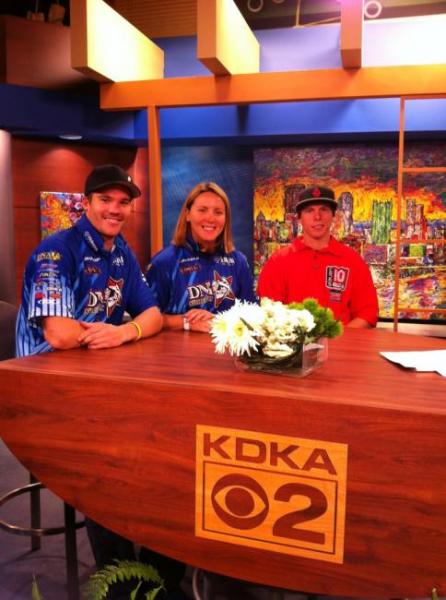 Swanepoel, Patterson and Durham appeared on a local TV station to talk about Steel City.
The Dirt
The soil on this track will initially feel very good, but like other places we've mentioned, once the subsoil comes into play, the track changes pretty dramatically. Look for the subsoil and eroded areas, they're light colored; these will get square edged, packed, and feel slick. The darker topsoil will collect in berms and low spots as it gets pushed out of the compacted lines, making deep spots and ruts.
If it rains, this track won't act like Southwick, where the water drained and the abrasive sand still pretty much looked and acted like soil. If it gets too wet here, mudholes will form, water will pond in low spots, and it will be slick goo. However, like Goldilocks porridge just a little water, mixed by a shallow plow, will make it just right.
This weekend's prescription; put on your big girl Freegundies, X-brand tear-offs, Fly gear, and make sure your JGR tuned suspension is setup for hardpack, because history says that the loam here is short lived, and you'll be racing the hard stuff underneath after the first practice. If it rains, put on a wetsuit, buy lots of foam, and get some tic tacs … chances are pretty good you're eating some pooh today.
-Nephi (El Guapo) - PulpMX minion, Soil Guy
That's it! Thanks for reading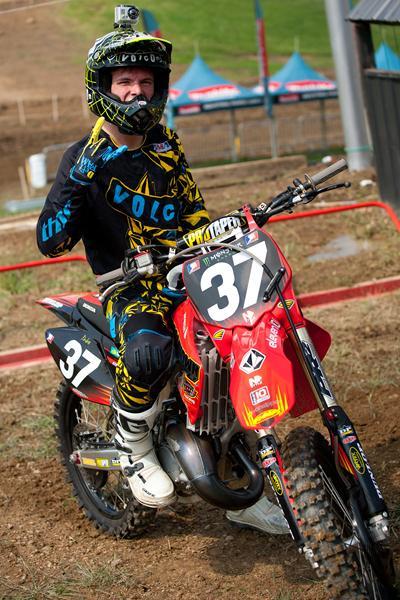 DD on the two-smoke. Keep an eye out for the Racer X Pre-Show to hear it shred.
Photo: Andrew Fredrickson