The Wick 338
Southwick

,

MA
Moto-X 338
Lucas Oil AMA Pro Motocross Championship
The Southwick National has a long history of the locals beating the big boys of American Motocross. Over the past twenty-five years, New England riders such as JoJo Keller, Keith Johnson, Scott Carter, Brian Austin, Tony LoRusso, and Mike Treadwell were known to put in some heroic rides. Every once in a while, one of them might break into the top-five. There was even one occasion where one of guys almost won a moto – Pat Barton in 1987, but a late moto bobble cost him the upset victory.
During the 2011 edition of the Southwick National, there was plenty of smack talking about which local racer was going to go fast. But, when the dust (or mud) settled, it was a completely unknown triple digit rider named Mike Sottile  (pronounced So-till–ee) who did the impossible. And Sottile really did do the impossible – he flat out beat Ryan Dungey, Chad Reed, and Ryan Villopoto.
Okay, he didn't quite get the overall win, or even a moto win, but he did score the fastest qualifying time of the day with a 1.55.58. Sottile rode in the B practice session, which rides before the A group (riders that are seeded based on scoring points in the series), and chances are the track was smoother in his session. He also got in a fast lap before the rain really started coming down.
Regardless of how it happened, his time was almost a full second faster than anyone else, which gave him the first pick on the gate for moto one. In staging, it was quite a sight to see a completely unknown privateer pick his gate well ahead of the factory rides of Dungey and Villopoto, as well as the other heroes of the American Motocross tour.
After practice, I decided to take a little walk to go find out for myself. But finding Sottile wasn't easy – there was no flashy big rig or motorhome with his name on the side. I finally tracked down Sottile parked way in the back corner of the pits, and pitted out of a well worn Chevy van. Sottile was sitting on the bumper, surrounded by about twenty of his family and friends. Inside the van was a plywood wall and all the elements of a privateer racing effort.
Racer X: Mike, it took us a while to find you all the way back here. Now, if you don't mind, can you tell us just who the hell you are? I mean, you just went faster than Ryan Dungey, Chad Reed, and Ryan Villopoto!
Mike Sottile: (Laughs) Yeah, ha! My name is Mike Sottile and I am from Marlborough, Massachusetts, which is about an hour from here. I got my pro license in 2009 and this is the fourth national that I have qualified for. I grew up racing mostly only here in New England. When I was a kid, I raced NEMA, but have been doing mostly NESC since moving up to the big bikes a few years ago. Sometimes I go to Englishtown or some of the bigger races over in New York, but mostly we race here in New England.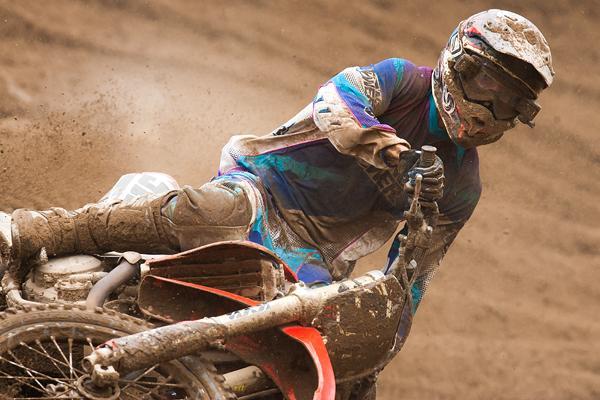 Sottile lead all the big boys after practice at Southwick.
Photo: Andrew Fredrickson
Do you have a job, or are you racing full-time?
Actually, I go to school full-time at local college here in Worcester, Mass. I am just trying to do something right with my life. I guess you always need something as backup in case motocross doesn't work out.
Well, that was quite an amazing ride out there in practice.
Yeah it was pretty cool. Those guys are at the top for sure, and putting in that ride was just awesome. It seems like everyone from New England is loving it. But you know, I was looking forward to this race all week, and wanted to just get out there and put in a few real fast laps. I had good feelings all week, and knew it was going to be fun, but didn't realize it was going to be that good.
The first moto started out well. But you seemed to drop back towards the end. What happened out there?
The first moto was good, especially at the start. I was up in 8th on the first lap, and was feeling real good. My speed was okay, I don't know, I just felt like I belonged up there. So it started off good, but then I crashed. And then I crashed again, and again. I was bummed, but I still managed to finish 18th, even with three crashes. So I scored my first points. But the pace was fast, like real fast. So doing it for 30 minutes would have been tough.
What are your plans for the rest of the year? Will you do any more races?
All I can afford is to do the local nationals. I have been doing a lot of NESC races, but that's it. I would love to go to all them, but we don't have the money. I would also love to try supercross, but same thing, it's tough financially. I have never raced or entered a supercross before, so that would be something new for me though, and I want to try it.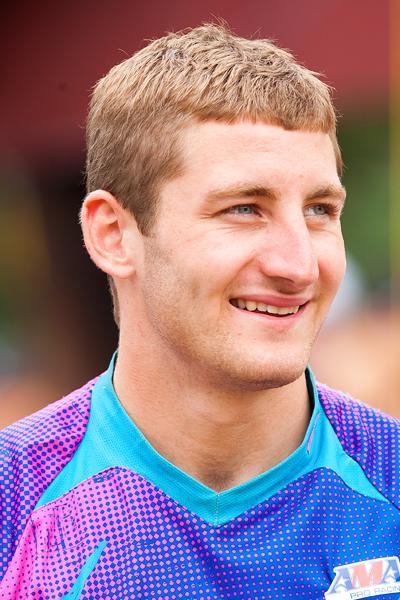 Sottile went on to finish 25th overall via 18-28 moto scores.
Photo: Andrew Fredrickson
That's awesome what you did today. And now is your chance – anyone you want to give thanks to?
Well, I have to give big thanks to my Dad and my whole family. They are all out here today, along with a bunch of my good friends from home. But also to St. Hilaire Powersports up in New Hampshire, 139 Designs, Factory Connection, BBS Powersports, Moto Tassinari, Yoshimura, Answer, Scott, Renthal, Dunlop, everyone! They make it happen.
Thanks Mike. Make sure you keep a copy of the overall qualifying sheets from the day, that's a keepsake. Good luck out there!
Yeah, I think I am going to frame that one! But it's been a really cool day, for sure.