Courtesy of Geoff Meyer/MXLarge
Sometimes it's hard to imagine that KTM factory rider Ken Roczen is still just 17 years old. Last weekend marked another 1-1 victory in his domination of the 2011 FIM World MX2 Championship. With just two rounds to go, he could possibly be crowned in Gaildorf, Germany, in two weeks. Before then, however, comes a trip to Costa Brava in Spain and the party city of Lloret de Mar to join some friends and celebrate his birthday. Roczen is a smart kid, though—don't expect to find him face-down in a gutter wearing nothing but his pointy birthday hat Sunday morning.
We caught up with Roczen just before his trip to to Spain and after his victory at the Grand Prix of Great Britain.
Racer X: Ken, can you let me know how the weekend went for you?
Ken Roczen: The weekend was good. On Saturday the track was really nice and I loved it. I ended up winning the qualification race, which was good for me for the Sunday races. Also, the first race, I got a holeshot and made a gap, and that is where I stayed the whole time. I felt confident after that opening-moto win, and in the sighting lap I saw that the track was rough and hard to ride. I knew it would be hard, but I pulled the holeshot and got another win, so I opened up something like a 40-point lead over Herlings, which is amazing for me. I will go on holidays now and try and do my best in Gaildorf.
Does having the big lead make it easier for you to go to Gaildorf, or is so close now that you feel more nervous?
It doesn't make me nervous. I am more relaxed now because the gap is bigger, but it's important not to relax too much.
What did you like about the Matterley Basin circuit?
I can say again, it has good jumps and good speed and the dirt was grippy and really nice. It also flowed well.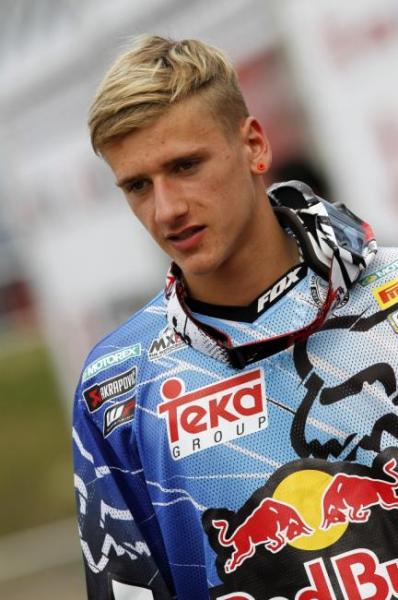 Roczen went 1-1 for the overall at the Grand Prix of Great Britain.
Photo: Ray Archer
I noticed you had some friends from America visiting you.
I had Beeker from Fox Racing and Frankie [Latham]—he is Andrew Short's mechanic. My mechanic Carlos [Rivera] wanted to come too, but he didn't make it. I was a bit disappointed about that, but it's been fun having them here.
You mentioned you will go on holidays?
I will go to Lloret de Mar in Spain. I will go out—this is the best thing to do. It's not about getting hammered or anything, it's just go out with friends and be away from everything here and just lay on the beach and do some fun stuff. My friends are already down there and my dad will drop me off at an airport in England and I'll fly down there to have some fun.
My son recently had his first holiday away from his parents, and he was really excited about that. How is it for you?
I mean, it's my first holiday away from my parents, and I am pumped for that for sure. It is good to get away from the parents sometimes—that is all I can say!
When do you get back to work?
I will get back on the 27th, which is a Saturday, and then I will get prepared for Gaildorf.