FLY Racing Holeshot Devices Now Available
BOISE, ID ­­– August 19, 2011 –
Now available from your local FLY Racing dealer are the new FLY Racing holeshot devices. These super trick holeshot devices are one of only a few approved for sale in the U.S. market and are available in two versions: single button or double button.

FLY Racing Single Button Holeshot Device
The single button FLY Racing Holeshot Device offers better mounting to the plastic fork guard with everyday common tools. An elongated groove is flawless in all types of conditions including mud. No aiming and hoping the pin locks into the ring, just compress the forks, push the pin and it is locked in. Your Holeshot is waiting for you.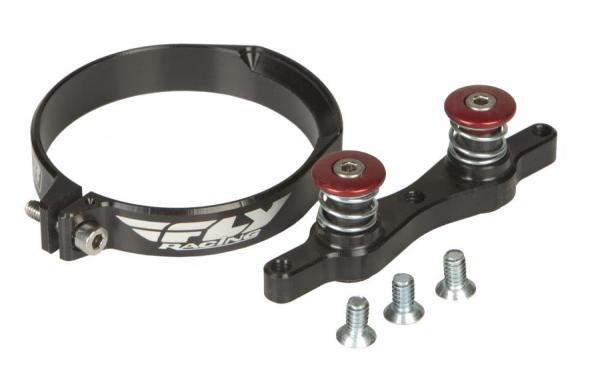 FLY Racing Double Button Holeshot Device
The double button system allows you the choice of settings for different conditions. The upper button is perfect for dry or concrete starts while the lower button is suited for tacky conditions. The double system allows you a choice without changing fork guards. As starting line conditions change throughout the day, and from track to track, the FLY Racing Double Button changes along with the conditions.
Both FLY Racing single and double button holeshot devices include these features:
- Large ring groove allows for easy connection and mud build up is no hassle
- Machined lip ensures base stays in place on fork guard
- Large stainless screws keep button on plastic guard
- Rebuildable design for long lasting performance
- Aluminum pin and stainless steel spring resist rusting for durability and continued smooth action
- Available for most late-model MX bikes
Retail: Single button $99.95, Double Button $109.95
Visit FlyRacing.com for more details and a handy FLY dealer locator.
About FLY Racing
Established in 1996, FLY Racing began as a manufacturer of motorcycle handlebars and helmets. The brand has quickly developed into one of the fastest growing off road motorcycle riding apparel and hard part brands in the powersports industry. FLY Racing develops high quality products for the competitive and demanding North American market and is distributed in 40+ countries. FLY Racing products are distributed exclusively in the United States by WPS (Western Power Sports).