Unadilla MX
New Berlin

,

NY
Unadilla Motocross
Lucas Oil AMA Pro Motocross Championship
Finally, after two long weekends off with no professional motocross, the American Motocross tour is back on track tomorrow at Unadilla, the most famous track on the circuit. The Robinson family has been hosting pro motocross races since 1970, with the first race being a Trans-AMA (I believe it was won by Dave Nicoll, Kurt Nicoll's dad and now an official on the Grand Prix tour). They have also held Inter-Am races, the old 250cc U.S. Grand Prix, the '87 Motocross des Nations, and of course Lucas Oil AMA Pro Motocross.
Unadilla used to be known for its rocks and ruts. Not anymore. The facility has undergone a huge makeover in the last couple of years, with a brand new three-story announcers' tower, a two-story team managers' viewing tower, new tunnels for infield fan access, and tons and tons of new dirt. After I walked around the track this morning for the Racer X iLap, I saw Jill and Greg Robinson, the second generation of track owners here, and told them that Tim and Amy Ritchie had better check over their shoulders. As far as U.S. motocross facilities go, Unadilla is right there with RedBud.
For a virtual lap around the track, check out these photos from earlier today: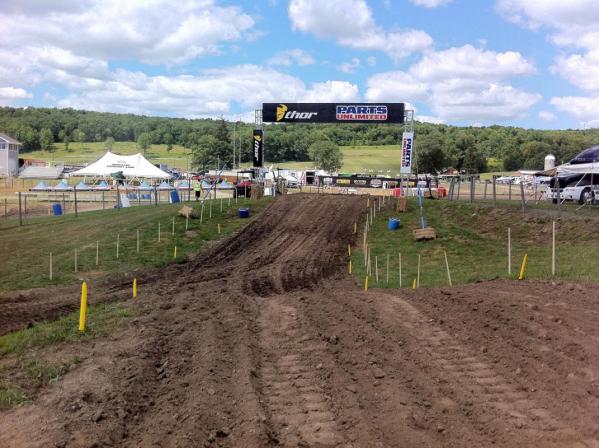 Who's ready for UNADILLA?
Photo: DC
They are expecting great weather and a massive crowd, and the first motos will be shown live on Fuel TV, plus the second 450 moto will air live on NBC.... Well, live everywhere but the Seattle area, as a big MLS soccer game on the local NBC affiliate bumped the motocross race, unfortunately. Stay tuned tomorrow starting early than normal: 12:30 p.m. ET (and yes, it will air live on www.allisports.com).
When we last left the tour, we had a new 450 Class points leaders in Ryan Villopoto, after Chad Reed's big crash in Spring Creek and the lingering effects at Washougal. Ryan Dungey also got past Reed, setting up an excellent three-way battle for this title with four rounds to go. It's hard to tell who has the momentum, as Reed was rolling before his crash and Dungey has a couple of recent wins, but RV just keeps on trucking. They've each had bad motos, and with eight to go, it's anyone's championship!
In the 250 Class, it's anyone on a Monster Energy/Pro Circuit Kawasaki's title, basically. Dean Wilson continues to hold the point, even though he has yet to win a race. The mercurial Blake Baggett and the ever-steady Tyla Rattray have won all of the races. The PC guys are so far ahead right now that GEICO Honda has loaned Justin Barcia to Team Honda to rill in for the injured Trey Canard.
Who can stop Deano, Tyla, and BB? No idea. But with Marvin Musquin getting up to speed, Eli Tomac long overdue, the newly married Broc Tickle wanting to catch up with his teammates.... They are all long shots, as those three out front are really going fast, and they have a lot at stake.
Blake Baggett actually just came into the MX Sports' trailer to discuss a possible trip to France next month—the announcement for Team USA will be tomorrow—and he said he really thought he was lost on his way down Route 8 from Utica. "I called my old mechanic and I was like, 'This can't be right!' But it was," Baggett laughed. "Now I'm out here and see the place and it's like ... wow."
In other news, Kyle Regal is back at the outdoors with the BBMX team, now riding a Suzuki. Ryan Morais is back after a long time off for an injury. Justin Bogle, the AMA's Horizon Award winner at Loretta Lynn's, will make his pro debut tomorrow. We still don't know what bike Dungey will be on next year, or James Stewart for the matter, but it should all be coming together pretty soon. Oh, and Team Kawasaki will roll out on the 2012 450s tomorrow. According to Jeff Emig, the bike underwent some major improvements, and it was pretty good to start with!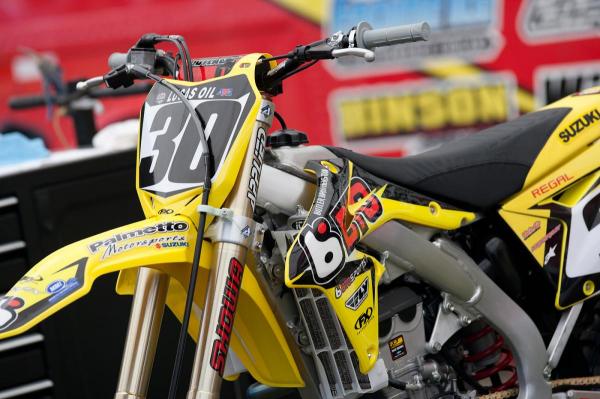 Kyle Regal is back.
Photo: Andrew Fredrickson
As I mentioned last week, I was at Loretta Lynn's for the better part of the last two weeks. There was so much going on down there it's hard to sum up, but here are some films from the 2011 Red Bull AMA Amateur National Motocross Championships:
Team Green and Loretta Lynn's (by Rich Van Every):
Loretta Lynn's Photo Gallery on Vurb.
We have a big team managers' meeting, both privateer and factory, here at five in one of the new towers to discuss a whole range of pro motocross matters with the men and women vested in the series. We will be discussing next year's schedule, class structure, safety, and more. We will also be asking for their input and suggestions on the tracks, the TV coverage, the rules, the bikes, and more (and yes, I'm sure two-stroke 250s in the 250 Class will be discussed, though I know what the consensus is as far as pro motocross goes). So let me turn this over here to Jason Weigandt:
I spent 18 days on the road between Washougal, X Games, and Loretta's. That's a long trip, but I never lost motivation. I had a light at the end of the tunnel, a pot of gold at the end of the rainbow. Was it returning home to see my one-year-old baby girl? No. Was it seeing my wife and finding out she was indeed not going to divorce me (at least until the next long trip...hello Daytona Bike Week 2012). Getting back to the family was nice, indeed, but my real motivation to press on regardless comes today.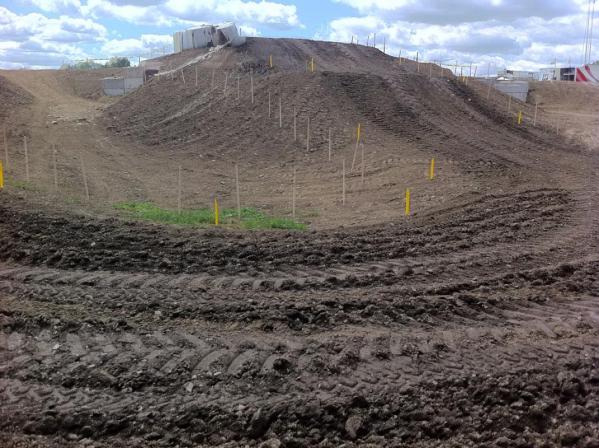 American Motocross is back this week at Unadilla.
Photo: DC
Last week at Loretta's, I was standing in line buying lunch with DMXS Radio's Kevin Kelly when a kid behind us on the lunch line asked for my autograph. Usually, after I sign these, the fan gives a strange look and then says "Wait, I thought you were Jeff Emig!" But this kid was different. He had something to offer, and not just great taste in autographs. His accent made it obvious that he hails from New York, so I asked him if he was coming to Unadilla. He explained that he could not go, because he was working at his family's diner in Binghamton. Whoa. Diner in Binghamton? Well, kid, it just so happens that I am flying into Binghamton this weekend. Perhaps I could stop in for a bite?
The kid explained that his name is Anthony (of course) and his dad's name is Tony (of course) and they own a placed named Broadway Diner (of course). If you didn't grow up in the Northeast like I did, this might not mean much to you, but let me tell you, when a guy named Tony and his son named Anthony invite you to their diner, you do it. Fugheteboutdit!
So I'm stopping by this afternoon. Better yet, with Josh Strang racing this weekend, the GNCC TV crew is following him all weekend, so I'll have the TV peeps at my disposal (and that crew consists of producer Jason Hooper and his fiance Krista. That's the whole crew). The goal here is to mount some GoPros on the plates and silverware and give a real first-hand account of lunch at the greasy spoon. Look out, Guy Fieri and Anthony Bourdain!
When it's all done I'll print out a photo, sign it, and mail it to the diner. Next time you're dining in this area of the country, check out the walls above the cash register. Whenever celebrities stop in, they leave an autographed photo behind. I have finally arrived.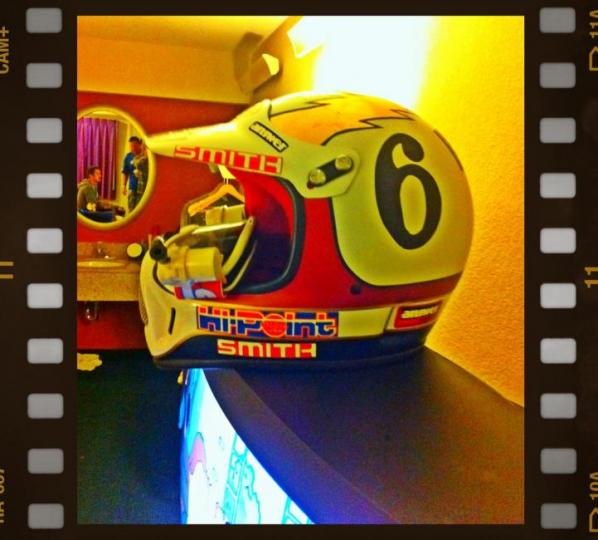 (As for the rest of the racing this weekend, just watch the darned shows on Fuel TV, NBC and Speed. Or check out the Racer X Motocross show tomorrow morning. Listen, I'm busy trying to eat here. Fughedeboudit!)
Here's Steve Matthes:
Well, after what seems like an eternity, the 2011 AMA Motocross series picks up this weekend in historic Unadilla, New York, for Round 9 of the series. It's such a go-go-GO mentality in this sport whether you're racing in it, working in it, or even covering it for a living that when you have two weeks off, it just seems like forever. And I even went to Belgium for one week and saw a GP. So we'll pick it up at 'Dilla and see what we got.
When we last left you, Chad Reed had his worst race of the series and lost the points lead to Ryan Villopoto—and to make matters worse for Reed, Ryan Dungey also passed him! According to Reed's BFF Jason Thomas, Reed's 100 percent and ready to get back at it. He's less than ten points down to RV so nothing is over, as the great John Rambo once said.
It's a little curious to see Villopoto get caught and run down in the second moto at the last two races. It's either Ryan Dungey riding amazing (likely) or something wrong with Villopoto (unlikely) or a combination of both (most likely). I can tell you one thing, Team Monster Energy Kawasaki doesn't like what they're seeing, and they have gone out and gotten the 2012 KX450F homologated and ready for RV to race.
Now, normally, when a team comes out with a new model three-quarters of the way through the racing season, they're just bolting on the new bodywork onto the current year bike. But in this case, the '12 plastics won't fit on the '11, so this is indeed a brand new bike for RV and his teammate Jake Weimer. This isn't that new of an idea—remember Grant Langston getting on the 2008 Yamaha YZ450F and tracking down points leader Tim Ferry late in the season to win the 2007 title?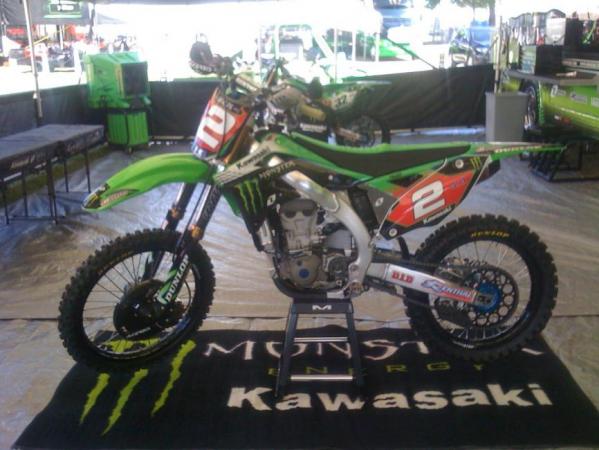 Villopoto will be riding the 2012 KX450F at Unadilla.
Photo: John Wolven
I will now light myself on fire.
Anyway, I spoke to RV about the switch and he reports that although he was happy with his 2011, he did feel a lot of the tracks' bumps through his body. With some geometry changes and frame changes, he says the 2012 is a lot better. The bike itself is 4mm thinner (something Weimer noticed right away) and feels more like a 250F out on the track. The rear suspension works a lot better with all the changes Kawasaki has done, and both riders are very happy with the new setup.
You scoff at 4mm thinner? Well let me tell you that riders at this level can indeed tell that sort of change. I can remember at Yamaha lowering the motor mounts 2.5 mm and having every rider love the change. We then went to 4mm and every rider didn't know what we did but did report that they hated it.
So this will be interesting to watch for guys like myself, to see if this bike swap helps Jake and Ryan out on the rough and tough Unadilla track.
Also this weekend, GNCC champion Josh Strang will suit up on a Suzuki RM-Z450. Hopefully for his and team manager Mike Webb's sake, he stays healthy and upright out there. With no mishaps, I think Strang is in the fifteenth-place range and maybe even higher!
In silly season news, it appears that Josh Hansen has indeed signed up with the Hart & Huntington team for next year to ride in the 450 Class.
Did you hear Justin Barcia is racing the 450 Class this weekend? That should be interesting, and I bet he does pretty good. That sucks for GEICO Honda because … well, never mind.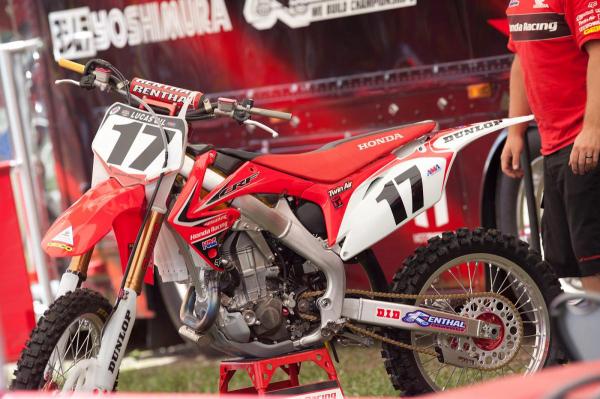 In case you missed it, Barcia will be on the 450 this weekend.
Photo: Andrew Fredrickson
Some of you may remember that I've posted some dirt on the actual series tracks' dirt in recent weeks. Well, the soil guy is at it again and sent me this to explain Unadilla and why it is the way it is. Take it away, Soilguy:
Thanks, Steve, Unadilla comes from an Iroquois word meaning "place of meeting". Follow my logic here; since sometimes folks get a little hammered when they get together, it only goes without saying that some Iroquois chief also used the word to mean "totally hammered", which is what this track is. Need proof? Go to the photos.
Soil Color can actually tell you a lot about the nature of the soil. Many of the soil physical and chemical properties are linked to minerals and structure that can be seen. In general, when you see light pale color it means lack of organic matter. Why should a motocross rider care? Organic matter means that the soil typically has good pore space, limited compaction, granular structure, moisture holding capacity, and lots of other desirable properties. Bleached out soil is generally lesser quality, whether you're growing stuff or riding on it. You can easily see the difference in topsoil vs. subsoil. In all cases, the best soil is always the stuff nearest the top, with the soil getting worse as you move down. That's why simply plowing and ripping doesn't always work. Once you rip into inferior lower layers, you're done, and there is no fix other than removing and replacing, or tilling in amendments like woodchips, manure, sand etc. to try and bring the soil back around.
Technical (geek speak)
In the United States soils are classified in groups of characteristics and similarities called a "series". There are three soil series mapped at Unadilla. Chenango, a Loamy-skeletal Mixed Superactive Mesic Typic Dystrudept, Valois, a Coarse-loamy Mixed Superactive Mesic Typic Dystrudept, and Atherton, a Fine-loamy Mixed Active Nonacid Mesic Aeric Endoaquept.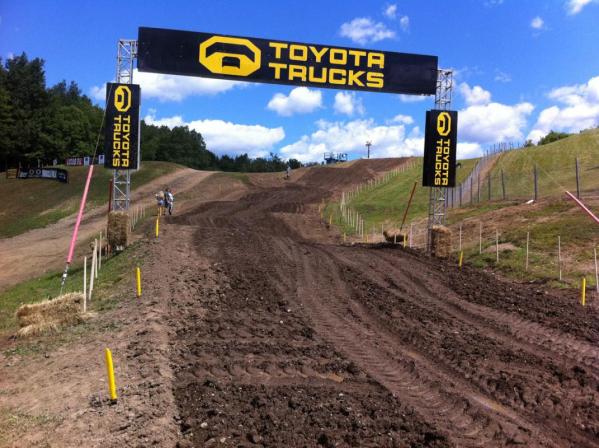 Breakdown
The three soil series dominant at the track all share a few key factors. They are some of the most used soils in the United States in terms of our national age, but they are all geologically very young. These soils have been used for agriculture since the founding fathers, but they are all very recently deposited by massive glaciers, meaning that they have had limited time for soil forming processes to occur. Believe it or not, if you stuck a motocross track in the center of Central Park you'd probably get a similar soil type. These are primarily Silt Loam and Loamy-skeletal soils that have large amounts of rock and stone supported in them. You get anywhere from 10 to 30 inches of soil that has 5 to 20 percent pebbles, stone and cobbles, then the rock fragments ramp up to as much as 60 percent pebbles and small rocks where the subsoil is either exposed or mixed with the topsoil. Since the glacial deposits get progressively stony and dense with depth, more tillage and use either degrades the racing surface or requires the incorporation of topsoil and/or amendments from another location.
The Dirt
The Unadilla circuit is an American classic, but like a lot of classics it's high mileage and high maintenance. Some other tracks on the circuit, like Redbud, have an almost limitless supply deep quality dirt. That is not the case here. This track has a thin topsoil that grades into a pebble filled media blaster, courtesy of the guy in front of you. Washougal's roost is made up of chunks of the heavy, hard clayey soil. At Unadilla, the soil will be light and loamier, and very pliable in the darker topsoil, but the soil will become compacted and the roost like buckshot when the bikes dig down to the pebble filled base.
Sounds like fun, count me in. As always, wear you're Fly Racing roost deflector, your EKS Brand Goggles, and after the race cover your pummeled head with a flat brim H&H hat...
Nephi (El Guapo) - PulpMX minion, Soil Guy

Still with us? Now you know!
Hey, tune in to The Pulpmx Show presented by BTOSports.com on Mondays for a unique look at the sport from all angles. Myself and Kenny Watson usually try to talk about the sport but you just never know what you're going to get when you tune in at 6:00 Pacific Monday nights.
Thanks for coming out. See you guys on the hillside.
Here are some miscellaneous items:
Racer X is hosting a Ride Day at Southwick Moto-X 338 on Sunday, August 28! Ride with special guests: John Dowd, Jeff Emig, Doug Henry, and the GEICO Honda Team. Current subscribers ride for  FREE. New subscribers ride for $20. Click here for all the details.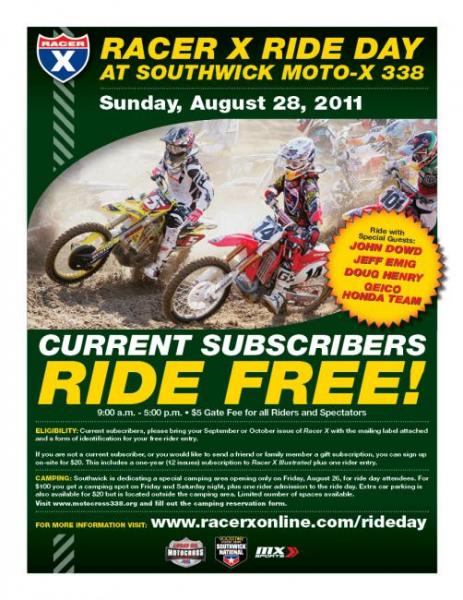 Larry Wosick's Honey Lake Motocross track is for sale. The track, which has been noted as one of the best in California, is located in the Sierra foothills of Northern California. Wosick posted some information about why he and his family have decided to is sell, as well as some of opportunities that a new buyer can pursue with the facility on his website. This is one of the more unique and well respected tracks in the country. For more information on the facility and the possible sale, check out the tracks website, which can be found here.
Check out this cool cover of the late Adolf Weil on the cover of Cross Magazin.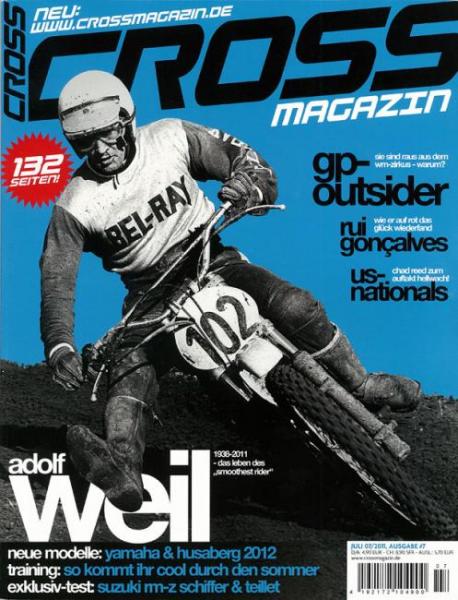 A happy birthday goes out to John Dowd, who turned 46 this week on August 10. To celebrate his B-day in style, the Junkyard Dog will be racing this weekend at the Rockstar Energy Unadilla National, as well as the next round at Southwick. His son Ryan will be racing the Unadilla amateur day as well. For you guys who like trivia, Dowd graduated from high school in 1983, raced his first national in 1987, and is still going (very fast) and strong. Good luck this weekend, Dowdy, and keep those records coming!
Stop by the Racer X booth on Vendor Row at Unadilla to pick up your free event sticker featuring Marty Smith, and subscribe or renew with one of these special offers!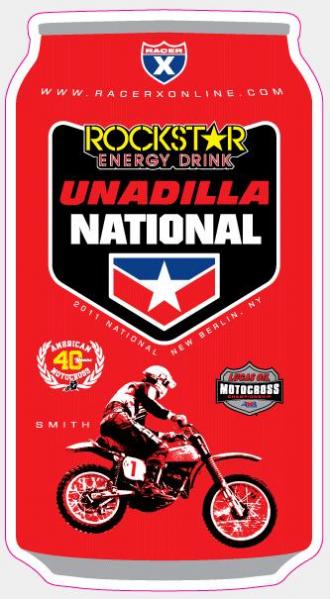 For only $35, you'll get 13 issues of Racer X and an all-day pit pass, good from 9-5 on Saturday. Supplies are limited so don't miss your chance to have all-day access to the pits!
Want a comfortable seat alongside the race track? We're also offering 13 issues of Racer X and a Motosport camping chair for only $20!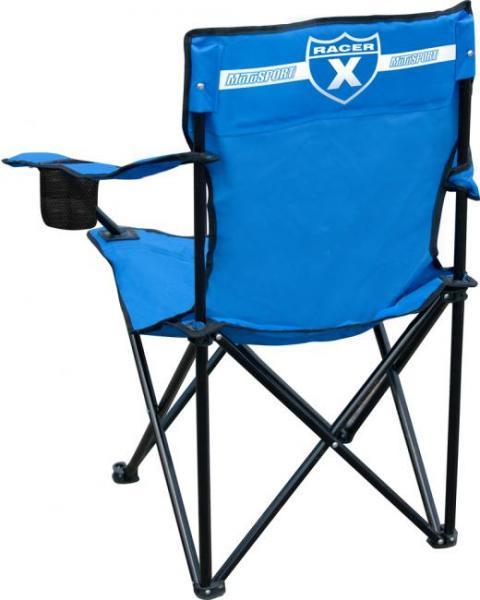 While you're there, check out the clothing line from Racer X Brand and a get free Racer X cup with a clothing purchase of $20 or more.
Michael Stusiak sent us a YouTube channel where "lfoxracer" posted some old Super-8 movies from some classic races: the '79 USGP at Unadilla, the '78 AMA Motocross National in Rhode Island, Southwick '76, the old Florida Winter-AMA races from Gainesville and St. Petersburg, and much, much more. By the numbers count alongside them, it seems like very few people have seen some of these gems. You have to see these rare old movies.
Jeff Emig was at Loretta Lynn's for much of the championship week, working with Shift and Fox Racing. He also helped out at riders' meeting and held court a time or two in the beer tent. Jeff's on the "billboard of fame" that shows many of the top graduates from Loretta Lynn's over the years, and sometimes folks forget that before he become a TV color analyst for SX/MX, he was a very good factory rider with four major championships. And before that he was an excellent young amateur prospect. Which brings us to this cool old video from the 1985 Golden States races at Carlsbad, which was posted by MX255 on Vital MX. It shows Emig on a KX80, along with future heroes Jimmy Button, Jimmy Gaddis, Chad Pederson and more. It's good weekend viewing.
And finally, here's a cool video from the Surfercross earlier this week:
Sorry it's short, but it's been a busy week! Enjoy tomorrow's races on TV, and let's hope it's a big, safe, and very close race! Thanks for reading Racerhead. See you at the races.