Unadilla MX
New Berlin

,

NY
Unadilla Motocross
Lucas Oil AMA Pro Motocross Championship
Jeff Alessi – Foot
Comment: Out till supercross.
Matt Boni – Tib/Fib
Comment: Crashed at the Dallas SX and sustained a compound fracture to his tibia and fibula in one of his legs. You can check out a video of his recovery right here.
Trey Canard – Femur
Comment: Cracked his left femur in a second moto crash at Washougal. Out till SX 2012.
Kyle Chisholm – Misc.
Comment: Kyle is recovering after his throat/vocal cords surgery. Says his team manager, David Vuillemin: "He's having a check up appointment tomorrow in NYC and will be attending the Unadilla National to support Team MotoConcepts. He is not back on the bike and we didn't set a return date for him yet."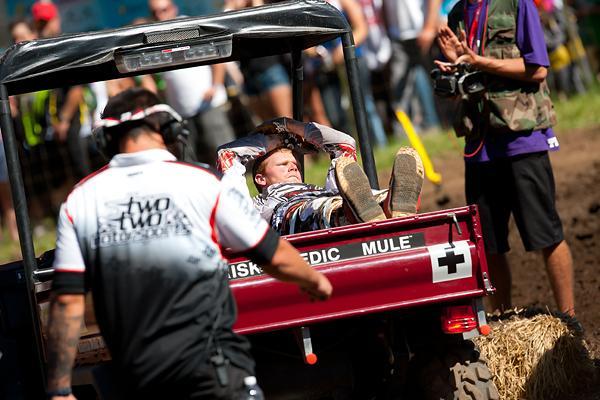 Canard will miss the rest of the outdoor season after cracking his femur at Washougal.
Photo: Andrew Fredrickson
Christian Craig: Misc.
Comment: In for this weekend. Has been back on the bike for five days and is ready to go.
Simon Cudby – Shoulder
Comment: Injured his shoulder in a mountain bike accident and is out for the rest of the summer.
Jimmy DeCotis- Elbow
Comment: In for 'Dilla.
Cody Gilmore – Shoulder
Comment: Dislocated his shoulder in his heat race in Seattle and suffered a slight tear in his labrum. The healing process stalled so he had surgery recently to have his labrum fixed, so he'll be out all summer.
Gavin Gracyk – Knee
Comment: Had a full ACL repair. "In a few weeks I will be at the three-month mark and will then be able to start doing much more intense training on the knee," Gavin told us recently. "Looks like I will be able to begin riding in mid-to late-August."
Josh Grant - Knee
Comment: Josh Grant is recovering from a knee injury and will miss the remaining rounds of the Motocross Championship. He will return to racing for the 2012 supercross season.

Jimmy Decotis makes his return this weekend at Unadilla.
Photo: Andrew Fredrickson
Josh Hansen – Hand
Comment: Had the metal removed from the hand he injured in SX. "The doctor said everything looks good. I just have four weeks off the bike, but everything is cool."
Jared Hicks – Arm
Comment: The Rock River Powersports rider broke his arm in qualifying at Budds Creek and will be out for the rest of the season.
Josh Hill – Various
Comment: Josh Hill is still laid up from his injury last year while he was practicing for the X Games. Hill underwent another surgery recently and is hoping to get back on the bike in the next month or two with an eye to come back for the 2012 supercross series.
Bobby Kiniry – Collarbone
Comment: According to PulpMX.com, Bobby will miss his hometown race this weekend at Unadilla, Southwick, and the last round of the Canadian nationals.
Davi Millsaps - Knee
Comment: Out for Unadilla. His return is not known at this time.
Ryan Morais – Hip
Comment: Had surgery on his hip after supercross and will be racing this weekend at Unadilla.
Kyle Peters – Back
Comment: Sustained a small fracture of the T10 vertebrae in his back in a crash at Loretta Lynn's, which will force him to miss his rookie debut this weekend with the DNA Shred Stix/Star Yamaha team. His return is unknown at this point.
Ryan Sipes – Low Blood Sugar
Comment: Says Sipes: "The doctors say I have really low blood sugar, so basically when I was trying to slim down to hang with these youngsters, I wasn't eating enough. It takes a few weeks to get back to 100 percent and I don't feel like I am there yet. I don't want to ride around in tenth, you know? When I come back I want to be up front. So I'm going to sit out this weekend, stay home and ride and try to get stronger."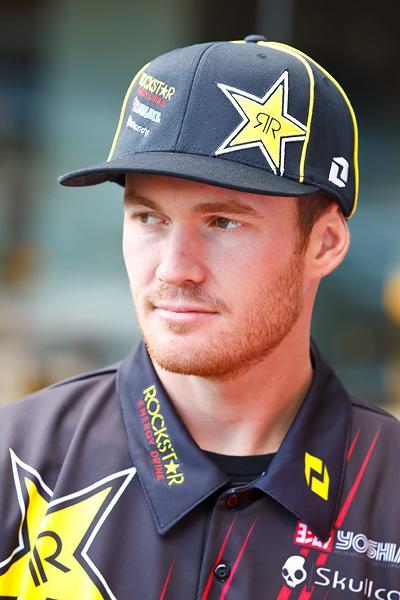 Ryan Morais returns to action at Unadilla.
Photo: Simon Cudby
Austin Stroupe – Shoulder
Comment: Broke his back riding at Pala on July 13. According to his Twitter, he's been undergoing a lot of tests and will let everyone know when he can return.
Jason Thomas – Knee
Comment: The BTOSports.com/BBMX Suzuki rider underwent ACL surgery and hopes to be back in the fall.
Ivan Tedesco – Hip/Knee
Comment: Underwent hip and knee surgery. Off the bike till September.
Blake Wharton – Shoulder
Comment: Underwent surgery and will be sidelined for the remainder of the summer.
Did we miss someone? Email us at letters@racerxonline.com.