Back in the early days of motorcycle racing, the sport was dominated by a number of large races that took place in conjunction with the local town or county fair. The racing events were a big deal - and generally attracted a huge crowd and paid a big purse. While many of these early races were flat track events and pre-dated motocross (or scrambles as it was first known), the tradition has largely faded away, replaced mostly by high-stakes professional racing as we know it today.
However, one track in Northern California, along with an intrepid promoter, is working to bring the tradition back. Ralph Davis owns and operates 408MX, which is located in downtown San Jose, California. The track is actually located within the Santa Clara County Fairgrounds, and is a typical local motocross track, hosting regular weekly practice and open riding sessions, along with occasional races.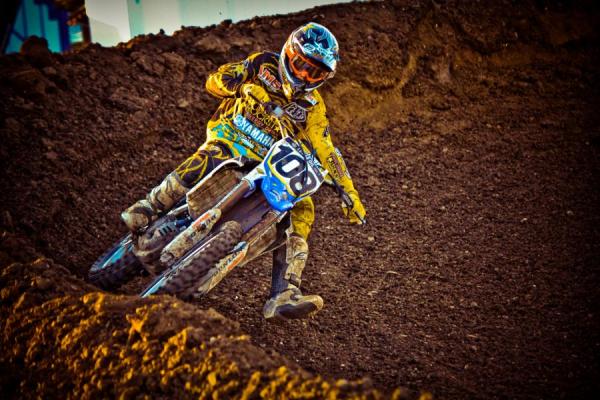 Albertson took the victory at the IMS Sprint Challenge.
Photo: Chris Gangai
In July, Davis was approached by the fair organizers with a question - could he host a big motocross race in conjunction with the Santa Clara County Fair, which they are trying to revive? The answer was yes, but time was tight. So, with just a few short weeks to get things organized, Davis, along with the guys at SVM, went to work.
The race was dubbed the "IMS Sprint" and featured a unique two-by-two bracket style of racing. The format was simple: sixteen riders qualified through riding the normal 250 / open pro class. Those that qualified then lined up two at a time, and raced for two laps. The winner of the Sprint would race a total of five times, but only did a total of ten laps, while earning a purse of more than $3000. In addition, the race was also supported by a full program of traditional amateur and youth racing.
With the guys only running two laps, it was a win it or pin it outcome. A single mistake spelled a quick end for any rider who hoped to get his gloves on the purse money.
The grandstands were packed, and the crowd was estimated at several thousand people.  When the final checkered flag fell, the race (and money) was won by Jimmy Albertson, who drove up from SoCal specifically for the event, and was hoping for a good payday. "I woke early this morning in Murrieta and drove up here. We just decided last Thursday to come up here, and for sure, I am chasing the purse money," said Albertson, while working on his Valli Motorsports Rockstar Energy sponsored Yamaha. "This season has been a tough one for me, and I am trying to do what I can to make some extra money, and this seemed like a good opportunity."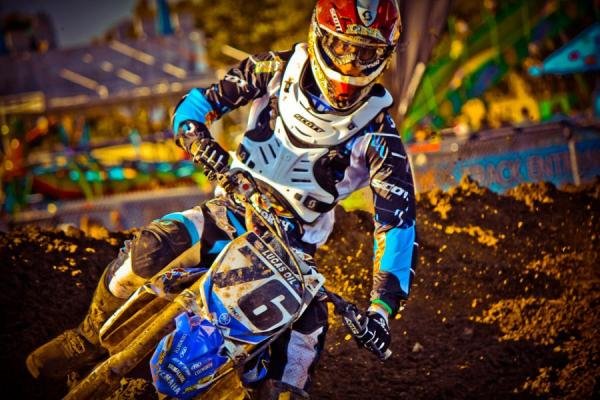 Kyle Partridge would finish second behind Albertson.
Photo: Chris Gangai
Albertson's big competition in the Sprint came from Kyle Partridge of Las Vegas, and Carnation, Washington's Tommy Weeck. Weeck was fresh off a top-ten finish at his local national, Washougal, and was fast all night. However, Partridge and Albertson proved to be the two fastest, and made it into the final 2-lap race.
In the final race, it all came down to one corner. Partridge pulled the holeshot and looked to be pulling away from Albertson, but Jimmy started to reel him in toward the end of the first lap.  Albertson finally put an aggressive outside – inside move on Partridge and effectively shut the door the door on him hard, which allowed him to pull slightly ahead of Partridge for the win – and the money.
For his efforts, Albertson pocketed more than $3000.