Loretta Lynn Ranch
Hurricane Mills

,

TN
AMA Amateur National Motocross Championship (Loretta Lynn's)
Amateur National Motocross Championship
Thirty-five champions were crowned Saturday at the 2011 Red Bull AMA Amateur National Motocross Championship presented by AMSOIL. As 30 years of amateur motocross wraps up here at Loretta Lynn's, the memories and racing will live on this ranch until next year's group moves in once again - and surely this year's event will be one that's talked about for the next thirty years of racing. With the increased presence of Red Bull's title sponsorship, this year's event was a big hit for racers, families and fans and only strives to get bigger and better in the future. Saturday's racing action was some of the best yet, with heavy-hitting classes like Supermini 2, 250A and both Schoolboy class championships coming down to the final motos.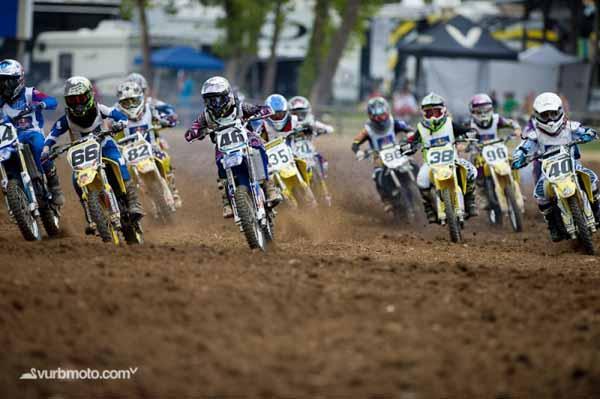 Jazzmyn Canfield swept the highly competitive Girls (9-11) class.

Photo: Ryne Swanberg / Vurbmoto.com

After starting the week off with a DNF in moto one of the 25+, Reynard Raceway Yamaha's Robbie Reynard redeemed himself in motos two and three with a 1-2 score, but it wasn't enough to put him inside the top ten overall. Barber Cycles/LocoX rider Clark Stiles closed out the day with another win, going (1-2-1) for the championship title in a class full of talent. KTM's
Michael Sleeter
had the speed all week long but had trouble staying consistently on the bike, going (4-14-3) for a third overall. Pennsylvania's James Evans stayed consistent in moto three, knowing that he could wrap up the second overall by finishing inside the top five and he did just that with  (2-3-4) score.
Last year, Monster Energy Kawasaki Pro Circuit's Adam Cianciarulo left Loretta Lynn's with two DNFs after running into bike problems in the middle of the week. But this year had a much different tone for the fourteen-year-old sensation as he rode his way to two championship titles in the Supermini 1 and 2 classes. Saturday's Supermini 2 began the same way as the rest, with AC grabbing the MotorcycleSuperstore.com Holeshot and immediately pulling away from the rest of the field. Monster Energy Kawasaki Team Green's Nick Gaines won moto two after Cianciarulo went down, taking nothing away from Gaines - who rode an outstanding race. Gaines went (3-1-DNF) for a thirteenth overall, after a crash knocked him out of contention in moto three. Rockstar Suzuki/MTF/Factory Connection's Jordon Smith has been riding the wheels off his motorcycle this week, showing that he can keep up with the best of them. Smith closed the gap on Cianciarulo in moto three; probably the closest rider to come near AC in a race that he didn't go down. Smith went on to take second overall with a (2-3-2) and Champion Cycles' Keith Tucker went (4-7-4) to take the third overall. Indiana's Josh Osby posted a (7-4-6) score to capture the fourth overall position and Wisconsin's Andy Kost took fifth with (5-6-8).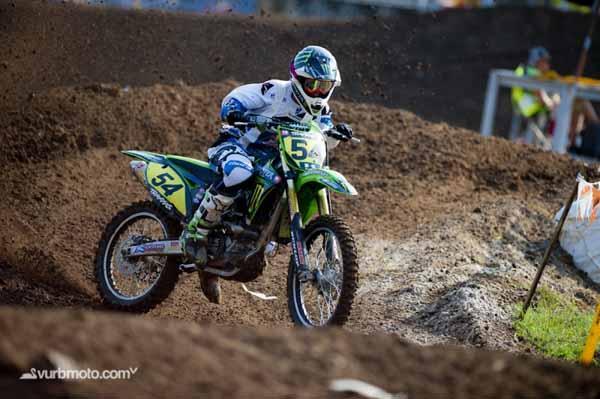 Justin Hill came out rippin' in moto three of Schoolboy 2, taking the moto win and chalking a 6th overall.
Photo: Ryne Swanberg / Vurbmoto.com
Justin Bogle and Kyle Peters headed into the final moto of 250A tied up with (1-2) finishes, knowing that a moto three win meant a championship title. Peters led the entire race as Bogle chased him down, but it wasn't until the last few laps that things really got interesting. Bogle laid the pressure on Peters, who was getting caught in lapped traffic and both were forced to make alternative line choices in the most crucial point of the race. Bogle closed in hard but couldn't finalize the pass, taking second to Peters in this one. Red Bull Honda's Jessy Nelson charged hard in moto three, in hopes of passing North Carolina's Jacob Hayes for the third spot but Hayes pulled away at the end of the moto. Hayes' tenth place overall doesn't reflect the Kawasaki rider's speed all week after going (4-27-3).
Justin Hill came into the Schoolboy 2 B/C final moto with (11-11) finishes, so a championship title wasn't exactly on his radar but the 2011 250B Stock Champion still had another good moto in him as he took the win in moto three. It was XTreme Rockstar Suzuki's Jace Owen who grabbed the overall win with a (2-1-5) score, though. The Illinois native got out front early in moto three but fell back a few spots to fifth, consciously maintaining his championship lead all the while. American Honda Red Bull's Cooper Webb struggled with the Schoolboy bike, scoring two DNFs in the class and grabbing a fourth in moto two.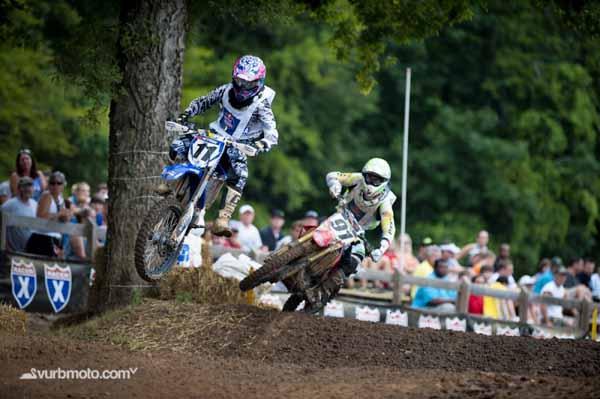 Bogle and Peters had an epic battle for the 250A Championship, Peters coming out on top.
Photo: Ryne Swanberg / Vurbmoto.com
The final chapter of the 2011 Red Bull AMA Amateur National Motocross Championship closes today at Loretta Lynn's Ranch. This week has witnessed first-time Loretta Lynn's Champions claim their titles, seasoned veterans push their bikes off the track, heartbreak, excitement and everything in between - as racers and their families have put their heart and soul into making it to the most coveted amateur motocross event in the country. Congratulations to the thirty-five champions who took home titles today and to the rest of the participants who proved that they are indeed part of an elite group of amateur racers in the country, top 42 to be exact.