Loretta Lynn Ranch
Hurricane Mills

,

TN
AMA Amateur National Motocross Championship (Loretta Lynn's)
Amateur National Motocross Championship
Day four of racing has come and gone here at the Loretta Lynn Ranch in Hurricane Mills, Tenn., as racing begins to wrap up and champions begin to emerge. Sixteen Champions were crowned after Friday's racing, ranging from 51cc classes all the way to Senior 40+. Friday started off with what appeared to be a rainy forecast, but the major storms seem to have just missed the Loretta Lynn Ranch, luckily. The small amount of rainfall turned out to benefit the track by laying light moisture on the ground earlier in the day and for the first time this week temperatures were bearable in the 80's.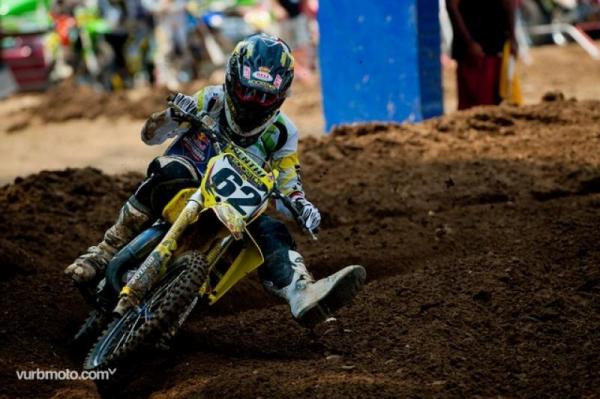 Jordon Smith put in a great ride behind AC Friday in the Supermini 1
Photo: Vurbmoto
Heading into moto three of 250B Stock, Zach Bell was sitting on top with a (1-2) score and the only thing missing from the championship puzzle was a moto win for the Georgia boy. Jeremy Martin took the moto two win but a fourth place in moto one added more pressure for Martin in the final race of the week. And then there's Cole Thompson, the Canadian came into moto three with a (4-3) score, looking to seal a top five overall, and he did just that as he rounded off the podium with (3-4-2) scores. It was Monster Energy Kawasaki Team Green's Justin Hill who closed the deal in moto three, taking home the 250B Stock Championship and Zach Bell closed out the day with a fourth place, giving him (1-2-4) for second overall.
Monster Energy Team Green Kawasaki's Austin Forkner is coming off two 2010 championships in the 85 (9-11) Stock and Modified and at 12 years old, is one of the youngest riders in the 85 (12-14) division this year. Forkner went (1-2-3) in the (12-14) class, taking home the championship in his first year in the senior class.  Team Green Kawasaki's Mark Worth beat Forkner in moto two for the win, but a seventh place in moto two put him into third place overall for the week.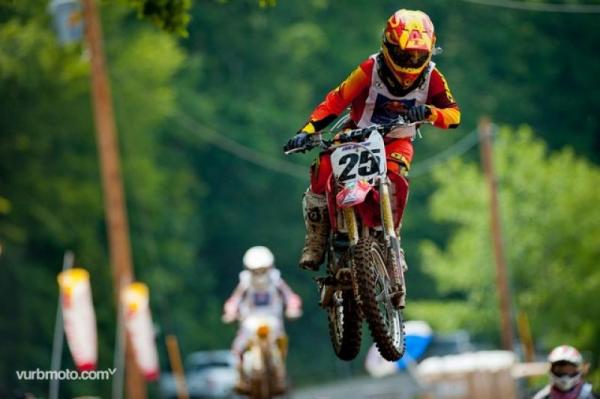 American Honda's Christina Older on her way to a fourth overall in the Girls (12-15) class.
Photo: Vurbmoto
After the incredible comeback ride from Team Green Pro Circuit's Zack Freeberg in moto one of the Open A Pro Sport class, it seemed as if Freeberg was going to be the guy to beat until second motos brought a little bit of bad luck to the 2010 250A/Pro Sport Champion. American Honda/Honda of Houston's Chris Plouffe stepped into the lead in moto two and after chalking the fastest lap time of the race with a 01:55.249; Plouffe took the win and put himself on top heading into the final moto. Hammer Nutrition/Unit/X-Factor-backed Austin Politelli stayed consistent in the top five every moto and the consistency paid off as he claimed second place overall. Plouffe rode a smart race in moto three, knowing that a top five finish would award him his first Open Pro Sport Championship. Thor/Alpinestars/Von Zipper/Pro Circuit's Justin Starling can't go unnoticed, though. Although he finished outside the top ten, his overall doesn't reflect the speed Starling has shown all week long. With a (40-2-3), Starling clearly had a bad moto one that caused him to lose out on a top three overall in the Open Pro Sport class.
In moto three of the Women's class, Fox/Oakley/FMF's Leah Cantrell got out front early on but Fox Racing/Posey Race Engines/Pro Circuit's Kasie Creson got out front right away. Rockstar Suzuki Amateur Racing/Parts Unlimited's Jennifer Burton has been struggling with heat related issues all week long, but in moto three she seemed to grab a second wind as she pressured Creson, who ended up going down in a corner. Creson got back up before Cantrell could pass her back for second, but Cantrell didn't let Creson get away. Creson finally made the pass around Burton to reclaim her lead, even though she didn't have to actually win to take the championship. Creson took the Women's Class Championship with Burton and Cantrell rounding out the podium.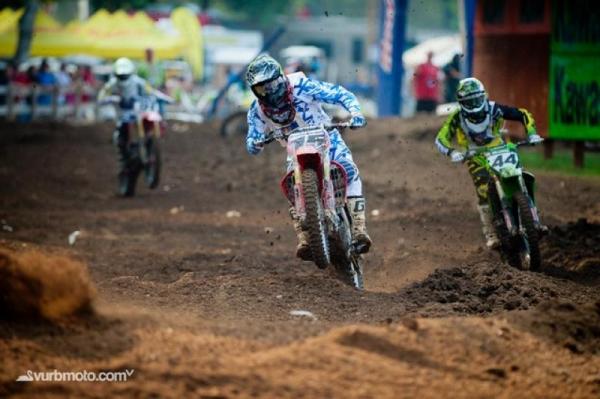 Iowa's Gavin Faith put in an impressive ride in the 450A class, going (3-5-5) in the class for a fourth overall.
Photo: Vurbmoto
Cobra/Monster Energy Kawasaki Team Green rider Stilez Robertson dominated the 51 (7-8) AMA 2 Stock class, going (1-1-1) for the week. Robinson now adds a second AMA Amateur National title to his resume, his first being in the 51cc (4-6) AMA 1 Stock class in 2009.
Monster Energy Kawasaki/Pro Circuit's Adam Cianciarulo (1-3) and Rockstar Suzuki/MTF/Factory Connection's Jordon Smith (3-1) were tied for first after the first two motos of the Supermini 1 (12-15) class, adding additional pressure for both riders.  For Cianciarulo, the pressure to seal the deal and produce an expected championship, and for Smith the pressure to beat the best rider out there, something that doesn't happen too often if AC is involved. AC gabbed the holeshot in moto three and rode his way to an eighth AMA Amateur National Title. Smith put in one of his best motos of the week, chasing AC down and even closing in at times. American Honda Red Bull's Cooper Webb went (5-2-3) to capture a third overall in his last Supermini race ever at Loretta Lynn's. Eleven-10 Mods/Fox/Renegade Fuels' Daniel Baker had a good run in the Supermini 1, posting a (2-6-4) score for fourth overall.
Factory Connection Honda's Justin Bogle is just one race away from closing the final chapter in his amateur racing career as he turns his sights on the Lucas Oil AMA Pro Motocross Championship next weekend. Bogle outrode his opponents in moto three to complete a (1-1-1) sweep in the 450A class. Monster Energy Team Green Kawasaki's Jacob Hayes stuck behind Bogle in moto three to grab second overall with a total score of (2-7-2).  Red Bull Honda's Jessy Nelson had troubles in moto one, finishing outside the top five but came back strong with a (2-3) score in the last two motos - giving him a respectable third overall.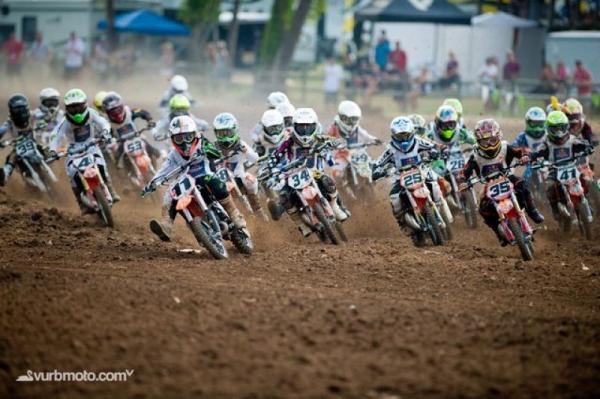 Gabriel Jairala took the 65 (7-11) Mod Overall with a (2-2-3) score.
Photo: Vurbmoto
Saturday will conclude the second set of motos at this year's Red Bull AMA Amateur National Motocross Championship, beginning with 25+ at 7:30 a.m. and wrapping up at 1:30 p.m. with Vet B/C. Red Bull Awards Ceremonies will take place at the AMSOIL Arena on Saturday at 4 p.m. for riders and their families. To follow Live Timing and Scoring from the event, click
HERE
. Follow us on Twitter
@LorettaLynnMX
for unique updates that you won't find anywhere else!