Loretta Lynn Ranch
Hurricane Mills

,

TN
AMA Amateur National Motocross Championship (Loretta Lynn's)
Amateur National Motocross Championship
As the gates dropped Tuesday morning, the 2011 Red Bull AMA Amateur National Motocross Championship presented by AMSOIL kicked off its 30
th
year celebration of amateur motocross at the Loretta Lynn Ranch in Hurricane Mills, Tenn. The World's Greatest Motocross Vacation lived up to its unique weather, as temperatures were scorching in the 90's - all the more reason to enjoy a dip in the creek or take the kids to the pool. Alongside the countless historical attractions at Loretta Lynn's Ranch, Red Bull has stepped up this year to provide race fans and families with entertainment and excitement all week long. From the Red Bull Energy Center, designed to accommodate riders and their families, to the nightly activities and even the Red Bull Air Force Para Moto Team, who parachuted over the track during intermission – Red Bull's presence has taken amateur motocross to another level.
The 250 B Stock class kicked off racing action on Tuesday morning. This is a class to follow all week long, as it hosts some of the heaviest hitters in amateur racing. Minnesota's Jeremy Martin got off to a bad start in moto one, but the Extreme Team Rockstar Suzuki rider worked his way up to a respectable fourth place in moto one. Martin went on to claim a second place finish in the 450 B Stock class later in the day. Canada's Cole Thompson had a stellar day in the B classes, taking home third in 250 B Stock and winning the 450 B Stock class aboard his Honda machine.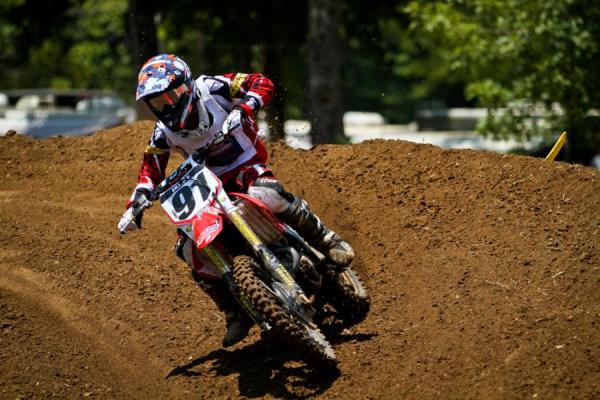 Bogle started off the week on the right foot, taking home his first moto win on Tuesday.
Photo: Austin White / Insidermx.com
Oklahoma's Justin Bogle on his Amsoil Factory Connection Honda is favored to take home an A class championship this week before he makes his pro debut at round nine of the Lucas Oil AMA Pro Motocross Championship at Unadilla. Bogle battled with Iowa native Gavin Faith early in the moto, but a couple of small mistakes by Faith gave Bogle a comfortable lead. Jacob Hayes of North Carolina, put in a valiant effort at the latter part of the first moto, eventually passing Faith for the second spot. If there was a comeback award for this moto, though, Jessy Nelson would be the recipient after crashing on the first lap, falling far outside the top twenty, and making his way back up to sixth.
The Vet/Plus classes showcased some of the most exciting racing of the day. Alabama's Clark Stiles went two-for-two in the Junior 25+ and Vet 35 Plus classes, beating out stiff competition in both. However, it was the KTM of Michael Sleeter who dominated the first half of 25+, but not without a fight from Oklahoma's Robbie Reynard. Reynard slid out in the corner, starting a chain reaction of crashes in the top five as Augie Lieber went down and eventually Sleeter followed suit. Stiles managed to stay on two wheels, giving him his second win of the day. Sleeter fought back to fourth behind James Evans and Casey Clark – who claimed the second and third positions in 25+.
Kasie Creson dominated the Women's (14+) class after getting around MotorcycleSuperstore.com Holeshot winner Jennifer Burton for the lead. Creson settled into a pace that never let up as she hammered through moto one, finishing half a minute ahead of Burton. Florida's Leah Cantrell put in a solid ride as well, taking a fourth in moto one behind Honda rider Serratia Gonzalez.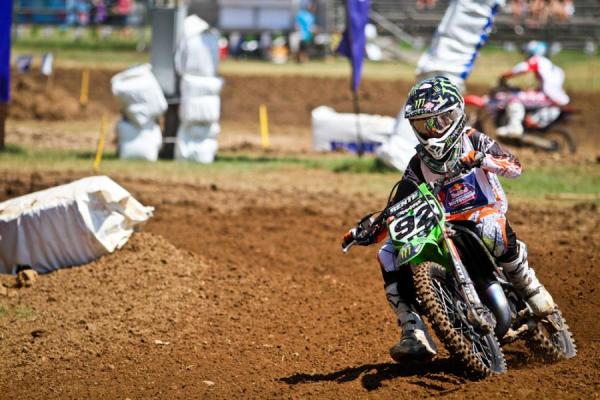 AC redeemed himself on Tuesday grabbing the first moto win in both Supermini classes.
Photo: Austin White / Insidermx.com
The recent addition of the Girls (9-11) class has opened up a great opportunity for young girls to begin their amateur racing path, providing yet another platform to reach the ultimate goal of professional racing. Kawasaki's Brandy Richards outrode her opponents in the Girls (12-15) class, grabbing the moto one win. Texas girl Taylor Higgins stuck with Richards throughout the entire moto with Honda's Christina Older not far behind with a stellar ride for third.
Monster Energy Kawasaki's Adam Cianciarulo is looking to redeem himself after last year's bike troubles kept him from completing the week's motos. Cianciarulo dominated the Supermini 1 and 2 classes all day, grabbing both first-moto wins. Cooper Webb took fourth in Supermini 1 after he went down mid-moto and lost a few spots. North Carolina's Jordon Smith had a great day, finishing third in Supermini 1 and second in Supermini 2.
Racing resumes Wednesday morning at 7:30 a.m. with 450 B Modified, followed by the remainder of classes. You can follow along live on www.lorettas11.tracksideresults.com.