Cypress, CA. –
Come Hang Out with GYTR and Ryan Hughes!
GYTR Activity Schedule:
• GYTR display & product seminars at Rock River Powersports Aztalan Track Display,  Sept. 9 – 11
• GYTR staff on-hand to discuss GYTR Performance Products
• Daily prize give-away
•  GYTR / Ryan Hughes "Aztalan Track Walk" on Friday 9/9
•  Come learn the "hot line" by one of the very best in the business, 9am and 2pm
•  Open to all in attendance
•  Aztalan Race Days – Saturday 9/10 & Sunday 9/11
•  Ryan Hughes will participate in the +30A & +35A Vet Classes aboard  the GYTR YZ450F
•  GYTR presents Ryan Hughes MX Schools at Aztalan on Thursday 9/8 and Monday 9/12
•  Full day course,  9am to 5pm
•  See attached flyer for registration details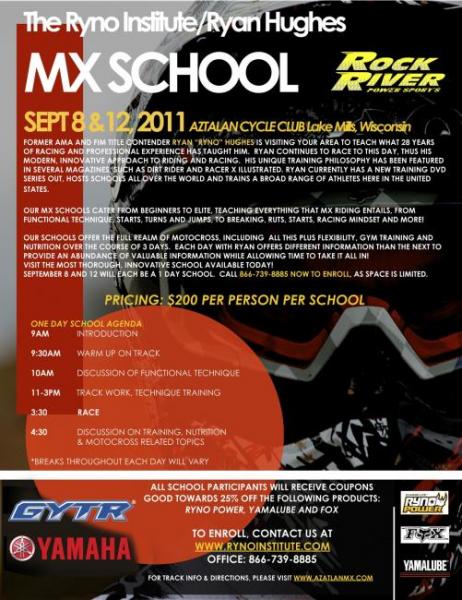 About Genuine Yamaha Technology Racing
Yamaha is known around the world for its leading-edge performance technology.  The technological advantages that Yamaha incorporates into GYTR performance products are helping produce winners at every level.  Superior materials, technology, and design are what set GYTR apart from the competition.