IMS and 408MX Present The Nor Cal SPRINT Challenge
San Jose, California: IMS and 408MX officially invite you to the 1st Annual Nor Cal SPRINT Challenge, which is taking place on Saturday, August 6th 2011 in downtown San Jose, California.
The SPRINT challenge is being held in conjunction with the Santa Clara County Fair, which has a deep history of hosting motorcycle racing events that dating back to 1910. The event is expected to attract a huge crowd, and should be one of the biggest races of the year in Nor Cal. All amateurs are welcome to come participate as well, and will witness what is sure to be some of the best Pro racing Nor-Cal has ever seen!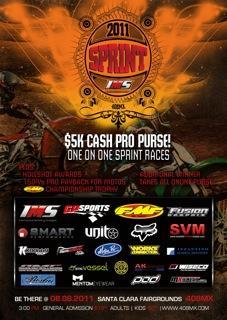 SPRINT Details:
The IMS SPRINT halftime event will feature the top pros in an open bike format battling it out in a 1.5 lap sprint to the checkered flag. The top 16 pros from the first moto will qualify to race the IMS SPINT Challenge. The SPRINT Challenge will feature bracket style racing with the winner of each sprint advancing to the next round. Racing brackets will be chosen at random and an online audience will have the opportunity to sponsor a given rider the week before the event... all bids will begin at $25 and the combined sponsorship purse will be split between the rider and their highest biding sponsor.
The SPRINT Challenge will run in conjunction with the 4th round of the 408MX Summer Series and includes a full schedule of amateur classes as well.
Please stay tuned for the link to this online website and the Pro rider pre entry list.
Regular Pro Motos
- 150% pro payback.
· First pro moto is qualifying to get into the SPRINT race.
SPRINT Race: $5K pro purse
1.       $2,000
2.       $1,000
3.       $750
4.       $500
5.       $400
6.       $300
Online Sponsor Purse: Total Amount - $TBD
The online action will feature all confirmed riders the week before the event. Riders will be auctioned off and the total online purse will be split between the winning SPRINT rider and their highest bidder. You now have an opportunity to partner with your favorite rider and share in the racing excitement.
About 408MX:
408MX is located in downtown San Jose, California and is truly an off road oasis for dirt bikes in the otherwise suburban jungle known as Silicon Valley. The track is located at the San Jose County Fairgrounds, and is just minutes from major the freeways of 87, 101, 85 and 280. The track is owned and operated by Ralph Davies, an experienced northern California racer. The staff of 408MX takes pride in having one of the best-prepped and flowing tracks in California.
For more information on 408MX, please visit our website at www.408mx.com. Also, make sure to "like" us on Facebook at fouroeightmx.