Washougal MX Park
Washougal

,

WA
Washougal Motocross
Lucas Oil AMA Pro Motocross Championship
Interviews by Steve Matthes and Jason Weigandt
Ryan Villopoto Monster Energy Kawasaki 1-2 for 2nd Overall in 450 Class
I got a great start in the first moto, I got a little gap on Ryan. He started inching up on me a little bit. I got held up by one lapped rider going into the whoops one time, I lost a little bit of time there, but I could hear that he was gaining a little bit here and there. Obviously I couldn't see him, but from what I could hear and where he was inching up, I think he had some better lines. We're all so close on speed that it comes down to whoever gets the right bike setup and picks the best lines.
On the second moto restart:
Obviously I didn't know what happened at first, but when I came back they said it was Trey. That's obviously a bummer, especially for him since he was just coming back. I had another holeshot, which is obviously good for me and I felt good. So that threw a little wrench in the thing. On the second start he got just the wheel in front of me, so I had to give him the holeshot there. It seems like you can get out of the main line coming into the turn, but then through the turn you have to drop back in. Then you go to the next section and you go out of the main line at first, but you have to drop back in, again. It makes it tough to pass, but, as everyone saw, he pulled a gap on me, so obviously he was riding better than me and had better lines, so he pulled away, and that's pretty much it.
For the first time all year I have the red plate, that's always good. I made a little step forward, not as much as I'd like, so we need to work on some things.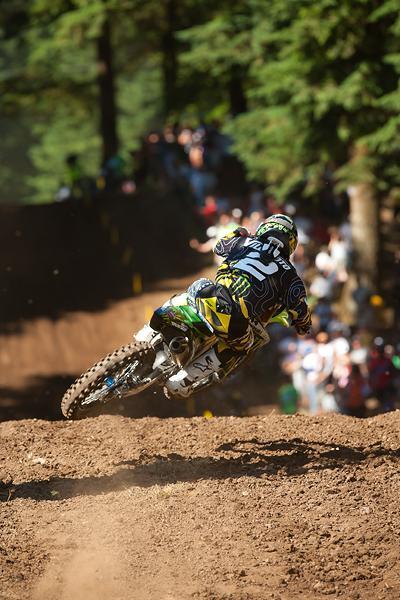 "For the first time all year I have the red plate, that's always good." - Ryan Villopoto
Photo: Andrew Fredrickson
It's always nice to come back for Seattle and here, most of the people watched me grow up riding here. I haven't won here yet, so hopefully next year I can win for them. I couldn't really tell you why I haven't won here. In the Lites class I had some problems, bike problems one year, and another year I had a pretty big crash. But this year, I felt like things were going well. I just didn't have it toward the end of the moto there in the second moto.
I though the first moto the track was pretty good. It's tough to water here. So the second moto was more dry, a little more hard packed. But to water it you have to work it with the dozer at least a little bit. Then that would smooth it out a lot. So the first moto was good, Thursday it sprinkled all day here, so that was good for the track, but second moto, it's hard to water the track, so it got dry.
Ryan Dungey Rockstar Makita Suzuki 2-1 for 1st overall in 450 clas
First moto was pretty good, I was a little slow on the first few laps but I was able to inch back up on him there. Practice, I think I rushed some things and struggled there, but I was finally able to settle into a groove. I was trying to make the pass, but he pinched me off, so then I went out to the berm and tried to bank off of it, but there was nothing to bank off of. My back end came right around.
Second moto, you never like to see a red flag, and especially for a guy like Trey, and a red flag, it's a little uncommon. I got off to a really good start. Villopoto pressured me there for a little bit, but I was able to find some good lines and get away. The track was really choppy, you know? It was technical, so it was good to find some good lines.
On closing in for the points lead:
With Texas, I'll never forget that day, but now, there's almost a sense of joy, to have worked so hard to get back into this position. It takes a lot of hard work, it's so hard mentally, and it's so hard on our bodies. But our team just needed to keep working and trying to score maximum points.
On reeling in Villopoto at Millville and Washougal after taking second behind him at RedBud
Our speed, it's so close. RedBud was kind of an unfortunate deal, we did an adjustment before the moto, and no excuses, but we went the wrong way. It just wasn't jiving right, and he just took off. I don't know, I felt like today I had a good setup. It's not big things, it's little bits, and minor adjustments. It's amazing what one little change will make as far as making you comfortable out there. Brett and I try to feed off of each other, for sure. We haven't really done much comparing, but after Budds Creek we adjusted the forks a little bit, and I've just been getting used to that more and more. Yeah, I'd like to think we feed off of each other as teammates.
Four in a row here:
It's a special place for sure, I got my first outdoor win here in 2008. At that point I was struggling outdoors and Villopoto was really hard. I feel like that day was a big step in my career, mentally and physically.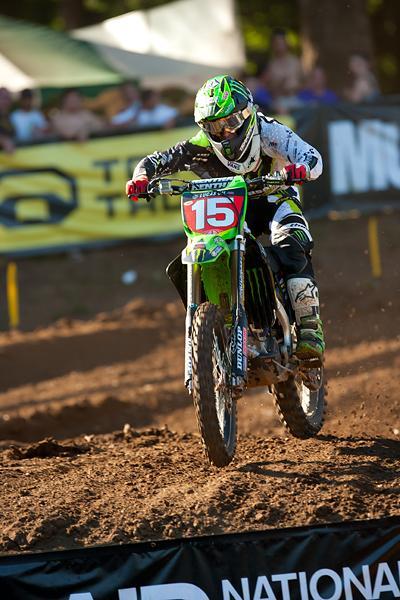 "I rode consistent, but I just cant put two motos together." - Dean Wilson
Photo: Andrew Fredrickson
Tyla Rattray Monster Energy Pro Circuit Kawasaki 2-2 for 2nd overall in 250 Class
Yeah it was pretty decent I went 2-2. I'm pretty happy with that, this track, it's pretty hard to see some of the bumps with the shadows and the trees, it makes it pretty technical. I rode good in both motos so I'm happy with that. I was struggling at the beginning to find good lines, but I started seeing his lines and I closed back on him, but yeah, it just wasn't enough. Obviously last week, the heat made it really tough, but this weekend after the first moto it felt like you hadn't even ridden. This track was a lot different, it had some square bumps coming out of the corners.
Dean Wilson Monster Energy Pro Circuit Kawasaki 5-1 for 3rd overall in 250 class
I rode consistent, but I just cant put two motos together. It's almost like you have to win both motos to win the overall, Blake went 1-3 to win the overall, and I've had like three of those but I haven't been able to get a win. I don't know! Consistency is good and if that helps me win the championship that's great, but I would love to win some overalls.
The first moto, the dirt was really tacky off the start, but I spun and I wheelied, it was just a bad start. Kind of a bad moto, I was taking on some roost, and I got to fourth and Barcia passed me back and I fell. It was just a terrible moto. I went into that second moto knowing I had the speed to win, I just needed to get a good start, and that's what I did. This weather felt so good, I was 28 minutes in and I felt great. But I had a lapper get into the rut that I wanted and that slowed me up and allowed Tyla to get close. He got right up on me on the last lap, and I had some bad lines, but I was so afraid to change them because I was afraid I would make a mistake. I just told myself, I came this far, I'm not letting him get around me. It would be a heartbreaker to lose it on the last lap.
Blake Baggett, 1-3 for 1st overall in 250 class
Second moto was probably a typical Blake Baggett moto, I got a bad start and had to come from the back. Made my life a little bit hard, then I crashed. It was just a tipover, but I had to spin my bike around and get going. Then I took out some fencing at the top of the hill, I guess it was in my way, but really it wasn't, it was just in my way because I went off the track. It was just getting really hair ball, I couldn't see anything, I had like 50 tear offs on there, so I couldn't see to well, but I thought there would be more water out there because they watered the area by our starting gates so much. So I thought the track would be wetter than it was. It turned out good, I had no clue that I had won. I had no clue where I was. When I came around and Sean (Irwin, mechanic) held up the number one I was like, "What are you talking about, did you hit your head?" He said I won. I was like, "No way." That's cool, I think I may have made up some points, but I'm not sure. I rode a little too hard in some sections, this track is really technical.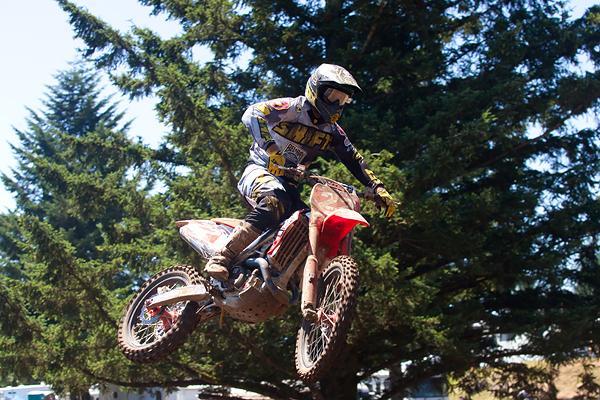 "Tough day for me and a little disappointing but at the same time when you look at the facts and what I'm dealing with, maybe it's not too bad." - Chad Reed
Photo: Andrew Fredrickson
Chad Reed Two-Two Motorsports 450 class 7-4 4th overall
Tough day for me and a little disappointing but at the same time when you look at the facts and what I'm dealing with, maybe it's not too bad. A seventh sucks for sure, I got a bad start- I just spun on the gate. I was tenth or so, Alessi went down and I was caught up in that and had nowhere to go. I caught up to seventh and in the second one, I was in third and I couldn't hold off Metty. I couldn't hold him off, he was riding good.
It was a weird weekend for me, I wasn't into it. I was foggy and I don't know if it was because I was sore or what. I didn't see the track the way I needed to do. I wasn't fast enough this weekend and that's a bummer. I got two weeks off and we'll heal up and make another run at it here.
Wil Hahn GEICO Honda 250 class 14-17 17th overall
Not a good day for me, it was a tough day for me. I never got going and unfortunately I was tight all day. The bike was awesome, it was all me. I'm a little embarrassed and we'll take these three weeks off, figure it out and I'll come back and ride like I did at Redbud. We went hard on the last week, a pretty hard boot camp. I don't think that's the reason but we did work hard. Since the day I've been able to be back on the bike, I've been wide open and maybe it's catching up to me. Maybe I'm being a pansy.
At the end of the day, my starts killed me and I was way back. That's not going to be good for anyone unless you're running a real strong pace and I wasn't.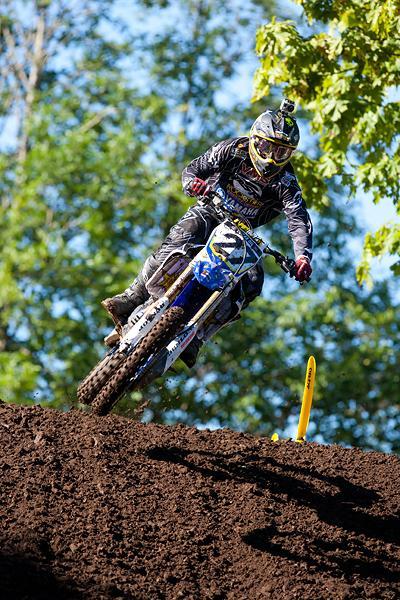 "I've had a frustrating month, I'll keep working on it, pushing it because quitting isn't an option at all." - Nick Wey
Photo: Andrew Fredrickson
Nick Wey Valli Yamaha 450 class 16-13 15th overall
My day was a bit frustrating for me. I'm trying super hard and I felt like I improved my riding. My guys are behind me and working hard and I can't say enough about them, I just got to get going. I got a good start on that first one but then it was red flagged. I hope Trey is ok. But on the second one, I didn't get nearly the same start. First moto I stalled it and struggled all day. I've had a frustrating month, I'll keep working on it, pushing it because quitting isn't an option at all. I'll keep going to try and get top ten in the series points, that's the goal right now I guess with eight motos off.
I either need to stay off my bike a little bit and get a hobby. There are three things that are going to happen here, I have to ride, I have to stay off my bike and get a hobby or I'm going to have a nervous breakdo