Washougal MX Park
Washougal

,

WA
Washougal Motocross
Lucas Oil AMA Pro Motocross Championship
Authors: Steve Matthes and Jason Weigandt
After the RedBud and Spring Creek tracks absorbed a deluge on Friday afternoon, it looked like Washougal offered up perfect weather in comparison. Not quite. Locals commented that the track had actually absorbed rain from Monday through Thursday, leading to the cancellation of a bunch of amateur motos (which we pushed back to Sunday to preserve the track for Saturday's pro race). Plenty of sunshine came through on Friday and Saturday, though, and you'd never know the facility had absorbed so much rain by the time the motos began.
The rain had a bonus effect on the track: the promoters were able to open up the upper terrace section above Horsepower Hill, which is usually off limits on drier weekends.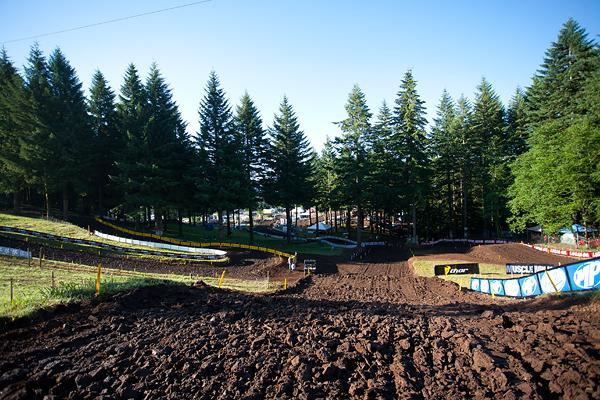 Even with rain during the week, Washougal was in pristine condition on Saturday.
Photo: Andrew Fredrickson
The promoters of Washougal threw a bunch of sand on the track in an effort to combat the normally quite slick dirt but it didn't have desired effect, as most of it was pushed off and the track returned to its roots. Many riders commented that the roost was as bad as it's ever been, as well, as Washougal is known for producing some of the most painful roost on the tour. Under protectors were the norm for most guys.
Ryan Dungey couldn't catch Ryan Villopoto in the second moto at RedBud, but he was able to make up ground on him in the second moto at Millville and the first moto at Washougal. What changed? "At RedBud, it was tough," he explained. "We made a few bike changes, and we kind of went the wrong direction. It's amazing how much of a difference a small change can make, just one click on the shock can make a big difference on how comfortable you feel."
After he crashed out of the first moto at Millville last week, Tommy Hahn said in a TV interview from the pits that he was "going home." That led to some incorrect reports that Hahn was quitting the series or his team, but he was indeed racing Washougal and explained the interview was not correct. "When I pulled off, I was so hot that I just wanted to get my helmet off," said Hahn. "I didn't throw it down because I was frustrated, I threw it down because I was hot. I didn't mean going home like quitting, I meant going back to the semi. Obviously I'm here racing today. Everything is fine with the team, I'm not quitting or anything like that."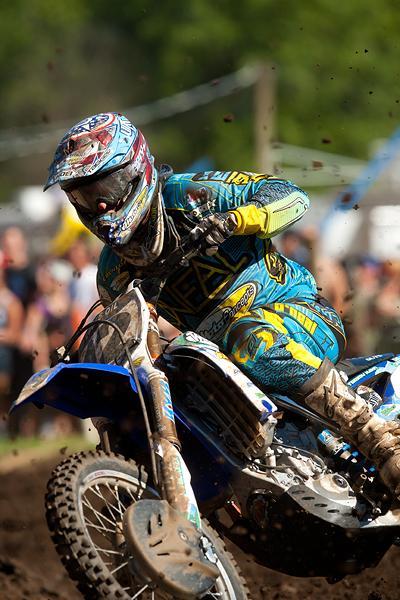 "Everything is fine with the team, I'm not quitting or anything like that." - Tommy Hahn
Photo: Andrew Fredrickson
JWR rider Tyler Bright switched from a Honda to a KTM 350 for Millville and although that race didn't go as well as he would have liked (41st qualifier- missed the motos), at Washougal Bright qualified better and just missed out on some points in going 24-24. Bright is very bright on his future on the orange machine as he feels it suits him better.
Privateer Tommy Weeck had a pretty good week as on Thursday night he took home first place at the PIR race and collected a huge bounty for his efforts. Then this weekend at Washougal, Tommy used his home track knowledge to his advantage as he charged through the pack in the first 250 moto to get a sixth. Second moto wasn't as kind to Weeck, as two crashes held him to 19th. But he made an impression on many on this day. Tommy's only other national appearance this year was at Hangtown where he didn't score any points.
Weston Peick has had a rough motocross season after a pretty good year indoors. Switching from the Rock River Yamaha team to a Kawasaki, Peick has had nothing but troubles in the form of DNF's and crashes and before Washougal had only scored 14 points. This weekend was a break out of sorts for the number 43 Kawasaki as he ended the day with solid scores of 12-15 and doubled his number of points earned so far in one race.
Jimmy Albertson was running out of money trying to follow the national series on a privateer Honda and despite putting in decent results was going to skip the Washougal round. Then Albertson was thrown a lifeline in the form of a Valli Yamaha ride and he was back in. Testing during the week went well and Albertson was offered a spot on the team for the rest of the series. Having ridden on the team once must have made Albertson comfortable as despite not having much time on the Yamaha, he scored 11-9 finishes to end up top Valli rider and 9th overall.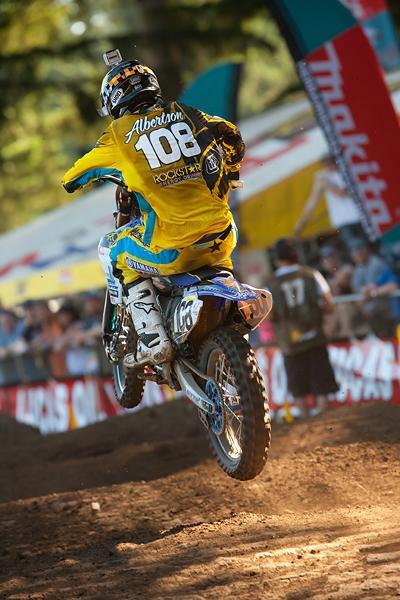 Albertson finished 9th overall in his first ride for Valli Yamaha.
Photo: Andrew Fredrickson
Stillwell Performance-backed privateer Kevin Rookstool managed solid 13-16 scores in the 450 class for 16th overall. Proving his versatility, he's packing up and heading to X Games to compete in the Enduro X race at X Games next weekend, where he hopes to make the 10-man final. Rookstool made every final in the 2010 EnduroCross series.
Who were the most consistent riders at Washougal? In the 450 class, J-Star Motors JDR KTM rider Tye Simmonds went 14-14 in his races, and in the 250s, ARMA Suzuki City rider Malcolm Stewart went 8-8. They were the only riders with matching scores in the two motos.
Lucas Oil Troy Lee Designs Honda riders Cole Seely and Travis Baker rode in some new colors for the weekend, with blue and orange Hondas to match the blue and orange TLD Steve McQueen gear line. The team started with black fenders and painted them blue.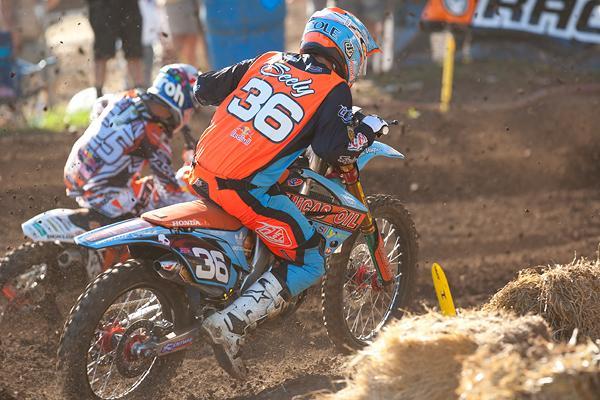 The TLD team made a major fashion statement at Washougal.
Photo: Andrew Fredrickson
Lance Vincent once again showed impressive speed on his Moto Innovations/Ankle Savers Honda, battling with Tyla Rattray for second early in moto two. But he hooked his ankle in a rut and sprained it, knocking him out of the moto.
Rockstar Suzuki's Martin Davalos scored his best moto of the summer with a fifth in moto two. Davalos has quietly moved to ninth in 250 points.