Washougal MX Park
Washougal

,

WA
Washougal Motocross
Lucas Oil AMA Pro Motocross Championship
Have you ever seen a crash as wild, spectacular and downright frightening as
Chad Reed
's now infamous launch at
Millville
? It was remarkable to say the least, seeing him thrust up over that big infield camelback jump without his motorcycle, then starting frantically rolling down the windows from, what, 40 feet above the crowd, in front of 39 other motorcyles...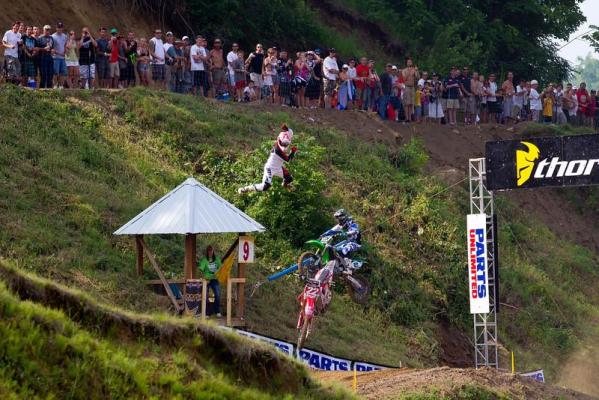 Chad Reed's crash was stunning in scope. How fast it went viral was a lesson in new media.
Photo: Brian Robinette
There was a collective gasp that went up from not only the sun-baked Spring Creek faithful, but the people watching all over the world. Given the recent tragedy of Josh Lichtle, I personally thought of the worse as he came down in a thud, a human lawn-dart leaving a big divot in the grass. SPEED TV's Jason Weigandt and Jeff Emig were in disbelief, as I am sure Chad's TwoTwo Racing/Bel-Ray Motorsports' Honda team manager Dave Osterman was—and Ozzy was literally right there on the infield where Reed finally came to a stop. So was Asterisk Mobile Medic trauma man Dr. John Bodnar. In one crazy blast of a 450's throttle, redirected by a square edge that formed at the base of the big jump, the best 450 series we've seen in years was blown up...
But then Chad Reed got up. He gathered himself, Doc Bodnar asked him if he was okay, he fixed his levers and then he got the bike re-fired. Way down on the pack, Reed got back in the race, and a rolling applause went along with him around the racetrack as fans saluted his perseverance as well as his ability to take a huge body punch.
The
YouTube video posted
above is approaching 2,000,000 views. The crashed aired live on MotorsTV in Europe, delayed on SPEED, and has seen been shown multiple times on ESPN, CNN Headline News, Fox Sports, the Yahoo homepage, the Huffington Post, and even mainland China, where it was spotted it on TV by a traveling enthusiast from the states. Given the way news travels today, and all of the forms of new media upon us, in less than a week the "Chadapult" (thanks Reese Dengler!) has easily become the most watched widely watched highlight moment in the 40-year history of the American Motocross tour.  In getting up and getting back in the race, Reed not only salvaged his points lead to hold on to that red plate he's become so attached to, but he also kept an incredible series going for all of us race fans and enthusiasts.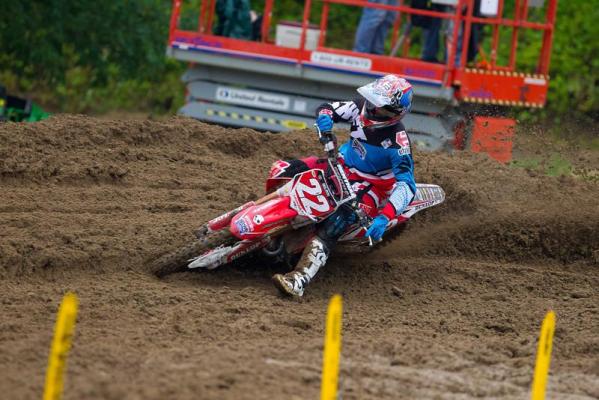 Chad Reed got back in the race and scored 7 points to maintain the series lead over Dungey and Villopoto.
Photo: Brian Robinette
And now tomorrow Reed and eventual Spring Creek race winner Ryan Dungey, as well as hometown favorite Ryan Villopoto and a back-on-track Trey Canard will take it the airwaves again, this time live all day long as the Peterson CAT Washougal National airs all four motos live here in the U.S. This will mark the first time we've ever had all four motos live on domestic television, and having Chad Reed out there safe and sound (but surely sore) is the icing on the cake.
You can watch the Peterson CAT Washougal National's first motos live on FUEL TV beginning at 4 p.m. Eastern (1 p.m. out west) followed by the second motos live of SPEED beginning at 7 p.m. (4 out west). You can also watch online at www.allisports.com. And please keep an eye on Racer X Online all day long for the news and action from the big race in the Northwest.
And check out Allisports.com for the Racer X Pre-Race Show later on tonight from Washougal, where Jason Weigandt and friends will have all of the inside stuff to get you ready for tomorrow's live racing.
One rider who won't be there is Kevin Windham. After staying out there well past his planned summer vacation, Windham assessed his summer and his career and decided it was a good time to go home and focus on the family and get himself revitalized for the 2012 Monster Energy AMA Supercross tour. I think it's a smart move for "the most interesting man in motocross" and I am sure Miss Dottie and all those kids will be glad to have him back home in Centreville, Mississippi. Kevin, thanks for coming back out to the races.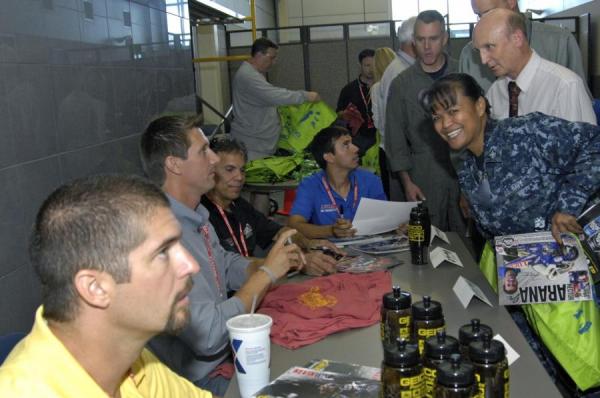 Windham bowed out of the series, but not before saluting some soldiers in Colorado.
Photo: Erin O'Conner
And in typical Windham fashion, he went out well, joining the rest of the GEICO Powersports team as they visited the HQ NORAD and USNORTHCOM, Peterson AFB in Colorado Springs, Colorado. My old friend Erin O'Connor sent a couple of photos over, so thanks for that.
I've gotten this far down and haven't welcomed you to Racerhead, nor have I mentioned the 250 Class battle, which continues to evolve on the Lucas Oil AMA Motocross tour. It's still 1-2-3 for those Pro Circuit Kawasakis, as Tyla Rattray toughed out his third AMA Motocross win of the year, leading his teammates Dean Wilson and Blake Baggett. But it's the resilient Wilson who still leads the points, even though he's yet to win.
And coming back to the tour this weekend is Marvin Musquin, the French import who might have been up there with those green guys had he not suffered an injury in that bizarre, chain-reaction crash at Freestone started by GEICO Honda's Justin Barcia. And Barcia is also back this week, even though he crashed out of Spring Creek with what seemed like a broken nose... In fact, Johnny O'Hannah spotted Justin helping the team put up their awning and tents out at Washougal!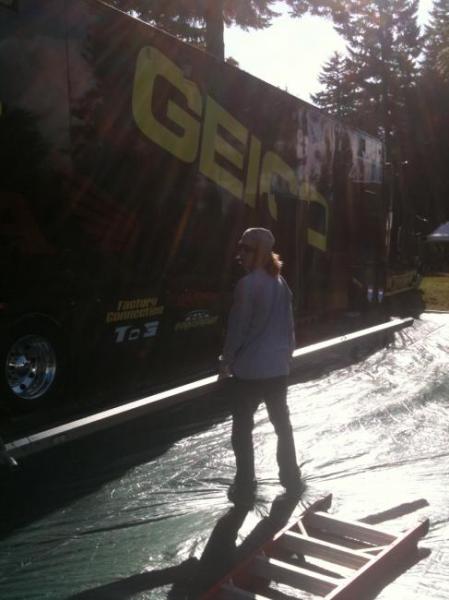 Justin pitches in to help his team out at Washougal.
Photo: John Wolven
It appears that the only fairly cool place in America right now is the northwest, so the riders and the teams will get a break when it comes to the heat wave that is otherwise melting most of America. That won't be the case over the next two weeks when the big amateur races at Ponca City and Loretta Lynn's take place in Oklahoma and Tennessee, respectively. Given the events of RedBud, where Josh Lichtle suffered from a seizure brought on by hyperthermia that ultimately cost him his life, it's very important that riders of all ages and all calibers prepare themselves for the coming weeks. We asked Racer X Virtual Trainer Tim Crytser to reach out to some of the top trainers in the sport to get some advice for everyone on how to prepare and what to look for when it gets really hot out, and he shared them with everyone right here:
Having been to Ponca and Loretta's a time or three over the years, my suggestion to everyone going there is to print Tim's information out and have it handy for your rider, your family or even just yourself.
With help from Verizon and the whole Tennessee Region team, Loretta Lynn's should have excellent coverage. So make sure you stop by the Verizon Wireless store in nearby Waverly, Tennessee. We will have more info about the service and the store soon.
Okay, lots to cover, so let me turn this over here to
Matthes
....
It's simply amazing that Ryan Villopoto hasn't won at Washougal, the site of this weekend's Lucas Oil AMA Pro Motocross Championship. One would think that the Pacific Northwesterner would be quite adept at the slippery Washougal track, but through some great rides by others and some luck that went bad, RV's never won here.
He's looking for that to change this weekend. With points leader Chad Reed flying through the air last weekend, the points race just got real tight and what better place for Ryan to take control of this title than in front of his home fans? Or maybe Ryan Dungey will manage to bring it home after what I think was his best ride all season (including supercross) when he hunted RV down in the second moto and won the overall.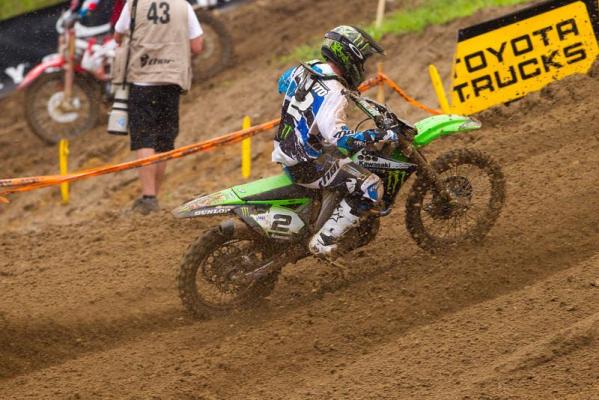 Can Villopoto break through at Washougal?
Photo: Brian Robinette
I wrote last week that Reed has to get through these two races with minimal damage done (Millville being Dungey's house, Washougal being Villopoto's) and he was looking good for the championship after moto one when he held off Dungey for the win. I was thinking that this is fate now. Now the moto gods had decided that Reed, in an incredible underdog story, was going to win the title.
But then he had "the crash" and things have tightened right up again. Looking at the remaining tracks after this one, I think that Reed has the Southwick advantage and Dungey has the Pala advantage (he's the only one who has raced there before) and as far as Steel City (the legendary JMB's favorite track by the way) and Unadilla, I have no clue. I do know that this thing is now starting to get good!
I love coming up to this race and love the area. The track isn't the greatest for viewing, but it's sort of an American motocross institution with the trees, nice fresh air and some good racing. I always think about some Fox Racing ad somewhere when I come to this track. Maybe they shot some of their catalog here, I'm not sure. I know that many of the OEMs have used Washougal as a track for their brochures for the new models and who can forget the Mountain Dew commercials with Gene Naumec and Jeff Glass all those years ago?
Everything is quiet on the silly season front. I'm hearing more and more about some different things but until Ryan Dungey signs, nothing much is going to happen. I hear that deal is pretty much done, but nothing official yet. What about Mike Alessi to the new Larry Brooks/Jeremy McGrath team? Maybe something there; I do know that Brooks has spoken with Josh Hansen about coming on his team but it's a supercross AND motocross team (what? That's not possible, Brooks HATES motocross right? Well, it was never true folks.) and Hanny quickly bowed out of that.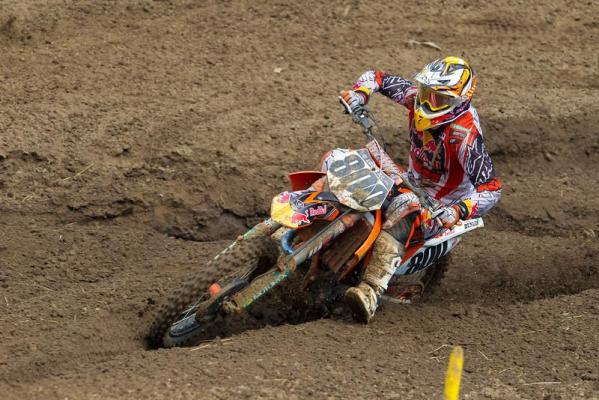 Where will Alessi land for 2012?
Photo: Brian Robinette
Alessi and Brooks got along well when the two were at KTM so maybe there's something there. I think that Mike might be one of the first guys who's signed after Dungey, so there's been talk there already.
Great podcast I did the other day with DC about Loretta Lynn's and the history of it. I dig that bench racing/MX history stuff and there's no better guy to do that with than Coombs.  I did get a Tweet from someone that says they saw someone riding the Loretta Lynn's track on a CR125 in September one year, but other than that, I do agree that part of what makes it so good is that the track is used once a year.
Check out Pulpmx.com for some stuff if you've read everything on Racer X Online and listen to the Pulpmx Show on Mondays for a different look at the sport that we all love.
That's it for me. Viva Washougal, and next week I'll be coming to you from Lommel as I'm hitting the GPs!

Here's
Ping
:
Brian Deegan to make a return to supercross racing? Well, not really, but the General of the Metal Mulisha is going to be partnering with Valli Motorsports for the 2012 season. Deegan's wildly successful corporate entity will sponsor the 250 riders, two east and two west, and support them for supercross and motocross under the Valli Yamaha rig. It seems like an interesting partnership, but if it helps create more jobs in the sport than I'm all for it. They are currently talking to riders and want to have contracts signed in the next couple weeks.
Okay, let's talk about Chad Reed's crash. It was huge and could have been ugly and I'm glad he rode away from that one. If you haven't seen some of the Photoshop magic that has been posted around the web, check some of these out…funny stuff. I've also been enjoying the look on the spectator's faces along the fence in the crash sequence photos.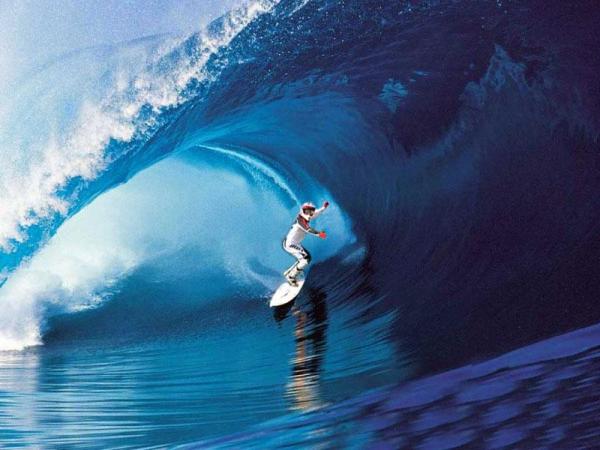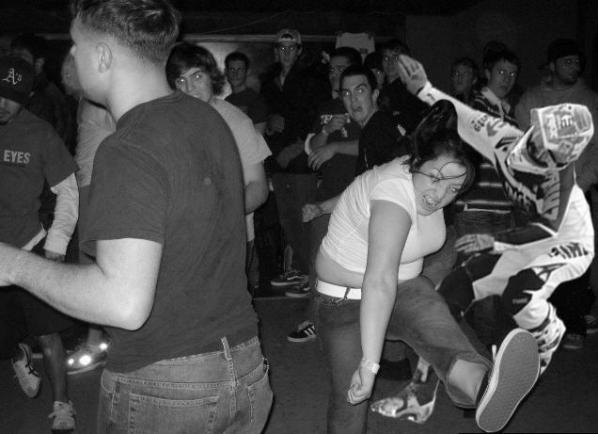 Like James Stewart's arrest, Chad Reed's big crash was like Christmas morning for Photoshop pranksters.
Kawasaki debuted their 2012 KX250F this week. They started by paying tribute to the man who has brought their 125 and 250F an avalanche of wins and championships over the years, Pro Circuit's Mitch Payton. Kawasaki invited the media along to a dinner in Temecula's wine country on Wednesday night. After dinner, Jeff Emig helped present a giant trophy to Mitch and his Pro Circuit staff, which had a giant 200 on top of it. The number signified Pro Circuit passing win number 200 earlier this Spring. Of course that number is already at 211 after the Millville podium sweep. Emig added, tongue firmly in cheek, that that number would only be 210 if it weren't for the brilliant performance of yours truly one brisk night in San Jose back in 1995. You're welcome, Mitch. 
Seriously, the numbers are staggering. Of those 211 wins, 190 of them have been on Kawasakis. Kawasaki has four times more national motocross wins that any other brand. They have won six of the last eight west coast supercross titles, four of the last eight out east and four of the last seven outdoors titles. All of those came courtesy of the Monster Energy/Pro Circuit team. Oh, and make room on the door for another plate because I'm pretty sure one of their riders are winning the 2011 outdoor title.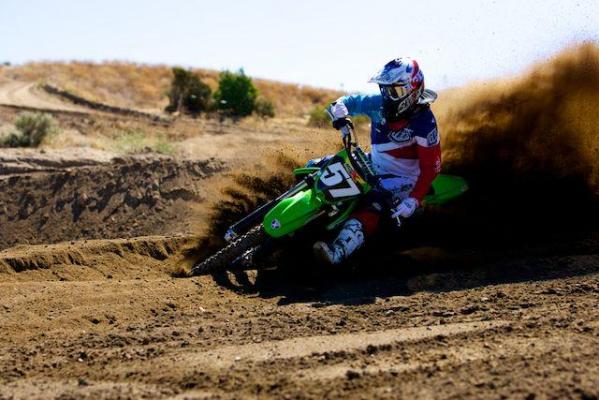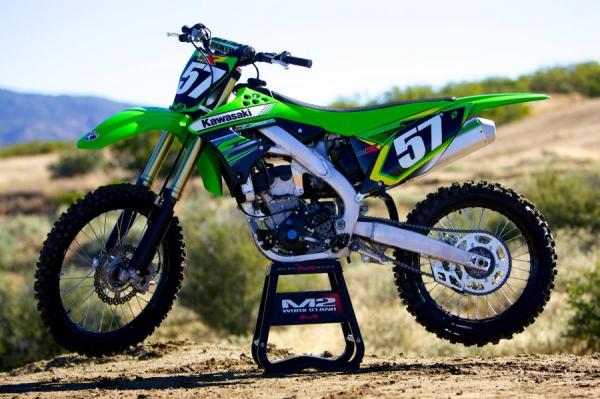 Photos: Matt Francis
The next day we got to ride the new bike at The Ranch. The 2012 model has updates to the Separate Function Fork and rear shock, shorter tie rod arms, revised shift drum and shift rod for smoother shifting and a new ECU. The most significant change is the addition of a duel fuel injection system. One of the injectors is located further back in the airboot while the second, or downstream injector, is located in the throttle body. The result is increased power throughout the RPM range on the dyno, though the gains in the higher revs are absolutely noticeable on the track. This technology has been used in high performance sport bikes, but this is a first in the motocross genre. I remember when Kawasaki introduced a water-cooled KX60 in 1985, disc brakes on the 1988 KX80 and the revolutionary perimeter frame. With the duel injection system, Kawasaki is once again leading the industry with a technological advancement that will soon become the industry standard. Check out the video Matt Francis made right HERE.
Go to www.kawasaki.com for more details or see your local Kawasaki dealer to check out the complete 2012 lineup.
Let's turn it over to Jason Weigandt:
Just ran into Ryan Dungey on my connection flight to Portland in Atlanta. We got to chatting about last week's race, and evidently he didn't even realize Ryan Villopoto went down when he made a pass on him in the second moto. Dungey just stuck to his normal line through there and then tried to put in a charge to get away. At the end of the lap, he looked over because he realized he couldn't hear RV anymore. But he had no idea what happened—he told me that when Erin Bates asked him on the podium if there was contact, he had no idea what she was talking about!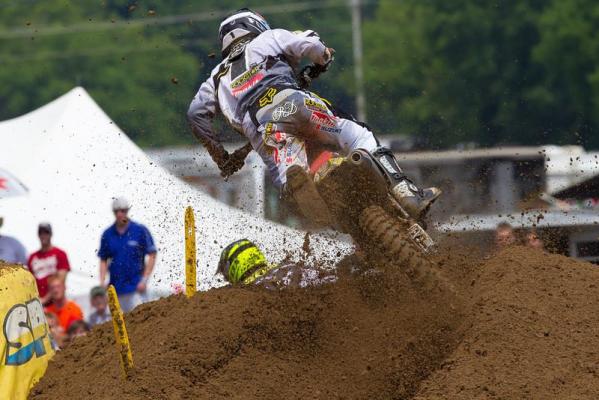 Can Dungey go back-to-back?
Photo: Brian Robinette
Apparently Dungey only got the full scoop when he heard Villopoto describe the incident in the post-race press conference.
This may be the tightest three-way battle in the history of this class, (check out Bench Racing Ammo for the stats) but so far we haven't seen any off-track drama between the Ryans or Reed. At that post-race press conference at Millville, Villopoto begged off the chance to blame lapped riders for losing his lead—he gave Dungey all the credit for running him down. Then he talked about how scary Reed's crash was, and how he was glad to see Chad was okay. Dungey and Trey Canard said similar things about Chad—no one wants to see a fellow racer get hurt. That's some respect right there, especially considering, as Bob Hannah used to say, "They're all just trying to take money out of my pocket."
We will see how it goes this weekend. Remember, Ryan Villopoto has still never won an overall at this, his home track. Dungey, meanwhile, has won a bunch here, including his first-ever outdoor overall here over RV in 2008.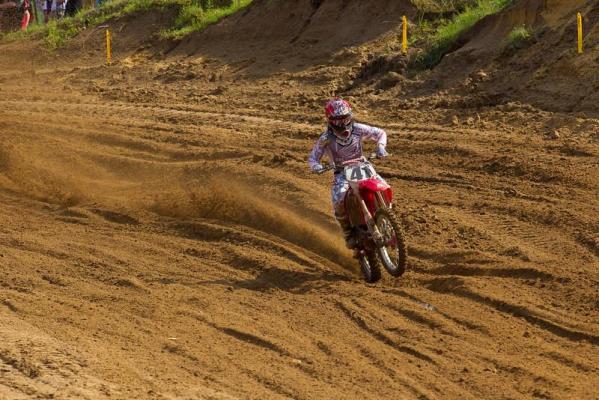 Canard is back and already making an impact.
Photo: Brian Robinette
In other news:
Here's another look at Reed's crash, as well as the whole Spring Creek 450 National, by Vurb Moto's Luke Parmeter:
Congratulations goes out to Tommy Weeck for winning the 45th anniversary Thursday Night Motocross race held at Portland International Raceway that took place yesterday. Weeck placed first, Ben Lamay was able to make a late moto charge to take second, and Austin Ullrich finished third.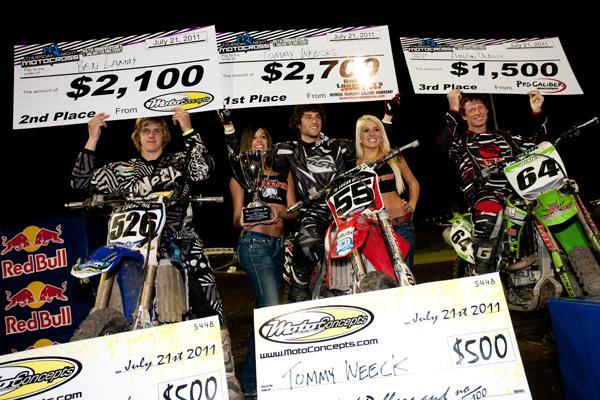 Tommy Weeck (center) took home the win at Portland International Raceway.
Photo: Andrew Fredrickson
Every motocross photographer and journalist in the sport knows who Fran Kuhn is. He was the mastermind and photography genius behind the short, brief arc of the four-issue Inside Motocross, the best motocross book ever built, in my personal opinion. He's still involved in the sport, albeit on the OEM side, shooting occasional races while doing the high-end stuff out west. He also has a new website up and running where you can check out some of his work:

I will always owe a personal debt to Fran for helping me get started by running my stuff in Dirt Rider, Super Motocross, and of course Inside Motocross. That's back when the only other major motocross in America wouldn't give me a chance. That is why the last page of every issue of Racer X Illustrated includes an, "Inside Motocross #5" page -- it's our salute to the very best.
Don't forget to stop by the Racer X booth this weekend at Washougal to get your free event sticker featuring Jeff Ward.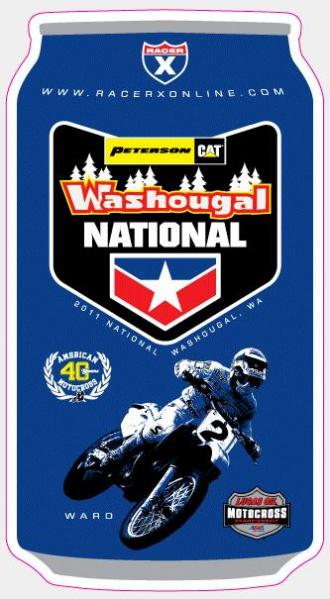 There you can also subscribe or renew and get a free Racer X/Motosport.com camping chair with your order plus the current issue of Racer X to get reading right away.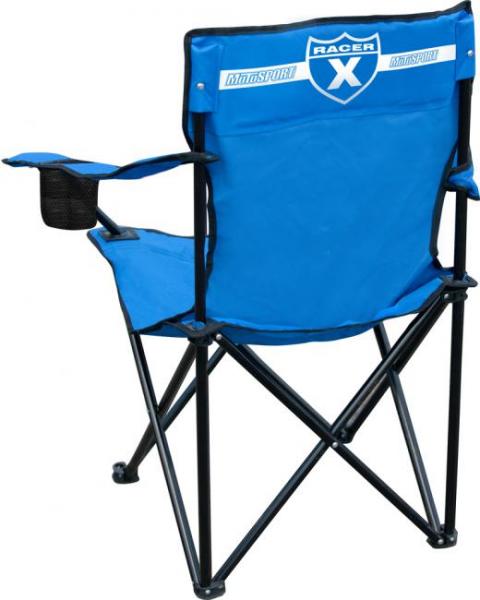 The annual WPS/Fly racing convention is next month in Boise, Idaho, and Racer X, along with the help of several industry sponsors, is throwing a party. Normally an industry-only event, now you Racer X readers are invited to attend. Here's a chance to hang out with fellow motocross fans, talk shop with industry VIPs, get some new Racer X Brandwear and other industry swag and enjoy a free concert from the Blues Addicts (www.bluesaddicts.com) as well. The party starts at 8:00 p.m. Wednesday, August 10, at the famous Knitting Factory concert club. We just got word that former motocross superstar Damon Bradshaw is planning to attend and looking forward to being a part of the festivities.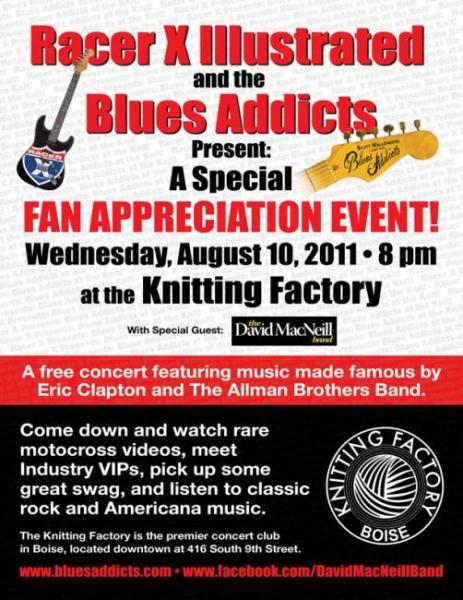 Ryan Dungey on the cover of Dirt Rider.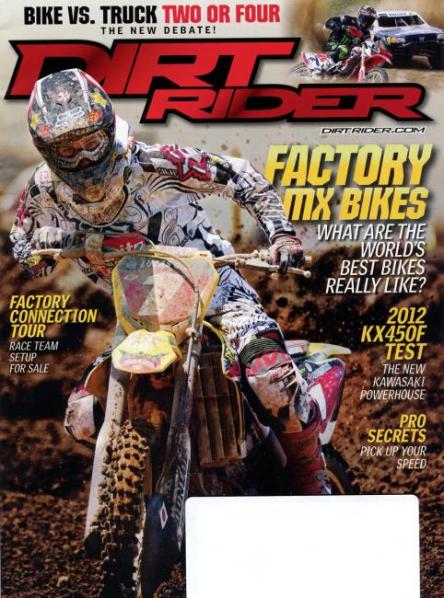 The Staff at RXI would like to offer our best wishes and safe travels to our designer, Mike Fisher. He and his friend Alex Watt are embarking on quite the motorcycle odyssey starting bright and early tomorrow morning. Check out the details of his trip at www.arcticbound2011.com. Be sure to click on the Facebook page and follow their journey. Enjoy your 30 day vacation, Fish. The November issue will be waiting for you!
Finally, our sport lost two friends, one older and expected, and one very young and tragic... Godpseed to my old friend Jon Zonin, long a member of the Cernic's Racing family and PAMX. He lost his bout to cancer. And Godspeed to a young rider I did not know, but his father was a friend. Nick Varner was the son of Terry Varner who is a friend, and my thoughts and prayers go out to Terry and his whole family. Nick was injured in a crash while practicing on his 80.
Thank you for reading Racerhead. See you at the races.