DC Athletes Set Their Sights on X Games 17
Huntington Beach, CA
– DC is proud to announce that 13 of its elite athletes will be competing in X Games 17, taking place in the heart of Los Angeles, CA from July 28 to July 31. To date DC's athletes have earned an astonishing 91 X Games medals.  With a handful of athletes competing in multiple disciplines and two competing in more than one sport, this could be the year that DC gets its 100th X Games medal.
To kick off the four-day competition, DC is hosting an autograph signing with a number of its marquee athletes at its Los Angeles flagship store on Wednesday July 27 from 6 - 8 PM. Scheduled to attend are DC athletes
Travis Pastrana
, Danny Way, Dave Mirra, Robbie Maddison, Nate Adams, Andre Villa, Corey Bohan, Jeremy McGrath and DC Co-Founder and Rally Car athlete Ken Block.
"X Games is the premier competition in all of action sports," said Anton Nistl, DC's President. "This is what our athletes train for all year, the chance to stand up proudly on a podium and take home a gold medal against the world's best athletes.  We couldn't be more proud of our team and excited to celebrate their victories with them throughout this four-day competition."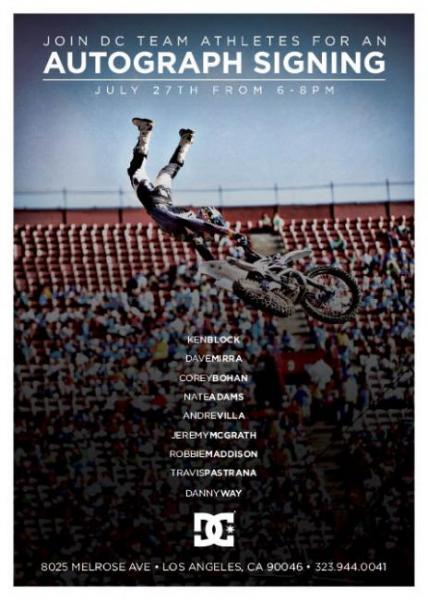 DC's
Travis Pastrana
, who has won 17 X Games medals, 11 of them gold, is looking to have the busiest weekend of any X Games athlete. Scheduled to compete in three events in both Moto and Rally, the 27-year old will compete on Thursday and Friday at X Games before making a quick trip to Indianapolis on Saturday where he'll make his NASCAR Nationwide debut at the Kroger 200 at the Lucas Oil Raceway. Travis will be back in Los Angeles and back in a car for Sunday's X Games RallyCross event.
Three events that multiple DC athletes have their eyes on dominating this year are Moto X Freestyle, BMX FreestylePark, and RallyCross. DC pro Motocross athletes Nate Adams, Andre Villa, Robbie Maddison and
Travis Pastrana
are set to battle it out for podium spots in the Freestyle event. The RallyCross event will also see four DC athletes competing against each other as DC Co-Founder and Rally Car athlete Ken Block is set to race against Dave Mirra- the most decorated X Games medalist in history,
Travis Pastrana
and motocross athlete Robbie Maddison who is entering the world of Rally for the first time. Five of DC's best BMX athletes will be up against each other in BMX Freestyle Park. Look for Corey Bohan, Chris Doyle, Craig Mast and Jeremiah Smith to compete against DC newcomer and fan favorite Brett Banasiewicz.  Other DC athletes invited to compete in the Skate and BMX events include Chris Cole (Skate) and Anthony Napolitan (BMX).
Tune in to Summer X Games 17 from Thursday, July 28th to Sunday, July 31st, on ESPN and ESPN 2. For news and updates on DC's athletes at X Games 17 stay tuned to DC's Facebook and Twitter pages at: http://www.facebook.com/dcshoes and http://www.twitter.com/dcshoes.