Washougal MX Park
Washougal

,

WA
Washougal Motocross
Lucas Oil AMA Pro Motocross Championship
For decades, fans have been fixated by two-sport athletes. Whether it is Bo Jackson and Deion "Primetime" Sanders smashing home-runs and stealing bases on the baseball field only to high step their way into the end zone just a few months later, or someone that hits closer to the motocross community like Tucker Hibbert or Blair Morgan, we as sports fans have always been mesmerized by these combo athletes.
Kody Kamm, just 17-years old from Kenosha, Wisconsin now joins this elite club of crossover stars. When Kamm qualified for his first ever Pro National at RedBud he joined Hibbert and Morgan by qualifying for a Pro Motocross National and a pro SnoCross event. Kamm who rides in the in the Pro Lites Class (the equivalent of the 250 class) for Hentges Racing Team in the Amsoil Championship Snocross Series is taking the path less traveled to begin his pro career.
We caught up with Kamm for this week's Privateer Profile to talk RedBud, SnoCross and more.
Racer X: You qualified for your first ever Pro National at RedBud. What were your expectations going into the race?
Kody Kamm: I went there to try and have fun and the first practice I got the second fastest lap time. Then I went out in the second practice and got fifth. But I barely made it in, I got 40th pick for the gate. The first moto I crashed on the start and caught up to like 28th or 29th.  The second moto went a lot better, I got around 24th. It was definitely a lot of fun.
You scored your first ever national point last week in moto two at Millville, how did that feel?
After the first moto we found out that Dunlop gives us free tires if we make the race. So we went over there and they made us pay for them and they said if I get top-20 they would give us our money back. So I had to do that. I got a free tire! [Laughs]
[Laughs] So you had a little extra incentive to go out there and get a top-20 finish.
[Laughs] Yeah.
I read that you race SnoCross as well. How do you think that translates over to motocross?
It just keeps me in shape during the wintertime for motocross. Because we don't get to ride at all in Wisconsin where I live, and riding a snowmobile keeps you in shape so that is how I got started riding snowmobiles.
And you have won a couple of races.
Yeah. I'm actually on a factory team right now. This is my third year riding sleds and I'm on a team so it's pretty sweet.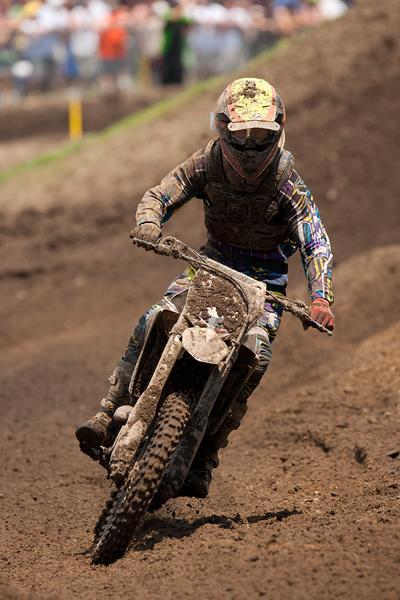 Kamm qualified for his first ever Pro National at Redbud.
Photo: Andrew Fredrickson
Do you see yourself following in the footsteps of Tucker Hibbert, riding SnoCross in the winter and then riding motocross in the summer?
Yeah definitely. That is my plan as of right now.
Do you plan on racing any other outdoor nationals this year?
I think I am going to do Unadilla and then I am going to be done.
You're still only 17-years old; do you have plans on racing Loretta's this year?
I was going to do Loretta's but I broke my leg at the first race this year and missed all of the qualifiers and stuff so I couldn't go to regionals.
What are your plans for the future as far as motocross is concerned. Do you plan on staying in the amateur ranks or going pro?
I am going to try and stay in the pros and do a lot more pro nationals. I've got to ride snowmobiles in the wintertime now, so I won't be doing supercross.
You mentioned that you wouldn't be doing any Nationals until Undailla. What are your plans for staying in racing shape during that off time?
Well there are some fair races around here but I don't really like that stuff. I will probably try to go to a lot of Pro-Am's.
What is your typically training regiment during the week?
I run about four miles every morning. Then I will do one or two 40-mintue motos and that's about it.
Who would you like to thank for helping you out this season?
Port Yamaha, EVS, FMF, Race Tech Suspension, FXR, and JMS Motors.