Washougal MX Park
Washougal

,

WA
Washougal Motocross
Lucas Oil AMA Pro Motocross Championship
Hello, everyone, and welcome to the Rev Up. Now it gets good. Suffice to say that Millville brought the rain, and with rain comes thunder. I'm wasting absolutely zero time in going straight to Chad Reed's soon-to-be-legendary stack up. Now folks, when I have a buddy text me and say, "Bro, so and so carted huge!" I generally create a picture in my head of what it could have been. There are no words that can coin the pure terror of that son of a bitch. How jacked up do you think Reedy was after completely crushing it in the first moto, then blowing Villopoto's doors off on lap one of moto two? Chad Reed came back from the break with more speed than he's shown all year. All of that juice culminated and climaxed into a 3rd gear tapped slip of the front wheel at the worst time imaginable. Period. There is no way you could go any faster, wash out harder (at a worse time), and get ejected farther than #22 did. He was on the rear fender of his factory HRC450 whilst stretching the throttle cable when he felt his front wheel push. As a racer, I know that he knew instantly that it was all going to go bad.

Washougal is arguably the most scenic track on the circuit.
Photo: BrownDogWilson
How hard is Chad Reed? It won't faze him one bit. He'll come out this Saturday morning and make them all have to beat him. Just when you don't think there are any heroes left in the world, hey, that guy is almost super human to go through that drama and just take it. Take it like a man. No way. I really can't say enough, or stroke the guy anymore, because it still won't justify how badass you have to be to brush that kind of a crash off. I still can't believe it.
That said, it only solidifies my claim that motocrossers are on a different level than any motorsport. Nothing screams danger like our trade. We don't take steroids or bench press 400 lbs, but I'll take the heart and fortitude of a professional motocross athlete over anyone. It requires a certain level of insanity to hold it on when you know not to. The boys at the front of the pack are throwing down straight Jedi antics. They're already into the next turn and scrubbing the next jump before their suspension can rebound.
Chad's crash made the opening of Sports Center. Albeit Tuesday, where were all of you "journalists" on that one? Hell, where was I? Be that as it may, we're going to take the charge to scenic Washougal Motocross Park this Saturday afternoon. Lions, tigers, and bears...oh my.
250
Hard to say who is going to win from the Pro Circuit camp this weekend. The mud at Millville favored the strength of Tyla Rattray and held the pure speed of "Bad" Blake back a bit. There isn't a snow ball's chance in the south that it won't be an awesome battle between #57, #15, and #28. But at least it's going to be an awesome battle between three heavy guys, all with different styles. All faster than a greased cheetah strapped to a bullet train.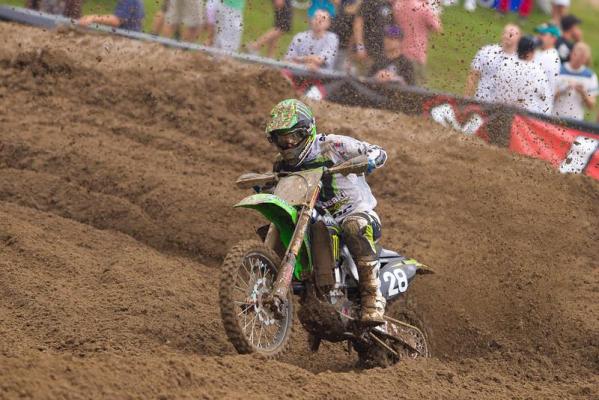 Rattray trails teammate Dean Wilson by 16 points heading into Washougal.
Photo: Brian Robinette
450
And so begins the battle for the title belt. We can throw a blanket over the three pre-season heavy hitters. It's kind of a bummer, because The Thunder should have a pretty soft cushion had he not saw God at Millville. But he did, and now it's on. It's so on, man! As we take the fight into Villopoto's back yard, we have Dungey fresh off a win, Reed riding the best outdor moto we've seen since Carmichael, and what's that's noise? That would be the return of #41 as he grabs third gear up Horsepower Hill. Trey Canard was super fast last weekend, and he'll last a little longer this time around. On the other hand, he is coming off the second broken femur of his short career and will push to the line at the site of his first broken femur. There is something to that. But how much? I mean, back to my point about the fortitude of motocrossers...if Reed can brush that crash off and post a twitter pic of him throwing pan the following Monday, Canard can race this weekend with a clear head. I have little doubt that he will do just that.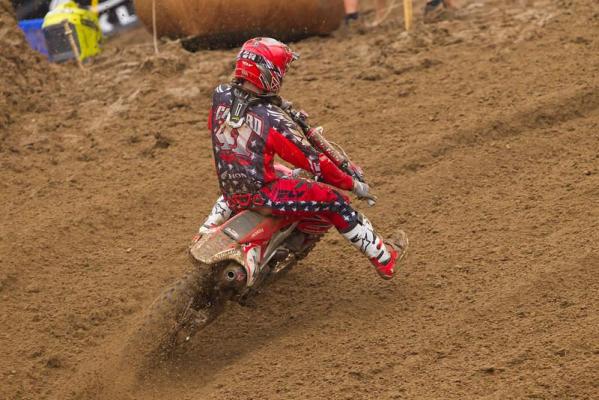 Canard could play a major factor down the strech.
Photo: Brian Robinette
It's championship time. Every single lap and every position counts from now until Pala. Canard won his last year at the final round, and we've seen many a crown be fitted in the waning moments of the charge.
So, let's go and tally ho! Time for another barn burner! Washougal always brings the heat, and produces a mean contingent of fans. Tons of chicks, too. 2011 has been quite the season thus far. Supercross was beyond thunderdome and the Lucas Oil AMA Pro Motocross Championships is currently cracking her knuckles for the real title fight. What's going to happen this time? If that question doesn't have you leaving foot steps in the concrete, we don't want you. I can promise you that it is going to get better, and as much of the gnarl as we've seen already...we haven't seen anything yet.
Thanks for reading, see you next week.