Washougal MX Park
Washougal

,

WA
Washougal Motocross
Lucas Oil AMA Pro Motocross Championship
We're going into the second half of the AMA national motocross series with all guns firing right now. There are three rider battles in both classes and the racing has been great for the most part. And now we're visiting some of the toughest tracks (the very rough
Millville
,
Unadilla
which has more rocks and is tricky to ride, and the sand at
Southwick
) with the temperatures soaring and the dog days of summer upon us, the riders are going to be tested to the max. What's going to happen? I don't really know because just when we think we have it all figured out, some people fly through the air thirty feet.
First off we need to talk about the track and maybe not in the best way. Generally speaking the Millville facility is great, the track is awesome and is tough and challenging. But there were a couple of things that caused me to pause and wonder what exactly some people were thinking. First off, the first practice was stopped in the middle so that a switchback up at the top of a hill could be cut out. One of those drop off sections with a sponsor banner had deteriorated to the point where the riders were hitting the wood supporting said banner. The track had taken on really heavy rains the few days before the race and I suppose the dirt just sort of melted away. I'm not sure. A few riders crashed on this section (Chad Reed and Christian Craig being a couple of names) so the decision was made to eliminate this section and the drop off, so the riders were routed without going all the way up the hill.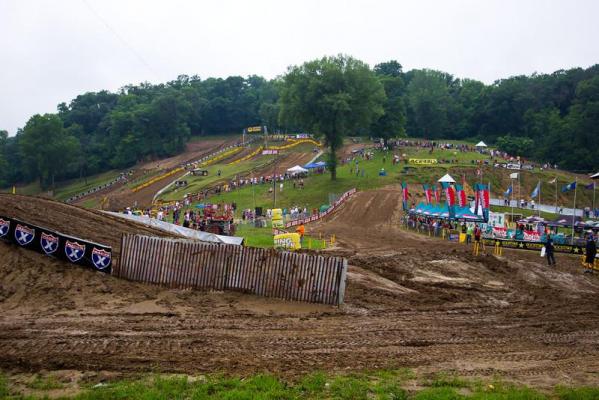 Millville was pounded by rain all day on Friday causing muddy track conditions during practice.
Photo: Brian Robinette
That's a good idea, rider safety should come first but who's idea was it in the first place to not check and see if it was still fine? Maybe they could have not used it in the first place? The jump obviously wasn't built as well as it could have. Also, coming out of the sand section there were a couple of single jumps that served no purpose. They were too close together to launch off as singles and they were built too strangely to double. It just caused a big back up and was pretty silly to be honest.
Here's my biggest problem with the stuff. The first unseeded 450 practice had already gone out there and dealt with these inane obstacles. So shortening the track was going to cut some seconds off from the unseeded dudes. Luckily for the unseeded guys, the track came around so much that the times from the first practices were irrelevant to how the guys qualified anyway but in the future, build the stuff right the first time or wait until the first sets of practices are all finished before making drastic track changes. If the track had been dry and some unseeded privateers had gotten screwed out of making the field (and Feld did exactly this to the guys at San Diego a few years ago, and actually one guy developed bike problems in the second practice, and although his first practice time was good enough to get him in, the track changes mid-practice bumped him out) I would have hated to see the torches and pitchforks out at the officials trailer.
I feel like the winner of the event, Ryan Dungey, might be a tad overlooked because of a certain someone's crash so we'll start with him. Come to think of it, I'm sure Ryan doesn't care because the first place check will still cash and all those points he made up will still be there. I felt like Dungey had to win this weekend, he just had to. It's his home track, he absolutely flies there and he needed to win to make up points. When he followed Reed home in second in the first moto I was thinking "Same old story this week…" and then when Ryan Villopoto stretched out a big lead on him in the second moto I was thinking "I can't believe Dunge is going to get beat yet again by a guy going 3-1…" and then I was thinking "I wish I had a Sno-Cone…" but after that thought, things started changing.
And changing for the better for Dungey. He started making up time on RV, he was down almost ten seconds at one point before Villopoto starting hitting lappers, Dungey started to find some new lines and RV started wearing down from the heat (how do I know this? Because Villopoto himself said so) and not too long later, Dungey was all over Villopoto and making the pass in the sand whoops. And it was over, Villopoto crashed the moment he was passed (doubtful he would've mounted a charge though- generally speaking when you get caught that bad, you're done) and Dungey won the overall. He did it. He held serve, if you will. Big win for the defending champion no doubt about it.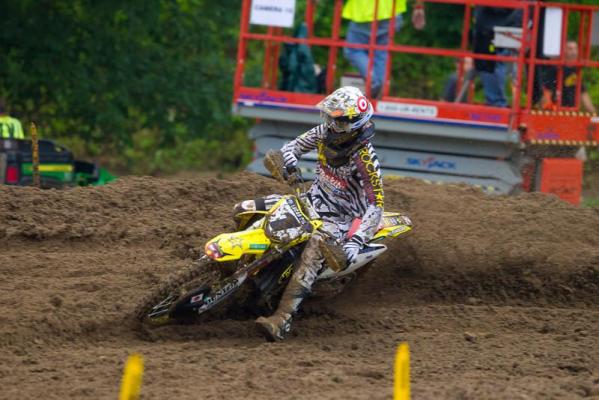 Dungey captured his second overall of the season in front of his home town fans.
Photo: Brian Robinette
Chad Reed won the first moto in what was, to me anyways, a little bit of a surprise. He had to limit the damage at Dungey's hometrack and he actually gained some on Ryan so that was impressive. We all saw what happened in the second moto. On the Pulpmx Show on Monday, Reed went into detail about the crash and what happened. The hole he hit was pretty big and after he crashed there, no one else really went in the spot the rest of the moto. Reed flying through the air sans bike will inevitably be stuck in my head my entire life. Seriously. My. Entire. Life.
As a matter of fact, I'd like to request right now that "He saw Chad's Crash Live" be inscribed on my tombstone because it was a moment. No doubt about it. From my perch in the team managers tower (thank you stolen Jason Weigandt credential!) I couldn't see anything after Reed landed. But I could hear the roar of the crowd just fine and I have to say, it gave me goose bumps. I knew that Reed was up and attempting to get going just by the fist pumps and screams. It was amazing to be sure and the moment was incredible. Just being there, hearing Dungey's fans cheer and yell on an Australian who was battling with their beloved hometown hero because he, like Rocky in Rocky IV when Drago seemed to have him beat, was getting off the mat to fight back.
I'm telling you, not even the Hallmark channel can script this this stuff!
Reed rejoined the race and somehow made it to 14th. He scored seven points with a ride that was very reminiscent of James Stewart's Daytona crash this year (only without the crazy-ness of people questioning doctors and Stewart himself) and whatdoyaknow? Reed's still in the points lead by six points. The stroke of luck that Reed got in A) not making himself into an accordion upon landing like Wil E Coyote and B) his Honda somehow surviving the plunge is akin to the Kardashian sisters somehow becoming famous. It's simply incredible.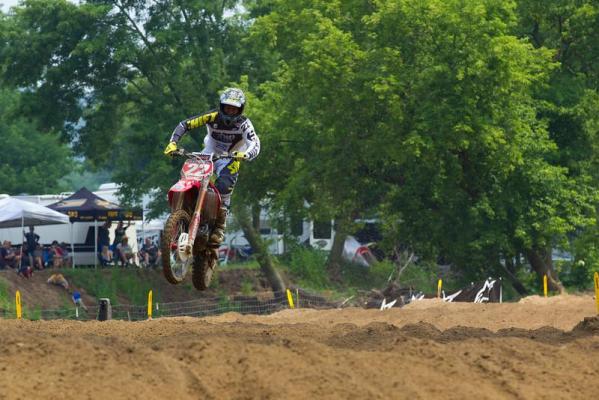 Reed overcame a devastating crash in moto two, to finish 14th.
Photo: Brian Robinette
A little surprised that Villopoto got caught and passed by the Dunge in the second moto, no doubt about it. Ryan's been able to (moreso than the other two guys) get away from everyone and win with commanding leads. He just has to get in the lead and it seems that the races have been over. (Even Reed himself admits this and that's why he blitzed it by RV on the first lap in the second moto like some sort of kamikaze pilot. He didn't want RV to get out alone.) So yeah, color me surprised that RV got ran down. But how about, instead of asking RV what happened, we salute Dungey for a good ride. I do think that RV didn't get by the lappers nearly as well as Dungey did and that was a part of getting caught. Still, if you're Ryan Villopoto, you closed in to within six points of Reed and you're going into your hometown track at Washougal. Life's still good.
Just like Dungey needed to hold serve and get the win, I believe that Tyla Rattray had to make a statement at Millville as well. And his statement was ,"HEY YO, I'M STILL IN THIS THING!" with a great 2-1 win on the day. Ever since he grabbed the points lead early in the year, Tyla had struggled a bit (and lost the points lead). Bad starts mostly have doomed him but in Millville he got great starts and almost went 1-1 when he charged hard on first moto winner Dean Wilson on the last lap. Good ride for the South African and I bet he uses this confidence to keep the roll going this weekend.
Yup, round seven and the points leader Dean Wilson has still yet to win a race. Which isn't that big of a deal because I don't think that you would find anyone who wouldn't say he's either A)the fastest guy in the class week in and week out or B) 1B to Blake Baggett's 1A. After Redbud, I thought Dean was on suicide watch because of his 2-2 performance but this weekend he was much happier with his ride. He put some points on Baggett and tied with Rattray so all was good in the Scottish rider's world.
I figured that it wasn't a good sign when, after the first moto that Dean won, he was walking back to the truck in a zombie-like state looking like a wet rat. He was shirtless and sort of looked like a dude that had wandered the desert looking for water. About 15 steps behind was Rattray also shirtless and laughing and joking with someone. Wilson was much more affected by the heat than the South African. Imagine that, a Scottish/Canadian kid not being as used to the blistering heat as much as a South African. Weird ain't it?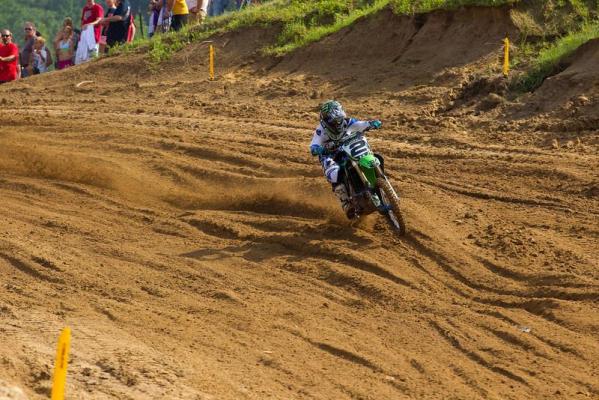 Villopoto came up just shy of the overall at Millville.
Photo: Brian Robinette
Speaking of the heat, after the tragic turn of events at RedBud, this was another pretty muggy one. Especially in the second motos. Only 29 guys finished the second 450 moto. And Eli Tomac pulled off with a couple of laps to go in moto one even though he was in a good positive, because he was feeling it. Darryn Durham also pulled out with heat problems and I counted eight guys with their goggles off in the second 450 moto. Kevin Windham admitted to me that Millville was extra tough on him because he was so worked from Redbud, and that was two weeks ago!
It's not going so well for the GEICO Honda team this outdoor season. In supercross, the team was about five laps away from sweeping both coasts but as it is, east Lites SX champ Justin Barcia has been struggling with illness and crashes, Eli Tomac has been so-so but really hasn't taken that leap that so many of us thought he would. Wil Hahn is just getting back from injury, Blake Wharton is out for the year and times are tough. This sport is fleeting sometimes (unless you're the Pro Circuit team and then you look at the guy who got sixth this weekend and wonder why he can't get up there) and right now, the whole team is working hard and not getting the results needed. Barcia has six holeshots and is seventh in the points which is a crazy stat to me. This weekend he broke his nose in a nasty crash in the first moto. Kudos to him for lining up in the second race, it hows what a trooper he is.
No matter what, it could be worse for the GEICO Honda guys, they could be the Rockstar Suzuki team! I'm sort of kidding, sort of not. The team has been struggling this year but at Millville, they got a couple of solid rides from Martin Davalos and Jason Anderson. Seventy-three-year-old Ryan Morais is also returning to the team for Unadilla and Les Smith's stint as a fill-in guy is over.
Let's take a look at the results shall we?
250 Overall
1. Tyla Rattray (2-1) Kaw
2. Dean Wilson (1-2) Kaw
3. Blake Baggett (3-3) Kaw- Baggett crashed and hurt his collarbone last week in California and I guess it was pretty sore. He's fighting through it but he admitted in the press conference that it affected him. Still, he did his usual Baggett thing coming from way back (21st in the second moto!) and charging.
4. Kyle Cunningham (4-4) Yam- Very quietly Cunningham is having a solid outdoor season. He moved into fourth in the points this weekend with a couple of consistent and steady rides. Who knew?
5. Alex Martin (7-5) Hon- Martin's dad owns the track so you knew he would do well this weekend but even his 5th OA is a little surprising. The Ewok Warrior was strong in the second moto and picked up privateer hero status from his teammate Durham.
6. Broc Tickle (6-9) Kaw
7. Wil Hahn (9-8) Hon- Wilbur's doing just fine in his return. He'll get better as this thing goes on.
8. Gareth Swanepoel (5-12) Yam- Swanepoel got fifth in the first moto. Good ride but I never noticed him.
9. Gannon Audette (15-10) Yam- Audette is from Minnesota as well and this a good ride for the kid.
10. Jason Anderson (14-11) Suz- Anderson took some time off that the team called "family reasons" but it was more "my family is going to kick my ass if I keep struggling" reasons. He made his return at Millville and had his best race of the season. Looks like team manager Dave Gowland's decision to push the "reset" button on Jason's mx season was a good one.
11. Martin Davalos (10-15) Suz
12. Justin Barcia (36-6) Hon
13. Eli Tomac (29-7) Hon- With three laps to go in the first moto and while in sixth, Tomac pulled out because the heat was getting to him. Bummer for Eli, if he had held on to that spot, he'd a been fifth overall.
14. Darryn Durham (8-33) Hon
15. Malcolm Stewart (11-31) Suz- This is why you have to go to the races to report on them. Mookie crashed 100 feet out of the gate in the first moto and was dead, dead, dead last. He got up and ended up 11th which was a great ride but you might not ever know it. Second moto he was around 7th when he crashed his way out. A 11-31 day that very well could have/should have been way better. MOOKIE FEVER!
16. Mathew Lemoine (12-36) Kaw- Lemoine was $500 richer because of a bet that Steve Cox paid up on.
17. Travis Baker (22-13) Hon
18. Nick Paluzzi (18-16) Suz
19. Ryan Sipes (13-35) Yam- Sipes is hot and cold every week. He's like a box of chocolates, you just never know what you're gonna' get.
20. Cole Seely (23-14) Hon- At least he has drifting and Chipotle.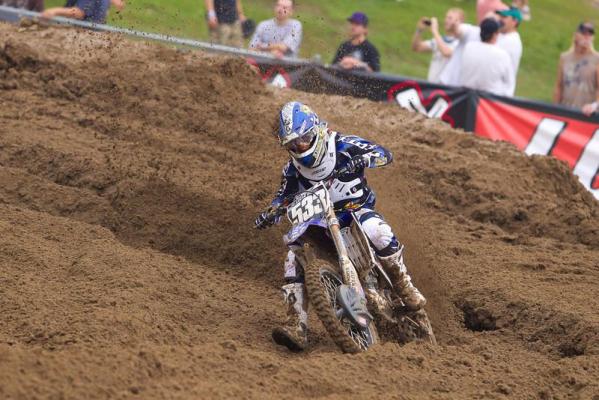 Gannon Audette finished a very quiet ninth overall at Millville.
Photo: Brian Robinette
450 Overall
1. Ryan Dungey (2-1) Suz
2. Ryan Villopoto (3-2) Kaw
3. Trey Canard (5-3) Hon- Canard made his return this weekend and to be honest, he was better than I thought he would be. I had him for sure in the top five but he was strong and right there with the leaders for a while. He also flew private to the race when his original flights got jacked up. I need to get in there and replace Red Dog ASAP so I can start flying private like Trey "Baller" Canard.
4. Mike Alessi (4-4) KTM- Mike rode two pretty strong motos and tied Canard for overall. Too bad for the 800 he probably didn't get much TV time or much notice but he was very fast.
5. Chad Reed (1-14) Hon
6. Brett Metcalfe (6-5) Suz- Metty was a little cheesed off that the promoters sent out a few riders behind him in the points out on a parade lap instead of him (Brett's 4th in the points) and you know what? I think he's got a right to be.
7. Jacob Weimer (8-6) Kaw- Jake went off the track a couple of times in the first moto in the exact same spot which caused his mechanic Dana Wiggin's stress level to probably go from one to two or something.
8. Andrew Short (7-9) KTM- Guess what did Andrew in this weekend? If you guessed bad starts, you'd be correct. That's about all I'm going to say on that.
9. Justin Brayton (12-7) Yam- Good ride for JB in the first moto as he came from a crash to get 12th.
10. Kevin Windham (11-10) Hon- Windham is struggling a bit right now and we'll see if he can get the magic back at Washougal, a track that he's ridden so well at before.
11. Jimmy Albertson (10-11) Hon- Top Jimmy is getting a try-out with his old team Valli Yamaha for this weekend and maybe beyond which is good and bad. Good because Jimmy's a privateer who's struggling to make it to the races but bad because really, how is he supposed to do when he just jumps on the little-weird-of-a-duck Yamaha YZ450F?
12. Tye Simmonds (9-12) KTM- This was Simmonds best race in America (or Ameriker as Reed calls it) because I really noticed him coming through the pack in the first moto. He was on it for sure.
13. Michael Byrne (13-13) Suz- 13-13 for 13th? Seems about right.
14. Tommy Hahn (33-8) Yam- Hahn's not happy with his motorcycle, it's just not working out. Tommy's a Libra and it's a Leo and they were destined to never get along. Time to break up.
15. Fredrik Noren (14-17) Hon- The Swedish rider had his best finish of the season and good for him. The Swedes are usually so used to the heat!
16. Travis Sewell (16-16) Yam- A flying Sewell brother in the top twenty is a world I want to live in.
17. Nicholas Wey (29-15) Yam- First turn crash in the first moto made Wey a little off all day and he struggled.
18. Ricky Dietrich (15-24) Yam- His teammate also struggled big time and scoring ten points in the last five motos is not a good wave to be riding.
19. Vince Friese (20-18) Yam
20. Ben LaMay (17-32) Yam
I've been on the record before that I don't like the guys having permanent numbers and feel that dudes like Mike Brown and John Dowd should be forced to surrender them to active racers. But then a new rule came in this year saying that a guy has to earn 25 points to keep it and I'm ok with that. It's a compromise that I can live with. (I'm sure the big wigs at MX Sports are exhaling right now saying, "Whew, Matthes can live with the new rule, everyone put down the razor blades!" but whatever)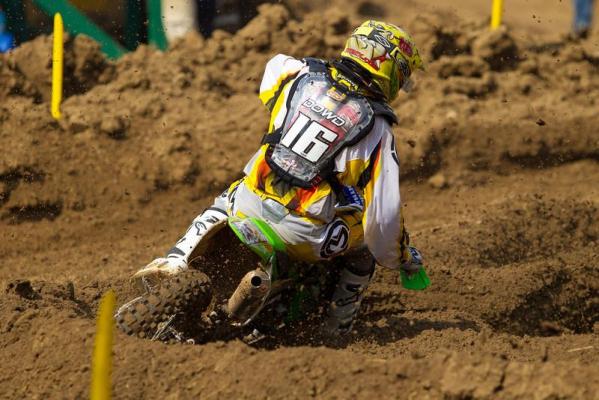 Dowd continues to plow away at the age of 45.
Photo: Brian Robinette
So this weekend Dowd came out to the track where he got his first legitimate win in 1994 (he had previously won the one-moto 1991 Hangtown national but let's be honest, that was proved to really be a jet-ski race where ISJBA boss Bruce Stjernstrom should have been) and went 18-22. Dowdy is getting ready for his annual "Cheer on the old folks, they're just like us" tour that starts and stops in Southwick. John's good people, a nice guy and I always have time for him whenever he shows up at a race. By the way, he's going to be 46 in a couple of weeks. Yes, I said 46.
Thanks for reading, email me at matthes@racerxonline.com and we can chat. See you next week!