Spring Creek MX Park
Millville

,

MN
Spring Creek Motocross (Millville)
Lucas Oil AMA Pro Motocross Championship
Travis Stichter #635 hailing from Thornton, Colorado is relatively unknown in the pro racing world, but the name Stichter has been around for decades in pro motocross. Boo Stichter (Travis' dad and former KTM factory rider) raced in Bob Hannah's era and in the bench racing world "Boo" is still talked about when he almost beat Hannah at a national. But now its Travis' turn at the nationals and after months of rehabbing a torn ACL, he is finally healthy and ready to finish off the rest of the series. Lakewood marked Travis' first pro race of the year and although he didn't score any points, it was a successful day qualifying and finishing the motos with 27-28 for 29th overall. Now that he got the first race jitters out of the way, Travis is prepared for the rest of the series and we caught up with him before he hits the highway tomorrow.
Racer X: Travis, how did your first national of the year go at Lakewood?
Travis Stichter: Lakewood went pretty well for me this year. I struggled through qualifying and barely made it in, but the motos were definitely an improvement from my qualifying position, so overall I was happy with the way I rode in both of the motos.
I know from talking to you at the Motocross of Nations, you take racing very seriously and train hard. What's your program like right now?
Well at the end of last season I had surgery to repair a torn ACL in my knee. With the struggles of not really being able to train for at least three months and not being able to ride for six months, I was basically forced to get a job other than racing. Right now I work about 45 hours per week, so trying to find time to train, ride, and work gets a little tough sometimes. But, I just push through because this is something I really have passion for and I know that the hard work pays off. Right now I am in the gym two-three times a week, I ride on the weekends if I am not competing in races, and I try my best to ride two times during the week.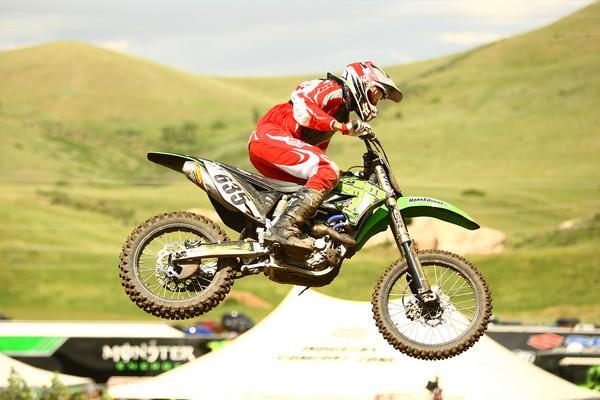 Travis Stichter went 27-28 for 29th overall at Lakewood.
Photo: Jenn Prudhomme
Sounds tough! Not many people know it but your Dad almost beat Bob Hannah in his prime! Does he have a big influence on your racing?
Yeah I hear that all the time! It makes me really proud to have such a supportive influence in my life. My dad helps with everything and I wouldn't be at this level without all the countless hours spent at the track, working on the equipment, driving to the races, making sure everything is nice and clean so that we look as professional as we can. He also points out so many little things that I can work on which I know will help me out in the long run. The main thing about our relationship is I always listen to the things he has to say whether it's good or bad, and he also listens to whatever I have to say as well. I honestly don't know what I would do without all his support as well as my mom, too. We are a great team in my eyes and as long as we are together at the races, things seem to go very smooth for me.
That's awesome you have family support like that! What did you do for amateur racing? Did you race Loretta's and the big races or do the local pro route?
It's really a great sport for our family and I hope we can continue racing and spending our time together at the races. As far as my amateur career, I guess I never really shined growing up. We went to Ponca City, tried for Loretta Lynn's several times but never made it, and also we attended the World Mini Grand Prix. After chasing Loretta's in 2007 and not making it in the intermediate class, I decided to jump up to the local pro level. The results actually impressed me because the riders who I always looked up to, were on the line next to me. Then 2007 was a very good year for me in the pro class, but I ended up crashing and broke my knee cap which took a good six months to heal. So basically all my confidence and results were shattered after that. I rebounded in the end of 2008 though and now here we are just trying to compete against the best in the country!
How would you say Lakewood went for you? Qualifying itself is a big feat, did you expect better or worse in your results?
I feel that Lakewood went better than I had expected in all honesty. It had been a year since the last national I raced, with the injury I had sustained I wasn't able to ride until April 2011. That basically left me with almost three months to get up to the speed these guys have, get my endurance up for the motos, and just get the butterflies out once again. It can get tough at times through the qualifying but I just try to keep focused on what I really want and give it everything I have out on the track. I felt great in each moto just like you said, though qualifying is a big feat to accomplish. Maybe with a little more time I could have done better, but there are plenty more races to come so I'm just working as hard as I can to improve my results from here on out.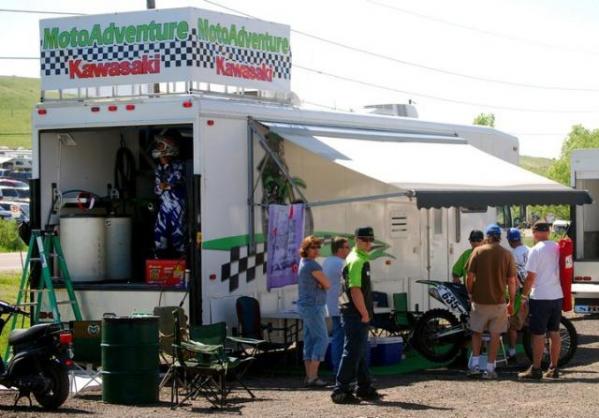 Stichter under the Moto Adventure Kawasaki tent.
Photo: Merri Kirby
Seems like you are going to be the type of racer that has success from putting in hard work and climbing the latter to achieve good results. So what are you goals for this weekend?
Well, I just try to work as hard as I can to achieve my goals. I have a ton of support behind me and nothing but positives come from all the people who stand behind my racing career. Whenever I can I just work hard because I want to prove to myself and all my sponsors that hard work does pay off and I don't want to let anybody down.
More importantly I don't want to leave a race wondering if there was anything else I could have done to reach my goals. I feel I am doing the best with the amount of free time I have each day, so I just try to take advantage of it because there is no better feeling than lining up with thirty-nine of the fastest riders in the country. My goals for Millville are to get good starts and work hard for thirty plus two. I feel really good at that track and my best results out of all the nationals I have attended actually came at Spring Creek so I am really excited. I would be very happy to come away with a top twenty, I know there are so many great riders in the field, but I know deep inside if I get a good start top twenty is certainly an attainable goal for myself.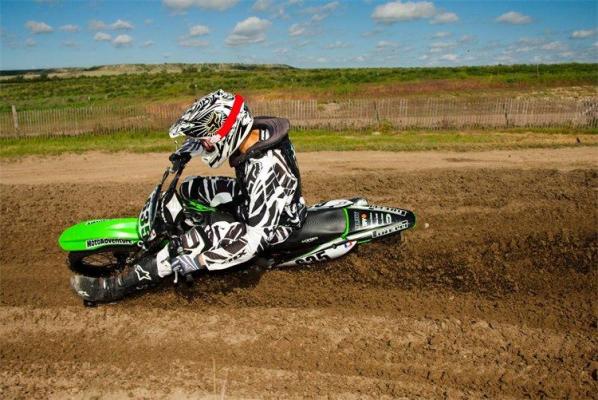 Photo: Mike Mackeage
So what is your plan for the rest of the series?
After Millville, we will come home and get back to work and training. We are going to be here in Colorado for another two weeks then we will be heading out on August 6th to leave for Unadilla, Southwick, and Steel City. I am really excited for those rounds mainly for the reason I have never been racing back on the east coast. We will actually be gone for an entire month chasing those three rounds, which I feel extremely thankful and lucky we can get back and do some more nationals. I just want to gain as much experience racing those tracks, and riders, as possible and this year seems to be a great one so far, hopefully the fun and results keep continuing to come in and we will do what we can with them.
What will you guys be traveling in? Do you have a mechanic?
We are going to be traveling in a Ford Excursion and a 20' enclosed trailer. The shop who I ride for back here actually let us borrow this trailer to Millville, and the other rounds as well. I can't thank MotoAdventure Kawasaki, and Bruce Dalton enough for letting us use that because without it, I couldn't afford to live in hotels for a solid month. It has plenty of room for everything we need and we will make do with whatever we have to get to those races. As far as a mechanic, I have a great friend Peter (AKA: Crazy Czech) who helps with a ton of things. He will be going to Millville with us for sure but I'm not 100 percent positive if he can leave his business behind for the other three rounds. If not, my mom and dad help a ton so worst case scenario we will have each other and will make it work!
Well good luck at the rest of the series! Is there anyone you'd like to thank or send a shout out to?
Thank you very much! Yeah there are a ton of people who support my racing efforts. First off I would like to thank you for taking the time to do this interview. Next, I would like to thank MotoAdventure Kawasaki and its entire staff on the effort each employee makes to help us out in anyway possible, Peter Stepanek, Motel Tom, Big Kahuna BBQ, Fire and Security Solutions, Creative Fitness Solutions, LSE Racing, KSR Racing, Connected Chiropractic, Two Rivers Racing, Oury Grips, One Industries, Spy Optic, DeVol Engineering, My Mom and Dad, all my friends and family, and anybody else who has helped me out thanks a ton! Please check out my website at www.travisstichter.com I will be updating my blog regularly on my progress.