PanicREV 2011 Summer MX Camp at Glen Helen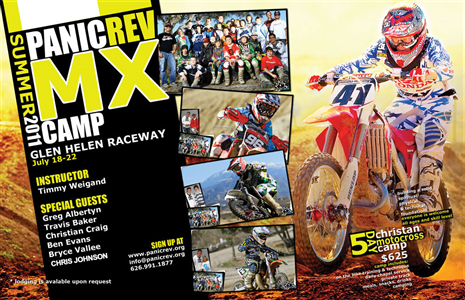 Dates: July 18-22
Location:
Glen Helen
Raceway
Instructor: Timmy Weigand
Guest Speaker: Greg Albertyn
Camp Advisers:
Travis Baker
,
Christian Craig
,
Ben Evans
,
Chris Johnson
and Bryce Vallee
PanicREV is excited to announce its 2011 Summer MX Camp that will be held in July at
Glen Helen
Raceway! This 5 day motocross camp is designed to help give riders a solid spiritual, physical, and technical foundation. Moreover, the camp is designed for riders of all ages and skill levels that are looking to take their skills on the racetrack to a new level! The camp will feature daily chapel services and prayer, in addition to going over nutrition, corners, jumping, starts, riding position, technique and much more.
The camp includes meals, snacks, water, private track, conditioning, nutrition, riding, chapel service, and camping.
Come spend your summer break at the 2011 PanicREV Summer MX Camp; grow spiritually, make life-long friends, and take your riding to a new level! We look forward to seeing you at
Glen Helen
in July!
Sign up today and reserve your spot by making a $100 deposit or paying in full.
Sign ups are open now and there are a limited number of partial scholarships now available. http://www.panicrev.org/rev_3/features/850-summer-camp-registation-now-open-.html
"I always support PanicREV. My son Preston was part of the last camp and had the time of his life". -- Johnny Campbell