Spring Creek MX Park
Millville

,

MN
Spring Creek Motocross (Millville)
Lucas Oil AMA Pro Motocross Championship
Our staff had a weekend off from the races, so we had our chance to relax. Now it's time to sharpen the pencils, sharpen our thinking, and do something with pinpoint accuracy. Enough of the wishy washy. Enough of the flip flopping. We're pinning ourselves down and trying to make an accurate prediction of the second half of the Lucas Oil AMA Pro Motocross Championship.  

Today we look at the 450 contenders. Lots of fast, talented, hard working riders in this class, but it's pretty clear that this is a three-horse title race between Chad Reed, Ryan Villopoto and Ryan Dungey. Out of a 100 percent chance of winning the championship, which of these three holds the best odds? The panel consists of Online Editor Jason Weigandt, Contributing Editors Steve Matthes and David Pingree, and Online Content Manager Chase Stallo. As you can see, our opinions vary. But that's what makes bench racing so cool.

Tomorrow, we'll weigh in on the 250 class.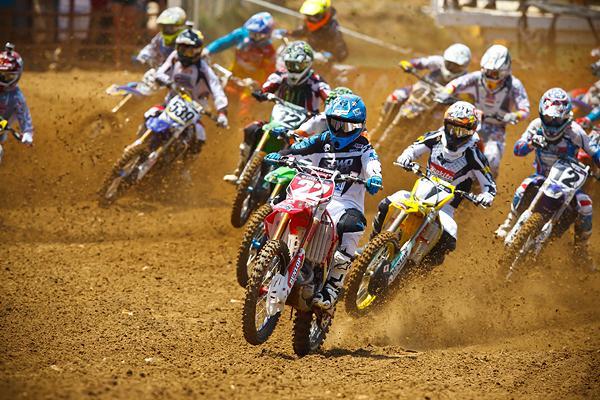 Reed leads the pack at the halfway mark. Who picked him to take it all the way?
Photo: Simon Cudby
Steve Matthes - Contributing Editor
Chad Reed: We all know the story behind Reed's incredible return to the top of the sport after his sub-par 2010 season (and let's be honest here, who among all of us really thought he was sick and that's why he couldn't keep up to Ryan Dungey last summer? Jason Thomas, put your hand down. Everyone else- we're all guilty) and right now, halfway through the year, he's 16 points up. I think we can all say that one of Reed, Ryan Villopoto or Ryan Dungey will win this title and that's no slight to any of the other guys. It's just, you know, when 4th place (Brett Metcalfe) is NINETY points back, I like the odds for the 22, 2 or 1 to win this thing.

Reed's got everything going for him right now, he's got the starts (although not a lot of holeshots, he's right there every time), he's got endurance and he's got speed. Not the raw speed of Villopoto but good enough in my eyes. I love Reed's "race-craft" out on the track. He knows when to push it, when to layback and he's acutely aware of what's going on out there. He's also got the mental fortitude to get beat by over a minute and not really care. This is coming down to a tortoise and the hare story with Reed one very fast-shelled creature. RV might win more races and motos but he's 16 back, he's shown a propensity for mistakes and Reed's going to be right there. Every. Single. Moto.


Reed's chances of winning the championship: 44%

Ryan Villopoto: Reed's already admitted that he can't let RV get the start or "he's gone". We've seen it a few times, whenever Ryan is in the lead, he doesn't get passed. He's won every moto that he's been at or near the front except for the second moto at Lakewood where Ryan Dungey outrode him for the win. The thing with the ginger warrior is he can't seem to stop giving up the points in bunches. From his early season struggles (part lack of bike testing, part pressure of intense sx title chase inducing) to his sickness at Budds to his crash at RedBud, he's had some obstacles to overcome. Here's the thing (and it was true with James Stewart and his run to the title in sx), the races are running down and soon, the margin or error for RV will be nil. He can't keep making mistakes like he's been doing and one more thing for RV is that his challengers Reed and Dungey pretty much are going to be right there (quick stat- Reed, RV and Dungey have accounted for 32 out of the 36 possible podium spots so far in the nationals. Davi Millsaps has 3 podiums and Metcalfe 1- that is it) the whole way.

He's the fastest guy in my opinion but he's got an uphill climb to the title and less and less time to do it. I think he's slightly the underdog to Reed but an underdog nevertheless.


Villopoto's chances of winning the championship: 32%

Ryan Dungey: The defending champion has a few things going against him in this title chase. He's almost a full moto behind Reed in the points, he doesn't seem to display that killer instinct that we would all like to see and the biggest obstacle in my eyes is- it's just not his year. Oh but how many racers would love it to not be their year and be on the podium so many times indoors and out I know. It's like the Motocross Gods are just not letting Ryan get the breaks that he got last year. From his chain falling off in sx to running out of gas (due to gas boiling or whatever, his motorcycle stopped due to no fuel in the gas tank- whew!) to whatever else, Dungey's been thisclose to winning a whole lot more races and titles but it just hasn't happened. Maybe he's like Brendan Fraser in that one movie with Elizabeth Hurley or something else but there's no denying that it hasn't worked out for Ryan so far this year. Again, before you get the torches out and cry that I don't like Ryan or whatever, this is a prediction column and I'm predicting that it's going to be tough for RD to get this thing.

Speaking of RD, there's another RD in Roger DeCoster who's trying to get Ryan to go orange for next year as well as a bunch of other teams. The bottom line is it seems that Suzuki and Dungey are going to break up and you have to think that might weigh in whatever Dungey does during the week. I'd also like Dungey's chances better if he didn't have to leap frog TWO guys and just like RV, the other two guys are going to be there every week.


Dungey's chances of winning the championship: 24%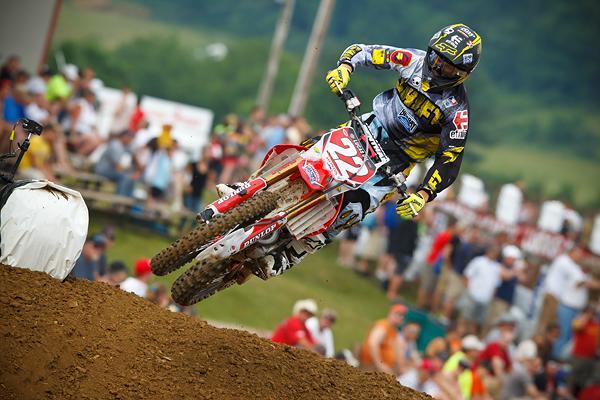 Will Reed capture his second career title?
Photo: Simon Cudby
Chase Stallo - Online Content Manager
Chad Reed:
Arguably the most consistent rider in history is doing what he does best… being consistent. Having only finished off the podium in one moto thus far (fifth in moto 1 at
High Point
) it would be an injustice to say that Reed is not the odds on favorite to take home the title this year. Naysayers will point to
Ryan Villopoto
's early season health issues and
Ryan Dungey
's DNF at
Freestone
, which while valid points, overlook the fact that Reed has week in and week out been the most consistent rider on the circuit. This won't be a walk in the park for Reed down the stretch, as the Ryan's will continue to push the limits. But Reed is looking eerily similar to the 2009 version that took home four consecutive overalls after the break to wrap up his first career outdoor title. Barring an unforeseen catastrophe, I think this is Reed's title to lose.
Reed's chances of winning the championship: 42%
Ryan Villopoto: If asked this question heading into RedBud, I would have probably given the nod to the red hot Villopoto. While he managed to escape RedBud with a podium finish—after surviving a moto one crash to finish ninth—he lost precious points to an already confident Reed. If Villopoto can take advantage of his home track (Washougal) and stay hot afterwards, he may be able to force the unflappable Reed into a late season collapse. But when all is said and done I still think the crafty veteran will find a way to outlast a late push from Villopoto and capture his second career outdoor title.
Villopoto's chances of winning the championship: 38%
Ryan Dungey: Like Reed, Dungey has only finished off the podium in one moto this season. Unlike Reed, Dungey's resulted in a DNF and zero points. Dungey returns home to Minnesota when the series resumes this weekend at Millville which should give him an advantage as we head out of the break. I expect Dungey to perform well at Millville and possible to pick up his second overall of the season. But I don't foresee Reed giving up enough ground down the stretch for Dungey to overcome the grave he was buried in at Freestone. Dungey is a full twenty-two points back of Reed and must pick up almost four points each round to defend his title. In any other year this would be a very feasible feat. But this year is far from ordinary. Dungey not only has to overcome Reed, but must pass a smoking Ryan Villopoto in the process. A tall feat for the defending champion and one I cannot see him overcoming.
Dungey's chances of winning the championship: 20%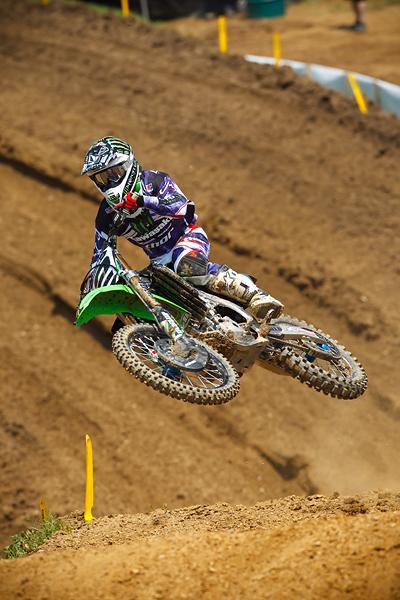 Can Villopoto take home his first career 450 outdoor title?
Photo: Simon Cudby

Jason Weigandt - Online Editor
Chad Reed
: I believe in
Chad Reed
. And with
Chad Reed
, that's all you've got and that's all you need. The guy has proven himself as one of the fastest, most talented, and toughest men ever to throw a leg over, but his trademark is mental strength. He never stops believing he can win, and he's played that card to the hilt this year. This year he even built a team around himself and that belief. It's an awesome story, the fans are soaking it up, and if anyone doesn't pick him to win the title, well, that probably only improves his chances, because Chad seems to do well when the deck is stacked against him.
So I'm not going to doubt Reed's chances on making this happen through six more rounds. I've written and said this before. The 2011 Chad Reed reminds me of a veteran pitcher in baseball. When the dude first comes into the big leagues, he just throws the ball 100 MPH and knows no one can hit it. As he gets a little older, maybe that fastball drops to 96—still unreal fast, but just enough of a drop to where he can't just blow people away with pure velocity anymore. The good pitchers build great careers by figuring out other ways to win beyond just pure speed.
That's what Chad does. Often, a rider is leading the series halfway through because he's the fastest. But you can't say for sure that Chad is the fastest guy in this group. It's just so close between them. So why is Chad leading the series in points and wins?
Because he has learned how to get it done. He can't just wick it up and blow these kids away every weekend, but he can still manufacture wins. And I believe he can still do that through these final six rounds. However, he has looked a little more vulnerable in the last few races, and that worries me. There's a chance that Villopoto has that 100 MPH heater and no one is going to be able to catch up to it. Hmmm, maybe I just refired up the "When people say Reed can't do it, it makes him go out and do it," machine again.
Reed's chances of winning the championship: 36%

Ryan Villopoto: Hey, the 450 class was supposed to be wide open in 2009, too, and RV crushed everyone with 1-1 come-from-behind moto wins at the Glen Helen opener that year. Since then, he's gotten much more acclimated to the 450, has gotten in better shape, and won a supercross title. How can you argue?
Hasn't come together. Yet. There have been a few "RV moments" where he started behind his competition, zipped right past them and took off. Like in supercross, he's the only one who has been able to come from behind if he needs to. RV has won four motos this year, and he got to the holeshot stripe behind Dungey in all four of those races. When he's on, he's got something I'm not sure anyone else can match.
And it's not like you should expect Villopoto to be erratic. He just won that supercross title, after all, so he can clearly close a deal. And let's not forget those three 250 titles outdoors, especially 2007, when Ben Townley battled him to a standstill all season until Villopoto won Millville, caught fire, and took off. RV has had some outdoor seasons where he seemed vulnerable before, only to come up with something no one else could match down the stretch.
I find it hard to bet against the guy who seems to have the highest ceiling on speed when he's on, and a proven track record for being on a lot. I know RV is down 16 points on Reed, but one good weekend can wipe that out in a hurry. And I think, over the course of 12 motos, he's going to figure out how to bring that speed more consistently than he has through the first half.

Villopoto's chances of winning the championship: 40%

Ryan Dungey: Well we all know the story with Ryan Dungey. He's been right there, but he's in a big points hole because of the "Freestone incident." He actually lost 28 points to Reed right there, because he not only lost 25 of his own, but Reed picked up three extra by rolling from second into first.
So there's only two ways that Dungey makes up the 22 points that Reed has on him now. A) He goes on a big win streak. Not sure it's going to happen. We've been waiting on the big Dunge surge all year, but I just don't think it's possible against competition like Reed and Villopoto. Besting these guys 1-1 for like three or four straight weeks? Seems like a tall order for a guy who (even if you count Texas as what should have been a moto win) only won three motos out of the first 12.
The other way, or B) is to get some bad luck out of the leaders. A first turn crash and punctured radiator is not too much to ask, but Dunge needs TWO riders to have that happen. I just don't think it will.
Dungey's Chances of winning the championship: 24%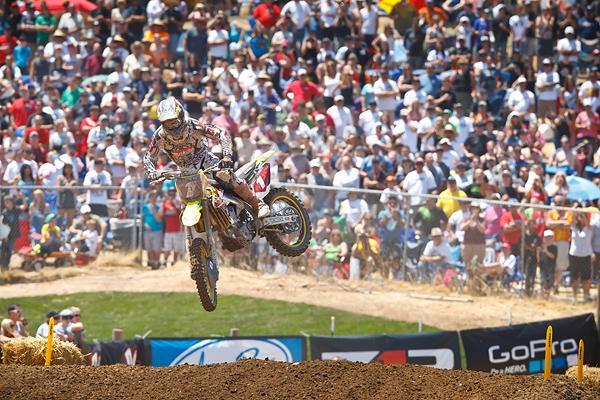 Can Dungey go back to back?
Photo: Simon Cudby
David Pingree - Contributing Editor
I think its become pretty obvious over the first part of the summer who the major players are in this series. And my pick for this title is an obvious one: Evgeny Mikhaylov. The mighty Russian, powered by Kraor Meats, is going to dig deep and sink these guys like the Kursk in the last six rounds. I realize that presently he is 268 points out of the lead going into
Millville
but I think that plays into his favor this late in the season. As the skinny, vegetable and fruit-eating riders in front of him begin to tire, Evgeny's meat-fueled fury will just start kicking in and kicking ass. You've been warned.
Rounding out the podium would be tough. I really like Dusty Pipes, mostly because of his name but also because he is the only rider bold enough to only sign up for the Texas round. It's like he's saying, 'Hey, piss off all you easy races. I'm doing the hottest round and then I'm going down to a biker bar to punch the first guy I see right in the face and sleep with the girl with the most tattoos.'
I also like Pourcel for one of those top spots. He's shown that he is part of an elite group that can run the lead pace. Sure, he sped away full throttle back to Europe as soon as it became incredibly obvious he was in terrible shape, but at least he's going somewhere fast.
There's my predictions. I'm almost never wrong so if you are in some type of online team game where you pick riders you should sign these riders immediately. You're welcome.