DEFT Family Releases Skullcandy Colab Gloves
Temecula, CA
- DEFT Family, a united family of athletes, artists and creative individuals, is proud to announce DEFT Family's second colab project for 2011 with long time DEFT Family supporter Skullcandy.
"Skullcandy has really backed our program over here since day one so it was an easy decision to team up. They are also a new sponsor of mine for 2011 and everybody knows there stuff is fresh so we were really stoked at the opportunity" said Nate Adams, cofounder of DEFT Family. Available in both glove styles; the CATALYST 2 and ARTISAN, each colorway was designed and inspired by matching Skullcandy headphones. For more on the headphones please see www.skullcandy.com.
You can see top DEFT/SKDY athletes like Nate Adams, Mike Mason, Tarah Gieger, TJ Ellis, Ben Hucke and more rocking the new look at contest and events this summer. "It was an easy fit doing something with the DEFT crew, matching both brands unique style and quality you can't go wrong. Looking forward to seeing the crew run them at X Games" closes Jason Kimball, sports marketing manager at Skullcandy. This is the second DEFT Family colab release to hit stores this summer.
Available NOW at www.deftfamily.com and select DEFT Family dealers later this week.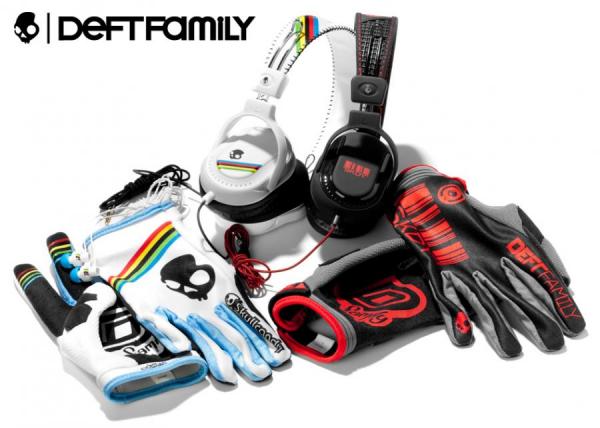 CATALYST 2 SKDY- BLK/RED  |  $35.95  |  sz. XS-XXL
ARTISAN SKDY- WHT/BLU  |  $29.95  |  sz. XS-XXL

ABOUT DEFT FAMILY
The DEFT Family represents a united family of athletes, artists and creative individuals inspired by the underground lifestyle to define our futures. Founded by a core crew of friends influenced by music, arts, culture, sport, faith and fashion. DEFT Family provides the essentials for a modern day movement to transcend barriers through a vision of a free flowing culture. Formed by motivation and a necessity for change through passionate minds while remaining ahead of mainstream, common and popular beliefs, DEFT family is not just a brand it's a lifestyle…
We are Deft Family.
DEFTFAMILY.COM  |  TWITTER.COM/DEFT_FAMILY  |  FACEBOOK.COM/DEFTFAMILY