RedBud MX
Buchanan

,

MI
RedBud Track 'n Trail
Lucas Oil AMA Pro Motocross Championship
When I left
RedBud
shortly after the final Women's MX moto last week, one of the last people I said goodbye to was Dr. John Bodnar. He's the tireless trauma doctor from a big hospital in San Diego who spends his weekends working as a tireless trauma doctor for motocross. He inquired about my sister's cold and my own injured toe—I tweaked it running down a straightaway and around a corner after
Justin Barcia
's hellacious crash while leading the first 250 moto—and told me to have a safe drive home. I never thought to ask how Josh Lichtle was, because I didn't realize that the #810 they'd been talking about over the radio was the local hero and former Suzuki factory minicycle racer.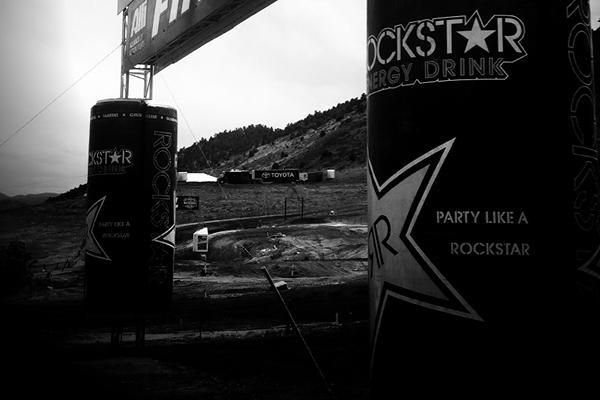 Photo: Courtney Zollinger
Soon we all knew who #810 was. On Monday I started getting text messages that literally made my heart sink. Lichtle had died early that morning in a Michigan hospital. The autopsy results have not been made public yet, so it's too early to say exactly what happened over the course of the moto to lead to Lichtle's on-track seizure as he tried to get up after his third crash in the moto. Despite the attention of nearby officials and fans, local medics, and the Asterisk medics, Lichtle never really came out of the seizure. He died early Monday morning. He was 23.
In the days since, there has been a lot of introspection, as everyone from the track promoters to the series promoters, photographers to casual fans, and of course the message boarders have tried to come up with solutions for a problem that has yet to be defined, and suggest changes to the entire system.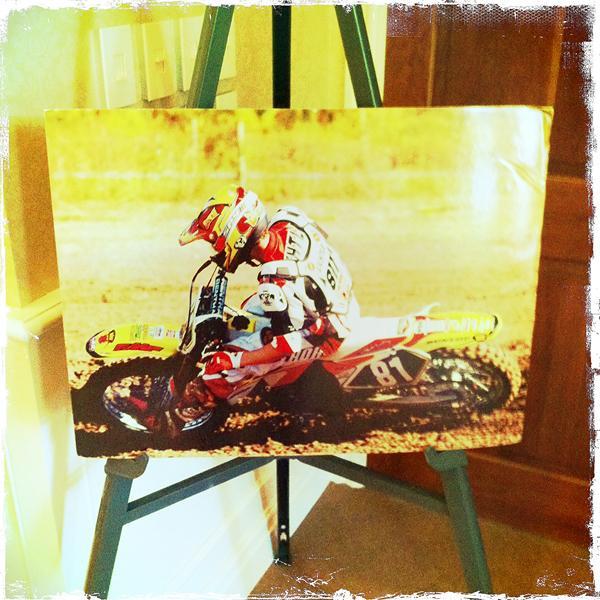 Josh Lichtle's portrait greeted hundreds of visitors at his service yesterday in Orion, Michigan.
Photo: DC
The tragedy remains a mystery to me. Saturday afternoon in Michigan was hot, but it's been much hotter at other races over the years. The track was rough, but it didn't seem anywhere near as rough as
Hangtown
was. And this was the first moto, not the second, where you might expect to see more problems as a result of the heat and difficulty of the race. As far as I know, no other riders sought any kind of medical attention for dehydration or heat exhaustion after the first motos. Obviously, we will know more when the doctors complete their autopsy and toxicology reports, but for now it's a mystery.
But the ideas are flowing. "Shorten the motos" is the one I've heard most often, though the last time I even floated the idea of just doing thirty minutes flat, Jody Weisel told me I would be known as the man responsible for the "pussification" of motocross. Besides, the guys would truly sprint the whole time—ask Blake Baggett how much he holds back until the race comes down to the end—and that in turn might cause bigger, more serious crashes.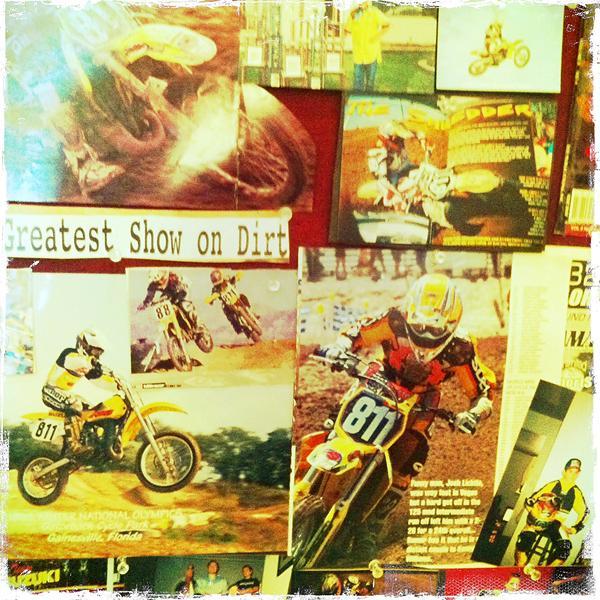 Photo: DC
Steve Cox suggests some kind of barometric measure for heat index followed by a number that would mean we cut the motos down or end them early when the numbers get too red, but I really don't think it was that terribly hot on Saturday at
RedBud
.
"Smooth the tracks out" is another one, but I don't think that's the answer either (but go ahead and cue up those recycled and off-base "Ayers & Son Paving" jokes). We've learned over the years—especially at Loretta Lynn's—that the rougher the track is, the slower the speeds and the fewer injuries we seem to get.
Jeff Alessi suggested on VitalMX that we have misters placed on the track where riders can cool down when they come around, probably not realizing the liability that comes with getting a rider's gloves and seat wet and causing a rider to lose grip or slide off his seat in midair. (But any team is free to throw water on their riders as they come by, like TLD's David Pingree was doing last year in Texas.)
Longtime reader Joe Newman suggested telemetry monitors on every rider to make sure their vital signs are in line with the activity they're involved in, such as the Polar devices riders are using right now on the Tour de France. Heart rate, temperature, pulse, and more could all be followed, but it would require qualified medical professionals to go through the data.
Or what about the cooling device Brett Metcalfe wore over his jersey in the second moto at RedBud after he forgot to take it off? They are not illegal; he just needed to have his name and number on it. And Camelbak drinking devices are absolutely legal—Mike Alessi wears one all the time.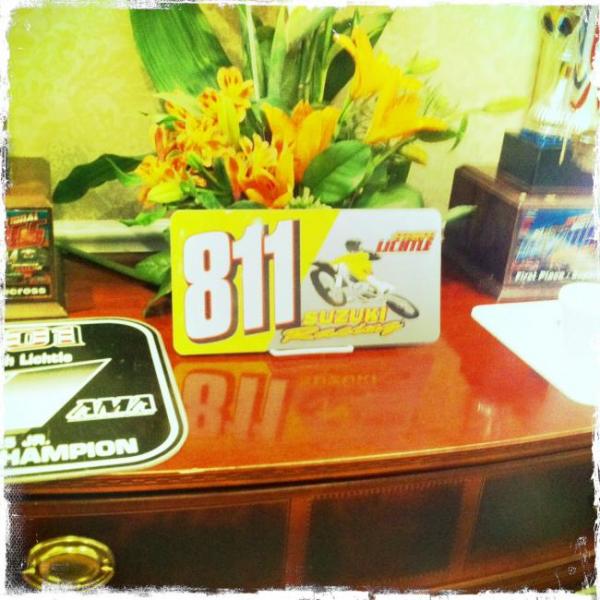 Photo: DC
I've heard that "one moto" is the answer, but that wouldn't have helped in this situation because it was the first 450 moto. And as for calling the race off because of weather, we have had a policy in place for two years that says when the athletes and the medical professionals tell us it's too hot to continue at 30+2, we reserve the right to decide to shorten the motos, so long as everyone knows about it on the starting gate.
One question was how soon the riders have to be in staging. Turns out they don't have to be there. In fact, they can go to the starting gate as late as they want, as long as they're okay with their mechanic picking their spot. They can even forego the sighting lap if they like in order to hang back in their box van and stay cool.
The idea of allowing IVs came up but I am adamantly against that between motos. It's difficult to apply hundreds of IVs in the Asterisk Medical Unit, and who knows what that might lead to, like personal cocktails of preferred fluids and so on. If you're too dehydrated to continue, you should stop for the afternoon.
Mandatory diets where the AMA monitors the food and water intake? I think that goes a bit too far.
There's no doubt the conversation must continue, and it will. But there's also the chance that this was a rare case where one athlete was overcome by a string of events that led to a tragedy—three down-and-up crashes, covered with mud and roost, not having any water for the length of the moto, and still wearing full gear after the checkered flag falls because he's still trying to get going after his last crash. We just don't know right now.
I went to Orion, Michigan, yesterday to attend Lichtle's funeral. It was packed with family, friends, fans, and riders like fellow Michigan native Nico Izzi, longtime friends Jason Lawrence, Josh Hansen, and Michael LaPaglia, and past pros like Kelly Smith and many, many more. Lawrence even said a few touching words at the front of the service, bidding farewell to his friend. It was a sad day for all, and I hope and pray we all will learn some lessons in the near future about what happened to Litchle, the first rider to ever pass away in the forty-year history of the AMA Motocross Series.
Yes, there have been other tragedies—Jim West was killed at a Trans-AMA at Saddleback Park, Jason Ciarletta as the San Diego SX—but none in AMA Motocross. Until now.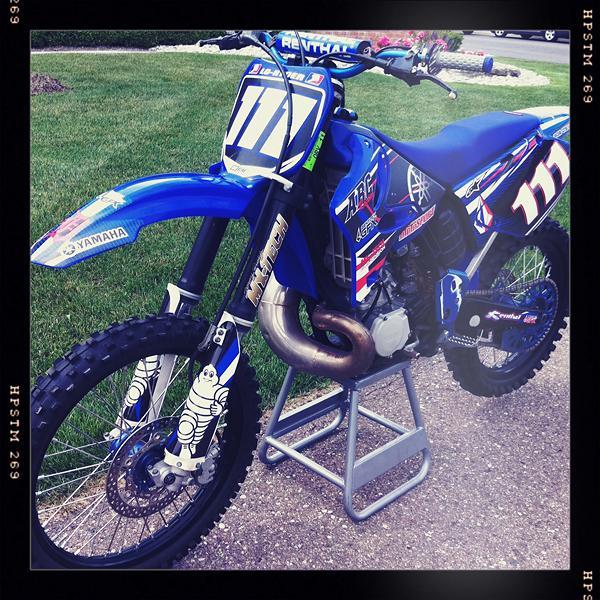 A motorcycle out in front of the funeral.
Photo: DC
If you have anything you would like to add to the conversation, please feel free to send me your ideas or suggestions: DC@mxsports.com. I will do my best to work with everyone here and in the pits to make smart changes so we don't suffer through another tragedy like this again.
I wrote a little more about Josh and his longtime friend Davi Millsaps—they used to be on Suzuki's amateur support team together—for this week's 450 Words.
For more on Josh, I turn it over to Jason Weigandt:
Back in 2002, I worked as a grunt guy back at our old office. DC's mom Rita pointed me at an old computer in the corner of the old office and said, "Log in and answer the info@mxsports.com emails."
I logged in and the emails began to download. Hundreds of them. Then thousands, it seemed. The weekends I didn't spend hitching a ride to a GNCC or the Nationals were spent in front of that old computer trying to answer Loretta's emails.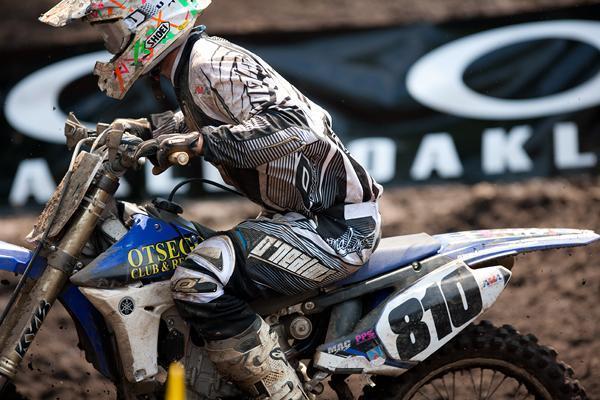 Josh Lichtle in the first moto at RedBud.
Photo: Andrew Fredrickson
But I didn't know the answer to a lot of the questions. When I was a kid, there was no chance that my parents were going to let me race dirt bikes, and even if I did, we weren't going to blow off a summer vacation at Disney World to go to a motocross race in Tennessee. So I'd read about Loretta's in
Cycle News
and move on. I didn't know many of the actual rules at the event.
But I found a way—usually by asking Rita for help—to answer all those emails. Once I got down to work at the actual event, they made me work the sign-up table, which, made me the only male on the sign-up staff. I was just trying to help!
At sign-up, a mom said her kid's number was incorrect. He was given a two-digit number for the race even though he had earned seventh in his class the previous year, and should have been allowed to run #7. I said I didn't know that was the rule, and she then pulled a piece of paper out of her pocket. It was an email, from the MX Sports office, saying, "Yes, since your son earned seventh last year he can race with number seven this year." I looked at the email. It had been written by me! So yeah, sometimes I asked Rita for the answers, but I guess some of the info went in one ear and out the other. And I didn't always follow through with what I wrote.
Anyway, I asked the mom who her son was. She said, "Josh Lichtle. He rides for Suzuki."
So now I had apparently screwed over a factory kid, and he had preprinted #7s on his bike and everything. Somehow we got it fixed, but after that I knew to keep an eye on that Lichtle kid. He was a factory Suzuki rider, and he had gotten a top-ten last year even though he was one of the youngest riders in the class.
So Lichtle was on my radar, right there with the other hotshots I already knew about, like Mike Alessi, Davi Millsaps and Josh Hansen.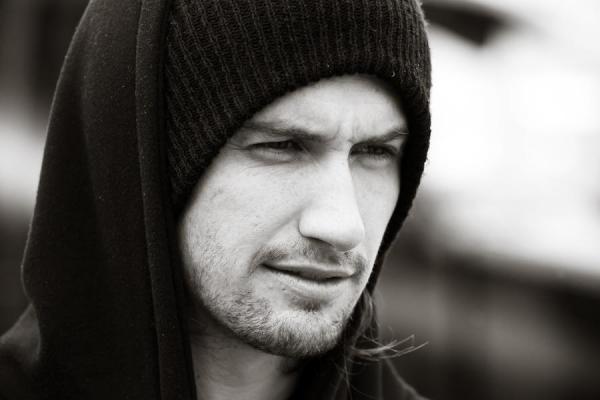 Josh Hansen went to Michigan to say farewell to his friend Josh, along with Nico Izzi, Mike LaPaglia and Jason Lawrence.
Photo: Simon Cudby
The next year, Lichtle created a moment people still talk about down at the Ranch. Squared off against Millsaps in the Schoolboy class, Josh jumped out to the early lead. But Millsaps was pretty much unstoppable back then, and he tracked down Lichtle and made the pass. Now, we've all watched a lot of motocross races, so you know when someone catches and passes someone that it's pretty much over. But that's what made this so impressive. Lichtle actually found a way to increase his pace, catch back up to Millsaps, and repass him for the lead. He then endured several laps of intense pressure from arguably the hottest prospect at the event, never faltered, and held Millsaps off right to the end.
I was writing the Cycle News story that day, so I asked Josh for a quote on his performance. "I had to do it," he said. "I saw my dad over there cheering and I wanted to do it for him."
No hard feelings from Millsaps—these two were clearly friends (and Suzuki teammates), so all was well.
It didn't work out for Lichtle the same way it did for Millsaps. Davi went on to a (still) solid pro career, he's made money and won races at the highest level. From what I heard, Lichtle had trouble adapting to the pressure of pro racing, and he would just get really, really, nervous on the starting line before a race. Same thing you hear quite often—great speed and talent, just had to figure out how to bring it into the actual race. Suzuki tried him on a few lower-pressure teams, like Jeff Cernic's support outfit, which was also working with Jason Lawrence, but then Josh hurt his ankle and never seemed to recover. It just didn't quite work out the way it could have.
It's very strange how this sport works sometimes. Back in those days, Ricky Carmichael and James Stewart had just proven that if you're the fastest kid in your class as an amateur you're going to end up the fastest man in your class as a pro. It seemed that simple. It's not. Sure seems like the odds are more like 50-50, and unfortunately, Lichtle ended up on the wrong end.
That seemed so sad: one rider makes millions while another doesn't make much at all, with only a pile of injuries to show for his efforts. But it doesn't seem so sad, now. I'm sure if you're Josh's family, race wins or big salaries mean nothing at this point. You just want Josh around to be Josh. This whole situation is so much bigger than just racing.
Anyway, Godspeed, Josh Lichtle. That's about all I have for this week.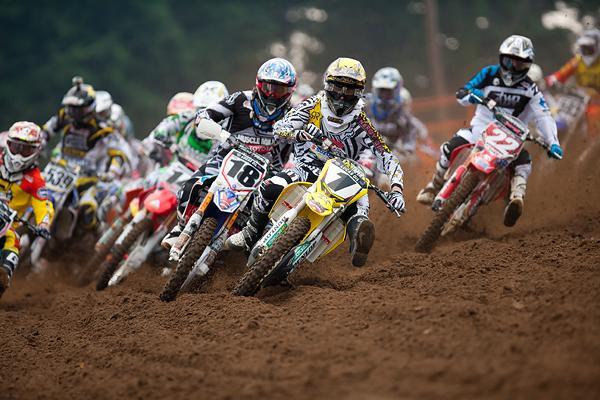 RedBud was a big, big race, with a sad ending.
Photo: Andrew Fredrickson
Let's turn it over to
Ping
now, who also wants to talk a little about the loss of Josh Lichtle, as well as another rider who's in for the fight of his life now:
It's always shocking and terrible when we lose a part of the motocross family like we did last weekend. I didn't know Josh Lichtle very well, but that doesn't matter in this sport. Motocross is such a small community that it hits home any time something like that happens. Just like all of you, my thoughts and prayers are with the Lichtle family.
And then occasionally we get a win. Those in the off-road world know the name Josh Morros very well. Josh was a 16-year-old Team Green prodigy who was just starting his career as a successful off-road racer until a horrific crash left him in the hospital with a severe brain injury and very little chance of survival. Despite the odds, Josh pulled through. If you have a few minutes, go to this website and watch the video. It's pretty cool.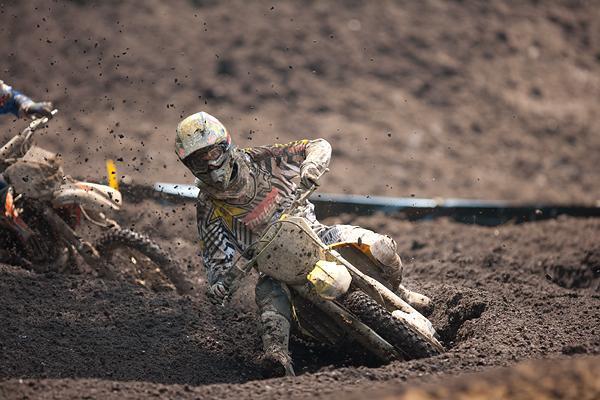 Is Ryan Dungey turning orange? Everyone seems to think so.
Photo: Andrew Fredrickson
Ryan Dungey
to Red Bull KTM is a done deal—that's the word on the streets out here in California, though I can't get anyone at the big orange building in Murrieta to confirm or deny that statement. Stay tuned for the breaking news soon.
I was at Pala Raceway this week, and I saw a rider on a Yamaha wearing #15 going pretty fast. It didn't take long to realize it was Timmy Ferry who has been out here all week testing for James Stewart. Whoa, easy, Matthes—we don't need your already-high blood pressure going through the roof on us. Take a deep breath, fella. Ferry's bike was outfitted with simple Red Bull graphics—no San Manuel logos. Interesting, indeed. There was a pack of guys in black Ohlins shirts surrounding the bike every time he came in off the track, so I never got a chance to go over and say hi. I know this is shocking but there was no sign of Larry Brooks.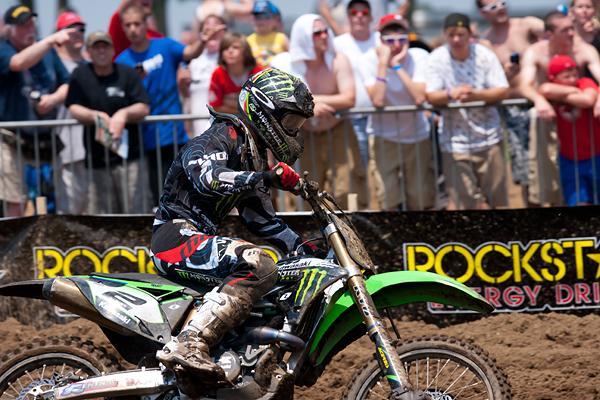 Ryan Villopoto went from 37th to 9th in the first moto at RedBud.
Photo: Andrew Fredrickson
I'd like to offer a little tip of my cap to Ryan Villopoto for his ride in the opening moto at RedBud last weekend. I think it went largely underappreciated due to his ninth-place finish, but after the digger he took it was a gritty ride to salvage some points. His bars were bent, his muffler was falling off, and his visor was buried in the mud somewhere, but he kept charging. He actually won the RC Hard Charger Award, which is almost as awesome as a furious kick to the crotch when you're in a title chase, because it means you lost points to your competitors. Still, you have to admire his tenacity. Strong work, Ryan.
I keep waiting to see if Justin Barcia will slip off into Epstein-Barrville for the rest of the summer after one of these weekends, but he keeps showing up. He has mono, a broken wrist, and no results to speak of since the nationals began. That sounds like the perfect storm of "reasons I'll be spending my summer in the Bahamas" on my Doppler Weather radar, but that's just me. Regardless, DMXS Radio's David Izer pointed out that Barcia is a pretty good match to 1980s tennis great Bjorn Borg. The resemblance is uncanny but I have to wonder: Does Izer have a Borg poster in his bedroom or something? How else do you put those two together?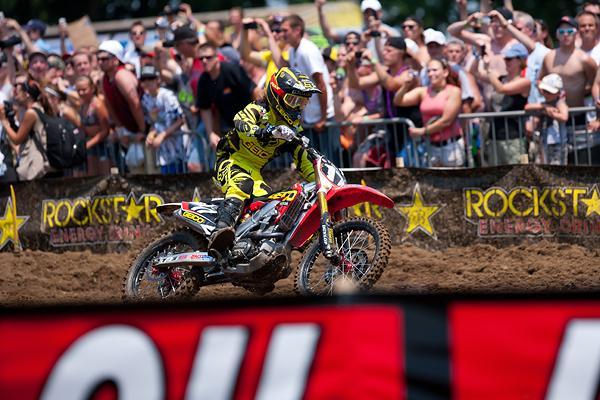 Justin Barcia goes fast for a guy with mono, but he still crashes a lot.
Photo: Andrew Fredrickson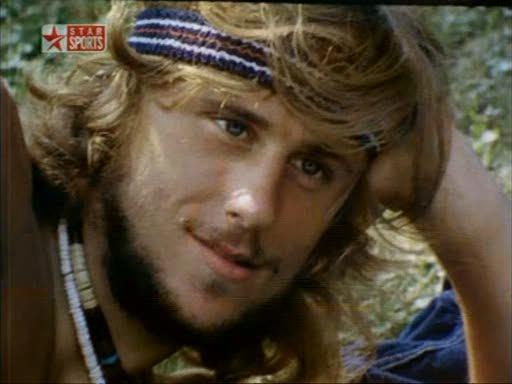 Do you see the resemblance?
If you're riding this Saturday somewhere in Southern California, make plans to be at
Pala
Raceway.
Pala
is hosting a benefit ride day for Daleigh Ford, a 5-year-old motocrosser who was recently diagnosed with leukemia. There will be riding on all tracks, raffles, food, and FMX and BMX demos going on throughout the day with the first FMX show at 11:00am. It's a great cause and the new layouts on the pro and vet tracks are awesome if you haven't been out lately. You can go to
www.dmfleukemia.com
to learn more about Daleigh's story and treatment.
Okay, here are some random notes to round out the week:
Our friends at Vurb Moto organized an epic "Platinum" session with Justin Barcia on a new track built by Jason Baker down south. Barcia moves way up on the list of great whips we've seen on motocross bikes, just behind Ronnie Renner and James Stewart!
Yesterday for The List, presented by Maxima, former 125cc SX winner Matt Walker contributed his top ten uses for baby products in motocross, and it seemed to be a hit with most of you. Well, if you enjoyed his first online contribution, you'll be happy to learn that he's working on a few more in the coming weeks, so stay tuned to Racer X Online.
Here's a funny video Danny Stuart filmed of a superfan with a super RedBud mullet this past weekend.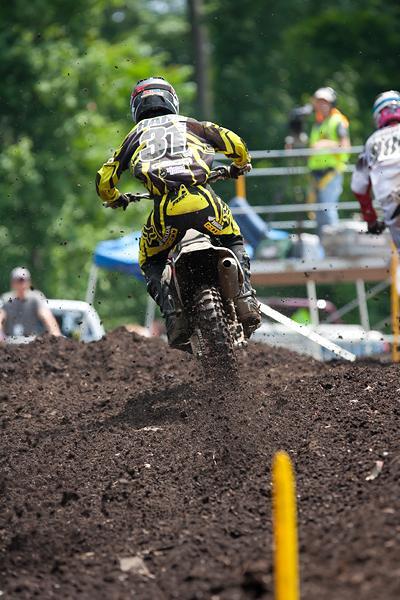 It was good to see Wil Hahn back on the bike and looking fast, as he holeshot both motos in his first race of 2011 at RedBud.
Photo: Andrew Fredrickson
Sproket the Moto Dog has been sharing his adventures and his and our love for motocross for a few years. Now is your chance to get published and share your adventure with Sproket! Sproket the Moto Dog announces a contest where the contestant who submits the best short story of what you and Sproket would do on a mission will be included in the next book, along with your photo. Don't miss out on this great opportunity to be creative and share your passion for motocross. The story must include a dirt bike adventure and be for all ages. Contest deadline is November 1, 2011.
Sproket the Moto Dog's first two releases can be found on both Amazon and Publish America. Be sure to visit sproketthemotodog.com for more information.
Is the U.S. Grand Prix on or off the schedule for 2012? We're getting mixed signals. The FIM does not have the race on its provisional schedule, but Glen Helen's Lori Bryant told Cycle News they were still trying to work things out and get commitments from the riders and teams. She also hinted that if the race does come back, it will likely be in September 2012.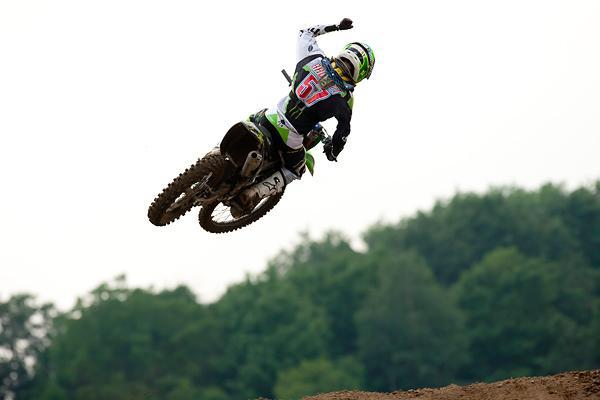 Blake Baggett has won four of six rounds in the 250 class, but his teammate Dean Wilson is the points leader.
Photo: Andrew Fredrickson
All the riders get a weekend off, thankfully, and a chance to rest and regroup. That also means they have a chance to go back and watch some motos on the Alli Sports Moto Archives, including all of the Racer X Pre-Race and Post-Race shows. You'll find everything right here.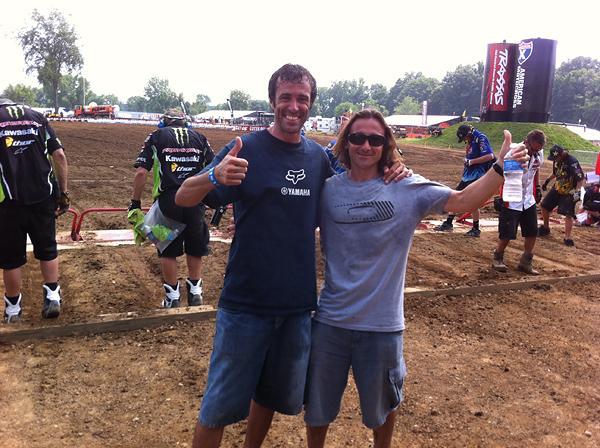 These two wild and crazy guys came to RedBud from Barcelona, Spain to see their hero, Sarah Whitmore!
And finally, congratulations to the Ritchie family for once again producing a stellar American Motocross race. RedBud was packed with fans, wet on Friday, hot on Saturday, hungover on Sunday—and they had nearly 1,000 amateur riders. And congratulations to race winners Chad Reed, Blake Baggett, and Ashley Fiolek. It was a great day for all of them, but it will likely be remember for the tragedy, not their triumphs.