RedBud Track 'n Trail
Buchanan

,

MI
RedBud Track 'n Trail
Lucas Oil AMA Pro Motocross Championship
Well there was good news and bad news at RedBud for Monster Energy Kawasaki's Ryan Villopoto. The good news was he broke through and ended his little mini-slump of not winning the second moto by trouncing everyone in the second moto in an impressive ride. The bad news was in the first moto he crashed hard and had to come through the pack for a ninth. His 9-1 scores were good enough for 3rd overall but he lost points to both of his main rivals Ryan Dungey and Chad Reed.
After the race I caught up to RV to get his take on the days events.
Racer X: Hey Ryan let's talk about this crash first off, seems like it was a big one. I spoke with Mike Alessi about it and…
Ryan Villopoto: You talked to Mike Alessi? What did he say?
He said he got center punched by a Honda and didn't know who it was or what happened.
He crashed there also?
Yeah and so did Kevin Windham!
He was there also?
Yeah.
Hmm, I thought it was me and two other Kawasaki guys. Oh alright I guess. I want to say I was seventh or so and went down right after the mechanic's area there, I went off the ski jump and came up to that single and was getting on the brakes on the left side. It didn't look like it was muddy or anything like that but as soon as I hit the brakes, I tank-slapped and went down. Luckily, I was way left and I don't know how I didn't get hit. The bike got landed on and fell apart. I rolled around the ground for a while, got up and was last.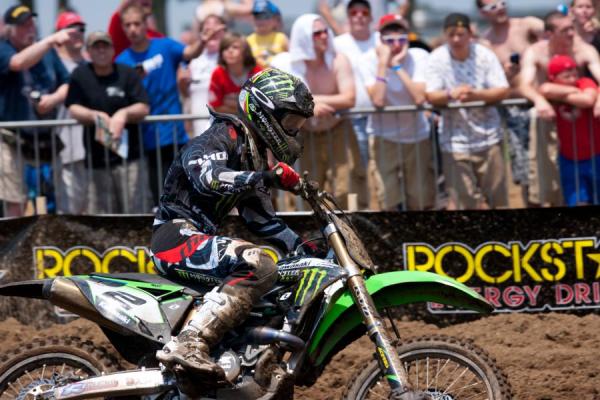 Villopoto charged from 37th to 9th in moto one.
Photo: Andrew Fredrickson
Yeah, good job coming from the back there, with the mud pushed off to the side it didn't look easy to pass on. And you had no visor.
You really just want to pull off and just give it a shot next moto but you can't. You have to salvage what you can out there. I ended up getting ninth, almost got Mikey there (smiles) and it's disappointing for sure. What can you do?
Your muffler fell off there late in the first moto from the crash damage, how else was the bike?
The bars were bent but I got used to that. The only thing was when the muffler fell off, the bike got so loud. It was hurting my ears.
Which makes it sound like you're at a tractor pull, which you probably like.
Oh that's cool!
Second moto you rode great to pull away from Dungey and to me, it looked like you had some really good lines out there to avoid the rough stuff.
In a few areas I was able to take some different lines but from what I could see, they were the same as his (Dungey's). In the off-cambers, it was all the way inside for us, there were a few different ones and I could make them work. It didn't feel like I was pulling a lot on him. It felt like tenths here and there so I had to keep pushing, keep pushing and eventually I got a bit of a gap but it took a long time.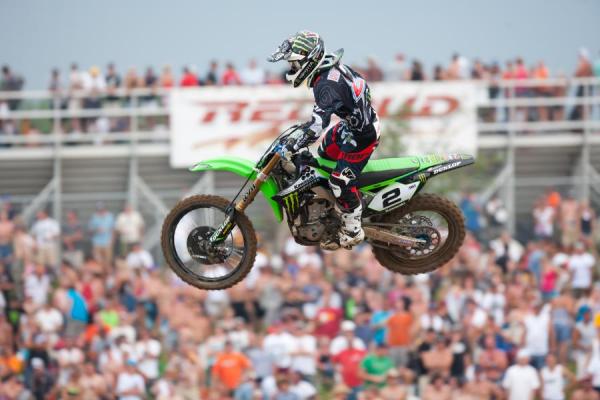 A moto two win helped Villopoto salvage valuable championship points.
Photo: Andrew Fredrickson
So having said that, third overall wasn't too bad for being in last at one point in the first moto.
Yeah, I lost some points and I guess I could've got hit when I was on the ground and not finished. I think we were 24 down going into the second moto and that's where I was after Texas. For me, I had my bad moto, Dunge has had his bad moto and there's a lot of racing left. It's very rare you get through a season without a big mistake and we'll see, maybe Chad will have his and we'll all be lumped together again.
Hey at least you won the second moto and broke that streak of you not making it happen second moto right?
It was and it's not like I didn't ride the first moto and was fresh or anything like that for the second moto. And I was able to win by a lot so that's good.