RedBud MX
Buchanan

,

MI
RedBud Track 'n Trail
Lucas Oil AMA Pro Motocross Championship
Interviews by Steve Matthes and Jason Weigandt
Chad Reed TwoTwo Motorsports Bel-Ray Racing Honda, 1-3 for 1st overall in 450 Class
I learned a lot this week, last week I got my butt kick. This week, every time we rode the bike today we changed it. Some of the changes felt good. First one was good, second one, I almost passed Dunge through the first couple of turns. And then I unfortunately made my own mistakes and Alessi got around. It was game over. I don't know why I always struggle to pass Alessi. I just had to hope Villopoto held off Dungey for the win so I would get the overall. Dissapointed in that second moto, but with saying that, I'm excited to get the overall, and we learned a lot today. We made changes to the suspension in both motos, we were testing all day. Honestly, the second one I think we were a little off, I wasn't quite as comfortable and I don't think we had the pace we had in the first one. So I think we would have at best been a third-place guy anyway. So we learned a lot and we can put that into the data for Millville.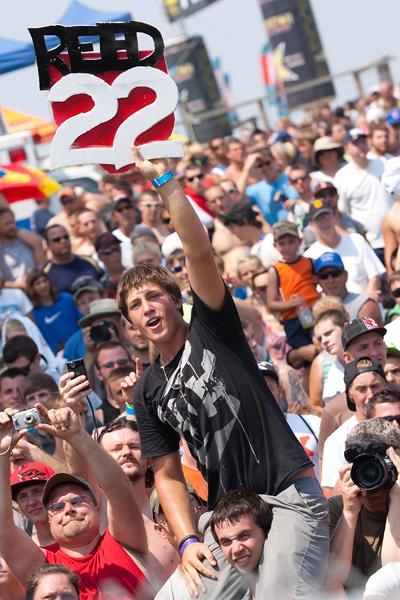 "I learned a lot this week, last week I got my butt kick." - Chad Reed
Photo: Andrew Fredrickson
Dean Wilson, Monster Energy Pro Circuit Kawasaki, 2-2 for second overall in 250 Class
It was a good thing, 2-2, I collected good points, to be in the championship you have to be consistent and that's what I've been. I've had an up and downs this year but this has been pretty good. I just need more speed a little bit. I'm pretty close, I just need to work on that. Look at Chad, he's gone 1-3 and won races, I went 1-3 two times and I went 2-2 twice and I still haven't gotten the overall. I don't want to jinx myself because I really think my starts are coming around again. If you're top five every start that's pretty good. The track was pretty good, but it was real rough. All of the nationals this year, I haven't had one track where it's smooth. There aren't any boys tracks, they're man's tracks.
Andrew Short, Red Bull KTM, 6-8 for 7th overall in 450 Class
I rode good today, the track was really tough, but considering the weather they did an awesome job. I didn't even jump Larocco's Leap until the first lap of the moto, that was pretty hairy. We had the world racing head of KTM here, and that was good to see, it's good to have that kind of support, and for them to watch us ride. The first moto I got cooked from the heat, and the second moto I faded a little bit. No excuses, it was rough today. We've had some issues at home—the simple version is my son has a cataract, and we don't know where that's going to lead. We're hoping he gets his vision back and doesn't lose his eye. He's pretty fussy and I'm gone a lot, so when I'm home I have to be on dad duty. No excuses, we all deal with things in life.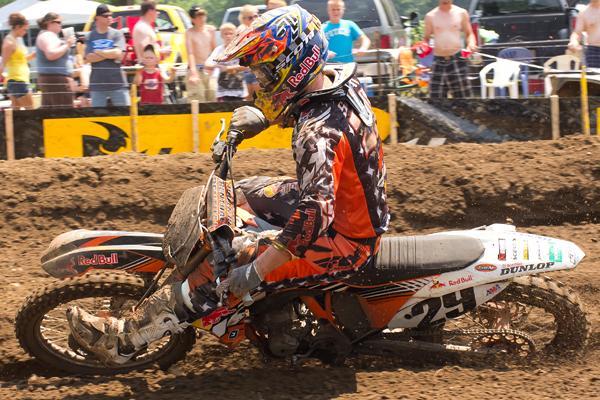 "I didn't even jump Larocco's Leap until the first lap of the moto." - Andrew Short
Photo: Andrew Fredrickson
Tyler Keefe, Team Manager, Lucas Oil Troy Lee Honda
(Christian Craig, 10th in 450 class, Cole Seely and Travis Baker, 9th and 11th in 250 class, Tarah Gieger, 3rd in WMX)
It went alright. Baker hit Tomac when Tomac ran across the track after he crashed in practice. He busted both radiators, so he qualified 31st. First moto, Cole started around eighth and tangled with Stewart on the first lap, went back to 25th, came back to ninth. Baker crashed early and came back to 12th. Christian got a good start, ran good, battled with some guys and ended up tenth. He went 10-10, second moto he battled with Short and Weimer. Cole got a good start in his second moto but just couldn't quite find his groove. Baker got a good start in the second moto but he fell in the second turn. So we had ups and downs but we still got the guys into top tens. And we got third with Gieger so it was an okay day.
Mike Alessi, Red Bull KTM, 8-4 5th overall in 450 class
First moto, I had a good start. I was running 4th or 5th, and all of a sudden I got hit by a Honda. I thought it was JG, and it turned out it was Windham, and Villopoto was down, too. I think Windham got cross-rutted and his bike hit me. Second moto I got a good start and I passed Chad, I don't know what he was doing, it looked like he was messing with his goggles or something. I don't know, I have X Brand goggles so I didn't have any problems. I got into third, and I was battling with Chad for half the race, but I made a mistake and he got by me. I tried to charge all the way to the end and almost got him back, but congrats to him, it was a good race, and congrats to Dungey and Villopoto, also. That first moto really hurt me but that's the way it goes. They told me I was 24th on lap one, so 24th to 8th, that's not that bad.
Tye Simmonds, J-Star JDR KTM, 17-15 for 16th overall in 450 class
I had bronchitis that nearly became pneumonia, and I was having a tough time even getting through a moto. So I missed Budds Creek and Colorado. Today went pretty good. First moto I went down in the first turn and came from about last, so that was good, second moto, I started pretty good, I died a bit in the beginning of the moto, and then charged hard to the end. So we have a weekend off now and I'm going to work hard through it for the next one.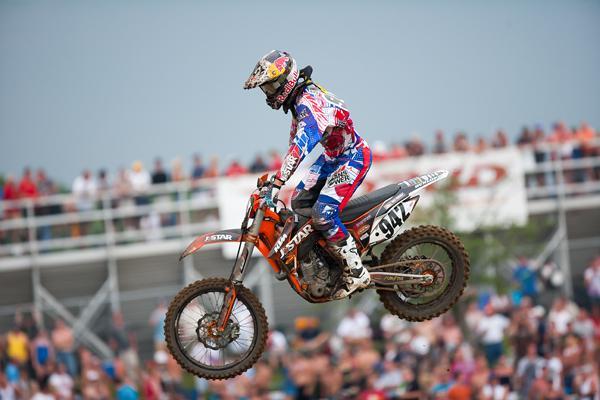 "I had bronchitis that nearly became pneumonia." - Tye Simmonds
Photo: Andrew Fredrickson
Tommy Hahn, MotoConcepts Yamaha, DNF-12 for 19th overall in 450 class
First moto, it was a yard sale, Villopoto crashed pretty hard and his bike came after me and ran me down. I got a little bump on the head, and my bike was pretty mangled, too. So, throw that one away. Second moto, I had 40th gate pick, lined up on the very outside, fell in one of the off-cambers on the third lap, went to the back, got back up to 12th. I rode as hard as I could the whole time. That's about all I could do, I guess.
Alan Brown, Team Manager for DNA Shred Stix Star Racing Yamaha
(Gannon Audette, 18th overall, Kyle Cunningham 4th overall, Ryan Sipes 7th overall, Gareth Swanepoel 13th overall in 250 class. Jessica Patterson, 2nd overall in WMX)
How about this? Gannon Audette came back after the first moto and said, "How did I do?" And I said, "I've only got ten fingers." First moto, two of the guys made it on to my right hand, with five fingers, we got a third and a fourth with Sipes and Cunningham. Sipes, excellent race in the first moto, he rode up there as long as he could. He got the lead from Barcia, but he's still kind of racing himself into 100 percent shape. He got a third which is darned respectable. Cunningham was a solid fourth, can't complain about that. Sipes in the second moto had a good start but he got tangled in the second turn. From what I heard it was a big crash/ Like I said, I only have ten fingers. Swanepoel had a good start but he had a crash, and I was on the other side of the track, so I didn't see it, but from the way they were yelling over the radio, I am picturing a cartwheel and getting run over by guys like Alessi did here a few years ago. My guys are pretty dramatic on the radio some times. So Swanepoel was tough, he came back from some crashes. And I shouldn't be so hard on Audette. We're just pushing him to get into the top ten, we think he can be in the top ten, so I'm just poking some fun at him. Jessica has some bad memories at this track, she rode well buts struggled pretty badly in the sand whoops. She almost got Ashley but not quite. That championship is going to be a battle, it's not going to be easy.