Lakewood, CO
Thunder Valley Motocross
Lucas Oil AMA Pro Motocross Championship
With an impenetrable sound, an aroma that can be detected from well beyond the fences and arguably the most passionate fan-base in the sport, the two-stroke will forever live in motocross lore. While the two-stroke is not quite extinct from the confines of an outdoor national, it is a rare spectacle to spot a pre-mixer zipping around the track nowadays. So when not one but two two-strokes lined the gate for the third round of the Lucas Oil AMA Pro Motocross Championship at High Point Raceway we could not—nor would our readers let us—resist the prospect of catching up with the two riders that are keeping the two-stroke dream alive. Last week we caught up with 19-year-old Pennsylvania native Tye Newcome and gathered his thoughts on riding his YZ250 into the main event. This week we talked with former Arenacross champion –and 2011 runner-up – Jeff Gibson to get his thoughts on the two-stroke and his 2011 season.
Racer X: Let's first touch on your decision to ride a KTM250 SX. Was it a financial decision or do you just feel more comfortable on the two-stroke?
Jeff Gibson: Honestly, the two-stroke is owned by a buddy of mine named Steve Mays and I did a GNCC last year on that bike. This year we got the suspension set up through Factory Connection and I did a couple of local races on it and felt pretty good and honestly we just thought about racing High Point on it. We got some help from Rekluse, because originally it was a 300cc, then the guys at Rekluse came in with a 250 cylinder and let me borrow that for the past two weeks. So I got to race the 250 and was doing it for fun and seeing what I could do on it.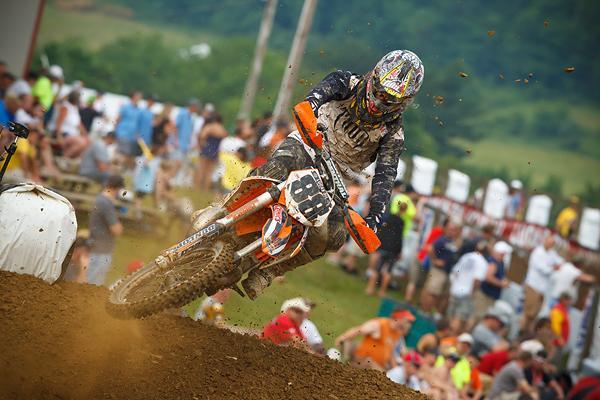 Gibson performed well at High Point, going 32-25 for 32nd overall.
Photo: Simon Cudby
You did well at High Point finishing 32nd overall. Did you feel that the loss in power or the fact that most guys already had two races under their belts and had been training made the biggest difference?
It was a little bit of both. Granted it being an XC model it was not bad, it obviously wasn't their motocross bike, but I was definitely underpowered. High Point went well. I was really surprised. I qualified 27th and went 32-25. And in the second moto in the mud I even crashed a couple of times. I felt good at High Point, but at Budds Creek the dirt was a lot deeper and there were a lot bigger hills and it didn't go as well. I definitely got motored there. But also this year I haven't been training or riding that much throughout the summer because I have been working and dealing with some other stuff. So I am just trying to have some fun with it.
What do you feel was the major difference between High Point and Budds Creek?
The difference was probably the deep dirt, and in practice it was definitely muddy and murky. That's where those 450s could just pull through it and I just sunk right down in there. Those big hills were really killing me and it definitely showed.
How has the transition been, coming from Arenacross where you're racing really tight, technical tracks to full-blown outdoor motocross tracks?
Racing arenacross all winter and then going to the outdoors is a big change, but it's time on a dirt bike. Pretty much any time I'm riding I am having fun. If everything goes good and I walk away safe it's a good day. The transition isn't that much of a difference. I did a little bit of riding with some friends and I'm just kind of winging it honestly. Riding is riding and I'm just trying to have fun and do the best I can.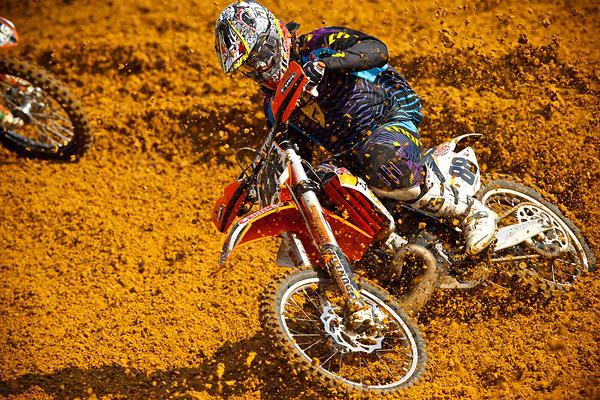 At Budds Creek Gibson struggled with the muddy and murky conditions in practice and failed to make the top 40.
Photo: Simon Cudby
Do you feel that takes some of the pressure off your shoulders, which in turn allows you to ride loose and free?
I think so. That is kind of the deal with the two-stroke, too. You have your own goals set in your mind no matter where you're going or what you're doing, but riding the two-stroke, it's not really like I have to put pressure on myself like, "I have to get points, I have to get a number, I have to do this and that." You're there to see how good you can do. I mean, you really have no expectations, and I think that is when I ride my best and how I do the best I can, as long as I go out and have fun and put in those hard laps.
Do you plan on racing any other nationals this summer?
I want to do some more. I might do it on a two-stroke, but I may do it on a 450, I'm not too sure yet. I'm not going to do them all, probably just the east coast ones.
Thanks, Jeff. Who would you like to thank for helping you out this season?
Steve Mays for letting me borrow his bike, the guys at Rekluse Clutches, FMF, Factory Connection, my dad, my brother and the rest of my family.