Lakewood, CO
Thunder Valley Motocross
Lucas Oil AMA Pro Motocross Championship
Budds Creek
Maryland was the site of round four of the 2011 Lucas Oil AMA Nationals and what a series this is shaping up to be. That is, if you're one of six guys in the two classes that seem to be heavily favored to have a shot at the one of the two titles. I don't want to say that
Ryan Villopoto
,
Ryan Dungey
and
Chad Reed
are better than everyone else in the 450 class but…
Ryan Villopoto, Ryan Dungey and Chad Reed have taken the top three spots in six out of the eight motos so far. Each guy has had a poopy moto (well maybe RV has had two- we'll get to that in a minute), Reed at High Point, RV at Texas and of course, Dungey at Texas where he had his heart breaker deal.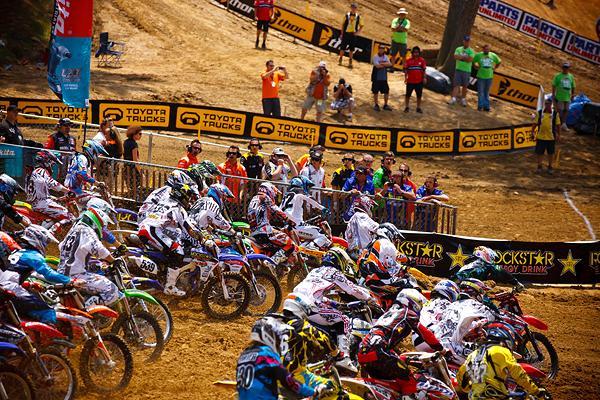 Having the inside gate at Budds Creek had its benifits.
Photo: Simon Cudby
First let's talk about the track that is Budds Creek and to me, there are some good points and some bad points about the place. Many of the riders love the place but do find it hard to pass on, but Budds is an excellent example of a well-prepped track that you don't have to dump so much sand on that it soon resembles the GP track in Lommel. Since I've been going there, there have three different starting lines at this track and the present one is my least favorite. Changed to accommodate the FIM for the Motocross des Nations, it's slanted heavily to favor the guys who have the inside gates. Which means that getting a fast time early in the first practice is key. So let's hope you're on it early! I just think you have to give the guys in the 15-25 range of qualification a shot at perhaps coming out top five after the first turn and Budds does not do this.
It's not often that a rider gets passed and beat by 30-seconds in one moto only to rebound and take the next moto win, but that's exactly what Chad Reed did this past Saturday. Having some goggle problems in moto one certainly helped but Reed told me after the race that even having good goggles wasn't going to drop his times into the 2:03's like Ryan Villopoto and Ryan Dungey were doing.
Deciding to go to a tire better suited to a harder track and focusing on flowing the turns more was the key impetus for Reed and wouldn't you know it, it worked! Reed passed Mike Alessi early on and took off with Dungey in tow. These two were never separated by more than a couple of seconds and when it was all over, Reed had a 3-1 score and the win.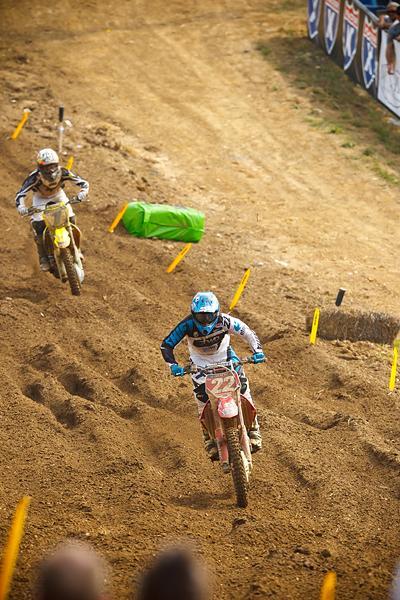 Dungey chased Reed all over Budds Creek, but could not get past the veteran.
Photo: Simon Cudby
One of the keys to me was Reed's ability to get through the lappers. After all, I just finished telling you guys that the Creek de Budds (you know how we all have porno names,? Creek de Budds is the GP name of Budds Creek) was hard to pass on and Reed was coming up on lappers in bunches and he managed to get a bunch of them coming into the turns while Dungey would have to wait for those guys to get through the turns before he could get them on the exit. It was small half-seconds here and there. I was thinking Reed was going to lose some time upon coming up on slower riders while leading, but he was masterful at making it happen. One of the keys to the race for sure.
Ryan Dungey's just not having things go his way this outdoor, nay, this entire 2011 season. He rode two great races and almost got by Villopoto in the first moto after RV stalled his bike. As it was, he followed RV right to the finish. In the second moto, as I just recapped, he stalked Reed around the track looking to take advantage of any misfortune. Here's how unlucky Dungey was: in the nationals since 1997, in the big bike class, there have been 54 riders to go 2-2 and not a single one of them has gotten third overall like Dungey did this weekend. Think about it, 2-2 not only usually gets you second, plenty of times it gets you the win!  Think the great Tim Ferry at Glen Helen '01 or Washougal '07 when he did just that. But nope, for Ryan a 2-2 got him a third and it's just an example of things not going his way this year. It's got to be frustrating for The Dunge, he's plenty fast enough to win but it seems to be the small things (or big things like in Texas) that are holding him back.
Ryan Villopoto seems to be fully recovered from whatever ailed him in the first two races of the year as he has blitzed to two first moto wins in the last two weeks. The number 2 Kawasaki rider had never lost at Budds Creek before (including at the MXDN where he waxed the field on his 250F!) and it seemed like that streak was going to continue after his impressive win in the first moto. If it wasn't for that pesky stall, Villopoto would have won that moto handedly.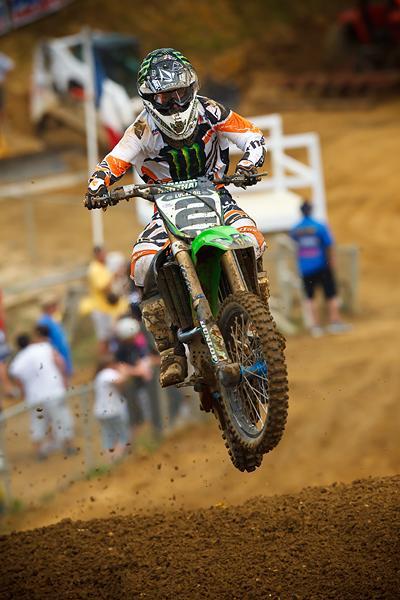 Villopoto took the moto one victory, but had to settle for second overall after finishing third in moto two.
Photo: Simon Cudby
Second moto he started off in the top five and all seemed well from the fence. I was definitely thinking he was going to be moving to the front when all of a sudden, he wasn't moving to the front. Took a long time to reel in Mike Alessi and by that time, the top two guys were gone. After the race RV revealed that he had some serious stomach issues going on. He was cramping up and I believe the non-technical term for it is "bubble guts".
Villopoto said he tried to, uhhh, push it out during the moto but it wasn't working. Finally as he told me in all his glory, a little bit of poop came out and he relaxed and managed to pull away from Alessi and then later, Kevin Windham. Hey, that's why I'm paid the big bucks- to get the stories behind the race and unfortunately, this is a bit gory. So RV went 1-3 and tied for the overall win but got second on the tie-breaker.
So in effect, Dungey lost a point in the chase and no one moved any closer to catching Reed for this title. That's what happens when you give up points early, you're always chasing it down and the margin for error becomes less and less. Villopoto cannot have any more problems or Reed's going to get a cushion and like I was saying, the three guys seem to be a bit better than everyone else right now so it's hard to make up beaucoup points.
Mike Alessi is the X-Factor in this series, after missing the first two rounds with injury, the 800 isn't going to win the title but he's certainly capable and able to get into the mix. Mike's going to be a factor on every start and that gives him a punchers chance to get on the podium. He led both motos early on before being sucked into the vortex of the top three and going down. I was a little surprised that Mike allowed Windham to catch and pass him both motos but he was saying that he felt a bit wore out and that perhaps he had done a bit too much work during the week in hot and humid Florida.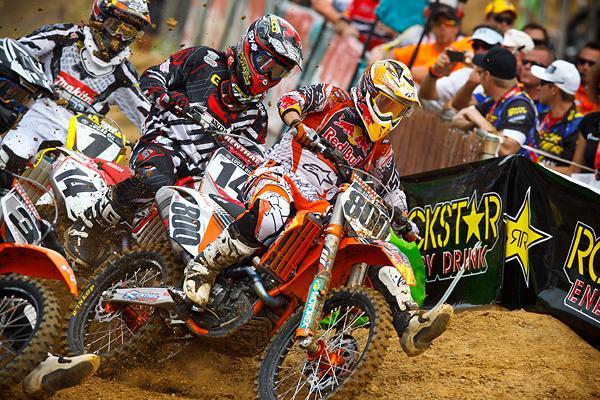 The X-Factor.
Photo: Simon Cudby
There were  some questions on how Mike's KTM 450 was going to work this year since the team doesn't really have an active 450 program now that they're focusing on the 350. Alessi's bike is really just a whole lot of parts off of GP rider Max Nagl's 450 from last year (Max switched to the 350 this year). Mike and the 350 just never gelled last year which to me is a bit strange, you have to ride the bike like a 250F which means sweeping the turns, keeping the revs up and working that shifter. Mike had a fair amount of success in the 250 class, plus, let's face it, he's like any good rider- they figure it out.
But last summer was not good for the 800 but now, on Max Nagl's old machine, one that KTM isn't developing new parts for, Alessi is a new man. Maybe it's the starts (which help you a great deal and are hard to get on the disked up mx tracks) or the ability to have that torque and hit out of a turn- whatever it is, Mike is much better on the 450. No doubt about it.
No matter what it is, heat, rain, sand, hard-pack (wait, we don't have any of those tracks anymore), east coast, west coast- no matter what track the series visits, Tyla Rattray will be there for podiums and be in contention for the win. The South African won Budds Creek with 2-1 scores and rode great. Rattray kept the red plate signifying the points leader (which by the way, I'm glad you asked me what I think. I 100 percent think that having the points leader get the red plate instead of last years champion holding onto it all year is much better. Thank you- carry on) and he's just a solid rider.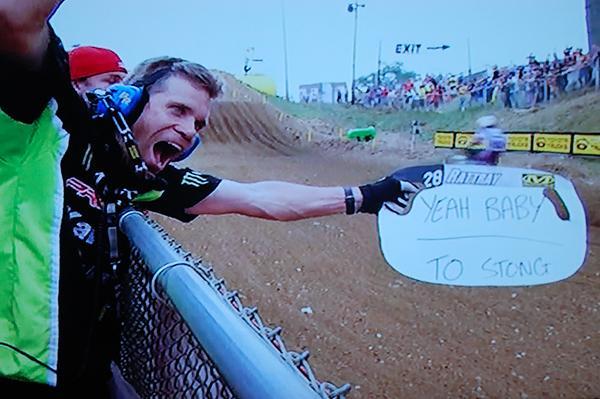 Wayne just saw a Chupacabra. Thanks to Taylon for sending this in.
Rattray is hooked up with Aldon Baker and, like he told me last week, he took the program that he was doing for years and found out that there were a few little things he was doing that Baker switched up and it's made a difference. Rattray is as solid as they come. His worst day is going to be a 3-4 or something like that. He may not have the blazing speed like a couple of his teammates but he's still very fast. Rattray may not be the chic pick for the title but he's a good guy, great rider and to me, he's the pick right now to win this thing. He's just too solid for the other kiddies.
I imagine that just like Ryan Dungey in the 450's, Rattray's teammate Dean Wilson has to be getting frustrated with not having a win and being four rounds deep right now. Wilson won the first moto in a great ride but he didn't get the start he needed second time to make the magic happen again. Just like at High point when he crashed first lap while in the lead in the second moto or maybe at Texas when he crashed while going for the lead.  It's the little things that have been holding Wilson back and he's close to winning a race for sure. Maybe this weekend?
If you're Wilson (then you have a funny accent) you have to be comforted that with all this self-inflicted stuff happening to you, you're only four points out of the lead so that's the bright side.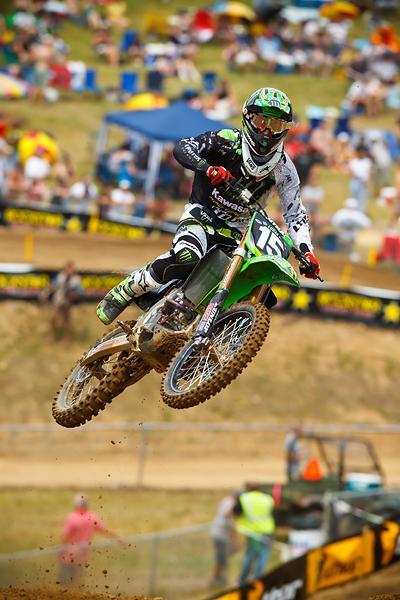 Wilson is still looking for his first overall of the season.
Photo: Simon Cudby
The other man that is right there is Blake 'The Chupacabra" Baggett whose wounds in this championship chase are also self-inflicted. Baggett has the speed (he's won two nationals so far) but in the other two races, he's got a crash induced seventh (this weekend) or a crash induced I'm-too-lazy-to-look-up-how-he-did-in-Texas finish. Baggett is just figuring this be-a-national-championship-contender stuff out (did I just set a record for hyphens in a paragraph? I think so) so he gets a bit of a mulligan for this. Remember last year, in his first full year in the class, he only made it to round four (Budds Creek) before he crashed and broke his arm. So Baggett's figuring stuff out for this year but if he harnesses everything in, he can win this title.
Let's take a look at the results shall we?
250 Overall
1. Tyla Rattray (2-1) Kaw
2. Dean Wilson (1-3) Kaw
3. Justin Barcia (6-2) Hon- Barcia skipped the second practice session and because of his recent diagnosis of mono, he'll be doing that the next little while. Good ride for him.
4. Eli Tomac (5-5) Hon- Tomac's been good but he hasn't been great so far this year. We're all waiting for him to lead and win some races.
5. Broc Tickle (3-9) Kaw- Tickle's best result of the year so far, he told me after the race that it was comforting that while he was in third, he wasn't out of control or anything like that.
6. Gareth Swanepoel (9-4) Yam- Between Swanepoel and Cunningham, Star Racing went 4-4! Two bad about those other motos though. I was thinking that Gareth's strong start was due to him just focusing on outdoors for so long and finally the other guys had caught up to him so to speak but his strong second moto ride made a case that he's just good.
7. Blake Baggett (7-7) Kaw- Chupacabra went down hard second moto and had to come from last.
8. Kyle Cunningham (4-15) Yam- Cunningham was sick all week so his first moto ride was pretty good all things considered. Even his team manager wasn't surprised at his struggles in the second race after seeing KC blowing chunks after the first moto.
9. Martin Davalos (10-10) Suz- Davalos did what Davalos does. 10-10.
10. Nico Izzi (8-13) Hon
11. Malcolm Stewart (16-6) Suz- Look at Mookie with his best ever moto finish in the second one. Good race for the kid, wonder if the ink is dry yet on the 2012 JSE deal?
12. Gannon Audette (12-11) Yam- Audette was up there in the second moto but looked to me like he got tired.
13. Alex Martin (15-12) Hon- Another solid race for the Ewok! Top real privateer once again.
14. Darryn Durham (37-8) Hon- Durham was again fast but crashes and a mechanical DNF hurt him. He told us on the Pulpmx Show that he recently hired an agent and his phones been ringing with some team offers for next year.
15. Nick Paluzzi (14-16) Suz
16. Austin Howell (13-17) Suz- Howell's on the Suzuki City team and he's a kid who's figuring things out. Maybe it's the Suzuki but he reminds me of a younger (than he is now) Cole Seely.
17. Travis Baker (11-34) Hon- Baker had a mechanical in the second moto but his first moto 11th was good.
18. Lance Vincent (19-14) Hon
19. Cole Seely (17-25)- Bad weekend for Seely, he's much better than this. I'm sure he'll rebound.
20. Taylor Futrell (27-18) Hon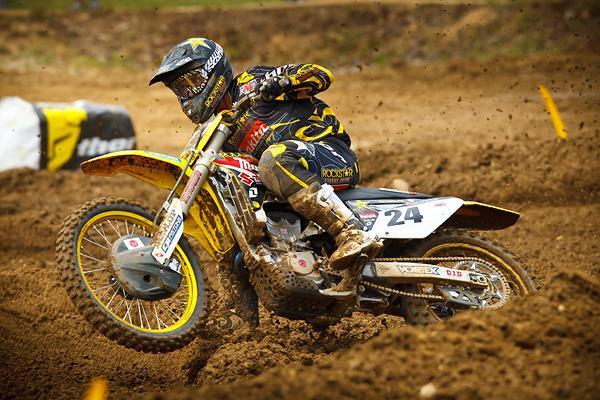 Metcalfe continues to put in top-ten finishes.
Photo: Simon Cudby
450 Overall
1. Chad Reed (3-1) Hon
2. Ryan Villopoto (1-3) Kaw 
3. Ryan Dungey (2-2) Suz
4. Kevin Windham (4-4) Hon- This was supposed to be KW's last national but he's coming back out this weekend. His 4-4 was good but on the Pulpmx Show on Monday, I'm surprised at how hard he seems to take getting beat.
5. Mike Alessi (5-5) KTM
6. Brett Metcalfe (6-6) Suz- Metty was good, came from the back both motos.
7. Davi Millsaps (7-9) Yam- Millsaps had his worst race of the season and at the end of this thing, if 7-9 is your worst race- you're doing pretty good.
8. Jake Weimer (10-7) Kaw
9. Andrew Short (9-8) KTM- Surprise, surprise- Shorty's not getting the starts that he needs to get up into the main pack. This weekend wasn't that bad and in the first moto he was moving up when he fell. Second moto was a battle the whole way. If you watch the lap time boards, his time is always lower than the dudes around him which is good but he starts off giving up so much time, he has his work cut out for him.
10. Josh Grant (8-10) Hon- First race back for Grant since Anaheim 1- yes I'm serious- and a tenth is a good start for the talented JG.
11. Ricky Dietrich (11-11) Yam- This was RD's first time at Budds and he probably would have scored better in the second moto but he went flying off the track early on while up there.
12. Christian Craig (13-12) Hon
13. Mike Brown (12-13) KTM- The Muddy Creek Assassin comes out again and puts in more than respectable finishes.
14. Ben LaMay (17-15) Yam-good ride
15. Les Smith (16-16) Yam
16. Nick Wey (15-19) Yam- Wey's day wasn't good. It was his birthday also which makes this a double kick in the nuts.
17. Fredrik Noren (21-14) Hon – The shifty Swede did well in the second moto
18. Lowell Spangler (18-17) Hon
19. Michael Byrne (14-23) Suz- I love the fact that Byrner wasn't happy with his bike and flew to New Hampshire where Factory Connection is to make it right and get some more testing in. Love to see guys do work to make their life better. Unfortunately, it didn't pay off this weekend for the Aussie.
20. Travis Sewell (20-18) Yam- A flying Sewell brother inside the top 20 is a world that I want to live in.
Thanks for reading, see you this week from Lakewood, Colorado! Email me at steve@racerxonline if you want to chat. Thank you for coming, tip your waiter.