Jeff Emig on "The Daily Habit" Tonight
Airing Wednesday, June 22 at 11:00 pm ET/PT and telecast several additional times, AMA motocross legend and commentator Jeff Emig is on the show. And you know him as "Shaun of the Dead" star and Scotty on "Star Trek," Simon Pegg is here. The actor tells us about his book, "Nerd Do Well" and how to pick up girls at Comic Con. We welcome pro skater and Verizon team rider Omar Hassan.
TDH correspondents Alison Becker and Chris Fairbanks join the group to chat about the first-ever triple backflip on a BMX bike and the debate for porn in prison!? Jordan also takes the "Deadliest Catch" star, Captain Sig Hansen, on a dangerous tour of LA. Tonight's musical guest on the Stride Sound Stage is Grammy-nominated, reggae royalty Ziggy Marley.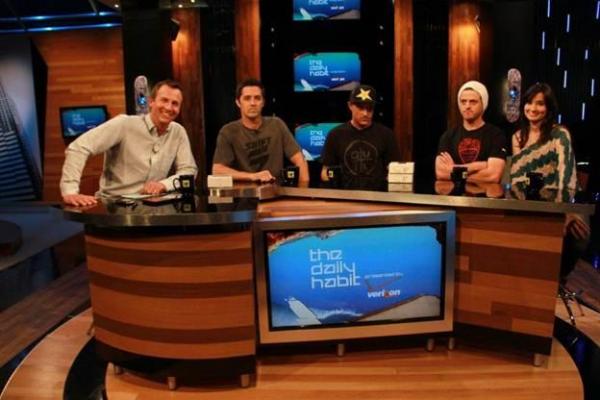 Pat Parnell, Jeff Emig, Omar Hassan, Chris Fairbanks and Alison Becker.
"The Daily Habit" is FUEL TV's first original daily series, telecast weeknights at 11:00PM ET/PT. "The Daily Habit" is the most exciting, current and buzz-worthy late night party on television. Kicking it with the hottest celebrities, action sports athletes and cutting edge musical acts bringing viewers unpredictable in-studio mayhem. Big talk. Big sports. Big tunes.