High Point Raceway
Mt. Morris

,

PA
High Point Raceway
Lucas Oil AMA Pro Motocross Championship
Hard to believe it's been thirty-five years. My dad and mom first drove to Mt. Morris, Pennsylvania, in September of 1976. Their track at Keyser's Ridge in Maryland only lasted one year because the ground was too rocky and the farm too mean to continue. But there was a family named Holbert with five boys—David, Mike, Bobby, Tommy, and Steve—who all raced, and they invited my parents to come check out their farm for a possible new track. This time Dad took a shovel with him so he could dig down a little and see what the ground was really like!
The first race was just a couple weeks later, and the track was very European—at least that's what we thought. It had few jumps, lots of hills and off-cambers, and it was very wide, which seemed European to us. But then some actual Europeans showed up to practice one day in October. It was the Maico factory team, in the States for the Trans-AMA Series: Sylvain Geboers, Hans Maisch, and Adolf Weil. They wanted to ride but it was cold and wet that day, so they decided to just walk around and check out the land. In doing so, they began discussing a better layout, and soon they were piling rocks up where they thought the corners should be or taking tree branches and shoving them in the ground. By the time they were done, High Point was completely different—now it really was European!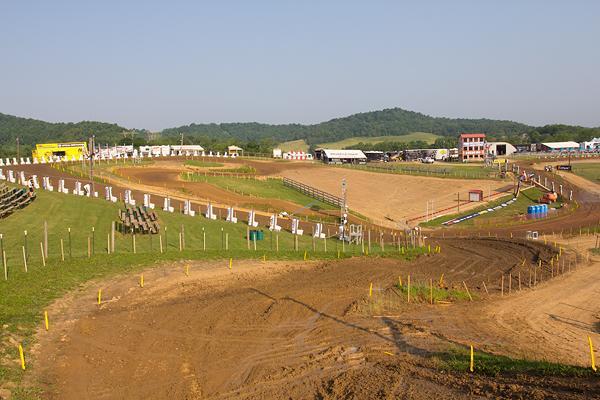 The layout has not changed much throughout the years.
Photo: Andrew Fredrickson
The same general layout is still what we have today, though obviously much has changed here on the Holbert family farm. Now High Point is a motocross happening, having hosted a round of the American motocross tour since the summer of '77. Sadly, Dad's gone, and so is Adolf Weil, the great German rider having passed away a couple of weeks back. I think they both would be pretty proud to see what became of this place.
You can watch the first motos of the third round of the 2011 Lucas Oil AMA Pro Motocross Championship tomorrow, beginning at 1 p.m. (Eastern) on FUEL TV in the U.S., or on Motors TV live in Europe on Saturday night, or you can go to www.AlliSports.com and watch it online. The second 450 motos will be shown on NBC, but unfortunately delayed one day, airing on Sunday at 4 p.m. (ET) The second 250 moto will broadcast on Saturday on SPEED at 10 p.m. (ET).
Why all the different times and networks? It's hard to get a network in the U.S. to stay at one event for four and a half hours, including all those intermissions. Besides, this is a good way to spread the gospel of American motocross to a wider audience.
Obviously, this is a busy week for myself and everyone at the Racer X office, let alone MX Sports. Morgantown, West Virginia, is not only our hometown base of operations, but it's also the host city for the event. As a result, there's lots of folks visiting, working, hanging out, and just being a part of the big race week. And we all take a lot of pride in how the track and facility look, so I've had three jobs the last couple of weeks. But it's been fun, and hopefully good weather and a big crowd will see some great racing tomorrow.
You can catch a preview of the Rockstar Energy High Point National later on tonight or tomorrow morning when the Racer X Pre-Race Show goes up on www.allisports.com. Jason Weigandt and Paul Lindsey will be co-hosting.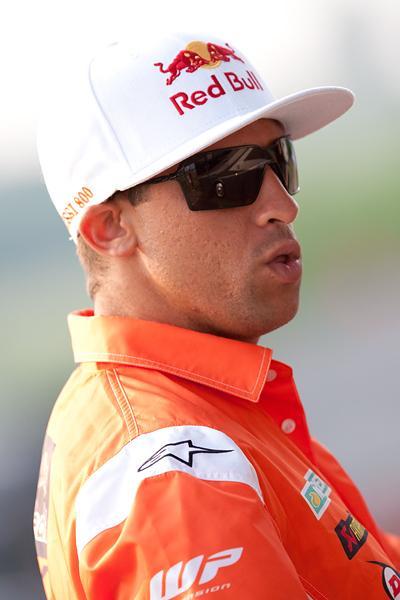 Alessi is a race time decision for tomorrow.
Photo: Andrew Fredrickson
Yesterday I ran into Mike Alessi, just before he sat down for a Racer X Films interview, and I could tell he really wants to race but also knows that it's up to his team manager, Roger DeCoster. Contrary to what was written on our 10 Things to Watch for at High Point, Mike did not ride yesterday. But he and I did have an excellent bench-racing session, and he told me how impressed he was with Chad Reed right now. It's obvious that it's bugging #800 that he crashed at Hangtown and had to scratch the first two rounds, because he certainly would have been in the mix in the 450 pack.
And last night I sat down at dinner with two of the coolest riders in motocross, Nick Wey and Ricky Dietrich of the Valli Motorsports team. They came out for press day yesterday, along with Alex Martin, Darryn Durham, and Levi Killbarger. They loved the track, and both said the first two nationals were amazingly rough. I told Dietrich what I'm sure a lot of people are thinking right now: If they ran these races for 90 minutes he would be winning nationals!
Finally, MX Sports arranged a meeting tonight between Dr. Julian Bayles, head of the Brain Injury Research Institute here in Morgantown, and several team managers to discuss concussions, treatment, and rehabbing from blows to the head. Dr. Bayles was the longtime team doctor for the Pittsburgh Steelers and, as a result, at the forefront of the whole conversation about the dangers of brain trauma in sports. It's a way to begin moving the conversation in motocross forward, and after what we've seen the past couple of years—the early retirement of Broc Hepler as a result of repeated concussions, the career-ending injury to Ian Trettel at Daytona—it's time motocross as a sport got more serious about brain trauma and injuries.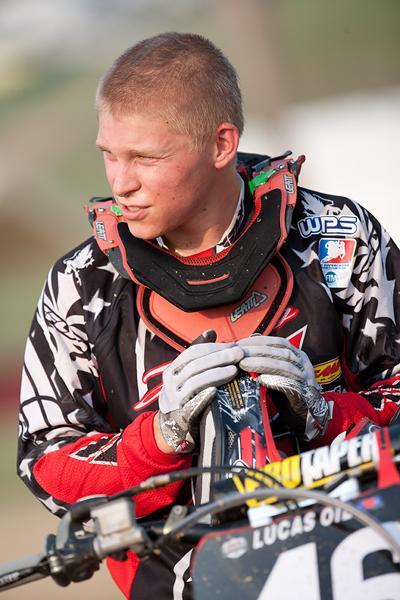 Alex Martin was out for press day yesterday.
Photo: Andrew Fredrickson
So let me turn it over here to the rest of the guys and get back to work on a track that just got hit by a massive rainstorm—it's going to be epic tomorrow! Here's Weege:
Eleven years ago, I had just graduated from college and needed to get a job. Back in 2000, the U.S. economy was churning out jobs faster than people could take them (how strange does that sound now?) and finding employment was easy. I had a PR degree and could have easily gone to New York City and gotten an entry-level job at a PR firm, worked ridiculous hours proofreading press releases and trying to pitch stories to newspapers, collected a meager paycheck, and worked my way up the corporate ladder.
But I didn't want that. I wanted a job at Racer X! I had been a motocross fan for life (like you folks) and I felt that college had given me the writing chops to maybe deliver something Racer X could use. And I felt that Racer X was the best place to get a springboard into this industry—the Coombs family was connected at every level and I knew I could find someway to help them. And Racer X was building momentum. The magazine was just expanding from six issues a year to twelve, and they were also starting to build more content into this website thing they ran on the side. A few months into my last semester at school, I started bombing the office with writing samples, letters, and story ideas, and while they liked what I sent, it didn't amount to much.
I had to take action. I had to get to Morgantown and meet the staff. I had been road tripping from Jersey to High Point for years, but this time I had to find the place where the real business goes down: downtown Morgantown. On Friday night, I veered off the interstate exit labeled "Downtown" and just started asking people questions. "Is there a bar around here called Chicken Bones? Is there a party there?" I asked the gas station attendant. "Uh, there's always a party going on there." He pointed me in the right direction. The roads are pretty confusing here, though, and I really didn't know what to look for until I found Davey Coombs himself standing out in the parking lot. I awkwardly introduced myself, he invited me in to the party, and I came inside and stood their holding a beer by myself. After an hour, a guy introduced himself because he felt bad watching me stand there alone. Coincidentally, it was Bryan Stealey, then the mag's managing editor and the man I had been sending all the writing samples to. I had my in.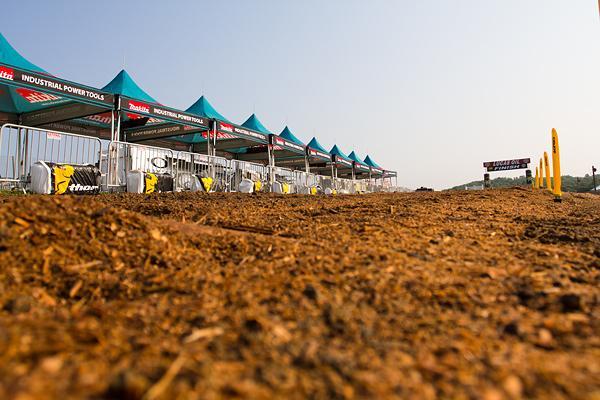 You can watch all first motos from High Point tomorrow LIVE on Fuel TV and Allisports.com starting at 1pm EST.
Photo: Andrew Fredrickson
I fake-enrolled in graduate school the next year just so I would have time to keep bombing Bryan with writing samples. I spent the time I was supposed to spend writing a Master's Thesis writing more stuff for Racer X, and Bryan let me get some stuff on the web, then eventually the magazine. After a year and a half of this, they offered me a job—doing PR for the GNCC Series—and I had my in. A lot has changed for me since then. I'm hosting the NBC show this weekend from the race, and I'm toting my wife (who I met in Morgantown) and our one-year-old baby girl with me. This is my life now, and it's only my life because I found Chicken Bones on a Friday night here in 2000.
Here's Steve Matthes:
After a week of rest and relaxation (for some people, anyway), the series picks back up at High Point Raceway. I never really know what to call this race because growing up, MXA would call it Mt. Morris all the time (just the other day I was flipping through an old issue and the headline was "Johnson Jams Lechien at Mt Morris"), and when I came on the circuit full-time in 1996 as a mechanic, everyone would call it High Point.
High Point, Mt Morris, whatever you want to call it—the venue has certainly hosted some great races and remains one of the few national tracks that I've never ridden either. For me personally, having my rider Kelly Smith win the 2000 125 National is one of my life's highlights, so I always have good memories of the place.
Like we've seen a lot over the years, it looks like it's going to get a little wet this weekend. Some thunderstorms seem to be inevitable, I'm afraid. No matter what, like the supercross series, this motocross season is shaping up to be pretty good.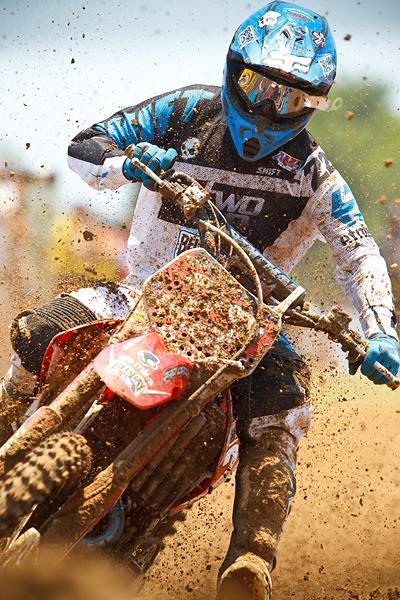 Reed leads the 450 class after two rounds.
Photo: Simon Cudby
Chad Reed, Ryan Dungey, and Ryan Villopoto seem to be a step up on everyone so far, but right behind those three lay Davi Millsaps, Brett Metcalfe, Jake Weimer, Andrew Short, and maybe, just maybe, Mike Alessi.
In the 250 Class I'm waiting for Eli Tomac to get up there. As we talked about in our post-Texas race pulpcast on Pulpmx.com, Eli's been good this year but not great. He needs to get up there with Tyla Rattray and Dean Wilson and make it happen soon. His GEICO Honda teammate Justin Barcia has been pretty fast this year through four motos, but he's yet to put two together due to crashing. Barcia's got the speed, though, and it wouldn't surprise me if he wins one of these four nationals in a row we have coming up.
No matter who wins, though, Monster Energy/Pro Circuit Kawasaki rider Tyla Rattray will be right there. The South African, although not flashy, gets the job done week in and week out. Rattray isn't that old, but to me his riding strength is in his preparation and thinking while he's out there on the track. Rattray's got a ton more experience than almost anyone in his class (unless Barry Carsten lines up!) and you can see it out there. There's no panic with Rattray—he rides calculated, uses smart lines, and doesn't take chances when they're not there. Folks, the Styla will be right there the whole way this summer.
What to make of the Christophe Pourcel/MotoConcepts situation? To recap, Pourcel's had a tough start to his season with some bike problems as well as some Pourcel problems. I reported last Saturday that he (or his people) was talking to CLS Kawasaki about going over to Europe this season. Of course it was denied, but trust me, there have been talks behind the scenes.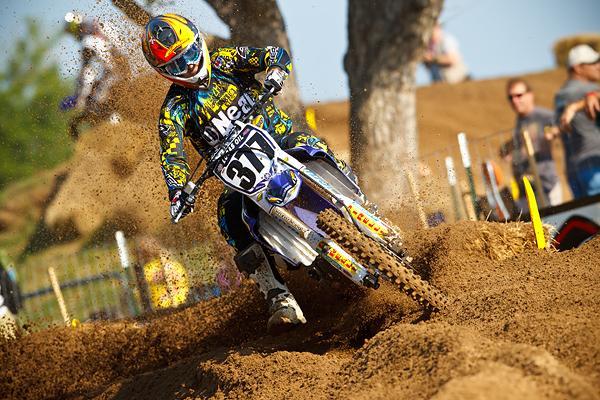 Pourcel will not be on the starting line for High Point.
Photo: Simon Cudby
And now, courtesy of LeBigUSA's Stephan LeGrand, we find out that Pourcel is not going to be racing High Point because he hasn't received his practice bike in Florida and doesn't feel like he's ready. LeGrand quickly got his team manager on the line and David Vuillemin said the team has shipped a bike to him, they've been trying to get Pourcel to stay in California to test suspension with the team, and it's been frustrating because of a lack of communication from Pourcel's side....
I've been on the inside of plenty of race teams in my day, and if Pourcel doesn't race High Point this weekend and yet still somehow stays on the team, I'll be shocked. There have been plenty of riders over the years who haven't ridden all week and still showed up on the weekend ready to race. When I was on Moto XXX, I don't think Larry Ward rode more than four or five times all summer! The bottom line is he's paid to race motorcycles for MotoConcepts Yamaha, and to not race because he's uncomfortable on the bike is not an acceptable excuse.
If he's not happy with the machine, he should stay in California until he is comfortable and shouldn't have left for Florida. If he is not comfortable on the bike, he can look in the mirror and rue the time lost in riding the Yamaha while he was negotiating a deal for the upcoming season. Maybe he shouldn't have signed with a team whose bike he had never ridden. For all the fingers pointed at the MotoConcepts Yamaha team, there should be double pointing back at the rider.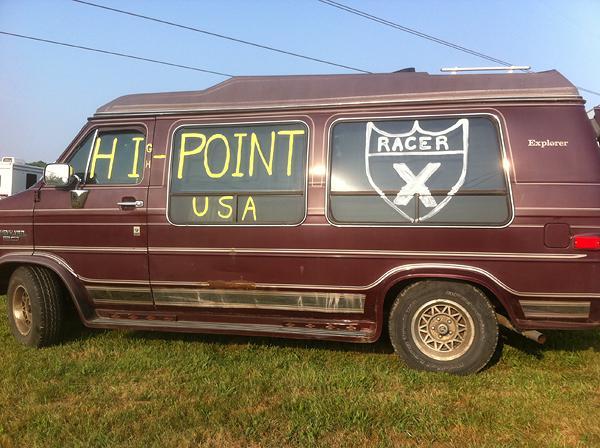 Photo: DC
Vuillemin doesn't deserve this, nor does the owner of MotoConcepts, Mike Genova, nor do the team's sponsors (or Pourcel's). It's unprofessional at the highest level. When I asked someone close to the situation if this can be fixed and if they thought he'd ever ride there again, that person said "No way."
You can read more on Pourcel, Rattray, Christian Craig and Alessi over on Pulpmx's Thursday Thoughts right here.
Tune in Monday night on the Pulpmx Show presented by BTOSports.com where we will have the four essay finalists on to talk about why they deserve a spot on the show.
Now here's Aaron Hansel:
Several days ago I called Damon Bradshaw for a story I'm writing about High Point, and while there's some content I can't share until the story comes out, there was some leftover information that was pretty interesting. Moto fans will remember that Bradshaw had an emotional comeback win in 1997 aboard a privateer Honda after taking a burnout-induced hiatus for several years. It ended up being the final national win of his pro career and is arguably one of the greatest moments in High Point history. That much you probably already know, but there were a few things Bradshaw mentioned that you probably don't know.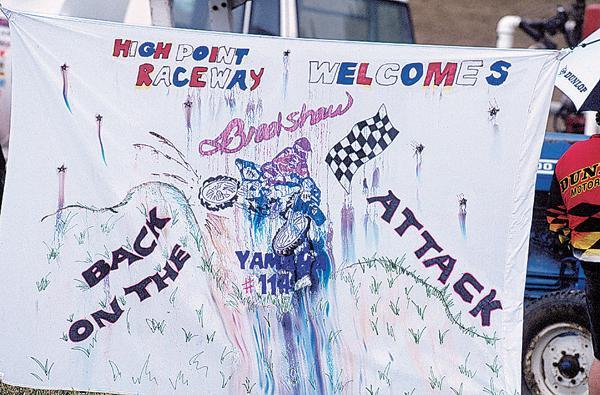 Courtesy Moto Verte
When Bradshaw met his wife, Angela, the first race he took her to was High Point. "It was actually my wife's first race that she'd ever went to," recalls the Beast from the East. "When we met, she know nothing about motorcycle racing, period. So that was the first place that I took her! And that particular year, it was knee-deep mud. We had met early on in that year, and it just didn't work out to take her to any supercrosses, so that was the first event she went too. I was only 17 years old, so that was unheard of to be getting on an airplane with your girlfriend and taking her to an event."
I also learned that after winning the 1990 High Point National in his rookie year, he handed Yamaha its first national win in five years! Bradshaw said High Point was one of his favorite stops on the schedule, partially due to the overwhelming support he could count on from the fans, which was something he looked forward to after a long supercross season. "Motocross fans were a whole different type of fan base. They were there for the party and to hang over the fence and throw beer bottles at the people they didn't like. It definitely stood out!"
I'd never spoken with Bradshaw before, and it was an enjoyable interview. The best part? His reaction when I told him this year would be High Point's thirty-fifth anniversary: "That's pretty wild that it's been that long. I know I don't act that old, and I damn sure don't feel that old!"
Ping:
I have a few questions that I need answered, and I think High Point may provide them. First, when is Ryan Villopoto going to show up? He has been bogged down with the flu and simply hasn't been himself at rounds one and two. The week off had to do him some good, and I expect him to be up in the mix this weekend. He and Dungey already have a nice little hole to dig out of if they want to catch Chad Reed, and it's time for them to get to work. It should be a great battle in the 450 Class this weekend.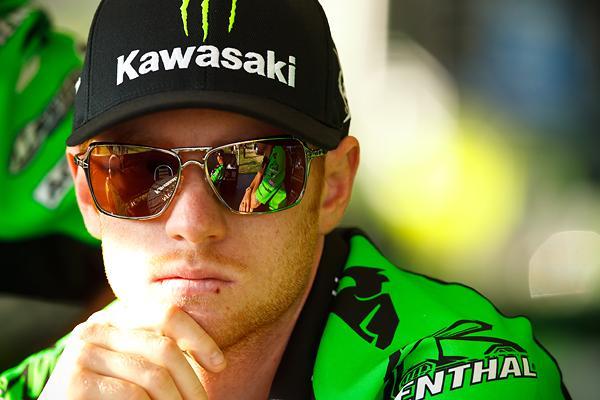 How much did the week off help RV? We should find out tomorrow.
Photo: Simon Cudby
Will Blake Baggett return to the top of the podium? He was the fastest rider on the track at Hangtown and was in the process of doing it again in Texas when he ejected and knocked his head. He took a week off and went back to work this Monday in preparation of Mt. Morris.
When will the other 250 guys get in the mix? Barcia, Tickle, and Tomac were all guys I expected to be at the front, and they haven't shown up yet. They're all more than capable, and maybe the additional focus on supercross titles has slowed their outdoor game a bit. Are they ready this weekend? I hope so, because right now the Pro Circuit guys need some company out front.
What happened with Pourcel? Did he go back to France? Is he fighting with Vuillemin? Will his shock blow up again? He's not racing this weekend, but I want to know what's going on—in English!
And what's this big news that Reed keeps talking about? He says it's not related to his race team, but he is pretty excited about it. Something to do with car racing? Vegemite shipment from home? Permanent red plates? Did he finally look at the series point totals? Maybe we can all find out what's up this weekend.
High Point is always a crazy race. Rain usually comes down in some amount at some time during the weekend, the track gets rough and rutted, and it seems like it really sets the tone for the rest of the summer. The first two rounds, guys are still shaking things down and trying to survive the heat, but by round three it's usually getting serious. The funnel cakes are going to be hot, and if the crowd hasn't changed, the beers will be flowing like wine before the first moto fires off. It should be a fun weekend.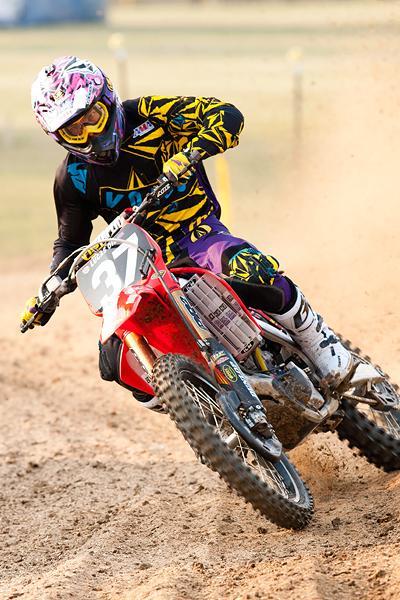 Local hero Darryn Durham was out at High Point yesterday.
Photo: Andrew Fredrickson
Okay, a few random notes:
From Mike Burkeen of MX Masterkids Team USA: "2011 has been the toughest year yet to select and help fund the MX Masterkids Team USA squad. That being said, we have 10 riders representing the USA in Commercy France first week in July. Team USA will be the 2-time defending champions of the event which draws over 1000 riders from 30 countries to compete for the MX Masterkids Team trophy. I am sending this e-mail to the folks I know to try to raise money for both Matt and the team. Flights to Europe have averaged $1400 this year making it an extremely difficult thing in this economy for a racing family to afford. I would like to raise money through donations of jerseys, products or services to help defray some of these expenses for team members. I will be holding an ebay auction which I will publicize on various websites to get maximum effect. The money will go to pay for entry fees, meals in Europe and depending on the success, possibly some airfare help for some of the riders. If anyone would like to make cash donations here is the paypal that has been set up: mxmasterkids@nc.rr.com."
Ever wonder what happened to the iconic Jofa mouthguard? Well, they are alive and well and are the number-one mouthguard used in a unique Northern European sport called Bandy. It's like ice hockey on a rink the size of a football field!
PHOTOS:
http://www.bandycup.se/bandyvm2009/UserFiles/Bilder/Matchbilder/44/_DSC3902.jpg
http://visualrian.ru/ru/site/gallery/#180177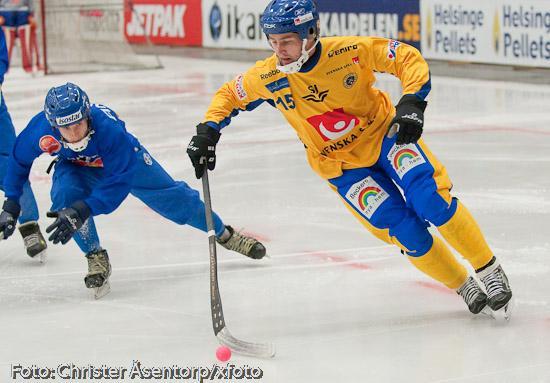 Interesting side note about
High Point
winners: four times in the last thirty years, a rider wearing #22 has won at Mt. Morris.
Here is a cool ad for Hammer & Tongs Vintage Races. To learn more about the race click HERE.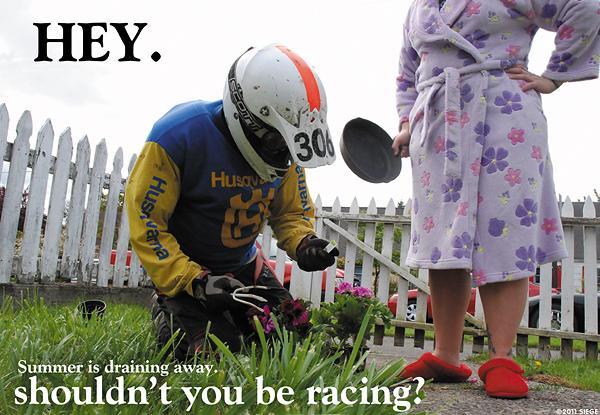 Country singer Craig Morgan will host his 5th Annual Charity Ride and Concert August 6-7 in Dickson, Tennessee. The AMA Amateur National Motocross Championships at Loretta Lynn's will be coming to a close in nearby Hurricane Mills, so many of you can cruise on over to Dickson on the way home. More info can be found here.
'Fro stopped by the office today.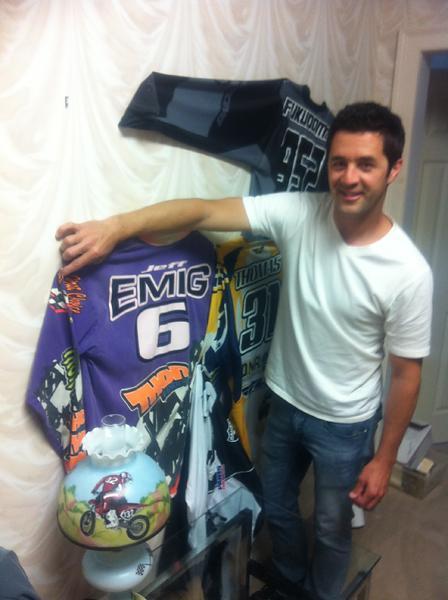 Photo: Brozik
Congratulations to our High Point Raceway Facebook contest winner, Jeff Johnson from New York. Jeff is now the proud owner of 2 VIP Supertickets for this Saturday's Rockstar Energy National at High Point Raceway. He'll also get two one-year digital subscriptions to Racer X Illustrated and two 40th Anniversary American Motocross T-shirts. Thanks, Jeff, for Liking us.
Here's a note from Rob Kinsey:
Rob Kinsey Art have teamed up with Legends & Heroes Vintage Motocross Tour which will be visiting all the 2011 Lucas Oils Outdoor MX Nationals venues, with a mobile museum trailor & stand, displaying many famous works bikes & clothing & posters etc. from the past 40 years of the AMA Nationals. They will also be displaying a range of Rob Kinsey Art prints, framed in black alloy frames, matted and glazed with museum quality non reflective glass, inside the trailor and their stand. These prints were left over from the 2007 MXDN Budds Creek exhibition and are uneconomical to ship back to the UK. We have therefore allowed Legends & Heroes to sell off these framed prints at greatly reduced prices, approx 50% off retail! Go grab yourself a bargain, especially with Fathers day this weekend at the MT Morris High Point National.
We are also giving Legends & Heroes 3 framed prints to auction, raffle off at selected events to raise funds for their nationwide tour. For more info on Legends & Heroes www.LegendsAndHeroesTour.org
Jeff Emig, Robb Swiatek, and Weege shooting a commercial for the Racer X Motocross Show.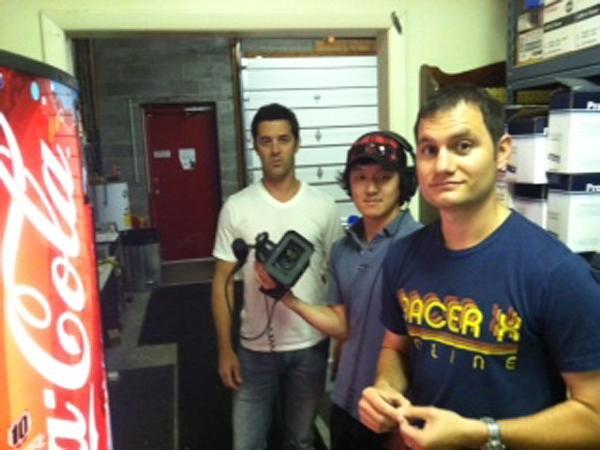 Photo: Chase Stallo
Okay, that's it from a busy High Point Raceway media tent. Time to get back out and see what kind of cool dirt concoctions Marc Peters is coming up with out there on the bulldozers. Thanks for reading Racerhead. See you at the races.