Team Gopher Dunes Racing ready to take on Canadian Nationals
Courtland, Ontario
- The Gopher Dunes Racing team (GDR) is ready to go for a full assault on the CMRC Canadian Pro National Championships starting this weekend at the Whispering Pines in kamloops, British Columbia.
Gopher Dunes Racing is a two rider MX2 class team consisting or #54 Nathan Bles or Varna, Ontario and #373
Topher Ingalls
Templeton, California. Derek Schuster of Gopher Dunes will continue as team manager with his second year of running the team.
Ingalls is coming off a successful supercross season where he finished with a career high 12th place finish at Seattle and just outside the top 20 in points after missing a few rounds due to a leg injury. His best AMA outdoor finish comes at
Washougal
with a 13th place finish. This will be Ingalls first attempt at the Canadian Nationals where he looks to compete for the series championship.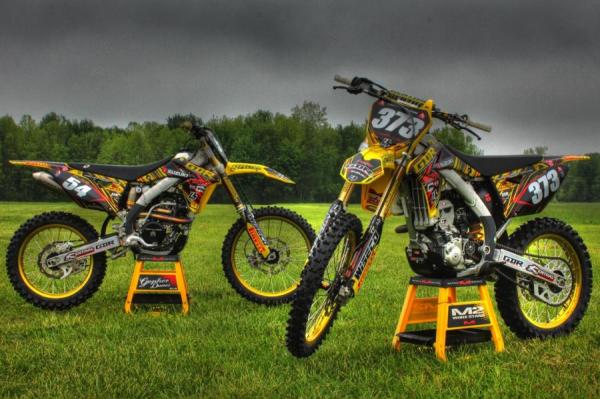 Coming off a very successful amateur career Nathan Bles is entering his first full season as a professional to compete in the Nationals. After winning a Provincial Championship as an Intermediate in 2010 Bles competed in three Nationals to get his feet wet in the Pro ranks. His best finish came at Gopher Dunes in the MX2 class with 7-10 moto scores to give him a sixth OA. Look for Bles to be a consistent rider in his rookie season and we feel he will build momentum throughout the season and have strong finishes.
Gopher Dunes Racing will follow the 9 round series which will end in Walton Ontario in late August. To follow whats going on with Team Gopher Dunes Racing in the pits during the National weekends and what the riders are up to throughout the week you can follow us on twitter
@gopherdunes
or you can become a fan on facebook
HERE
.
Gopher Dunes Racing is proudly supported by:
Factory Connection | Hindle | Wiseco | One Industries | C4MX | Suzuki Canada | Lime Nine | OTSFF | Pirelli | Spectro | Steen Hansen | Macnab Transit | SBS | Matrix Concepts | SSR | klotz fuel | Scott | Forma | Leatt | Snap On | Moto Tassinari | Excello Group | Twin Air | Braking | Dyco Tool | Renthal | Pro Wheel