New Jeremy McGrath's Offroad Video Game Details
2XL Games' upcoming offroad racing game coming to PlayStation®Network
and Xbox LIVE Arcade in Summer 2011
Los Angeles, CA– –On the heels of the excitement of the Lucas Oil Off Road Racing Series (LOORRS) event at the Glen Helen Raceway in San Bernardino last weekend, 2XL Games revealed more information and a first look at its upcoming video game Jeremy McGrath's Offroad. Highlighting seven-time AMA supercross champion Jeremy McGrath's latest venture into four-wheel off road racing, this high-octane, track-tearing racer will speed onto consoles this summer from Reverb Publishing on PlayStation®Network and on Xbox LIVE® Arcade for the Xbox 360® video game and entertainment system from Microsoft from D3Publisher.
"I'm a huge fan of gaming and always have been, and being able to represent my transition from Supercross to off road racing in a game is an awesome opportunity," said Jeremy McGrath. "Having seen the work that 2XL Games has done with racing games in the past with Rainbow Studios and more, they are the perfect team to work with to create a fast-paced, intense racing experience that I know fans will love!"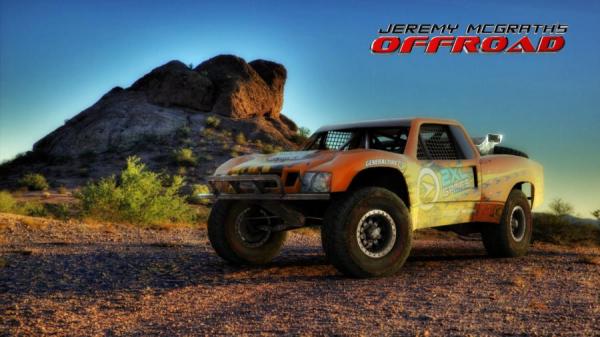 In Jeremy McGrath's Offroad, players race four-wheeled 800 horsepower off road race trucks with tons of options including a host of tracks, single-player and multiplayer modes as well as a wide loadout of
vehicle classes including Rally Cars, Pro Buggies, and Trophylite Trucks, all in crispy 1080p, 60 frames per second presentation. With multiplayer support for eight racers, and a full career mode that follows
Jeremy's off road racing endeavors, Jeremy McGrath's Offroad will be the title that both 2-wheel and 4-wheel racing fans will want to get their hands on this summer!
"Jeremy McGrath is one of the most recognizable names in racing, off-road or otherwise, and working with him on this title is a dream come true for the team at 2XL Games," said Robb Rinard from 2XL
Games. "Having his support and his input on this racer is a huge boost for the team."
Jeremy McGrath's Offroad will be launching on Xbox LIVE Arcade and PlayStation Network in late summer 2011. For more information on Jeremy McGrath, please visit http://www.jeremymcgrath2.com.
ABOUT D3PUBLISHER:
D3Publisher is a leading video game publisher for the Wii™system, Nintendo DS™ and Nintendo 3DS™ handheld systems, the PSP® (PlayStation®Portable) system, PlayStation®2 computer entertainment system, PlayStation®3 computer entertainment system, and the Xbox 360® video game and entertainment system from Microsoft. D3Publisher has operations in the U.S., and Japan. The company also owns development studio Vicious Cycle Software, Inc., and its technology platform, Vicious Engine
2™. For more information about D3Publisher and its products, please visit: www.d3publisher.us.
ABOUT REVERB PUBLISHING:
Reverb Communications, Inc. provides a combination of public relations, marketing and business development programs, creating customized communications campaigns that directly contribute to a client's bottom line. Reverb specializes in launching videogames on all platforms including PlayStation®3 computer entertainment system (PS3™) and Xbox 360® video game and entertainment system from Microsoft, Wii, PC, Facebook and iPhone.
The agency has worked on recognizable brands like Guitar Hero, Rock Band, The Beatles: Rock Band, Star Trek Online, ZEN Pinball, iSamJackson, Dragonica Online and many more. In spring 2010, Reverb Communications announced the extension of its integrated public relations, sales and marketing services to offer digital publishing services to smaller and mid-level developers.
For more information about Reverb Communications, please visit: www.reverbinc.com.
All other trademarks are the property of their respective owners. All rights reserved.
ABOUT 2XL GAMES INC:
Founded in 2005 by Rick Baltman and Robb Rinard, 2XL Games, Inc. develops innovative titles for the PlayStation 3 computer entertainment system, Xbox 360® video game and entertainment system from Microsoft, PC, and mobile game platforms. In September 2008, 2XL shipped their first console game for the PlayStation 3 system and Xbox 360 titled, BAJA: Edge of Control, and entered the iPhone gaming space in 2009 with 2XL Supercross. For more information about 2XL Games, please visit