Bryce Vallee Set To Race In Western Australia This Weekend
Truth MX rookie Bryce Vallee arrived in Western Australia to compete in this weekend's Manjimup 15000 Spectacular, billed as Australia's richest motocross race. The race location sits about 3 hours south of Perth, on the west coast of Australia. Riders from the US, UK, Scotland, New Zealand, and Australia will be competing in this year's event.
Bryce was invited to participate by the promoter, Willie Thomson, who contacted Bryce about 3 weeks ago. Bryce was recommended by his friend Tim Weigand, who spent several years racing in Australia.
"This is a great opportunity for me," Bryce said, " not only to race but to visit Australia, meet new people, and make new friends. I want to thank Tim, the promoters, and my team and sponsors for their support." The only snag so far is that the TSA wouldn't let Bryce check his racing suspension through with his luggage as being a "prohibited item", so he'll be on a stock bike. (Is this a new policy for the TSA or just an isolated incident?)
Bryce will return to the US next week to resume racing with the Truth MX/MB1/Fly Racing/Panic Rev Kawasaki Team for select races in the Lucas Oil AMA Pro Motocross Championship in the 250 class.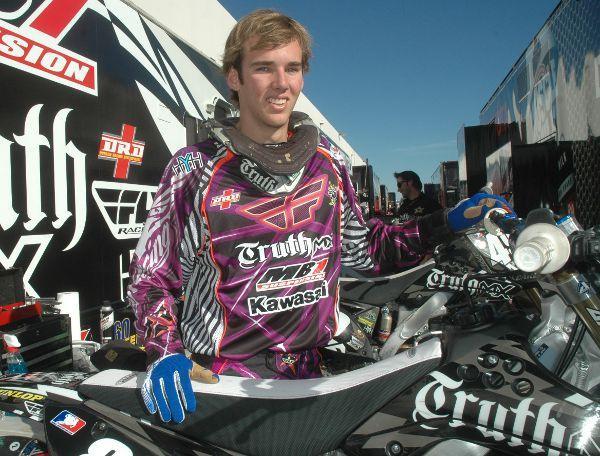 Photo courtesy Mike Vallee