By Ryan Cooley
The Nitro Circus movie and TV franchise—complete with its fearless leader Travis Pastrana—is no stranger to moto fans the world over, but the Nitro Circus LIVE show just might be. Having established its roots in Australia over the past couple of years, NC Live is a full-blown action extravaganza that combines the world's best action sports athletes doing the most progressively-insane tricks, all with a dash of pure chaos to top it off. The best part, though, is that it's finally landed on US soil—Vegas, to be exact—and we couldn't be more stoked than to be heading off to Sin City this weekend for a bit of "R&R" with the Nitro Circus crew.
To gain a little more insight on the show and some of its top-tier athletes before heading off to the strip, we tracked down Australian FMXers Cam Sinclair and Mark Monea before losing them to the proverbial Vegas black hole.
Here's what the boys had to say…
Racer X: You fellas just landed in Vegas for the Nitro Circus Live show. How's everything looking for the big US debut?
Cam Sinclair: Yeah, we're in Vegas… It's good! Just been trying to steer clear of the Las Vegas temptations before the show, but it's hard not to have a good time in this place [laughs].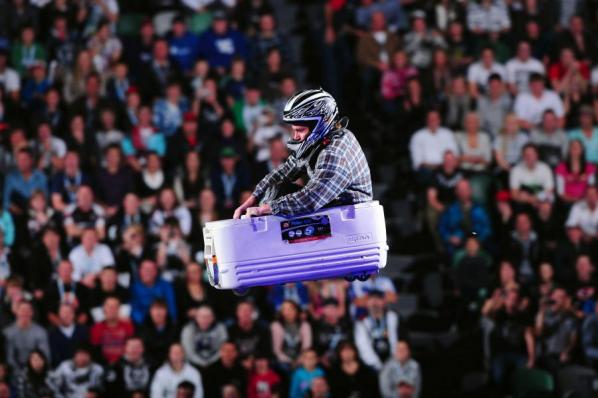 Things are going to get crazy in Vegas, you can count on that.
Photo: Sport The Library
Yeah, Sin City is definitely the appropriate location to drop the Nitro Circus Live show madness Stateside…
For sure. We've been touring around New Zealand and Australia the last couple years, and this thing's been going crazy, so hopefully the Vegas show tops it off. We'll be filming for a new Nitro Circus 3D movie at this event, as well, so you can expect all the athletes to be going nuts here in Vegas.
Speaking of going nuts, let's talk real quick about some of the FMX tricks people can expect to see. Mark, that front flip 360 you've been throwing looks absolutely insane. Tell us a little about its evolution…
Mark Monea: Well, trying to do a straight front flip over a small gap on a heavy bike just doesn't work as easily as it should. You really have to tweak it out and make it do that weird spin action that it naturally wants to do in order to get the bike around. So, I guess the 360 aspect of it just sort of naturally developed as I took it from a 110 to a 250. It's a crazy sensation, but coming into the show I'm pretty confident in the trick. I've been doing it for about five months now, so it's ready to go.
How did the trick earn its name, the "Carry-On"?
The "Carry-On" just came from a joke with Bilko [Blake Williams]. I had a crash on a BMX in Australia a while back, and I guess I carried on about it for a fair bit [laughs]. My carrying on became a joke among the boys, so when I developed this trick I told Bilko that it'll be called the "Carry-On", and it just took off from there.
You come from a BMX background, but you've also worked as Cam's mechanic for a number of years. Will you continue spinning the wrenches, or are your "behind-the-scenes" days over now that you're a part of the show?
No, I still work on my own bikes all the time, and if someone else needs a hand I'll always give them help, but it's more about the riding these days. I've been riding heaps to prepare for the show.
Are you a one-trick pony with the "Carry-On", or will you be playing a bigger role in the live show?
I'm only signed up to do the one-trick deal at the moment, but I want to eventually ride in more of the show, as well. Either way I'm stoked to be a part of it.
Cam, word is that you really encouraged Mark's trick and helped get him on the Nitro Circus LIVE tour… Is there a friendly competition between you guys now that he's got some of your spotlight?
Cam Sinclair: No, not really. I pushed him along the way to progress the trick from a BMX to a 250, and once he had it I hit up Travis [Pastrana] and all the guys at Nitro to get him on the tour, and here he is. It's cool, though... I'm stoked to have him here. And if I'm gonna get beat at X Games this year, I'd rather it be by my friend and nobody else [laughs].
Speaking of X, you're the defending Gold medalist in Best Trick, but that medal didn't come without its cost. You went from one of the gnarliest FMX crashes of all-time to a medically-induced coma to an X Games Gold all within a year. You're a bad dude. Tell us about your comeback…
Yeah, I had a lot of time to sit down and think about the crash and just life in general during my recovery. Most people thought I was crazy, but all I could think about was getting back on the bike and nailing that trick. That was the first thing on my mind. It was definitely a gnarly recovery, though. I basically had to learn how to do everything, even walking, all over again, but for some reason sitting on the bike just felt natural, and now here I am.
You now pull the double fairly regularly during shows and comps. What are the nerves like leading up to that moment?
I hate it. I honestly hate it. It's a scary trick, and the nerves run wild leading up to it. But once I do land it, it's an amazing feeling. The last time I did the double flip was in Australia during a Nitro Circus, and I crashed and got knocked out and a broken shoulder. This show in Vegas will be my first time back, so it's still very nerve-racking and scares the hell out of me. At the same time, the reward of landing it just seems to take over.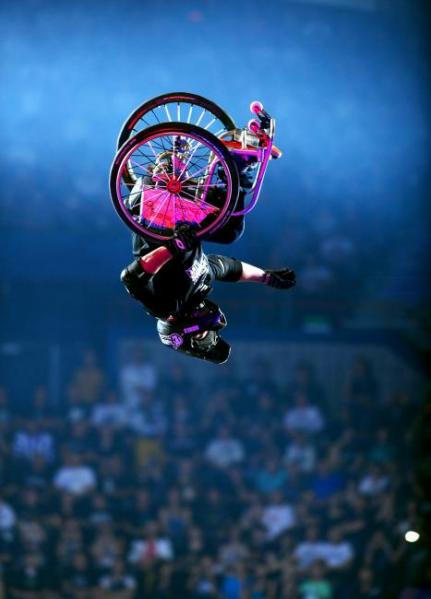 It's not just dirtbikes, these guys will flip just about anything.
Photo: Sport The Library
Do you practice the double at all, or is it reserved for an audience only?
I've never done it in practice. Not once. I think I've done 52 attempts and landed it 48, but never in practice... It's just too much of a risk. If I'm going to do it, I'll do it in front of a crowd that's paid money to come see it. That's it.
How would you guys describe the NC Live show to people who don't know anything about it?
Cam Sinclair: It's just pure chaos. It features the best action sports athletes in the world doing the most insane tricks imaginable. In Vegas, we've got [Ryan] Sheckler, Bob Burnquist, Travis Pastrana, Chad Kagy, Bilko, and a host of others. I think over half the athletes in this show have one X Games Gold medals, so it's the best athletes doing the best stuff they can. There's never a break in the action either. It goes from FMX, straight to the Mega ramp, straight to Streetbike Tommy doing crazy street stuff, and on and on. It's a crazy, must-see show.