Patterson Grabs Motorcycle-Superstore.com Holeshot Award
Patterson Goes Two-for-Two Grabbing Both Motorcycle-Superstore.com Holeshot Awards

Hangtown - Round One of the Motorcycle-Superstore.com Women's Motocross Championship

The Motorcycle-Superstore.com Women's Motocross Championship began its 2011 season this weekend and reigning champion Jessica Patterson, of Tallahassee, Fla., dominated both motos on her DNA Shred Stix/Star Racing Yamaha. Patterson not only won both motos but was also first out of the gate each time earning both Motorcycle-Superstore.com Holeshot Awards.

"The track was really beat up today making it tough to pass, so the start was critical," explained Patterson. "The Motorcycle-Superstore.com Holeshot Check is always an extra incentive to get out front early.... and hopefully stay there"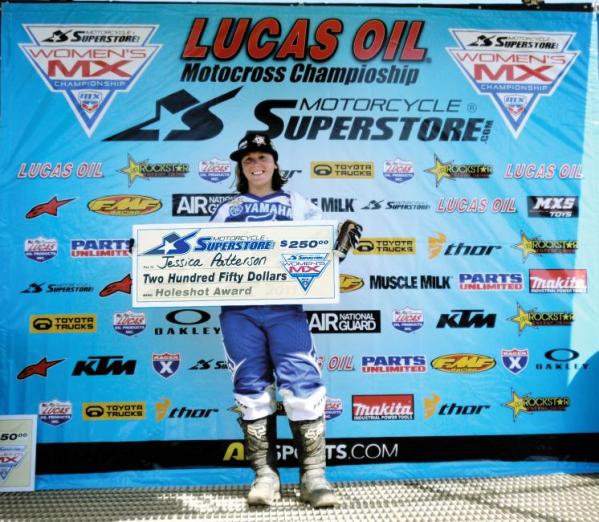 After two great starts, Patterson pretty much went on to dominate both motos. "I had a little bobble after the start on the second moto," continued Patterson, "but I was back in the lead in just a couple laps - overall, my fitness was good and the hard training we've put in the past months has really paid off." American Honda's Ashley Fiolek, of St. Augustine, Fla., finished second with two 2nd place finishes while World Motocross Champion and RedBull KTM rider Steffi Laier finished third with a pair of 3rd place finishes.

The 2011 Lucas Oil AMA Pro Motocross Championship and the Motorcycle-Superstore.com Women's Motocross Championship continues next week at the Freestone Raceway in Wortham, Texas - Saturday, May 28. For more information on the series go online to www.mxsports.com

MotorcycleSuperstore.com is the leading online retailer in the motorcycle and powersports industry. Serving motorcycle riders for over 12 years, MotorcycleSuperstore.com specializes in selling motorcycle helmets, riding apparel, accessories, and parts. Internet Retailer Magazine has ranked MotorcycleSuperstore.com in the top 10 of all sporting goods sites and in the top 200 of all e-commerce sites. Powered by a dedicated staff of motorcycle enthusiasts, MotorcycleSuperstore.com continues to impress customers by constantly raising their online shopping standards.