Musquin Grabs Ricky Carmichael Hard Charger Award at Hangtown
MORGANTOWN, W.Va.
- KTM rider Marvin Musquin is the recipient of the first
Ricky Carmichael
Hard Charger Award of the 2011 Lucas Oil AMA Pro Motocross Championship. The award goes to the athlete who passes the most competitors in a single moto at each of the 12 rounds of the series. It symbolizes its namesake's never-surrender determination that carried him to 102-career AMA Pro Motocross wins and 10 consecutive AMA Pro Motocross Championship - both records.
At the Rockstar Energy
Hangtown
Classic, the rider who passed the most competitors in a moto was actually making his debut in the series. Musquin, the 21-year-old import from Le Reole, France, who traded in a pair of World Motocross MX2 Championship titles for a shot at an AMA title with KTM, was on the starting gate for the first time in 2011, after missing the entire AMA Supercross tour with a knee injury he suffered last November before moving to the U.S.
Now, Musquin is competing for the Lucas Oil AMA Pro Motocross Championship in the 250 Class. He started off his season with a solid fourth-place finish in the first moto, but then went down in a pile-up in the second turn of Moto 2 on the incredibly rough
Hangtown
track. However, the Frenchman put his head down and went to work. He completed the first full lap in 30th place, but already moved into 22nd after the second of 15 laps. From there, he continued to move forward. He finally took the checkered flag in sixth, which was good for fifth-place overall in his American Motocross debut.
After the race Musquin said, "It was a lot different, but it was fun - I liked the change. Finally racing outdoors, it was a dream for me. Now it is my goal."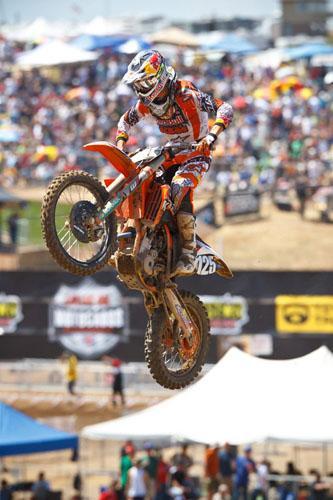 Musquin passed 24 riders in the final 250 Class moto at
Hangtown
.
Photo: Simon Cudby
When asked how he crashed in the second moto, Musquin responded, "I don't really know! I was on the inside and tried to get (by) some riders, and it was really tough. Maybe I lost my front wheel, or maybe I touched another guy - I don't really know.
"I just kept racing, kept pushing," he continued. "I was a little bit tired around maybe five minutes before the end, but my fitness was good. The track was really rough, but good, and my KTM is a good bike."
Musquin's resilient top-five overall effort was the goal for his first Lucas Oil AMA Pro Motocross Championship race. With the first round of 2011 finally under his belt, he will likely be a contender soon - maybe even this weekend at the second round of the series, the Rockstar Energy
Freestone
National from Wortham, Texas, this Saturday, May 28.
Musquin will be presented with the
Ricky Carmichael
Hard Charger Award at Saturday's pre-race riders meeting and recognized in front of his fellow athletes on the American Motocross tour.
Tickets for the upcoming Lucas Oil AMA Pro Motocross Championship are on sale now at
www.allisports.com
. Special discounts and incentives are available for advance ticket purchasers.
For media information about the Lucas Oil AMA Pro Motocross Championship, please contact Media Manager Brandon Short via email at
media@mxsportsproracing.com
or by phone at 949-365-5750.
MX Sports Pro Racing
MX Sports Pro Racing manages and produces the world's most prestigious motocross series - the Lucas Oil AMA Pro Motocross Championship. The industry leader in off road powersport event production and management, its mission is to showcase the sport of professional motocross competition at events throughout the United States. Through its various racing properties, partnerships and affiliates, MX Sports Pro Racing organizes events for thousands of action sports athletes each year and attracts millions of motorsports spectators. Visit www.mxsportsproracing.com.
Alli, the Alliance of Action Sports
Alli, the Alliance of Action Sports, is a global business that encompasses national and international action sports tours and events, multimedia production, and a consumer facing lifestyle brand. The Alliance includes: the Lucas Oil AMA Pro Motocross Championship, the Dew Tour, Winter Dew Tour, China Invitational, King of Wake series, and the Gatorade Free Flow Tour. Alli TV Productions creates original content, produces and presents content with partners, and distributes Alli content through a variety of channels. Alli is owned by NBC Sports and MTV Networks and represents a network of athletes, fans, brands and properties. Its mission is to facilitate the momentous growth of action sports, through competition and lifestyle, for a new generation of fans and athletes. The Alli properties are home to more than 550,000 spectators each year and broadcasts more than 150 hours of original content in 100 countries and 280 million homes worldwide. Visit www.allisports.com.
Lucas Oil Products
Lucas Oil is a worldwide leader in the production of oils, lubricants and additives. Based in Corona, Calif., Lucas Oil Products is one of the fastest-growing additive lines in the consumer automotive industry, featuring a premium line of oils, lubricants and problem-solving performance additives. Through innovative product research and development, along with aggressive marketing programs, Lucas Oil Products has established itself as the top-selling additive line in the American truck-stop industry. Lucas Oil is involved in an array of motorsports sponsorships, including the "Official Motor Oil of the AMA Pro Motocross Championship." Visit www.LucasOil.com.
AMA Pro Racing
AMA Pro Racing is the premier professional motorcycle racing sanctioning body in the United States, operating a full schedule of events and championships for a variety of motorcycle disciplines. From its Daytona Beach headquarters, the organization sanctions professional motorcycle racing competition, which includes, AMA Pro Motocross, AMA Pro Road Racing, and AMA Pro Flat Track. Visit www.amaproracing.com.